Customer experience is the decisive differentiator between you and your rivals. Loyalty programs and personalized emails are a great way to make you stand out. They offer endless opportunities to connect with and encourage your audience to spend more with you, more often. But they also provide you with a massive source of information about your audience. Knowing how to combine the two to create an unforgettable customer experience is essential.
DMA's Consumer email tracker 2019 revealed that loyalty programs are a key driver encouraging new email sign-ups.
The benefits of a good loyalty program are endless. It'll encourage repeat purchases, increase Customer Lifetime Value (CLV), and give you an endless wealth of data on your customer. And to keep customers engaged, data is key.
Using data & personalized emails to drive loyalty
When you launch a loyalty program, you'll soon find that you have more data at your fingertips than ever before. Most of these programs are informed by purchasing behavior, preferences, and customer interests. As a result, you have the power to really enhance your email communications.
Loyalty data enables you to send hyper-targeted, personalized content to your audience. Below, we've outlined some of the most powerful ways you can make this data work better for you.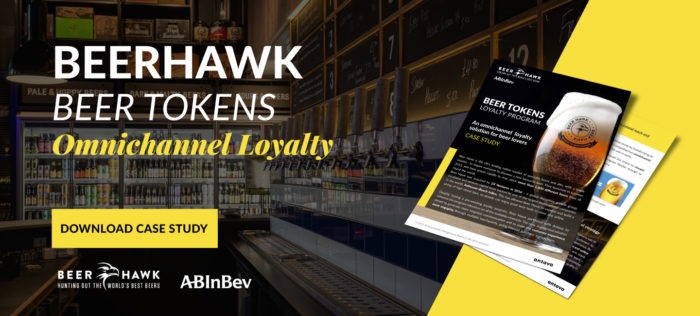 Benefit-driven campaigns
The first segment you need to make, and should be constantly monitoring, is that of your non-members.
Okay. Technically, you're not using the data you've gathered as part of your loyalty program. But what you're showcasing are the benefits customers receive when they hand over their data.
American clothing and accessories brand, Loeffler Randall, strategically target this segment with an exclusive offer. The objective of this email is twofold:
Driving subscribers to make a purchase

Demonstrating the numerous and simple ways shoppers can earn loyalty points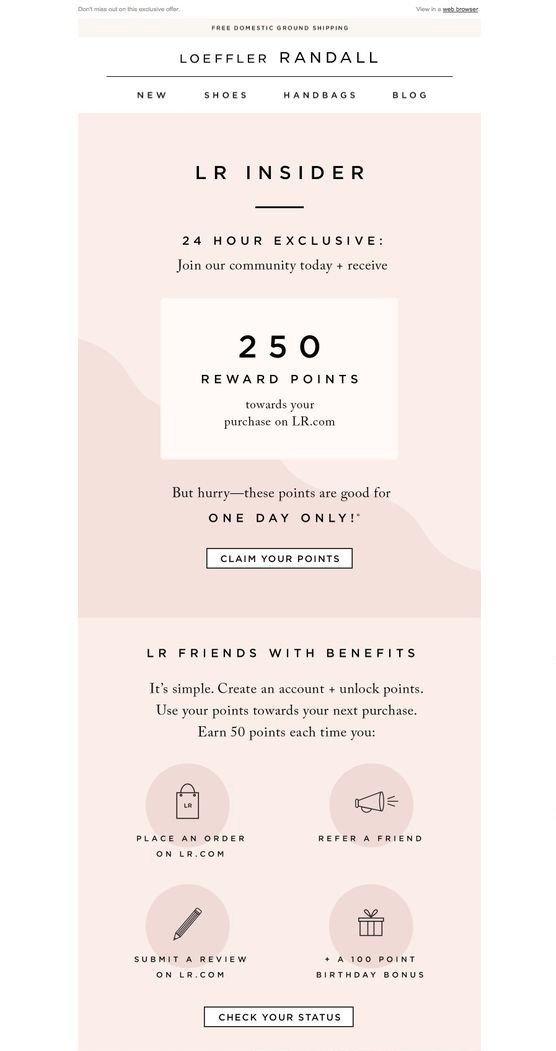 Track progress and mark milestones
Rather than letting your customers forget about your loyalty program, keep them engaged by informing them about their progress. You can do this in a number of ways, depending on what works for you and your brand.
Sephora and Designer Shoe Warehouse (DSW) pull in data about shoppers' points and spending to track progress.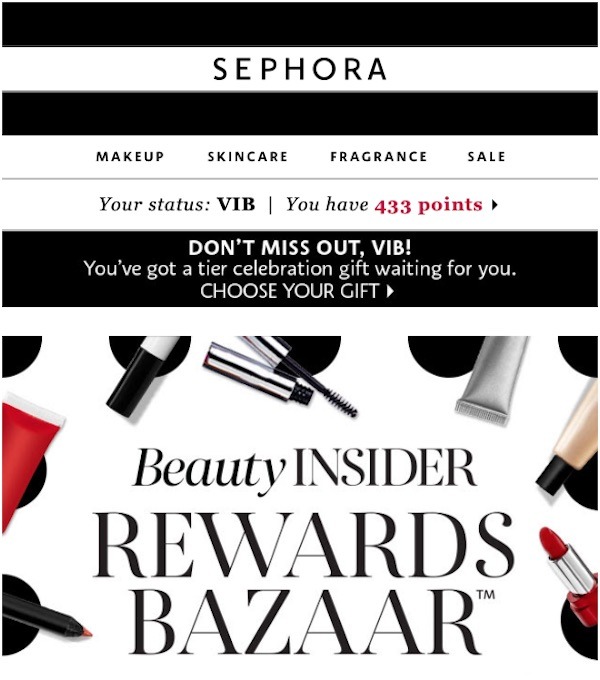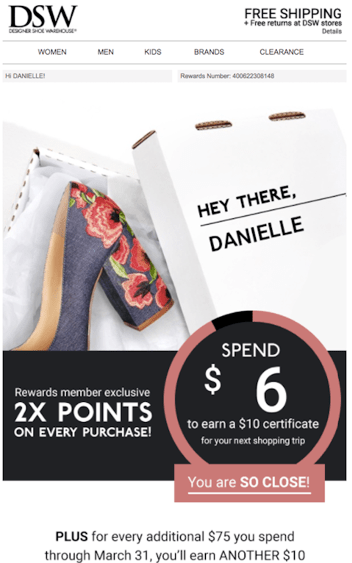 This use of dynamic content allows the content of these personalized emails to be hyper-personalized to the reader.
Women's fashion brand, Madewell, and cosmetics brand, e.l.f. use this data to trigger automations as loyal shoppers progress.
In this example, Madewell have set thresholds for each tier in its loyalty program. Once they're met, this email is triggered.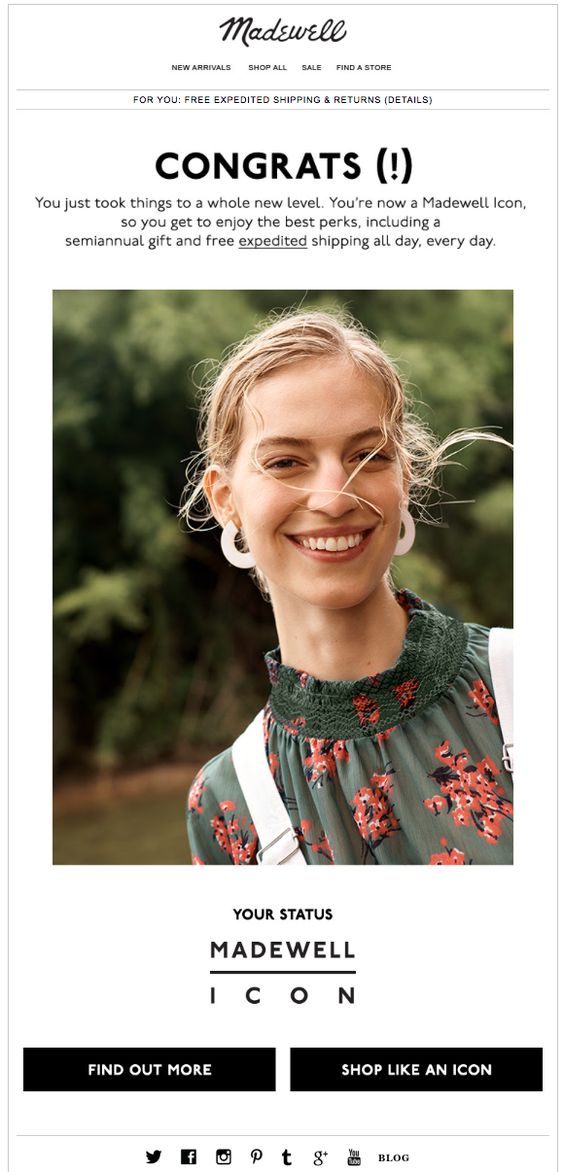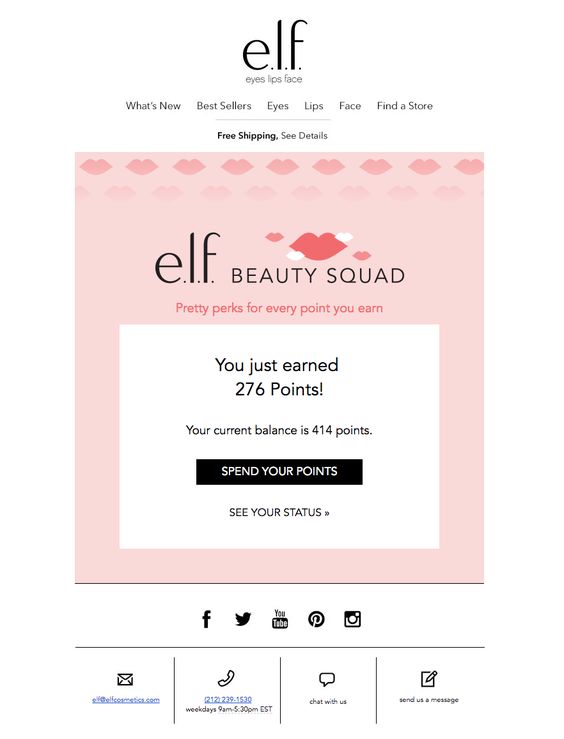 Celebrate with shoppers
Milestones shouldn't be limited to the progress shoppers are making along your loyalty program.
Your shoppers have lives outside of their relationship with you. To connect with shoppers on a highly personal level, it's important to take these things into consideration.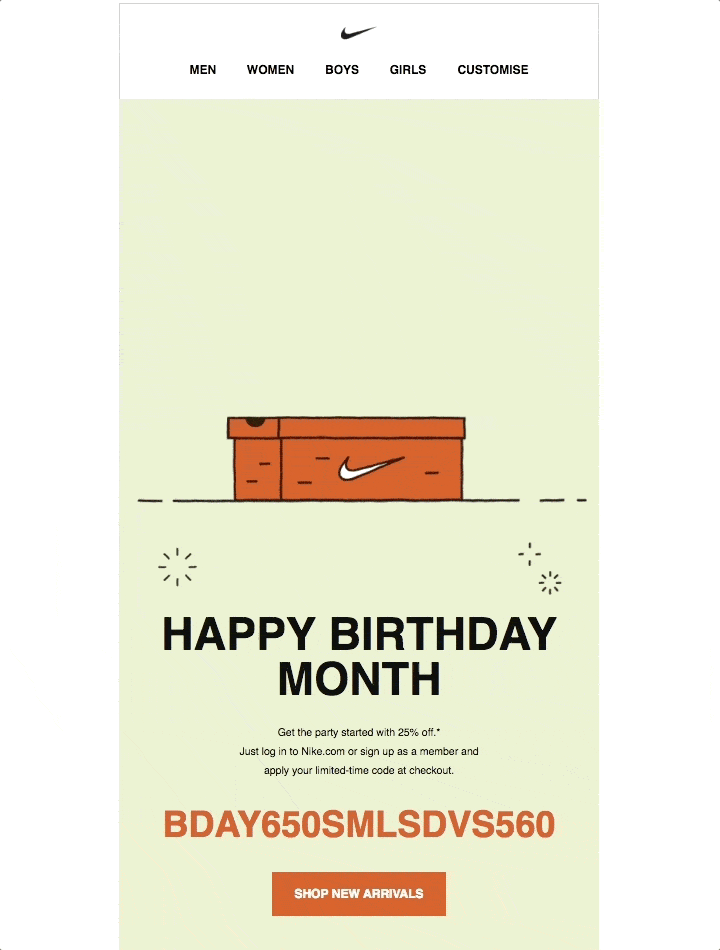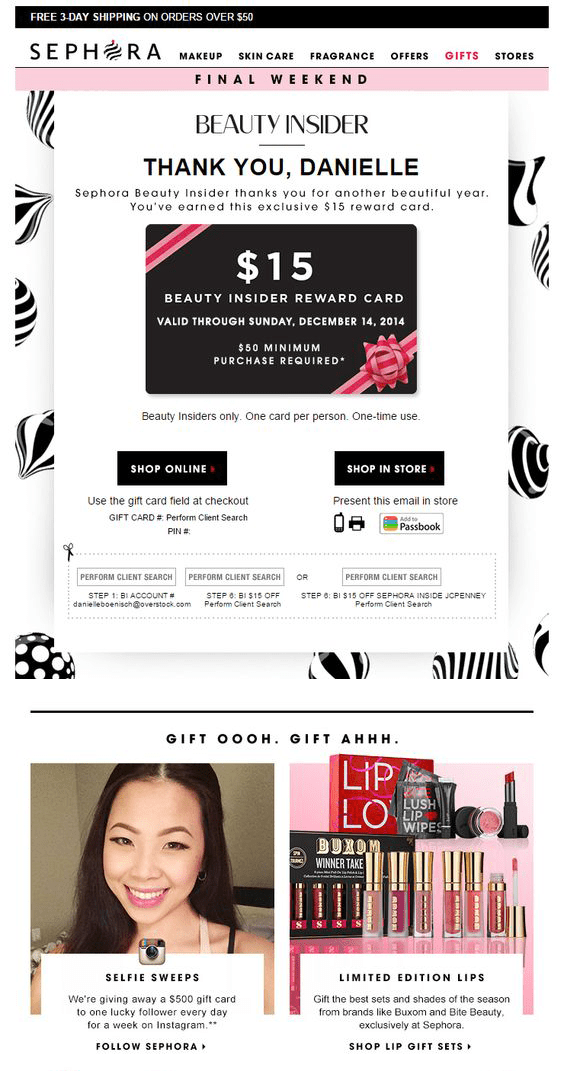 To make these examples even more personalized for the reader, pull in loyalty data such as points to determine their reward. Consider things such as how long they've been shopping with you. There may be something special you can deliver to mark five years as a loyal shopper such new perks.
Re-engage lapsed loyalists with personalised emails
One of the key benefits of a loyalty program, is it helps you track how frequently and recently customers have shopped with you. This means, you should always be aware when members of your program start to lapse.
The example we've already shown from DSW is a great way to remind subscribers what they're missing. Prompting them to return because they're so close to their next reward could be the re-spark their interest and bring them back into the fold.
Or, you could pull in loyalty data to give your standard re-engagement emails extra energy. Take this email from Blue Apron for example: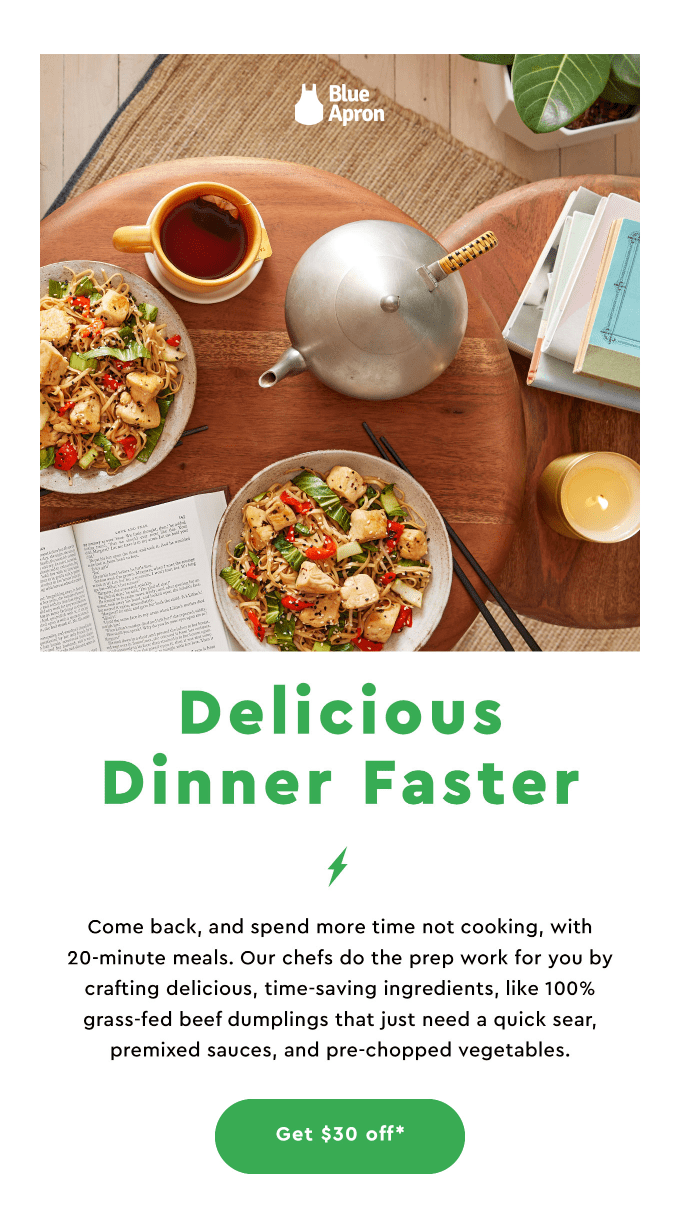 Put it all together
The key to a successful loyalty program is creating a connection with your shoppers. Because you don't have the power to get to know each and every one of the customers in your database, you need to use the information you have. Thanks to your loyalty program, there's a lot of it, just waiting for you to tap into.
We've outlined a couple of key ways you can use loyalty data to deliver personalized emails to your subscribers. But we wanted to leave you with the best of the bunch. Once you're comfortable pulling in data and using it to create unforgettable customer journeys, creating something like the email below will be a walk in the park!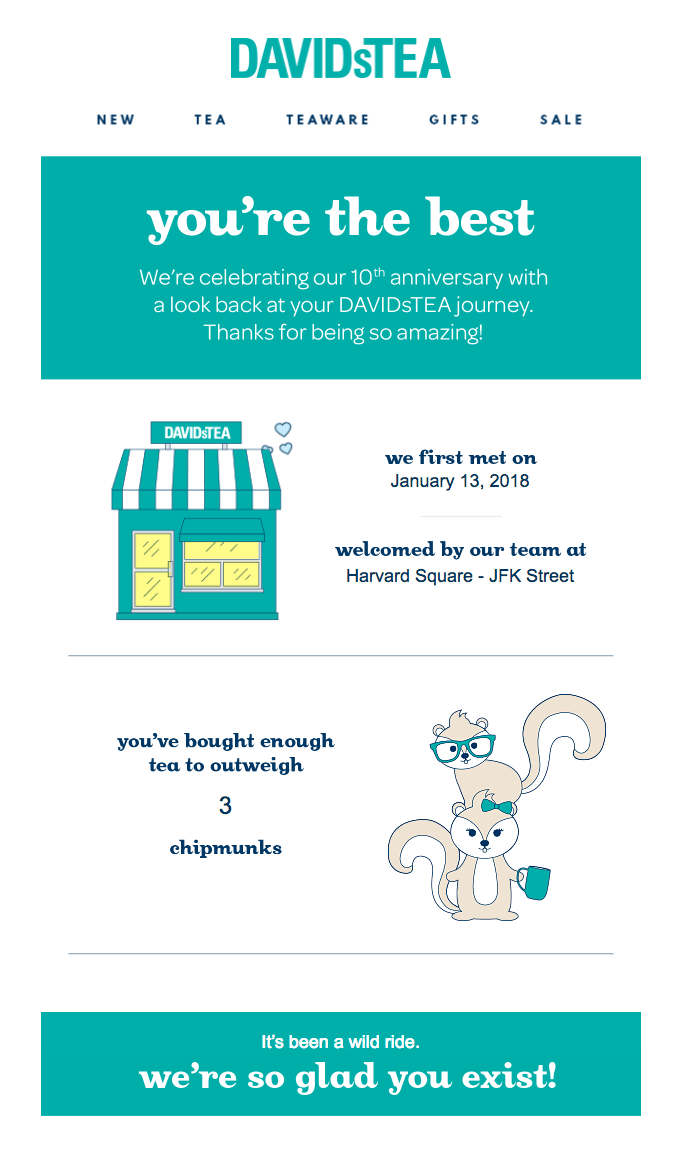 Just remember, you already have this data. It's up to you how you use it.
Join our seminar and learn more!
dotdigital and Antavo are organizing a morning seminar titled "How to boost your marketing with a loyalty program". If you're hungry for more knowledge regarding customer retention and customer engagement, then this is the perfect opportunity for you.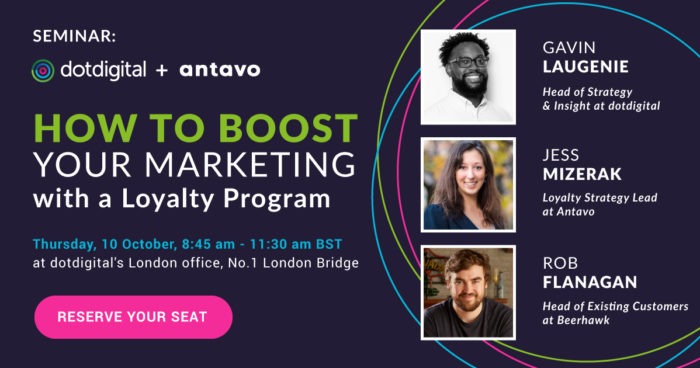 Jenna is an accomplished copywriter, with experience in marketing, PR and internal communication at the NHS and British Red Cross. With a degree in Literature and History from the University of East Anglia, Jenna is passionate about all things content – a passion that she has now brought to the dotdigital content team.