When it comes to customer engagement, APAC is known as a diverse, digital-savvy and mobile-first region. However, even this market has its challenges. According to a recent study by Forrester, 77% of APAC countries are missing out on customer retention opportunities due to a lack of satisfying customer experiences. In this article, we'll go over how a company from the top 23% manages to forge brand loyalty using experiential rewards and cross-country loyalty programs.
Love, Bonito Loyalty Program: Building Engagement Across Multiple Countries
Headquartered in Singapore, omnichannel women's fashion company Love, Bonito is a well-established brand in Asia with local branches in Hong Kong, Malaysia and Indonesia. The company partnered with Antavo to create a reward system characterized by three features:
A platform capable of managing all countries in one place

Currency conversion to allow members to engage with the same program in all regions

Experience-led rewards that make the customer journey unforgettable
For a better understanding of Love, Bonito's approach to meaningful customer engagement, check out this video by our Loyalty Trend Seeker.
The Reason Behind Love, Bonito's Cross-Country Loyalty Structure
Love, Bonito envisioned its loyalty program, LBCommunity+, as a cross-country reward system from the very beginning. They wanted a solution where the management team in each region would have access to the same loyalty platform and program structure and be able to create their own loyalty offers and run localized campaigns. This would allow Love, Bonito, to maintain the same look and feel all across the board, while simultaneously encouraging individual countries to custom-tailor the reward experience to their audience's needs.
"Maintaining a consistent loyalty experience across multiple countries is no easy task. You'll need a sophisticated yet flexible loyalty technology that offers the same capabilities to all regions, while at the same time is capable of restricting region-specific features, like reporting, to the individual teams. And Antavo's Loyalty Management Platform did exactly that."
Timi Garai
Senior Loyalty Consultant, APAC at Antavo
Unrestricted Member Experience Thanks to Currency Conversion
Having the same loyalty system across different regions has the immense benefit that members can use their hard-earned points and tiered privileges in different countries. They no longer need to start over if they travel or move, which is a huge convenience. Moreover, it guarantees cross-border engagement in a culture dominated by tourism.
However, cross-country loyalty programs only work with certain safeguards, otherwise the difference in the local currency's value may lead to exploitation, diminishing the profit margin of certain countries. To avoid this, Love, Bonito introduced currency conversion. The Singapore dollar acts as the baseline in the loyalty program and other currencies are calculated and rounded up based on it.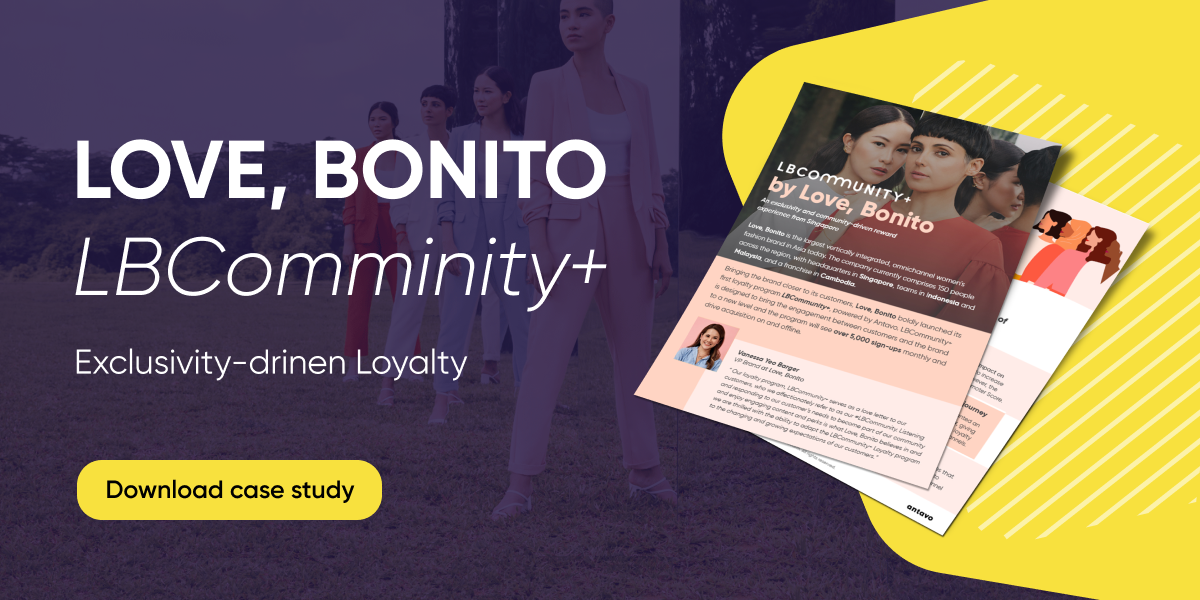 Experience-Led Loyalty Rewards
The last pillar of Love, Bonito's success as an APAC loyalty program is memorable rewards. Customers in the region are known to crave convenience and privileges, which is why the company went above and beyond, giving discounts and focusing on community-driven rewards instead.
"Our loyalty program, LBCommunity+ serves as a love letter to our customers, who we affectionately refer to as our #LBCommunity. Listening and responding to our customer's needs to become part of our community and enjoy engaging content and perks is what Love, Bonito believes in and we are thrilled with the ability to adapt the LBCommunity+ Loyalty program to the changing and growing expectations of our customers."
Vanessa Yeo Barger
VP Brand at Love, Bonito
The company's experience-led incentive system includes:
Special

birthday perks

Early access

to sales and new product launches

Surprise experiences

Book-a-Stylist privileges, free for Gold-tier members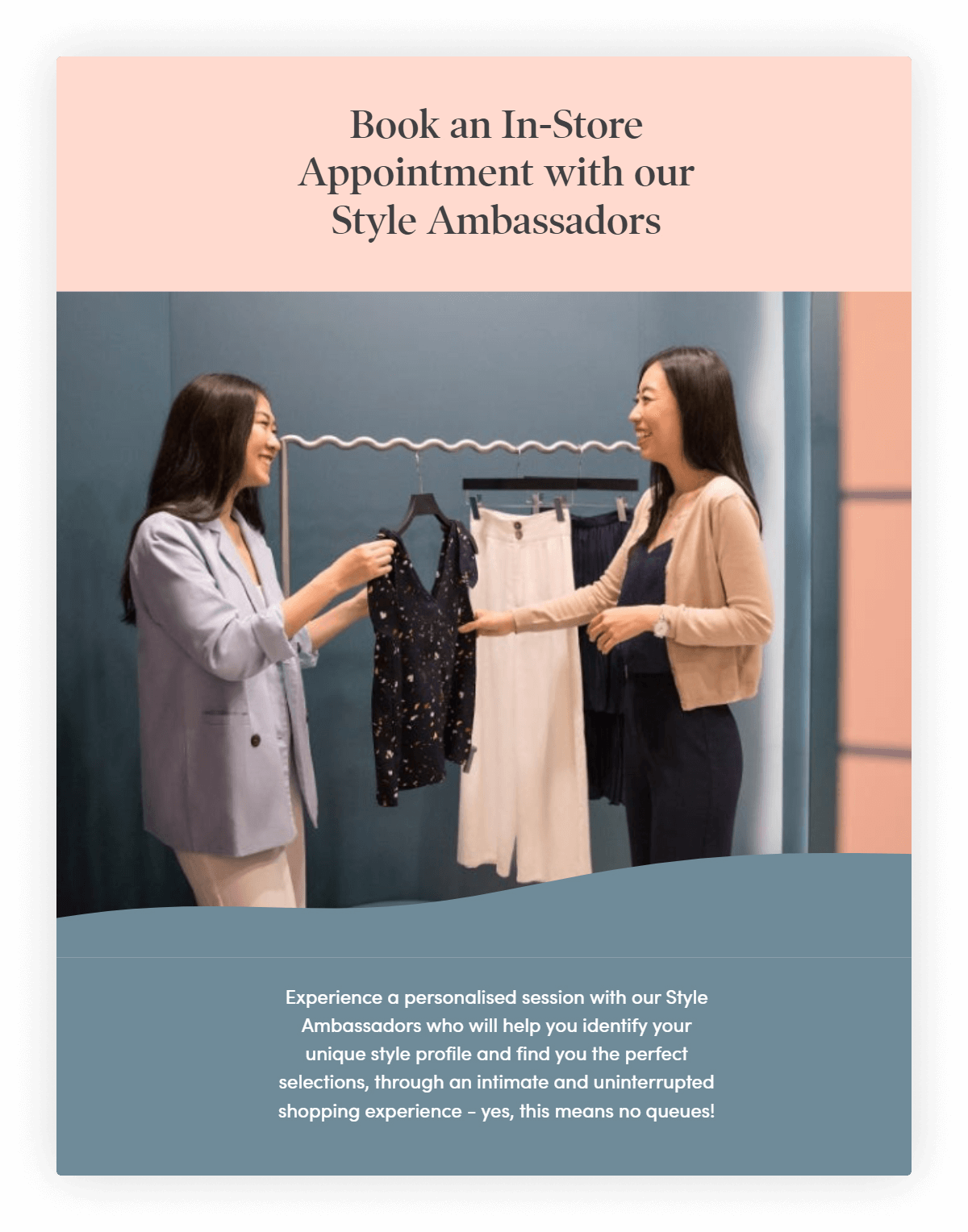 How to Roll Out Your Own Experience-Led Cross-Country Loyalty Program
If you're looking to create a cross-country loyalty program, here are some best practices to consider from the start:
In order to make the cross-brand loyalty structure work, there has to be a unified, shared database that includes information not just from the participating countries, but also from online, offline and mobile interactions. Establishing such a database proves invaluable for omnichannel loyalty programs.

You

can

have a cross-brand loyalty program without currency conversion. This approach works best for

tiered programs

. Just remember to set a higher minimum spend for the coupons and benefits available in countries with a lower currency value, otherwise, the program will lose its financial balance.

Currency conversion, cross-brand loyalty features and experience-driven rewards are also an ideal match for

coalition loyalty programs

or reward systems focused on affiliate benefits.

In the APAC region,

86% to 92% of respondents

from the Mordor Intelligence trends report were more enticed to shop where a loyalty program is part of the deal. So never be afraid to seek out the latest solutions, because they will help you stand out from the competition.
As a pure-play loyalty technology provider, Antavo prides itself on all the companies it integrates with, including Salesforce. Check out our joint webinar to learn more about how the two technologies support each other.
Never Let Another Opportunity Go By
Succeeding in the highly competitive environment in APAC is a true challenge, but with the right mindset and sophisticated loyalty technology, you don't have to worry about passing by any customer engagement opportunities.
If you wish to continue this conversation with Antavo's APAC team, feel free to book a demo or invite us to participate in your RFP process.
In the meantime, here's a handy worksheet to help you start planning the most important aspects of your new or revamped loyalty program.