In eCommerce, standing out from the crowd has never been as hard as today. Competitors are only one click away, so brands and retailers need to find ways to engage with their audience and capture their attention to turn them into loyal customers. To achieve this, delivering a unique brand experience has become one of the most significant distinguishing features.
Here are three efficient ways to create a unique brand experience driven by content that inspires customers to engage and to buy.
1. Detailed guides filled with engaging content
One of the best ways to enhance your brand experience is to provide the user with nicely edited advisory content. Well-prepared information supports customers in their decision-making process and helps them to find the right products. This is particularly useful for a more considered purchase.
Menswear manufacturer Strellson, for example, offers detailed shopping guides for certain product categories where there is a lot to consider, such as shirts or suits. They create landing pages filled with explanatory copy, pictures, videos and drawings to help the buyer choose the right size, the best cut and the right outfit combination.
When integrating products into your articles, pictures and videos, make sure that they can also be placed directly in the shopping basket – for example with a simple shopping overlay. This way, you combine content with commerce and guide the user cleverly but unobtrusively to the purchase of a suitable product.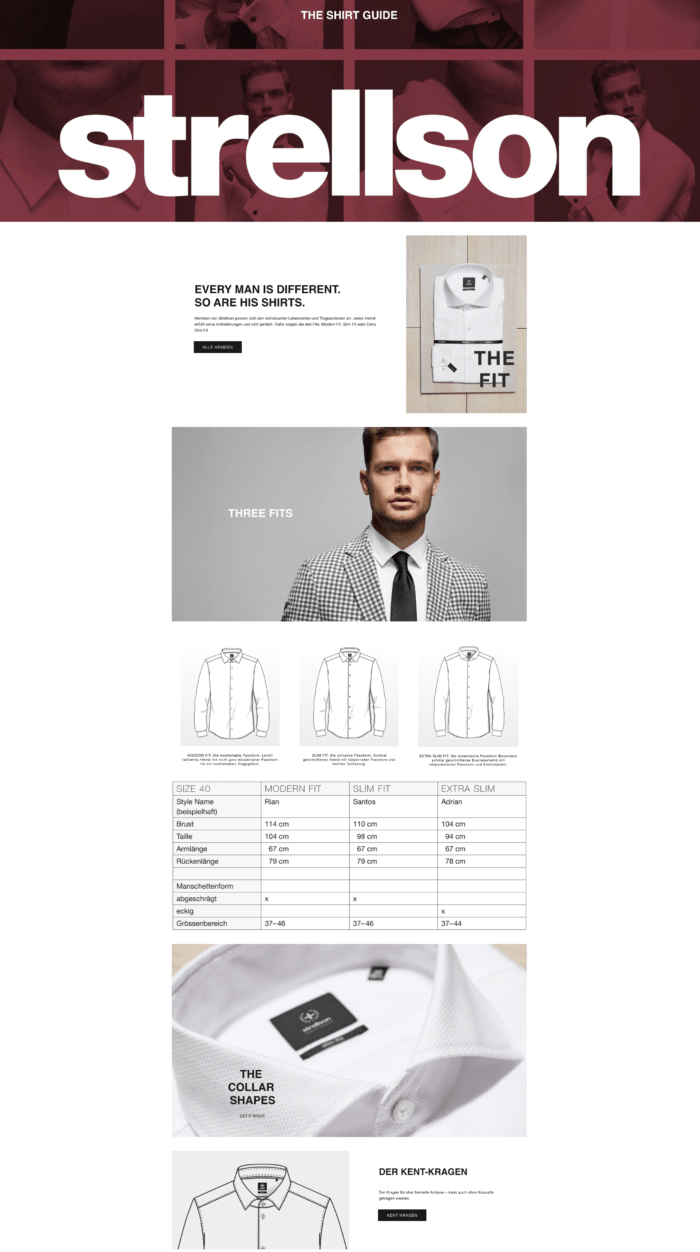 2. Enriched product detail pages
If visitors have found a product in which they are interested, it is important that you give them the ultimate reason to purchase it. One of the best ways to do so is to include content on the product detail page. With inspiring content, you can convince shoppers of the clear value of the product, highlight features and benefits, and encourage them to use it.
41% of consumers say they trust companies who educate them about product features and benefits, according to KPMG. Take advantage of this and show your customers what your brand and products are all about. Such unique content not only helps your visitors make better decisions, but it also improves your Google ranking.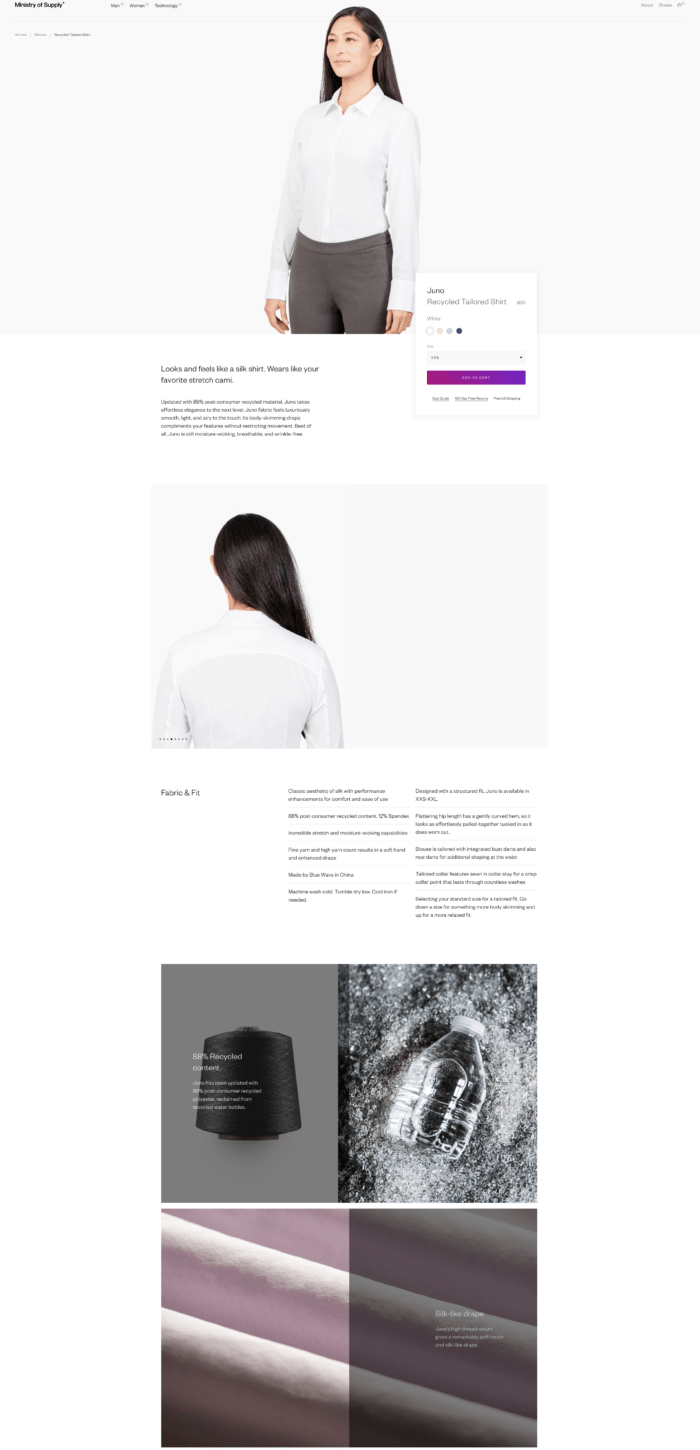 3. Inspiring on-site content hubs
You should do more than just offering your visitors an excellent brand experience in the buying process. Instead, you should design your website in such a way that customers and prospects will visit your web-shop after purchase and even without any specific purchase intent, just simply for inspiration.
A content hub in the form of an online magazine or blog is very suitable for this. Fill it with creative content that matches your brand and offers the user added value. Present yourself as an expert in your field and offer the user exciting content such as tips and tricks, more details on product lines and current trends.
Once you have created a content area, make sure you offer your customers new content frequently. Also, refer to current and seasonal topics and trends. This way, you will always give your customers new incentives to visit your website and be inspired.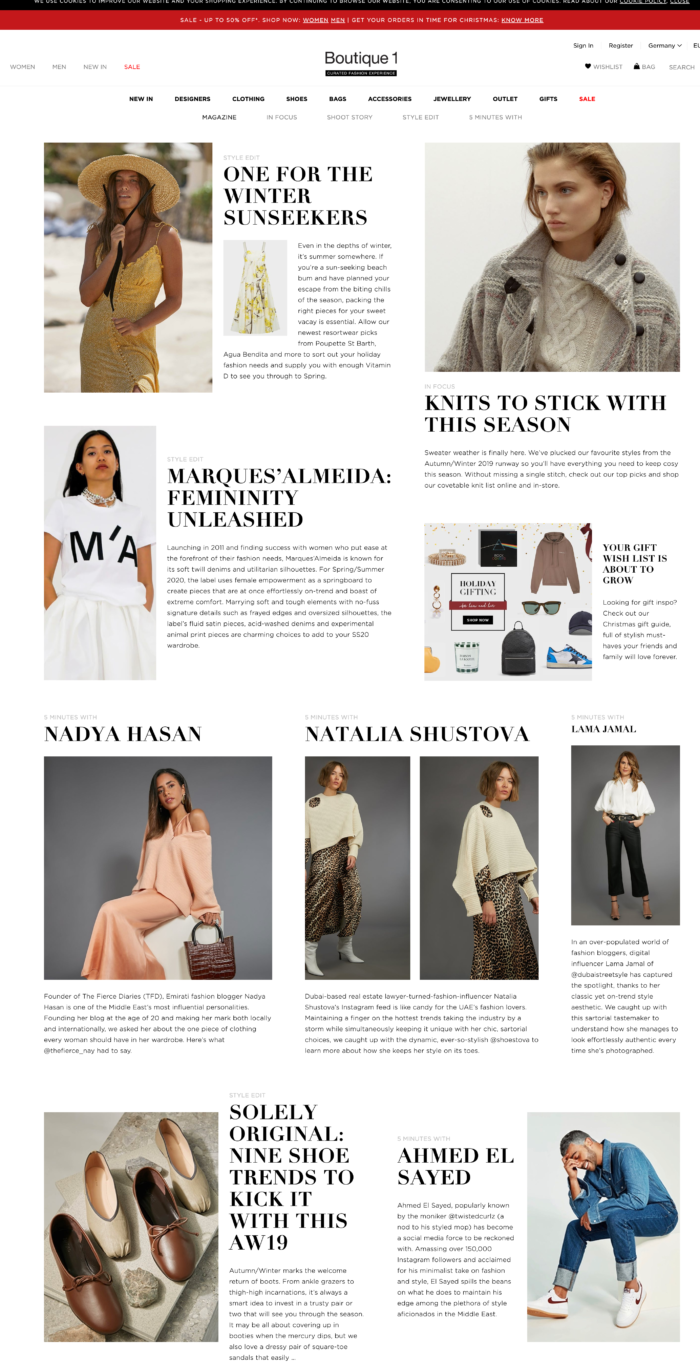 Pushing brand experience even further
There are many more ways to create a unique brand experience to inspire and engage customers, the possibilities are limitless. What you need to make it happen though is a thought-through loyalty strategy and an agile content management system that allows scaling the content production.
Do you want to learn more about creating a unique brand experience? Together with Antavo and three other innovative technology companies, Styla created an e-book, which hands you the 5 most effective strategies to increase engagement and conversion on your site. Download it now!