When I started my first business many years ago – way before Antavo – I built websites and webshops, putting long hours into designing them. From my own experience, I learned that customer engagement is built on interactivity and discovery. This realization served as a stepping stone to formulating the concept of progressive loyalty rewards.
In short, people wish to be part of a never-ending journey in their relationship with a company (or a loyalty program), working their way towards incremental benefits and new surprises. However, this threatens to turn the whole process into a chore. That's why you need emotional design to keep people happy.
What Are Progressive Loyalty Rewards?
'Progressive loyalty rewards' is a concept within loyalty programs that focuses on the customer journey. In order to prevent members from getting bored, progressive loyalty rewards present fresh goals, novelties and rewards with incremental value to keep people hooked.
A loyalty system can be considered progressive if it employs incentives or mechanics to hold customers' interest for a prolonged period of time. Tiers, gift catalogues with experiential rewards, seasonal events and regularly updated content that's also personalized: these all have the potential to engage program participants and nurture brand love.
How Is Emotional Design Related to Loyalty Programs?
We need a real change in mindset to understand the importance of a genuine smile and find the right virtual tool to connect with people in a similar way online. However good the smoothie is, you won't go back if a mediocre or grumpy shop atmosphere ruins your day. Yep, that smile and customer care are what turn first-time buyers into Loyal Customers. And that's what emotional design is about: going beyond the power of the product or a brand.
Naturally, fostering a relationship is harder to do online, but utilizing a well-built loyalty program is a good way for brands and retailers to communicate in a more personalized manner. It becomes the "human touch" that's missing from the conversion-driven universe of online retail stores. The reason is relevancy: a great loyalty program tells what you want to hear, in the most impactful moment.
The point of emotional design is empathy: to fully understand your customers' perspective. The aim is not to disguise a message in provocative forms that generate laughter or tears. Rather, your mission is to connect with your audience, solve their problems, react to their needs, and make them feel good. In short, relate to them and empathize.
Here is how Aaron Walter puts it, who headed UX and R&D at Mailchimp for years:
Emotional Design (…) uses psychology and craftsmanship to create an experience for users that makes them feel like there's a person, not a machine, at the other end of the connection.
Aaron Walter
VP of Design Education at VisionApp
I believe this is more than enough to illustrate why emotional design and progressive loyalty rewards matter. But how do you combine the two in a loyalty program? Here are five practical steps to get the ball rolling.
1. Do the Research, Define Your Personas
Based on your brand vision, you can create ideal profiles of the people you expect to become your loyal customers. This will remain a hypothesis until you really talk to them, but well-executed UX research not only grounds your former assumptions and explores areas that need a facelift, but also helps you identify the following:
your realistic loyal customer personas

their motivations to purchase and return

their stories and backgrounds (to empathize with)

their values (to find the common perspectives that you can represent in your loyalty program)

the kind of incentives, rewards, and progressive reward levels they want to receive
Having this kind of information makes it a walk in the park to construct a progressive customer journey and score that extra smile when customers come across your brand name.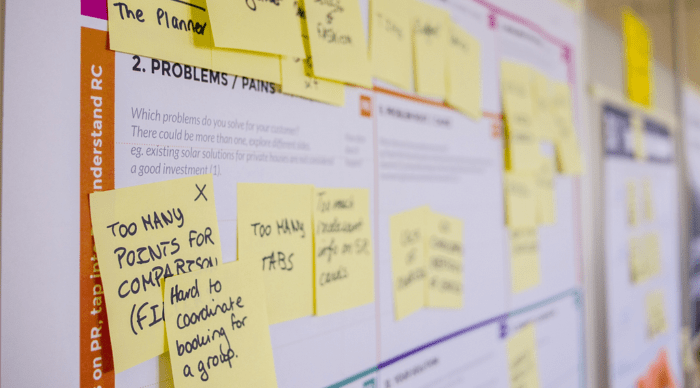 2. Create a Compelling User Journey
Consider how your customers go through the overall shopping and buying process in your webshop, from the very first encounter to the last action they take to complete check-out. When you recognise the potential pain points in their journey, you will also see which actions need to be encouraged with loyalty rewards.
Actions that take a lot of effort from your customer can be gently prefaced with the promise of a reward and followed up with gratitude and appreciation. For example, you can reward shoppers for providing some information about their shopping preferences and later give them extra loyalty points for completing multiple purchases in quick succession.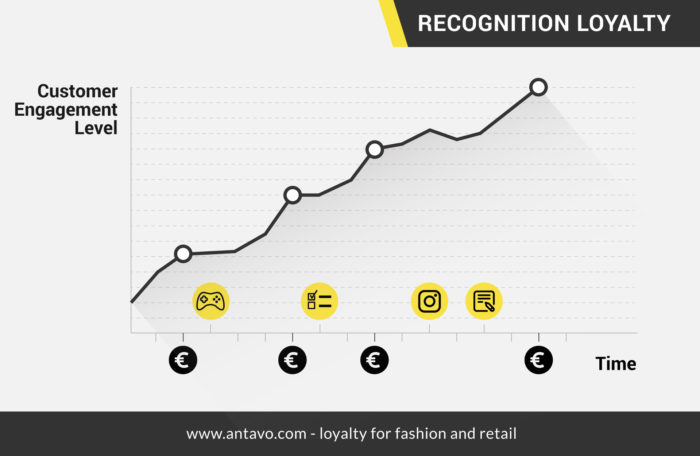 3. Keep Customers Motivated With Progressive Tiers
If you are looking for a mechanism that encapsulates the essence of progressive loyalty rewards, loyalty tiers are one of the most effective. In tier-based membership programs, customer ranks are determined by a given metric, such as total spend or accumulated points. Each progressive membership level has different rewards and perks attached to it; the higher and more prestigious the tier, the more alluring the benefits are.
According to Nielsen, 60% of global consumers have stated that tiers appeal to them. Why? For starters, ranks don't expire – unlike most point systems – relieving customers from a constant source of stress. Furthermore, being on the hunt for better and better rewards is very exciting, since reaching a progressive member level gives people a sense of pride and accomplishment. At the same time, they don't have to worry about losing their progressive loyalty status.
Jörn Roegler, VP of Strategy and Insights and Zsuzsa Kecsmar, CMO and Co-founder of Antavo tackled the topic of loyalty tiers in this episode of Customer Loyalty Minutes.
4. Make an Impact With "Surprise & Delight"
Just like the name implies, Surprise & Delight aims to bring happiness into the customer's life via unexpected rewards. Receiving a personalized email for a special occasion – especially if it includes a small token of appreciation – has the power to motivate people to go out of their way and make a purchase, even if they hadn't planned on doing so previously. The token of appreciation could be anything, like bonus points or free shipping on the next purchase. Therefore, first-time customers are more inclined to return and put another item or two in their (virtual) shopping cart.
The power of Surprise & Delight was demonstrated by the online fashion retailer LuisaViaRoma's birthday campaign. In brief, members of the LVR Privilege program received a certain number of loyalty points for their birthday, depending on their tier level.
The email campaign brought in more revenue than all non-loyalty email campaigns combined, and the award-winning case study based on the campaign revealed that participants who received the birthday message were 60% more likely to make a repeat purchase.
5. Engage Customers Outside the Buying Cycle
Naturally, emotional design shouldn't be restricted to transaction-based rewards. Actually, engaging customers even if they don't make a direct purchase creates even more opportunities to put a smile on their face. For instance, you can reward members when they go for a run, recycle old clothes or wear your products on a daily basis (yes, that's an option, too, thanks to Bluetooth technology).
Recognition Loyalty is a next-generation loyalty framework that nurtures long-lasting brand love and high customer lifetime value by giving something that truly resonates with their personality. Since buyers are recognized in more than one way – not just when they're buying – they not only enjoy a more unique experience, but they also continue interacting with the loyalty program for a longer time.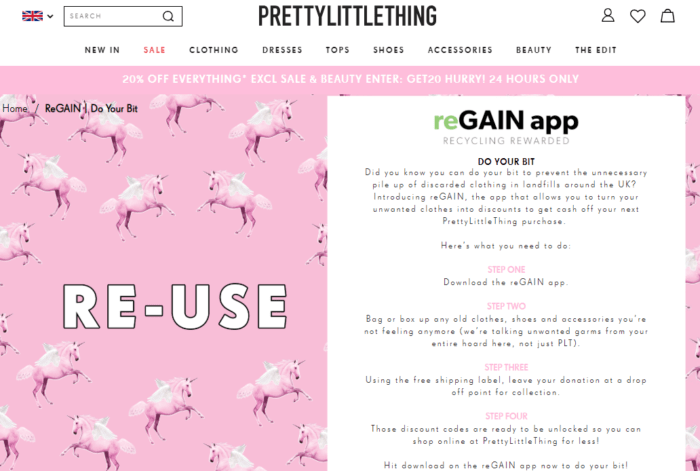 In Conclusion of Emotional Design and Progressive Loyalty Rewards
Emotional design in loyalty programs helps you identify those who want to enjoy your products, while progressive loyalty rewards help you keep their attention.
Since there is an ongoing shift in favor of online shopping, there also needs to be a change in how you market your business, moving towards a practice that invites loyalty program UX research, emotional design and advanced customer retention strategies, such as Recognition Loyalty.
To learn more about how to foster customer loyalty, we recommend checking out our comprehensive ebook: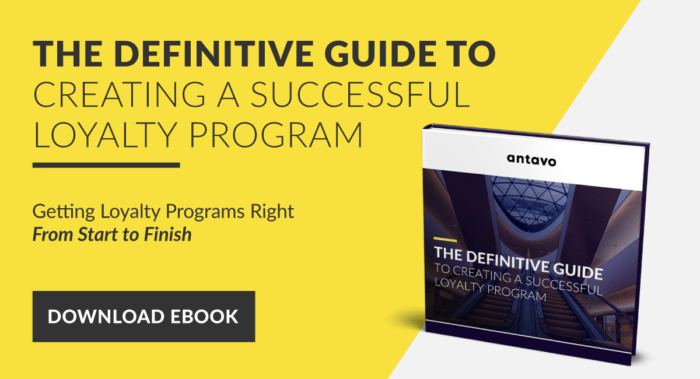 Attila is the CEO and Co-founder of Antavo. He has a solid IT background and has been a tech entrepreneur for over 15 years, and is also an expert in electrical technology. He combines a down-to-earth vision with inspiring enthusiasm, helping steer creativity and innovation at Antavo.