The years following the pandemic have brought digital transformation to an unprecedented level, prompting businesses all around the world to rethink how they are interacting with their customers. And due to the rekindled interest in innovative customer engagement solutions, loyalty programs are experiencing a renaissance. But even though companies are investing in customer loyalty all across the globe, each region has its own focus, meaning that areas such as Europe, North America and Asia-Pacific have very different loyalty landscapes. To help you identify untapped potential in your market, Antavo has released three Regional Customer Loyalty Reports for 2022.
About Antavo's 2022 Regional Customer Loyalty Reports
In its series of Regional Customer Loyalty Reports, Antavo focuses on three regions: Europe, North America and Asia-Pacific, dedicating a full report to each one. These reports are based on a global survey of over 320 corporate respondents from all regions of the world. The report also pulls data from 6.3 million APAC member actions, 10.7 million North American loyalty member actions and 4.4 million Europe-specific member actions, all tracked via Antavo's Loyalty Management system.
Antavo's Regional Customer Loyalty Reports examine loyalty programs through the eye of current and future loyalty program owners. And each region-specific statistic in the reports is compared to the global average established in Antavo's Global Customer Loyalty Report 2022.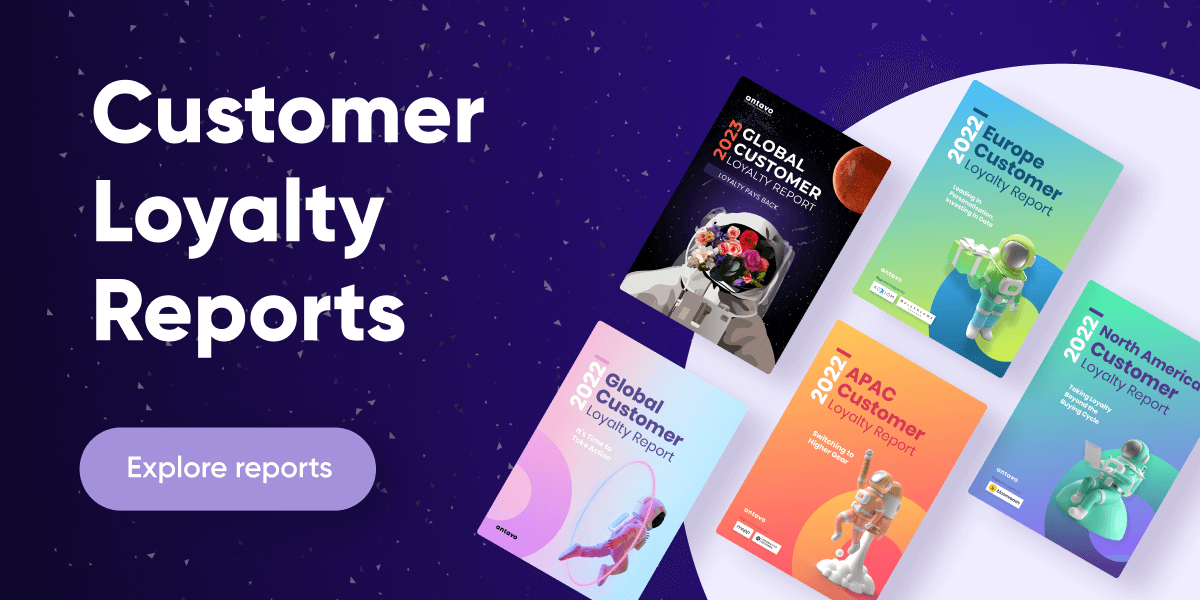 1. The Current Loyalty Program Landscape
The past few years have proven to be a disruptive force for customer engagement and brands have been left facing an entirely new customer reality. This has completely transformed the goals and expectations of loyalty programs, so it's worth examining how businesses in each region evaluated the performance of their respective loyalty programs.
Satisfaction
Among the three regions analyzed, North American program owners are the most satisfied with their loyalty programs (63.3%), demonstrating that companies with a well-thought-out loyalty program can still find success in such a large market. On the other end of the spectrum, fewer APAC companies say they are satisfied with their program (42.4%), which may suggest that ambitions and standards are particularly high in the region. As for Europe, satisfaction rates are somewhat high (56.3%), and closely mirror the global average.
The Desire to Revamp
When survey respondents were asked how likely they are to revamp their loyalty program in the next three years, North America, again, took the top spot (80.0%), followed by Europe (71.9%), and then APAC (66.7). Generally, this majority indicates that even companies that are satisfied with their current loyalty programs plan to revamp them in the near future, potentially in an effort to add new features and capitalize on the latest trends.
Emotional Loyalty
In order to gauge how companies view their loyalty programs, respondents were asked whether they would classify their program as rational (transaction-focused) or emotional (experience-driven, where customers are often engaged outside of the buying cycle). In this case, APAC stood out by a significant margin. 30.3% of APAC respondents with a loyalty program classified their program as more emotional than rational, scoring 9.6% above the global average. The other two regions both scored below the global average. Just 15.6% of European and 10% of North American respondents qualified their program as more emotional.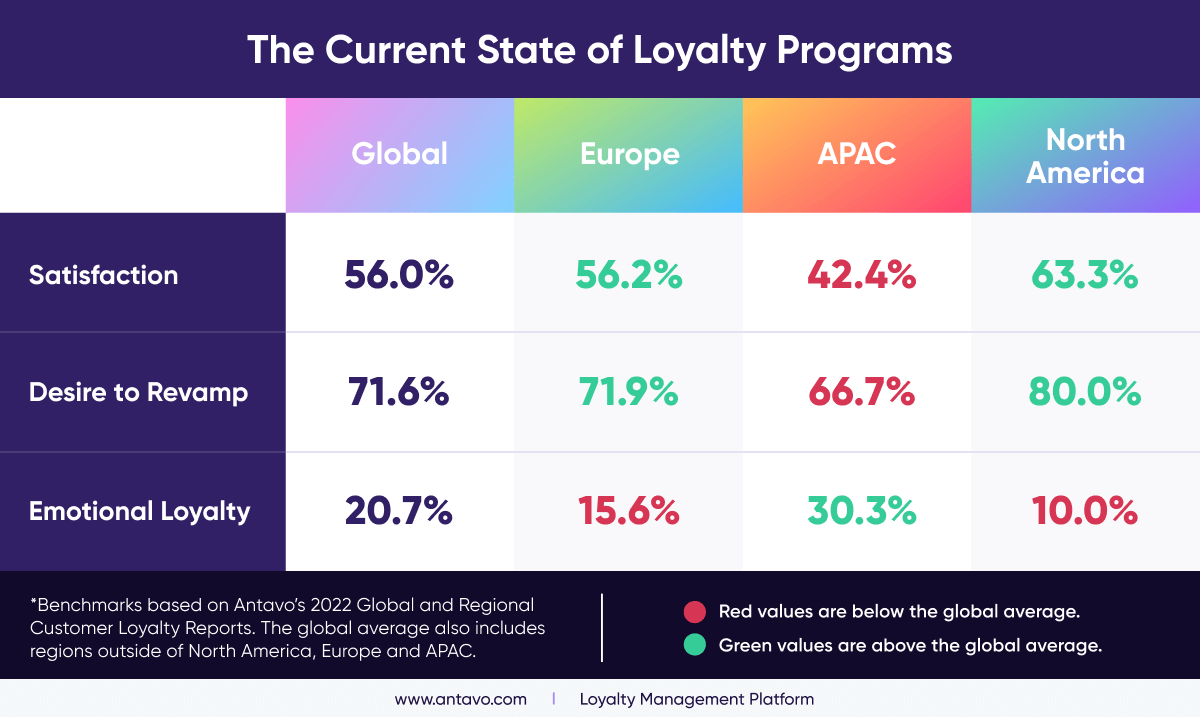 2. Investing in Loyalty
Pushing towards innovation, with either strategy or technology, can yield great results and propel businesses to become industry trailblazers. But in order to truly stand out, companies have to be aware of the prime investment trends within the loyalty market.
Plans to Invest
All three regions have expressed a desire to increase or significantly increase their investments in customer loyalty over the next three years. This implies that loyalty programs all across the globe will see increased attention and support from companies. As for the numbers, Europe has expressed the highest interest in planning to invest in customer loyalty (84.4%), closely followed by North America (80.0%) and then APAC (78.8%).
Tracking ROI
Having a clear picture of the loyalty program's performance is invaluable in measuring its success. In terms of how many companies track the ROI of their loyalty program, North America appears to be the most diligent (70.0%), with Europe not far behind (68.8%). APAC falls behind in this regard at 57.6%, which is 9.6% below the global average. The lack of ROI tracking may correlate with low satisfaction rates for current loyalty programs in the region, potentially explaining why so many APAC companies feel neutral about their program.
Engaging Customers Outside of the Buying Cycle
Rewarding customers for actions besides spending money (such as referring friends, writing product reviews, donating to charity, etc.) strengthens the bond with loyalty program members, as they feel recognized and valued. Among the three examined regions, North America is the most eager to engage customers outside of the buying cycle, as 87.5% of respondents say they are planning to do so. This intention is milder in Europe (63.2%) and APAC (60.6%). However, Europe is unique in the sense that, in the region, 40.6% of program owners are already engaging customers outside of the buying cycle, though it still remains an important priority for companies.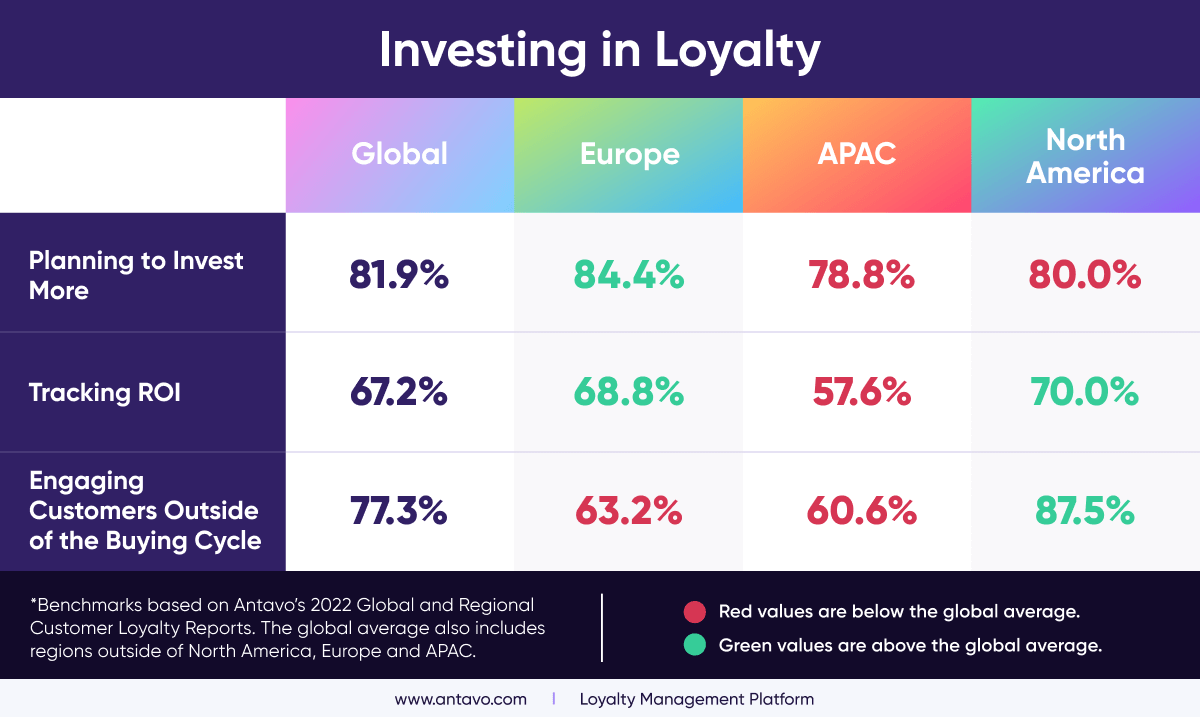 3. Personalizing the Loyalty Experience & Rewards
Though personalized experiences and custom-tailored offers have always been an important strategy to build trust and loyalty, they have become an essential part of any loyalty program in the Post-Covid world. Personalization has also been recognized as an outstanding opportunity to build customer loyalty and brand love. With that in mind, what sentiment have loyalty program owners expressed in each region?
Already Offering Personalization
European businesses lead the way, with 56.3% offering some form of personalization, which is 15.8% above the global average. 30.3% of companies in APAC and 36.7% in North America stated that they offer personalization, both falling behind the global average. This, however, can be viewed as untapped potential in both markets, as companies who act quickly and introduce personalized offers and experiences can still become trendsetters in the market.
Planning to Offer Personalization
A similar sentiment was shared among North American and Asia-Pacific respondents, both of which expressed a desire to make their loyalty program more personalized: 57.6% of APAC and 53.3% of North American companies stated that they plan to offer personalized rewards and offers in the next three years. However, only 34.4% of European businesses plan the same, most likely because many of the companies already have personalized elements within their program.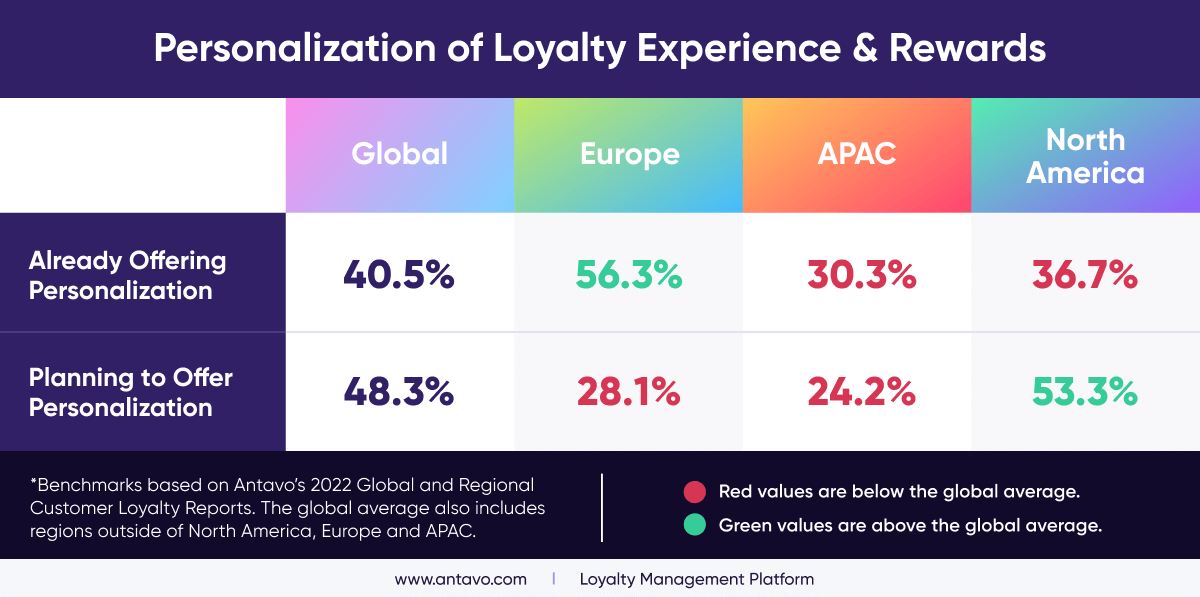 4. Technology & Loyalty Platform Expectations
Loyalty technology has the potential to heavily impact a company's satisfaction with its loyalty program. Generally, technology involves more than just the capability to execute a concept. The following trends have been identified regarding loyalty technology and platform use.
In-House vs Third-Party Technology
Designing the loyalty technology in house or opting for a third-party vendor are options that each come with its own perks. And each option also produces to a vastly different management experience. In APAC, the scale tips slightly in favor of in-house technology, with 51.5% choosing in-house solutions. Meanwhile, in North America, 60% of companies prefer the third-party approach. Europe, interestingly, has an even 50-50 split.
Dependency on IT Teams
The loyalty platform of choice should be flexible and easy to use, otherwise staff tasked with the daily loyalty program management will struggle. When asked about their marketing team's dependency on IT to manage the program, 50% of European companies felt their teams were dependent, followed by 42.4% of companies in APAC. In both cases, these numbers were above the global average. North America, presumably because of the region's preference for third-party technologies, is less reliant on IT support for program management (33.3%).
No-Code Platform
In light of the previous question, current and future program owners were also asked whether they agree with the fact that being able to set up loyalty rules without coding would be an asset. Respondents in all three regions seemed to favor the idea of no-code platforms, especially those in APAC (85.7%). In North America and Europe, 63.3% of respondents shared this sentiment, which fell slightly below the global average, but is nonetheless a clear majority.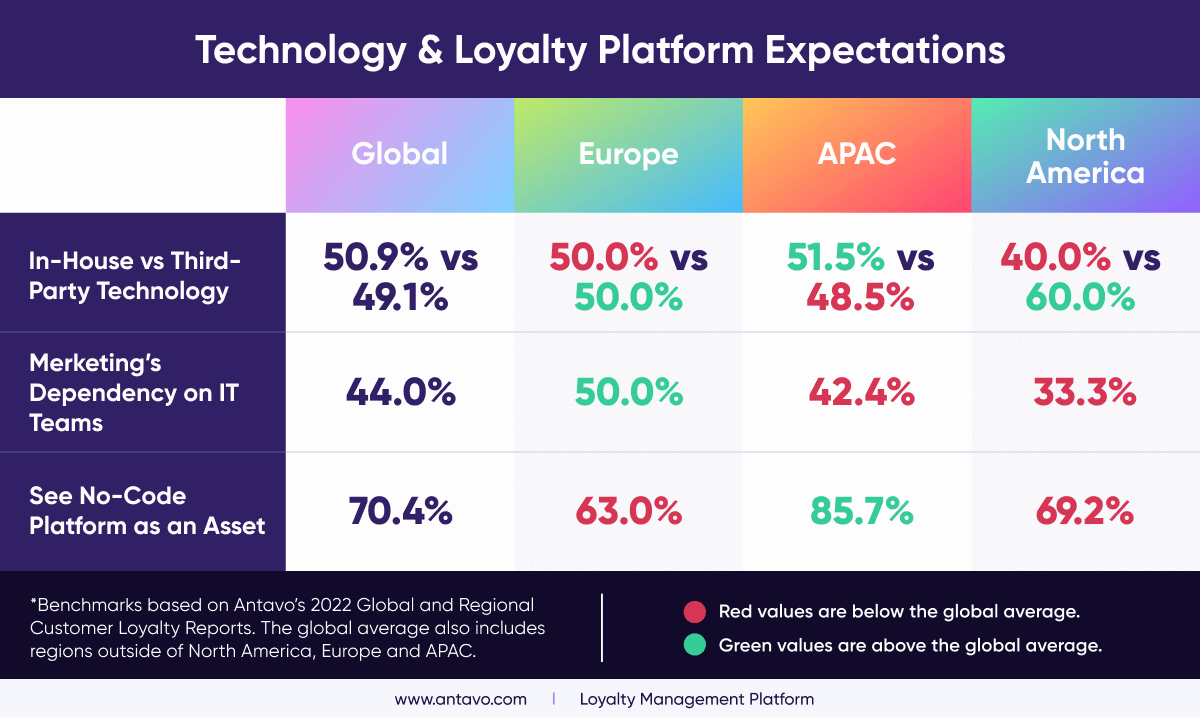 Get Ready to Claim the Untapped Loyalty Potential
This article presents just a slice of the in-depth analysis of the loyalty program landscape in APAC, Europe and North America presented in our regional reports. If you would like to find out more about the key challenges and future trends predicted for these regions, or would like to hear what loyalty experts in each region think about the trends, download the full reports here.
Are you inspired to put your newfound knowledge into action? Our loyalty experts are more than happy to strike up a conversation with you about the loyalty capabilities that will make your reward program truly shine. All you have to do is send us an RFP or book a demo.