The fastest way to someone's heart is through their stomach, right? So it's no surprise that brands in the food and beverage industry are going gourmet with next-level fast food and restaurant loyalty programs — filling your pocket and belly at the same time.
Consumers love rewards, but most rewards programs aren't optimized for long-term engagement. Brands at the top of the food chain have designed their loyalty programs with high levels of convenience, plenty of touchpoints and longevity in mind. And to achieve that, they are investing in delivery app solutions where they can easily introduce their programs. Such programs have succeeded in reinforcing brand loyalty with frequent customers and increasing restaurant customer retention through the use of exclusive discounts, VIP access to products, preferential treatment, and more.
Restaurants need to stand out and make their way to the top by providing VIP treatment to their best customers. Nice decor and great cocktails aren't enough anymore – a true feeling of recognition and appreciation is what they are looking for! A good loyalty program also needs to give restaurants the opportunity to be innovative and different from the competition. It has to offer more value to customers: gamification, rewards, and, most of all, the feeling of being valued and essential to the growth of the brand in which they are choosing to spend their money.
Mathilde Prévost
Alliance Manager at UEAT

Let's grab a seat at the table with seven companies that are serving up exceptional restaurant loyalty programs for their customers. Bon appétit!
Best Practices for Restaurant Loyalty Programs
A restaurant loyalty program is a type of reward system that's created to address the needs and requirements of a restaurant or fast-food chain. Restaurant loyalty programs are characterized by:
A strong focus on app-based engagement, including digital loyalty cards and receipt scanning
Prevalent use of freebies, which are either free food items when customers make a specific number of purchases, or the addition of free extras on special occasions, like birthdays
Frequent use of the earn & burn model as the core program structure
A reliance on branded merchandise or partner rewards instead of coupons or another financial incentives
Value creation is a substantial facet of the next Restaurant Strategy. Fast-casual and fast food are going to face the biggest opportunities of the last 10 years. And it will involve delivery and take away service! However, people are not looking for discounts. Good food is not a commodity. They want to belong to somewhere, even if it means to purchase more frequently. Loyalty should focus on this sense of belonging.
Domingo Iudice
Co-Founder at Pescaria

1. Dunkin' Donuts Rewards Program: Priority Service
With over 12,000 shops in 45 countries and over 8 million loyal customers across the globe, Dunkin' Donuts stores undoubtedly see a lot of traffic each day. Knowing that people hate waiting in long lines, the company utilizes priority services as the main selling point for its restaurant loyalty program, DD Perks.
The most popular use of the membership is placing orders using the company's app, so customers can instantly claim their orders when they arrive at the store. Loyalty members also earn 5 points per $1 spent and can use the points toward gift cards.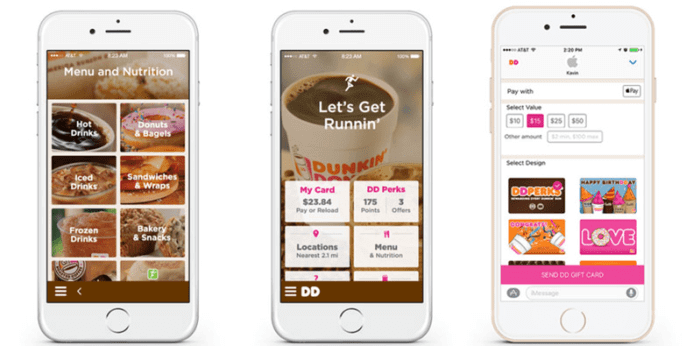 Dunkin' Donuts' rewards program also has a number of clever additions, such as a free birthday gift card. Moreover, thanks to a partnership with Idle-Empire, customers can earn bonus points for playing games and answering survey questions, which is a great source of zero-party data.
Why it works
Priority service and early access to upcoming new dishes are not only highly alluring loyalty program features but are also relatively inexpensive.
Offering priority service to app users is also a great way to promote an omnichannel experience.
Awarding points for activities other than purchases keeps engagement levels high.
Using an earn & burn style program does not make a brand stand out, but it does keep the rules simple, which is great for a restaurant's brand identity.
2. Chipotle Rewards Program: A Diverse Reward Offering
To reward customers in a fresh way, Chipotle ditched the traditional punch card in favor of a fully mobile experience called Chipotle Rewards.
The exchange ratio for the loyalty currency: users earn 10 points on their virtual card per $1 spent.
New members receive free chips and guacamole after their first purchase.
Rewards include free Chipotle orders and branded merchandise.
Members of Chipotle Rewards can use the dedicated app to easily reorder their favorite Mexican dish or scan receipts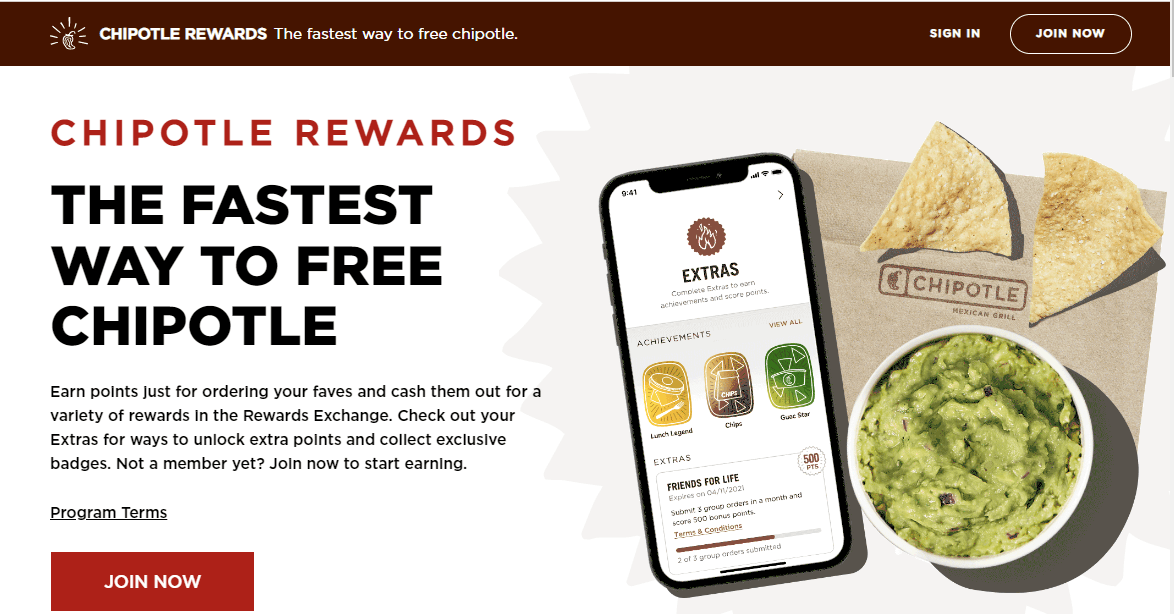 The benefits of being a member of the Chipotle Rewards program don't end here, as the restaurant has a couple of gamification and surprise & delight elements up its sleeve. For instance, customers can earn various badges by completing challenges and receive a surprise offer on their birthday.
Why it works
Chipotle has made multiple kinds of rewards available, from freebies to early access & merchandise.
Chipotle has cleverly integrated its mobile app into the reward journey.
Badges and birthday rewards are a great way to spice up the experience for customers, at a relatively low cost.
3. Famous Dave's Rewards Program: App-based Benefits
The award-winning barbeque restaurant Famous Dave's has a loyalty program that is known for two things: it's a ribs-themed reward system, and its smartphone app.
Every $1 spent equals 1 Bone, which is the program's currency.
Collecting 100 Bones gives customers a $10 discount on their next order.
The loyalty program is available on a smartphone app, which also promotes the user's nearest Famous Dave's restaurant.
Downloading the app gets users a one-time gift: a free burger with the next order.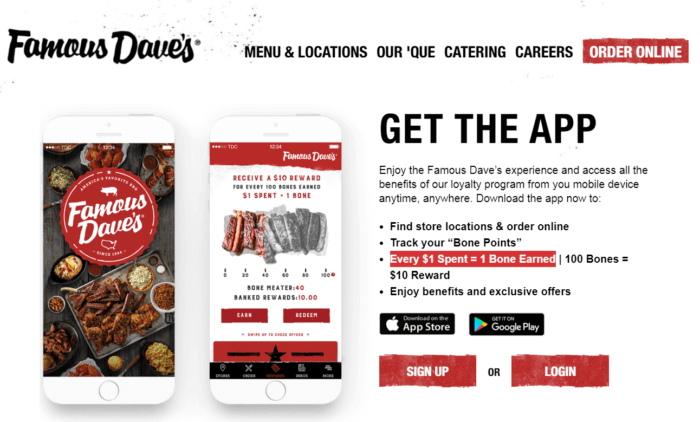 Famous Dave's restaurant loyalty program uses more than just rewards to build a loyal follower base, however. The company stays in touch with its members, telling them about the latest updates or offers in a personalized way. This is extremely good way to build a like-minded community and show that being close to the brand is more than just food and rewards.
Why it works
Famous Dave's loyalty program is simple and easy to understand.
The app can be used for identification in the store.
The brand engages in personalized communication with its members.
4. Chick-fil-A Rewards Program: Tiers & Experiential Rewards
As the originator of the classic, pickle-topped chicken sandwich, Chick-fil-A needed a loyalty program to match its image. It pretty much sums up all the neat little features we listed above: loyalty points that can be exchanged for free meals, birthday rewards, and an app that handles both orders and the loyalty currency.
However, Chick-fil-A One goes even further by implementing some truly next-gen restaurant loyalty program elements. The most notable is their tier system: by default, customers earn 10 points per dollar spent, but reaching higher levels increases the points-per-dollar ratio up to 13.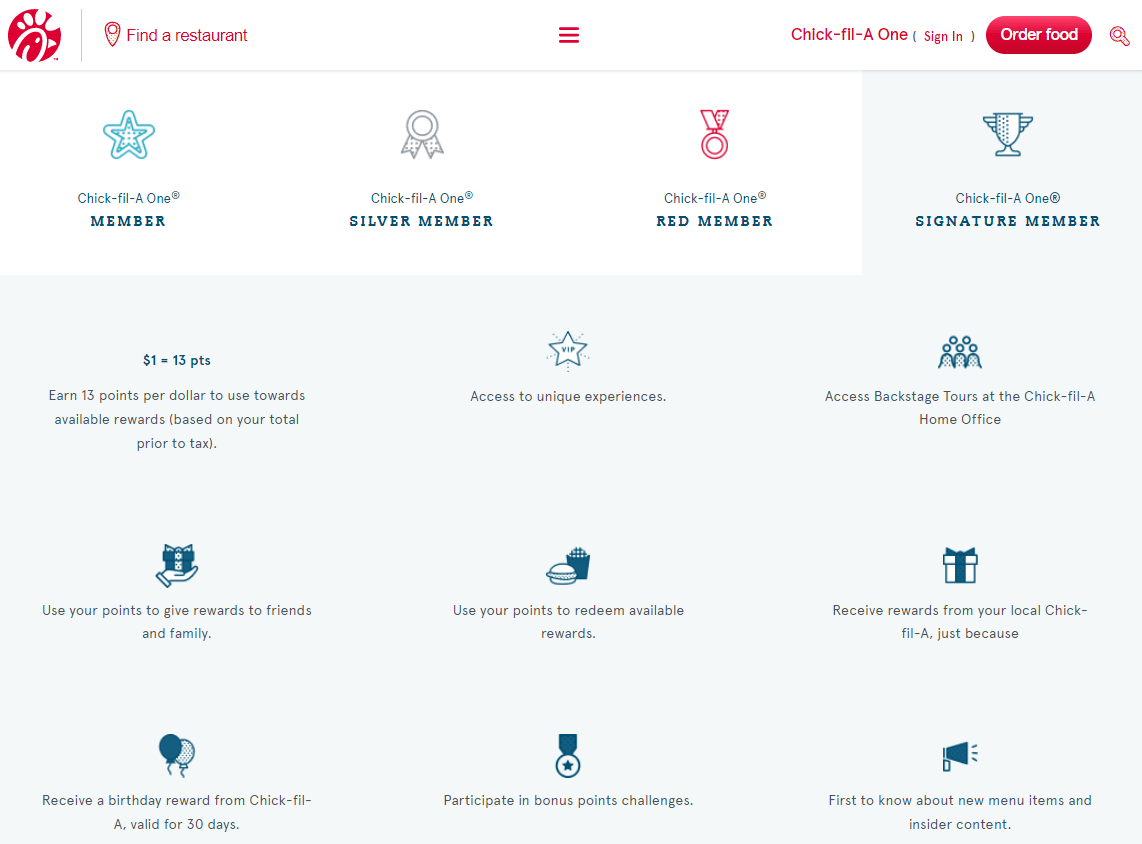 Higher Chick-fil-A membership levels also unlock better rewards, including access to the backstage tours at the Chick-fil-A Home Office and the ability to share the rewards with friends and family members. Overall, a higher tier means a better experience for members.
Why it works
Chick-fil-A offers a highly engaging and long-term loyalty program thanks to its tiered system.
The program provides everything customers have come to expect from a restaurant loyalty program, in one attractive package.
The program even offers some experiential rewards, like the backstage Home Office tour.
5. La Cage Rewards Program: Rewarding Sport Fans
Canadian sports restaurant chain La Cage revamped its Club Cage loyalty program to focus on rewarding customers beyond dining. Its new loyalty program — powered by Antavo — is now available in 52 restaurants run by the company.
Customers earn 10 points for every dollar spent at La Cage's restaurants or on home delivery.
Members can also earn points by referring friends and completing their customer profiles.
Loyalty members can use their points to pay for purchases and claim rewards.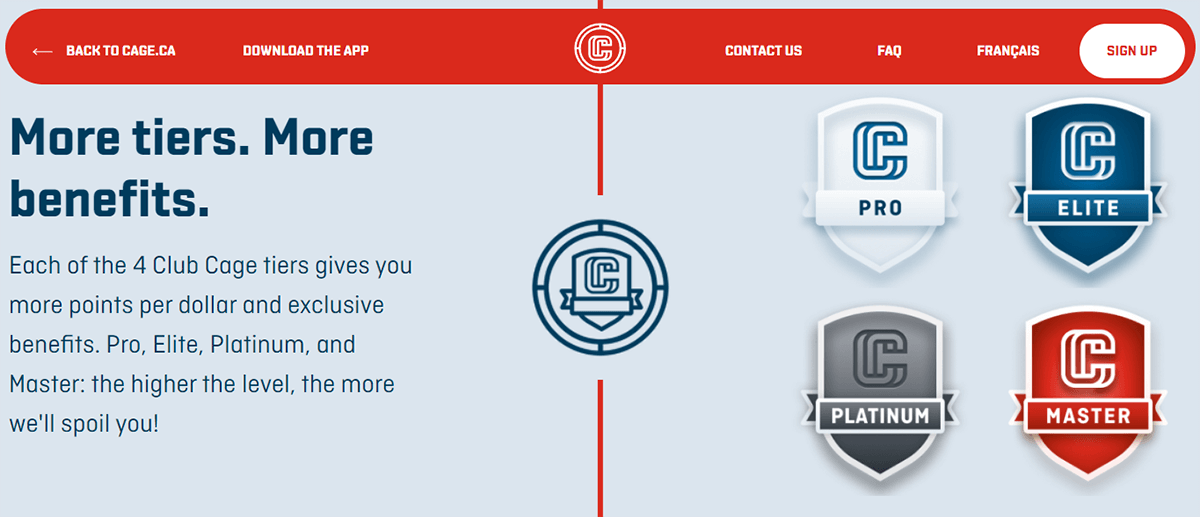 One key highlight of La Cage's loyalty program is its free wings deal. Being a sports bar through and through, the company runs a long-standing promotionin which, when the Montreal Canadiens score 5 goals, members receive 8 free wings with a $15 purchase.
Why it works
Club Cage follows the next-gen restaurant loyalty program model, where higher tiers increase the number of points earned with purchases.
La Cage rewards friend referrals to build a larger community.
The free wings offer aligns the brand with hockey fans, and makes the restaurants a must-visit during matches.
6. McDonald's Rewards Program: Freebies Galore
The MyMcDonald's Rewards program is a fan-favorite of many generations, and for a good reason: it doesn't shy away from handing out free meals to members just to create a bond with them. It's also very straightforward, sparing customers from complicated rules and systems.
With each eligible purchase, members receive 100 points for every $1 spent. Points can be redeemed for free treats at specific milestones. For example, 1500 points can be traded in for a cheeseburger, 3000 points are worth a 6-piece chicken nugget, a Happy Meal costs 6000 points, etc.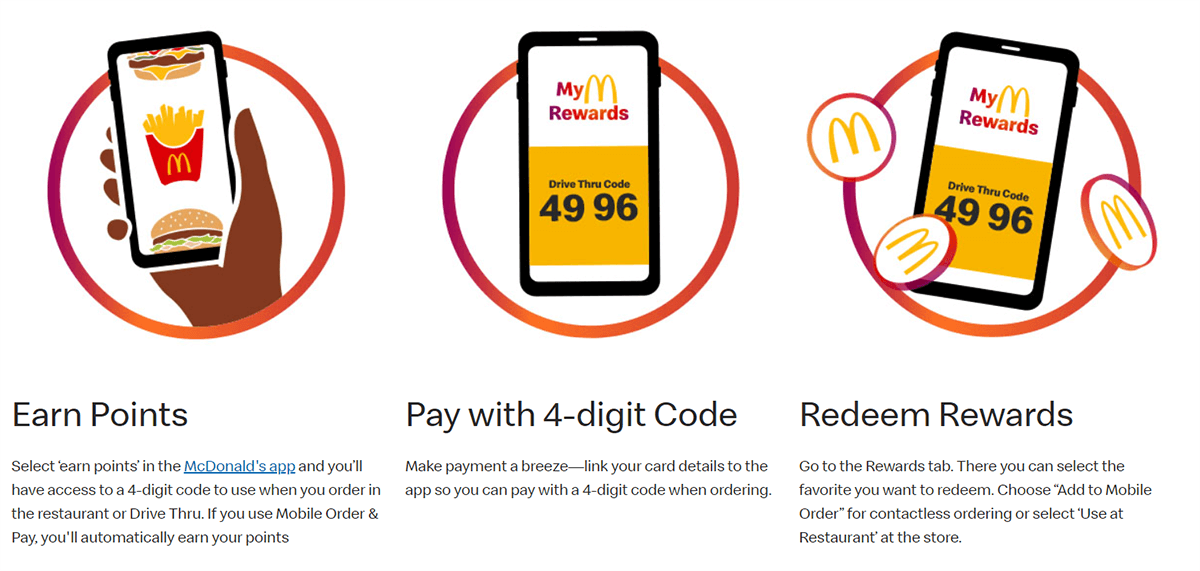 MyMcDonald's magic lies in its many 'firsts'. Members receive free McNuggets for the first time after downloading the app. Then after making their first purchase as a loyalty program member, they receive 1500 points, which instantly qualifies them for another freebie.
Why it works
McDonald's reward system is easy to understand, easy to use, and everyone can find value in it.
The program encourages members to download and use the app.
There are plenty of freebies to boost enrollment rates.
7. Red Lobster Rewards Program: Partnership Benefits
Specializing in seafood, Red Lobster is an American casual dining restaurant chain with over 700 restaurants worldwide, including the US, Canada, Saudi Arabia, the United Arab Emirates, Qatar, Mexico, and Japan. As such, the My Red Lobster Rewards program has a lot of expectations to live up to.
Members spend $1 to earn one point. After every 125 points, members can choose from three different freebies for their order.
New members earn 75 points when they enroll.
There are three tiers in total, with benefits like free birthday gifts, double points for to-go orders, early access, and unlimited games on in-restaurant tabletop devices.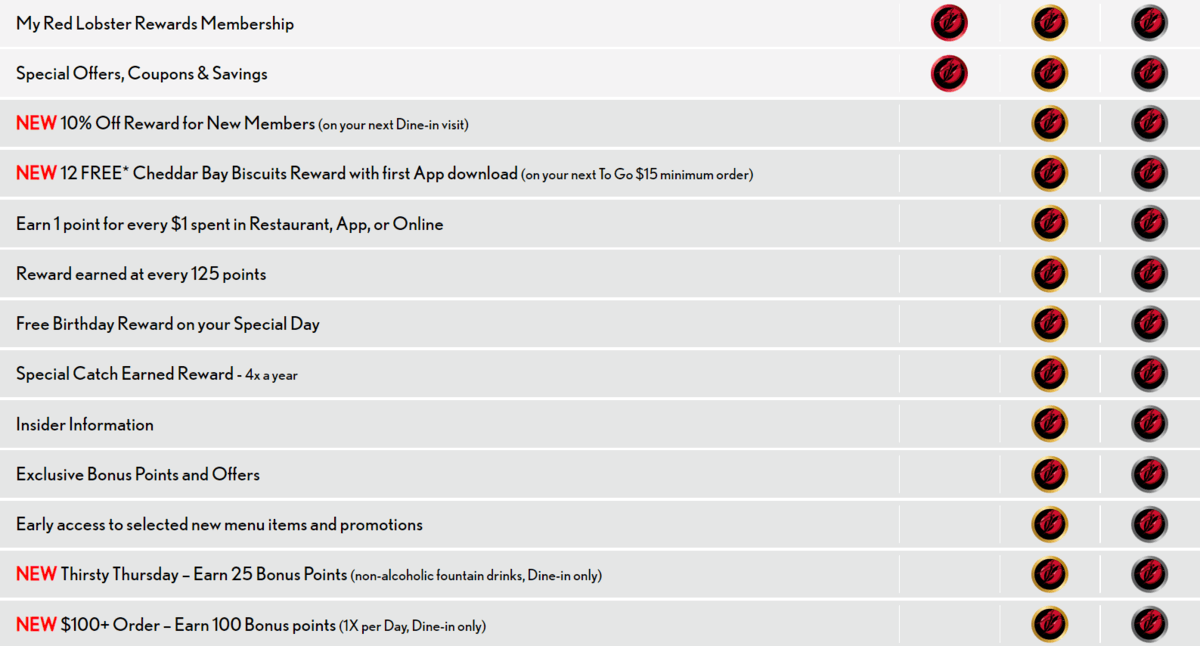 My Red Lobster Rewards also hosts a range of limited-time partner offers. For instance, members can earn 10¢ per gallon up to 20 gallons at Shell for every $50 in qualified purchases at Red Lobster. Such deals make membership even more valuable.
Why it works
My Red Lobsters Rewards has a tier system with a great range of rewards, ensuring long-term customer engagement.
Some of the rewards in the loyalty program promote restaurant visits, which are more memorable than online orders.
Cross-brand offers increase the value of being an active member.
The Last Bite
Restaurant loyalty programs are superb assets for food industry leaders who want to drive repeat purchases and increase engagement. Just remember: you can go either super streamlined, focusing on freebies and hassle-free experience (backed up by a strong focus on mobile), or an incremental progression where tiers influence how many points members earn for their purchase, coupled with plenty of level-specific benefits.
If you're interested, Antavo can help you create a loyalty program custom-tailored to your brand's identity. Simply contact us, or send us an RFP. Also, check out one of our comprehensive guides about food & beverage loyalty programs.
And don't forget to download Antavo's Customer Loyalty Report 2022, an in-depth report that showcases dozens of statistics as well as future industry trends to help you navigate the world of next-gen loyalty programs.