The fastest way to someone's heart is through their stomach, right? So it's no surprise that brands in the food and beverage industry are going gourmet with next-level fast food and restaurant loyalty programs — filling your pocket and belly at the same time.
Consumers love rewards, but most programs aren't optimized. Brands that are on the top of the food chain have designed their loyalty programs with high levels of convenience, engagement, and longevity in mind, and started to invest in delivery app solutions where they can easily introduce their programs.
Such programs succeed by reinforcing brand loyalty with frequent customers through exclusive discounts, VIP access to products, preferential treatments, and more. This is especially important in the current crisis.
"Restaurants were forced to adapt quickly to Covid and digitize their offer, thus restaurants need to stand out and make their way to the top by providing a VIP treatment to their best customers. Nice decor and great cocktails aren't enough anymore – a true feeling of recognition and appreciation is what they are looking for! Customer's retention is a key factor of a restaurant's success in a post-Covid era. A good loyalty program needs to give restaurants the opportunity to be innovative and different from the competition. It has to offer more value to customers: gamification, rewards and mostly, the feeling of being valued and essential to the growth of the brand in which they are choosing to spend their money."
Mathilde Prévost
Alliance Manager at UEAT
Let's grab a seat at the table with four companies that are serving up exceptional restaurant loyalty programs for their customers. Bon appétit!
1. DD Perks: Getting Priority Service
With over 12,000 shops in 45 countries and over 8 million loyal customers across the globe, Dunkin' Donuts stores no doubt see a lot of traffic each day. Knowing that people hate waiting in long lines, the company utilizes priority services as the main selling point for its restaurant loyalty program.
Members can use the company's app to place their order in advance, and then claim it instantly once they enter the store. Dunkin' also offers a free beverage after collecting 200 points ($40).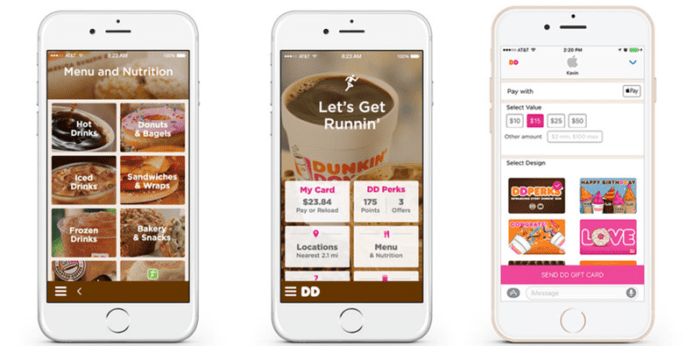 Priority service and early access to upcoming new dishes is not only a highly alluring loyalty program feature, but also relatively inexpensive. You can either use these kinds of benefits as high-tier rewards to increase customer lifetime value, or make it instantly accessible to members, thus boosting enrollment rates.
Value creation is a substantial facet of the next Restaurant Strategy. Fast casual and fast food are going to face the biggest opportunities of the last 10 years. And it will involve delivery and take away service! However, people are not looking for discounts. Good food is not a commodity. They want to belong to somewhere, even if it means to purchase more frequently. Loyalty should focus on this sense of belonging.
Domingo Iudice
Co-Founder at Pescaria
2. Chipotle Rewards: Free Treats on Milestones
To reward customers in a fresh way, Chipotle ditched the traditional punch card in favor of a fully mobile experience called Chipotle Rewards.
By using the

dedicated app

, members of Chipotle Rewards can easily reorder their favorite Mexican dish and earn loyalty points.

The company rewards in-person orders, too.

Scanning a receipt credits the same amount of points

as an online purchase.

The exchange ratio for the loyalty currency: users earn 10 points on their virtual card per $1 spent.

Every time a customer reaches the 1250 point milestone, they're eligible for a free meal. Then the cycle starts anew.
But to spice things up a little, Chipotle fans can earn 50% more points during promotional events, or receive 100 bonus points for ordering something different — remember, the mobile app keeps track of the customer's orders. The restaurant chain even gives customers bonus points for their birthday. And you know you're dealing with a true brand loyalist if they find time on their birthday to stop by your restaurant!
There's just one downside to Chipotle Rewards, though: it takes 1-2 days for the system to add the points to your account. You can't just turn around after paying for a family dinner, claiming you have enough points for a free steak-filled burrito bowl. These days there's just no excuse for delays. Restaurant loyalty programs should work in real-time – as the technology already allows – just like in the following example.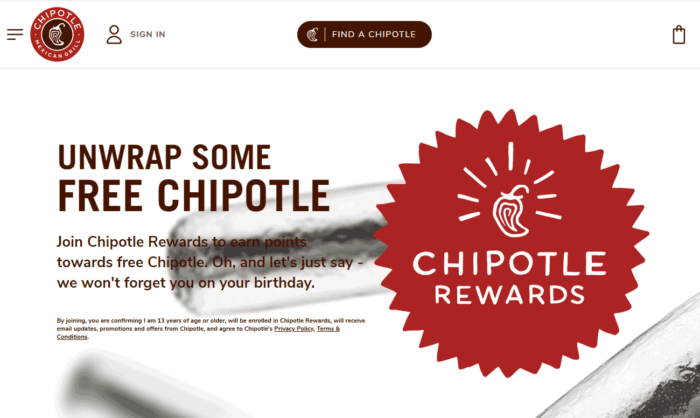 3. Famous Dave's Rewards Program: App-based Benefits
The restaurant loyalty program of award-winning barbeque restaurant Famous Dave's is known for two things: it's a rib-themed reward system, and its smartphone app.
Every $1 spent equals 1 Bone, which is the program's currency

Collecting 100 Bones gives $10 discount on your next order

The loyalty program is available on a smartphone app, which also promotes the nearest Famous Dave's restaurant to you

Downloading the app grants a one-time free burger on the next order
Another benefit of going all-in on mobile engagement is that apps double as an in-store identifier. Famous Dave's discovered how much more off-site orders they receive due to mobile integration. The recipe is simple: by using the app, customers could place an order online. When they arrive at the counter, the employee uses a POS to scan the app, instantly matching together the customer with the corresponding order.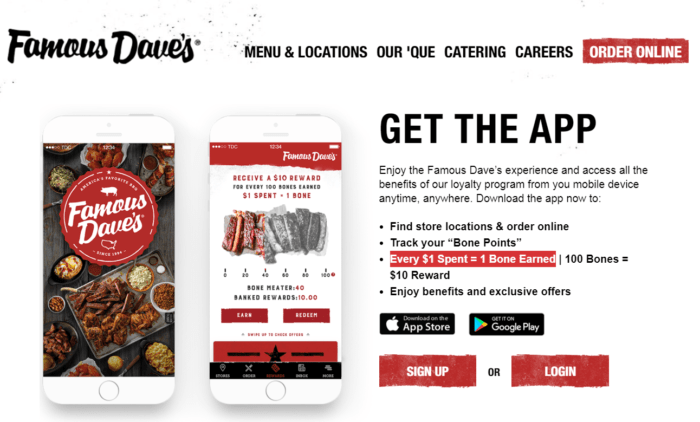 4. Chick-fil-A One: Tiers & Experiential Rewards
As the originator of the classic, pickle-filled chicken sandwich, Chick-fil-A needed a loyalty program to match its image. It pretty much sums up all the neat little features we listed above: loyalty points that can be exchanged for free meals, birthday rewards, and an app that handles both orders and the loyalty currency.
However, Chick-fil-A One goes even further by implementing some truly next-gen restaurant loyalty program elements. The most notable is their tier system: by default, customers earn 10 points per dollar spent, but once a customer hits the annual quota of 1,000 points, they become eligible for the Silver Membership tier.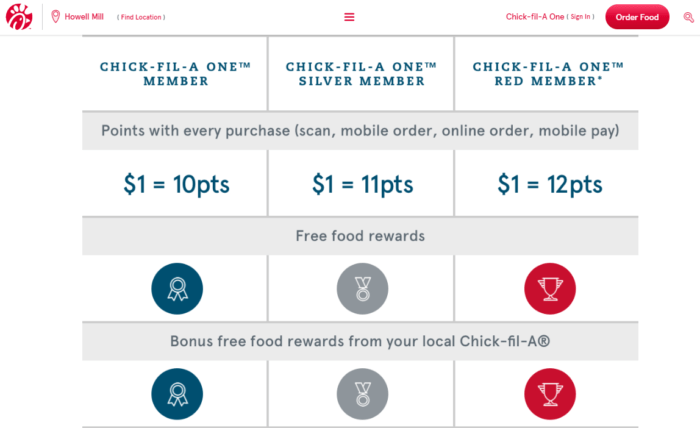 Silver members get 11 points per dollar spent, plus they have access to extra perks, such as gifting their free meals to friends or family members. But the really good stuff is reserved for Red Members, which requires customers to earn 5,000 points per year.
Those who stuff themselves with enough chicken nuggets to earn this rank are granted insider access to up-and-coming menu items and exciting rewards, such as free entry to the College Football Hall of Fame in Atlanta.
5. BurgerFi Rewards: Loyalty Kiosk
Casual restaurant chain BurgerFi offers a solid reward system with all the features you've come to expect from a fast food and restaurant loyalty program:
You receive 1 point after every $1 spent

Every 50 point awards a $5 discount

Participation requires you to download the app

Registering grants free fries for your next order
What makes BurgerFi stand out, however, is their in-store kiosk. Customers can use the kiosk to access their loyalty information (in case their phone runs out of power). The device even uses facial recognition for hands-free identification.

Loyalty Kiosk are more than simple novelties that distract customers while standing in the line. As BurgerFi demonstrates, they can be used to identify customers. Other uses include quizzes to learn more about people's preferences. Then that data can be used for more precise segmentation and relevant product recommendation — increasing a person's overall basket volume.
The Last Bite
Restaurant loyalty programs are superb assets for food industry leaders who want to drive repeat purchases and increase engagement. If you're interested in how Antavo can help you create a loyalty program custom-tailored to your brand's identity, then contact us right now, or check out one of our comprehensive guides about food & beverage loyalty programs.
And don't forget to download Antavo's Customer Loyalty Report 2022, an in-depth report that showcases dozens of statistics as well as future industry trends to help you navigate the world of next-gen loyalty programs.