Coming up with loyalty rewards for your VIP program is such an exciting time in a company's life. All the brainstorming, all the crazy ideas! It really makes your team's creativity flow, don't you agree?
Unfortunately, these meetings often end up inconclusive. From my experience, most problems stem from the lack of knowledge regarding the reward framework. What kind of reward types are currently out there? What are the best reward system practices in the industry, and what blunders should you avoid?
Don't worry. You're in good hands. This little guide has all the information you need.
What Are Loyalty Rewards and Why Do They Matter?
Before sinking our teeth into the reward types and how they are utilized, let's inspect their true nature. So what are loyalty rewards, in the context of customer retention?
The simplest answer is: Rewards are benefits or physical items that are granted, gifted, or assigned to loyalty members based on their achievements or efforts within the program.
Thesuccess of a loyalty programmassively depends on the rewards you offer for members. Moreover, selecting the most fitting incentives for your brand and target audience is just as crucial as picking the right goals and objectives you would like to achieve with your loyalty program.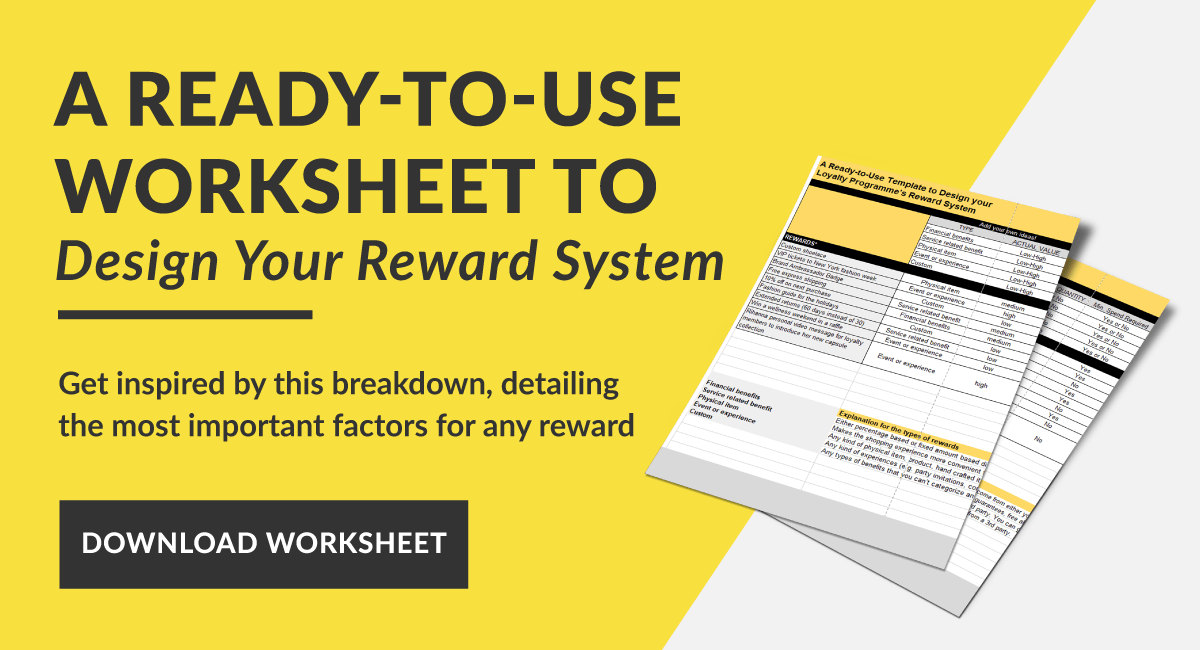 Loyalty rewards are prime motivating factors to:
Keep customers invested in the long run

Prompt actions you want people to perform
Rewards are what motivate customers to change their behavior. This could include more brand engagement actions or simply using features or services of your business they have never used before.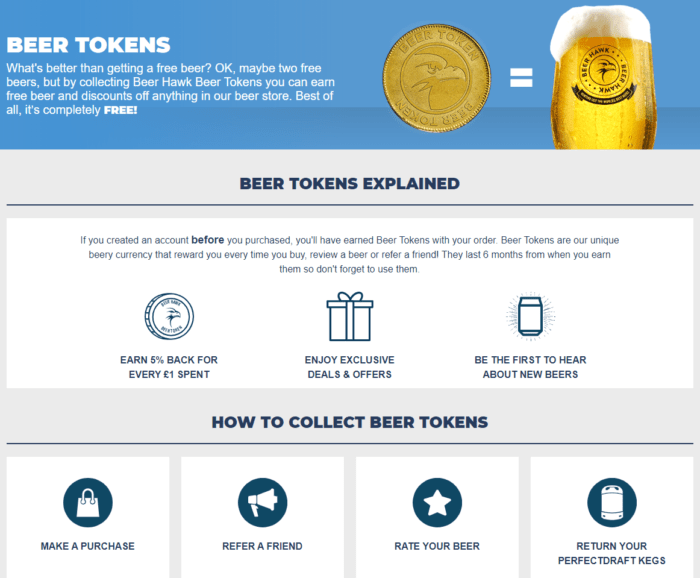 Reward Types
There are five distinct loyalty reward categories. A healthy loyalty program features a mix of these, although not every one of them will fit into your strategy.
Financial benefits
Offering a financial benefit means you grant either percentage-based or fixed-amount discounts. No doubt, you've already run into coupons that offer either 5% or $5 off a purchase, but free shipping also belongs to this category.
The upside of financial benefit is clearly the concept of "free money". Customers feel they are receiving real value after each purchase, helping them to save money. This system is also the quickest and easiest to be set up, as you don't need to mess with physical rewards.
On the downside, your discount strategy can be easily copied by competitors, and it doesn't give a reason for customers to engage with your brand.

Service-related benefits
These kinds of rewards are aimed at making the shopping experience more convenient from a customer's perspective. Examples include express shipping, extended return, money-back guarantee, free alterations, early access, stylist recommendation, gift wrapping, priority customer support, etc.
Service-related benefits are great for shifting customers' attention from discounts to the more convenient shopping experience and for generating positive word-of-mouth.
Unfortunately, this approach works only if you haven't explored it before the loyalty program. For instance, let's say you've already offered world-wide shipping and free alterations for everyone. Withdrawing existing privileges and restricting them to a high loyalty tier would surely lead to a huge backlash.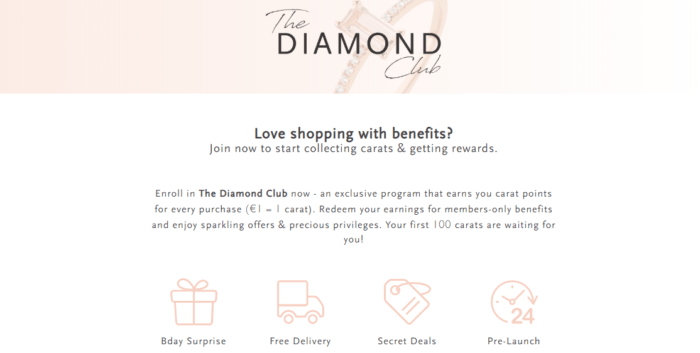 Gifts
When entering a reward program, customers often expect to receive some sort of product or hand-crafted item. It can come from your own inventory or from a 3rd party. You can grant gifts during special events, like on the member's birthday or the enrollment anniversary.
Gifts are the perfect way to express an act of kindness towards your customers and show you care. Physical rewards work best if members don't expect them. This way, you can really put a smile on their face!
Do you have special edition products in your inventory or gifts from 3rd party partners? These are perfect candidates for your loyalty reward system!
However, if you choose a gift that requires manufacturing or prolonged acquisition – be mindful. Not knowing which kind of loyalty rewards customers would relate to might lead to throwing money out the window.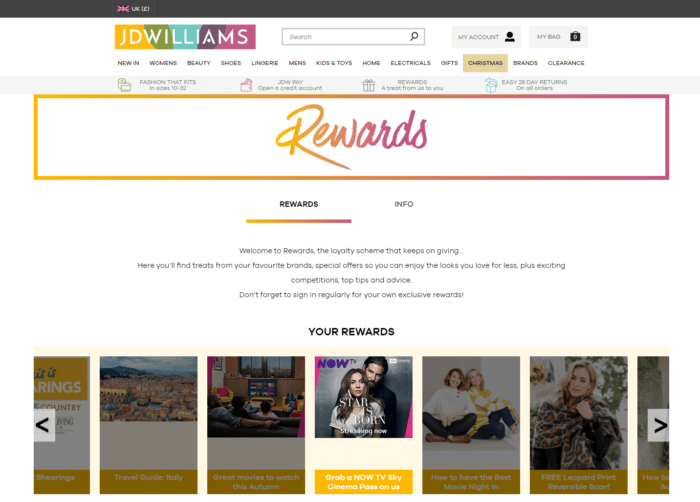 Events & Experiences
This category consists of happenings such as party invitations, concert tickets, hotel stays, free lunches, organized either by you or a partner company. Events & experiences are the perfect opportunities to build deeper engagement, provide exclusivity, and grant customers lifetime memories they'll talk about for years.
Keep in mind though that the more exclusive the reward, the rarer it should be to avoid damaging the exclusivity feeling of it. Moreover, it requires a lot of effort from you to organize such events, especially in multiple countries.
Custom
This is a tricky one. Basically, 'custom' stands for any kind of reward you can't categorize anywhere. You can go wild with your imagination here and come up with something unique or brand-specific that helps your business stand out.
However, a large amount of customer insight, creativity, and resources are needed to realize something unique.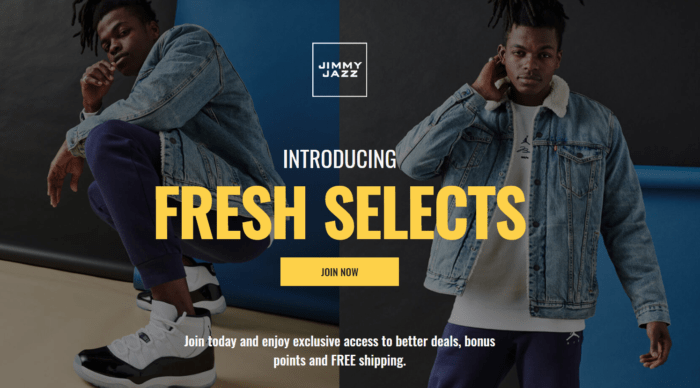 Aligning Your Rewards With Your Brand & Audience
Imagine yourself in the shoes of a sportswear brand, whose mission it is to support a healthy lifestyle and to motivate customers – regardless of their athletic level – during their journey. Would you offer them coupons to McDonald's or Burger King? Probably not.
Instead, why not offer them motivational music or podcasts they can listen to while working out? It could be a members-only feature, with a monthly cap on the number of tracks they can access. Increasing their tier level would increase this limit, though, which is not only a great incentive but also fits your image and audience as well.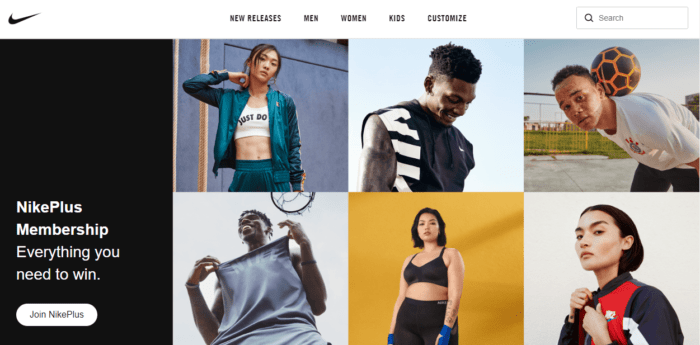 Are My Rewards Enticing Enough to Motivate Customers?
This question can be tricky. There are various criteria that need to be considered:
Are the rewards appealing enough?

A thematic podcast is always more alluring than a generic discount.

Are they attainable enough?

Exclusivity is nice and all, but pricing a reward or experience unrealistically high might disillusion members.

Is it a recurring opportunity?

Limited-time rewards create a sense of FOMO, but to avoid breaking people's hearts, bring back fan favorites every now and then.

Do they provide some form of diversity?

If you stick to one type of reward, you are limiting the pool of customers who would be interested.

Does it have a 'mystery factor'? People love secrets and riddles. Sometimes it's worth it to keep top-tier rewards a secret to drive excitement and engagement.
How to Stay Profitable With a Customer-friendly Loyalty Rewards Program?
Of course, loyalty rewards cannot escape the basic logic of all marketing and sales incentives – they need to generate more return than their cost. So how can you play safely in this case?

Get Ready To Be Creative
Hopefully, I managed to answer all of your questions. From now on, nothing is holding you back from unleashing your full creative potential. So schedule a brainstorming session with your team and start planning your own loyalty rewards.
Of course, rewards are just a stepping stone in your customer retention strategy. For more info about loyalty programs, check out our comprehensive guide about creating a successful customer loyalty program.