If you asked any of your customers what their most memorable moment was while interacting with your brand, they would never say something like, "That time I swiped my credit card on the counter" or "Clicking on the checkout button for my online order was so memorable". It's never the transaction that stays in the customer's mind, but an experience before or after a purchase, such as participating in an event campaign or winning sweepstakes. Experiential marketing is all about creating an impact in your customer's mind that will stay with them far longer than any advertisement.
The Marketing Concept that Goes Beyond Purchases
Experiential marketing enables customers not just to buy products or services from a brand, but actually experience it. It creates an emotional connection between the company and the customer through memorable and unique experiences. According to Bernd Herbert Schmitt, the creator of the definition of experiential marketing and a professor of international business in the marketing department at Columbia Business School, Columbia University in New York, value is not only contained in a product or service – but also in the experience of consuming it.
"One of the most fundamental concepts of experience marketing is that value does not only reside in the object of consumption (products and services), and in seeking out and processing information about such objects; value also lies in the experience of consumption."
Bernd Schmitt

Bernd Schmitt, who also wrote a book in 1999 called Experiential Marketing, predicted the rise of experience-driven customer retention in one of his early publications. He describes the notion of experiences, which is most likely the result of customers wanting to 'have it all', as they rely more and more on products, services, and experiences to curate their lives.
Schmitt, whose main research and work revolves around customer experience, branding, and customer happiness, had the idea that companies should step above functional features and a product-oriented approach and instead put the customer in the center by focusing on consumption situations. The purpose of experiential marketing is to enhance these situations.
Why Is Experiential Marketing Important?
Consumers feel less loyal nowadays. And it's no surprise, because they have a book's worth of data about their favorite product literally at their fingertips. Thanks to the Internet, buyers are able to make well-informed decisions, and if they find a competitor who offers higher discounts or lower prices, they are likely to switch teams without a second thought. Experiences, on the other hand, go beyond evaluative judgment and feature a number of other stimuli generated by the environment. Even better, they can create an unexpected attachment, since experiences are sometimes absent from brand association.
In brief, the experiential marketing model gives your business a leg up on the competition. It doesn't matter if you don't offer the biggest discount on Black Friday—customers will still choose you over other companies. Why? Because the one-of-a-kind experiences you offer are far more convincing than simple numbers. Advancing experiential marketing is ultimately about creating a 360-degree view of customers across the organization to increase lifetime customer value.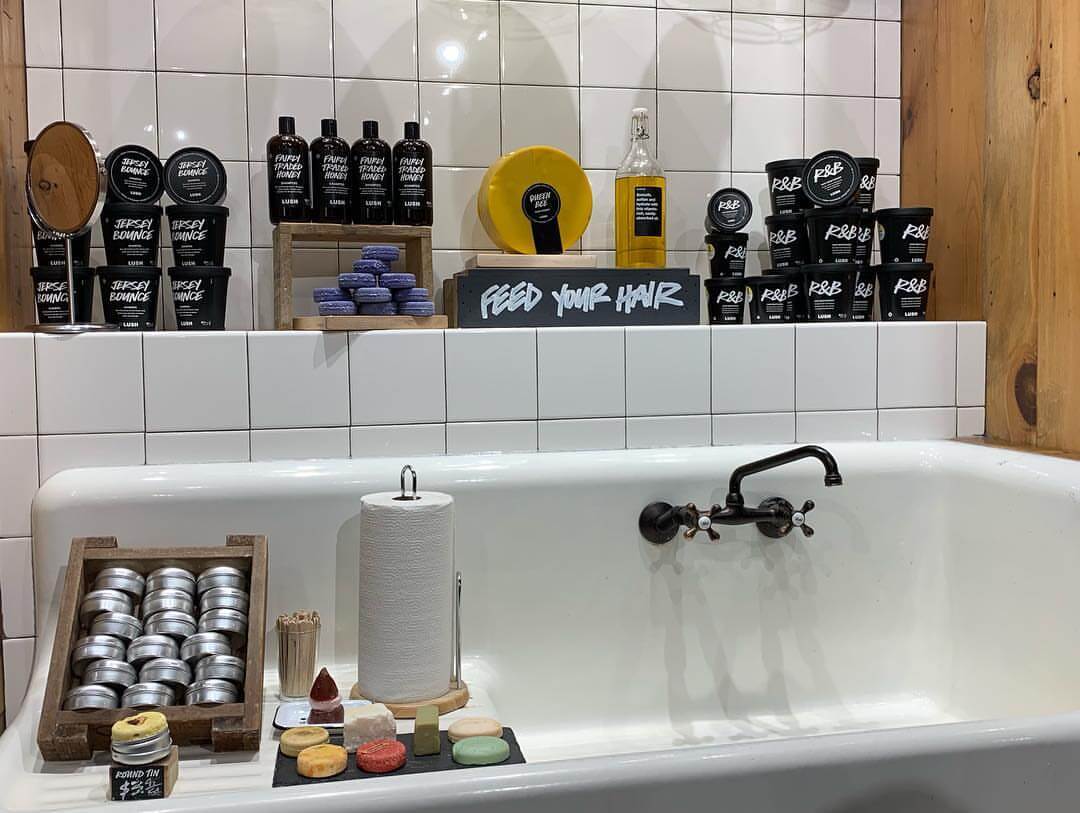 The 3 Pillars of Experiential Marketing in Loyalty Programs
So, what is considered a great customer experience?
One aspect of a great customer experience is to make sure that each one of your touchpoints delivers a great experience. So that the product is right, the communications are right, the packaging is right, and so on. The second aspect is integration. You have all these individual points and you've been doing a great job with each one of them, but you may not be speaking with the same voice or have a unified experience. And that is actually much more challenging. The third is innovation. You always need to think about the next step. Never feel complacent, always ask yourself: How can I improve the customer experience? How can I always be relevant for customers and their lifestyles?
Bernd Schmitt

Pillar 1: Happiness Touchpoints & Experiential Rewards
Use touchpoints to connect with your customers' values and give them meaningful moments. Enrich the experience by adding pleasure to the customer's life. Let them savor every experience and repeatedly surround them with happy moments. Identify personal values that are important to customers and get them to focus on these and place your offer in a broader context. This can activate customers, immerse them fully in the experience, then induce them to share their happy moment with others.
Implementing a loyalty program that engages customers outside of the buying cycle is a creative way to put these theories in action. Companies need to be resourceful and move beyond transactions. According to our statistics, loyalty programs that companies are planning to launch in the next three years will focus more on emotional loyalty and will offer experiential rewards, rather than transactional incentives.

Irish brewery Guinness surprised the world with a marketing campaign in which patrons of UK bars had the chance to win a free trip to Dublin on a private jet so they could taste the company's flagship beverage. The Guinness Experience was renewed the following year because of its popularity.
Pillar 2: Integration Via Seamless Omnichannel
As Bernd Schmitt stated, you also need to harmonize the touchpoints. Companies need to have an omnichannel strategy involving all of the major platforms your brand uses to stay in touch with customers: in-store, online, mobile, and in everyday life. The last one is especially important since experiential marketing only works if you know how to tap into the customer's lifestyle. Based on the 2020 Omnichannel Statistics Report by Omnisend, omnichannel strategies see 287% higher purchase rates and 13% more AOV compared to single-channel marketing strategies.
An omnichannel loyalty program not only has the same tone and effect on all platforms, but also unlocks new possibilities for marketers, thanks to the single customer view. It allows you to identify customers online, even when a purchase happens offline. Furthermore, loyalty rewards motivate shoppers to identify themselves in the store. If there's a benefit, they are more than willing to share their name, contact details, favorite color, or even their clothing size.

Being able to identify customers online, offline and on-the-go is the cornerstone of omnichannel. Learn how a digital loyalty pass helps to bridge the gap between all major channels.
Pillar 3: Stay Relevant by Personalizing Your Campaign
Personalization and innovation have a huge impact on repeat purchases. This encapsulates everything Bernd Schmitt said about the third aspect of experiential marketing: constantly curating the experience and staying relevant in the eyes of the customer. Companies need to understand customers by gathering information about their preferences. Then comes segmentation, which helps them put shoppers into categories that are most relevant to their lifestyle. Finally, with the help of personalization, brands learn how to create customer-relevant content that speaks to people and entices them to engage for a lifetime.
In addition to continuous improvement, customer experience will focus mostly on personalization. Loyalty programs play a big role in helping companies perfect their personalization strategy by incentivizing customers to share information with the brand they support collecting and leveraging zero- and first-party customer data. That can later be used by companies for better segmentation and targeting.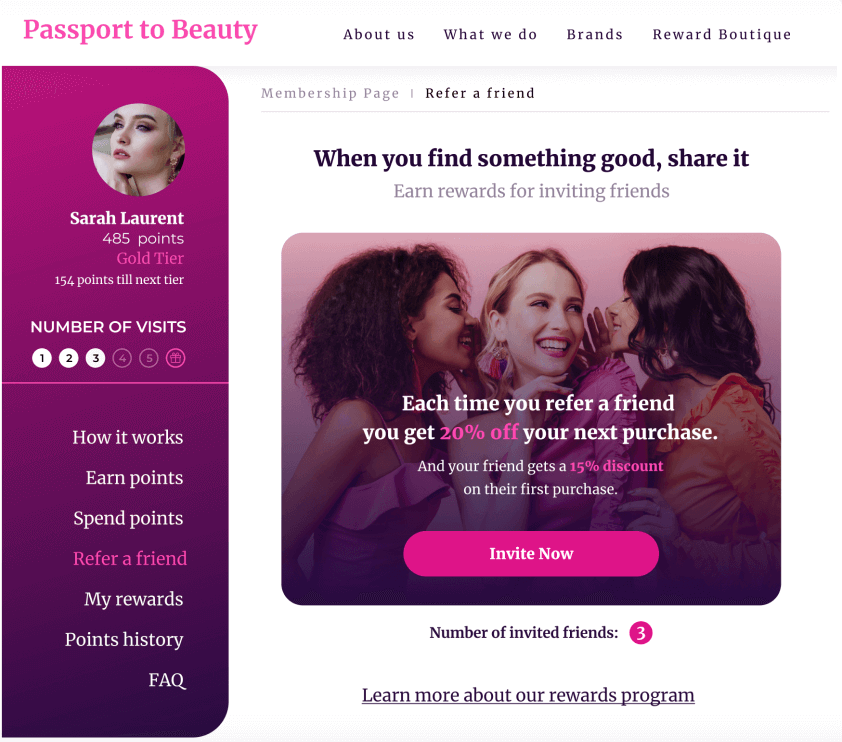 Spice Up Your Loyalty Program With Experiential Elements
Including experiential elements in your loyalty program and engaging customers in more personal ways can boost brand loyalty and satisfaction. These elements transform the relationship between customer and brand.
Customers spend more on the brands they feel a connection to, which is how experiential rewards can dramatically improve your loyalty program's success. That's one of the reasons why 65.2% of companies that do not currently offer experiential rewards say they plan to introduce them within the next three years.
Let's see some examples on how to boost your loyalty program with experiential elements.
The VIP Treatment
Distinguish your brand with a loyalty program by offering exclusive treatment to your most valuable members. A VIP night at a decked out luxury yurt, first row seats at a lavish fashion show, an invitation to the company's cocktail party, or a signed autograph by their favorite designer – any of these experiences have the power to make a person feel truly special and appreciated. Hosting an exclusive event for loyalty program members when it's the company's anniversary. In case your company is sponsoring an upcoming festival, award ceremony, or fashion show, in exchange for the sponsorship, ask for extra event tickets. Raffle those tickets among gold tier loyalty program members. The lucky winners will surely feel special when they attend the event.
Marriott Bonvoy's tiered loyalty program offers exceptional experiences in exchange for points. Members can explore experiences based on their interests, from dining at Michelin-starred restaurants and learning from world-class chefs to receiving VIP treatment at sold-out shows and festivals or attending their favorite game and meeting sports legends. Members can bid for the most exclusive rewards or redeem their points for fixed-price experiences–either way they'll be on the way to an unforgettable experience.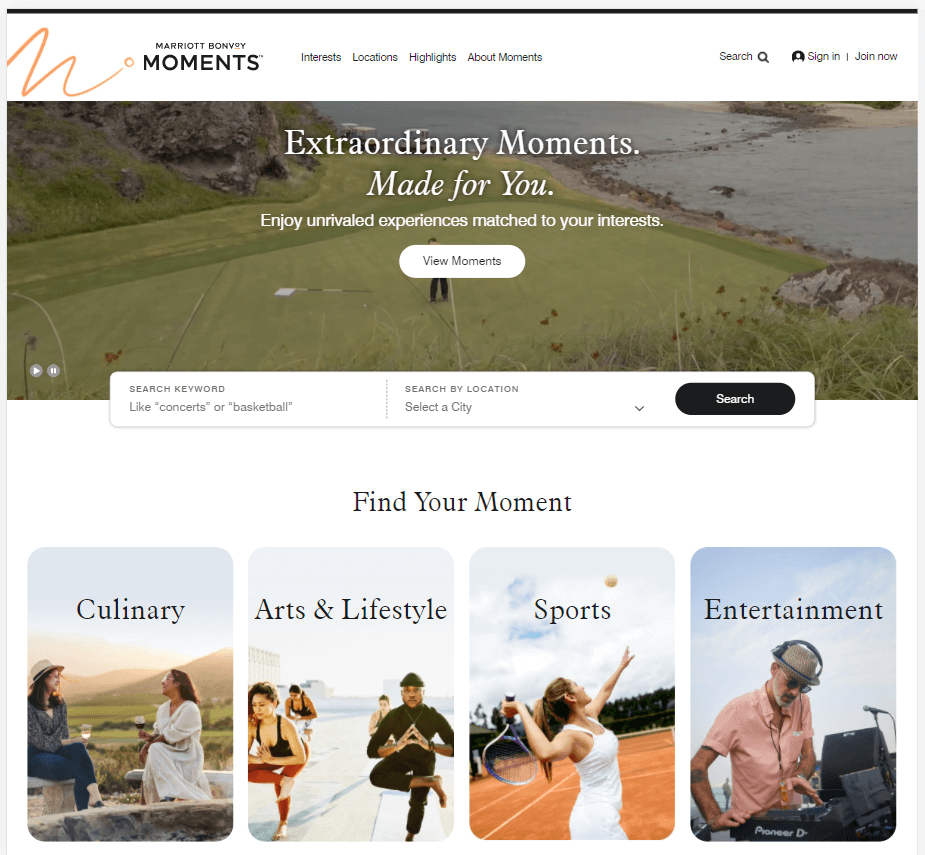 Engage customers with a captivating touchpoint like a fun in-store game. Add an offline treasure hunt to your loyalty program, requiring customers to find marked products inside the store and scan the product barcodes for a reward. This promotes store discovery, as people will end up in areas they may have otherwise overlooked. Consider putting a QR code on the tags or packaging of your most popular products, so when customers scan it with their phone, they'll be directed to a landing page where they'll be offered a reward in exchange for signing up for your loyalty program.
By using an App Clip, you can also incentivize customers to visit your store and enter the in-store treasure hunt. It allows your shoppers to quickly access and experience what your app has to offer as well. These games tend to increase time spent in your store and such a fun experience can contribute to increasing purchases based on an emotional connection, rather than simple needs.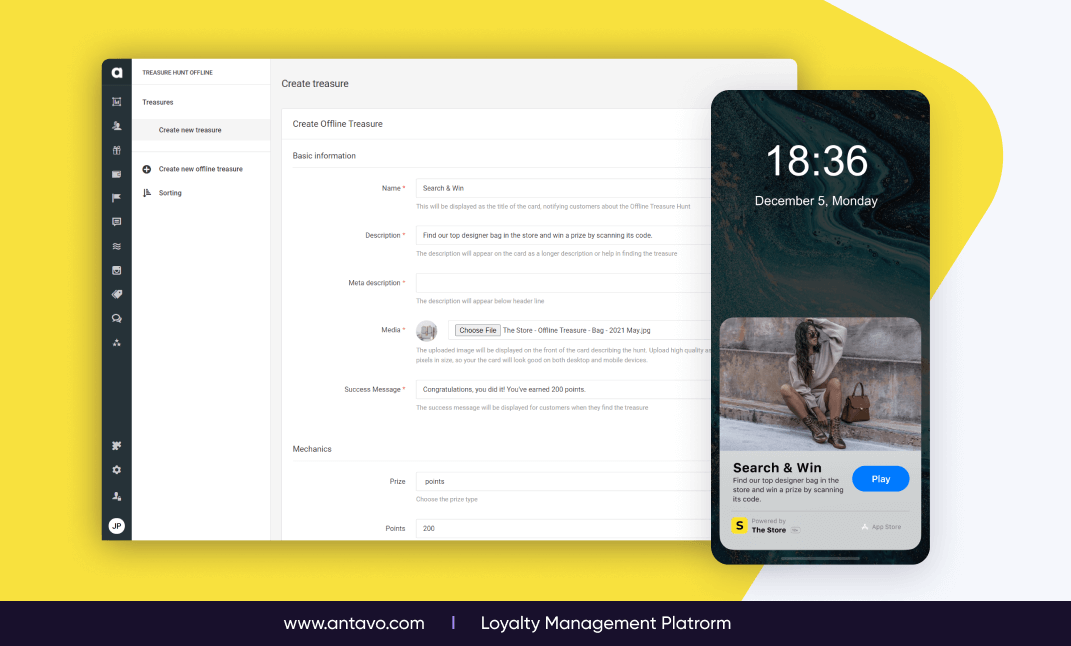 Surprise Customers With Product Samples or Free Coffee
Consider sneaking a product sample or two into loyalty program members' orders. They will be surprised and delighted when they find a small freebie or a partner gift in their package. This gesture has the added benefit of giving customers a chance to try something new as well. Or, go a step further and take advantage of beacon technology, which senses whenever a member is near one of your stores. Send members of a specific tier a push notification and invite them in for a free coffee, cupcake, or product sample in the store. Customers will love the effort and will want to come in and see what you have to offer, to satisfy their curiosity.
Harvey Nichols, the British luxury fashion retailer, has recently updated their exquisite loyalty program to be able to "instantly" reward customers with a range of personalized benefits. Members can choose from up to 14 rewards. The higher their membership level, the more rewards they can choose from. Besides discounts and a birthday gift, one of the rewards members receive is a free drink when they shop at one of the stores.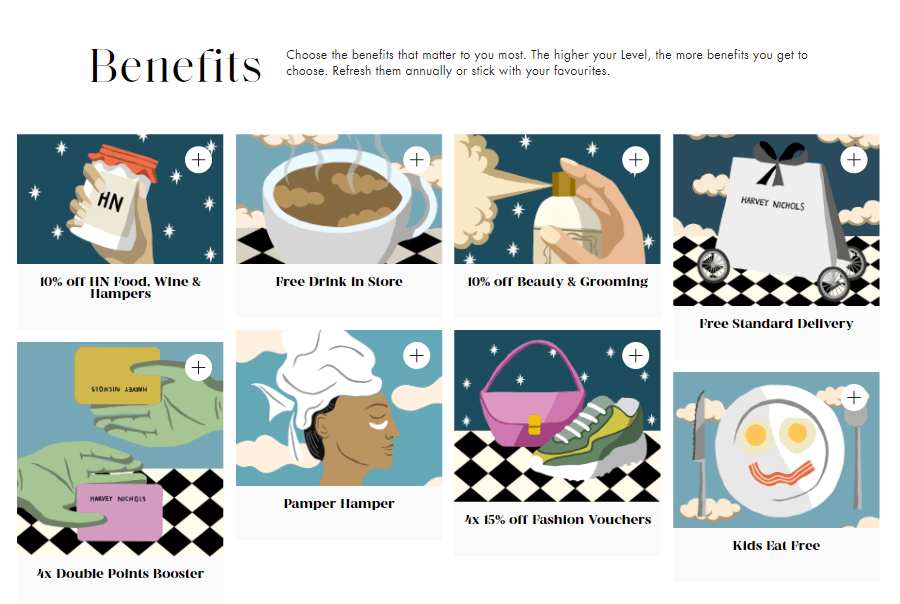 Ways for Brands and Loyal Customers to Do Good, Together
An increasing number of businesses now allow customers to donate their collected loyalty points to charitable or green causes and let them support an organization they admire. These elements in a loyalty program are good for customers, the brand, and society as a whole. Reward sharing can also be another great experience, in case customers have a coupon that they wish to share with one of their family members or offer the coupon value to charity.
Sephora's Charity Rewards allow loyalty program members to use their points to give back. When customers redeem their points for a Charity Reward, Sephora donates the corresponding amount through their philanthropic partner, the Tides Foundation, to benefit the featured charity. By empowering their customers to donate to a cause they love, the brand creates greater emotional engagement and loyalty as they tap into something their customers already care about.

Sephora's featured charities are selected on a rotating basis. So far the company has supported 900+ organizations.
How Much Does Experiential Marketing Cost?
This is a tricky question. There's no simple answer, simply because the price tag depends on your preferences and ambition. Naturally, luxury experiences with live participation – like Guiness's free flight program – are the most expensive, often costing hundreds of thousands of dollars. This is where having partners with the same target audience but in different industries may come in handy. For example, if you're in fashion, you can offer your customers a night at a five-star hotel or a free meal at a gourmet restaurant, courtesy of a partner hotel that will receive free advertisement in exchange for providing the reward. Still, you don't need to go out of your way and spend a fortune to grab customer attention. Customers appreciate little gestures that help them step outside of their comfort zone as well.
When a loyalty program acts as the main platform for your experiential marketing strategy, you can save a lot of money. Without a loyalty program, if you give someone a coupon it's a given transactional element, but within a loyalty program the offered points don't necessarily have to be whole points. Antavo's Point Economy allows companies to assign personalized loyalty logic to individual customer segments and offer partial rewards. Customers will still feel rewarded, plus they can decide what they spend their points on, which provides a lot more freedom.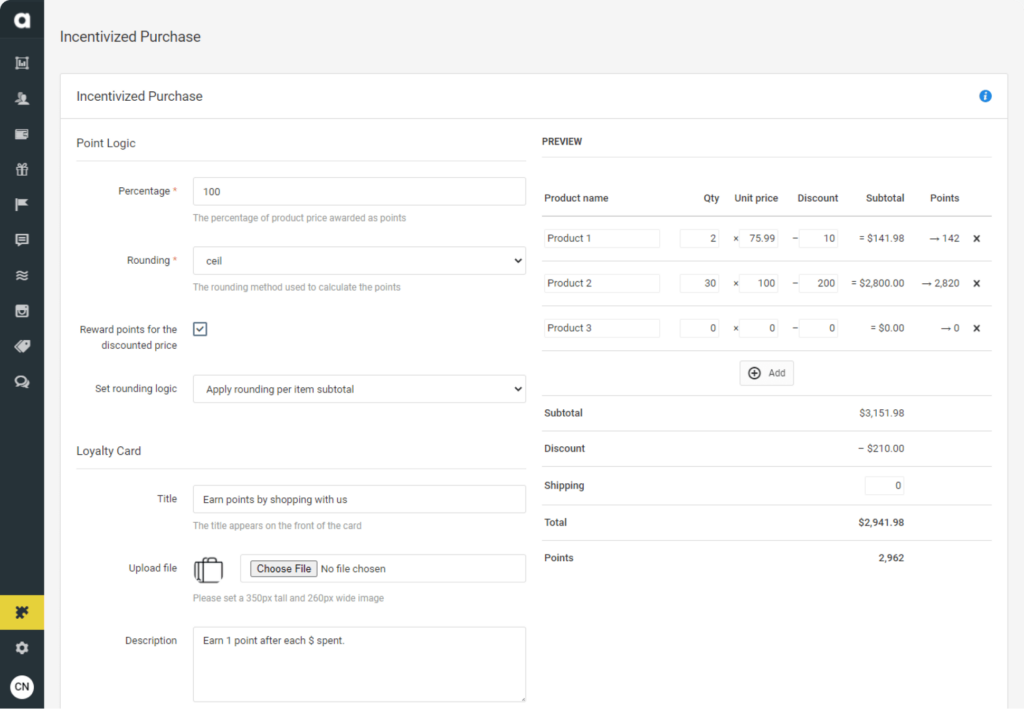 Seize the Opportunity
For companies, experiential marketing is an opportunity to show customers how their brand stands out. Appeal to the emotional side of customers by creating experiences that foster the human connection and are sure to be remembered for a long time to come. Adding experiential elements to your loyalty program will help support your data collection efforts and open the door for better personalization. It's also a great way to engage with members actively and increase brand awareness and customer loyalty.
If you are looking to implement a future-proof loyalty program that engages customers outside of the buying cycle, we're here to help. Just book a demo or include us in your RFP.
And don't forget to download Antavo's Customer Loyalty Report 2022, an in-depth report that showcases future industry trends to help you navigate the world of next-gen loyalty programs.