Zalando Reviews case file #1: Zalando as any major contender in the online retail space – competes with Amazon. That Amazon, which offers 2-day-free shipping whenever their Prime loyalty members want, besides all their other bells and whistles, like instant access to movies, music and TV shows. Zalando knew that they could only keep up with the competition, if they offered the best prices, the fastest delivery and the most convenient shopping experience in Europe.
To tackle these goals they invested A LOT in technology, logistics and marketing. Before I dig deeper into their business strategy though, let me give you some context about the company itself, just so you can see what Zalando, the fashion giant, is really about.
About Zalando, the fashion retailer
Zalando is an online fashion retailer, selling brand name products like Adidas, Ralph Lauren and Benetton through their platform. Headquartered in Berlin, the company was founded in 2008 by Rocket Internet. They operate in 15 markets across Europe and currently serve 18.8 million customers. But wait, is this really all about classic fashion retail? In reality, this seems just half-true: "Zalando is a pure technology company that just happens to sell clothing and shoes, and it may in fact prove to be one of Europe's definitive tech companies." – Robin Wauters, Co-founder and editor-in-chief of Tech.eu predicts.
Surprised? I was, because for ages I had Zalando down as a smart fashion retailer, and not much else. However, it would seem that they are not just prioritizing technology to sell more products from their inventory. They are actually using technology to build an online fashion hub, where they can connect brands, stylists, designers and customers through their digital solutions. And to accomplish that not-so-simple-feat, they have an army of 1,600 developers on board. How's that for an HR statistic?
With such a vision (and so much manpower), it's no wonder that they've implemented advanced tech solutions that give Amazon's customer experience a run for its money. We could go into excruciating detail analyzing this side of the story, but for now, let's stick with their equally interesting retail business model, for one, because it's rare to see a success story in which the company…
Sacrifices short term profits for long-term growth
Yes, you read that right. Their business strategy raised criticism for many years, with pessimistic voices predicting that Zalando would never turn a profit the way they were operating. But in a carefully strategized plot twist, in 2014 they proved their critics wrong by making it big, and the fact is, they haven't stopped growing since. The proof is in the pudding, as "the online fashion giant saw its EBIT almost triple to 80.9 million euros, while revenue increased by 25% [in the first half of 2016 compared to the same period last year]". (Source: Ecommerce News Europe)
Zalando is a company worth 916 million euros.
What elements and tactics assisted to the significant growth of Zalando, and how can they keep up a consistent quarterly increase in revenue? To find the answers to our queries, let's take a look at the three main pillars that their business model is built on.
1. Build trust in first-time buyers to end their price worries
When customers want to make their first purchases in an online store, they may hesitate, asking themselves the following questions: "Will the shoes I choose actually cost what the site promises? What happens if the dress I ordered isn't a good fit on me? Can I get my money back?" Shep Hyken, a customer service and experience expert shared that for 48% of customers this is a critical process that will determine whether they do repeat business with a company or not. Zalando accounted for this critical period and decided to eliminate buyer's worries by offering the following incentives:           
Free shipping:

57% of customers abandon

their cart because they don't want to pay shipping costs. Now what does Zalando do here to win its first-time buyers' heart? They offer free shipping with 2-4 day of delivery time to EVERYONE. This move is a nice riposte to

Amazon

, who only makes free shipping available to Prime members for a limited time, and for an annual fee.


v

No costs for returns

:

30% of products

bought online are returned. Moreover,

71% of digital customers

look for return policies before making their first purchases. Some retailers think that making returns harder will reduce this tendency. But this logic undermines the positive customer experience. Zalando accommodated this factor from Day 1, and besides giving a

100 day return guarantee for free,

they have a

pick-up service

which means customers can give back the unwanted products whenever and wherever they want.   
The take-away? At first it may seem risky. Especially the 100 days return policy. But as Maria Haggerty points out in her Entrepreneur article, a consistent return policy and an efficient logistics system to handles returns can boost customer loyalty, give actionable insights to marketers about inventory, and boost word-of-mouth advertising thanks to the remarkable convenience.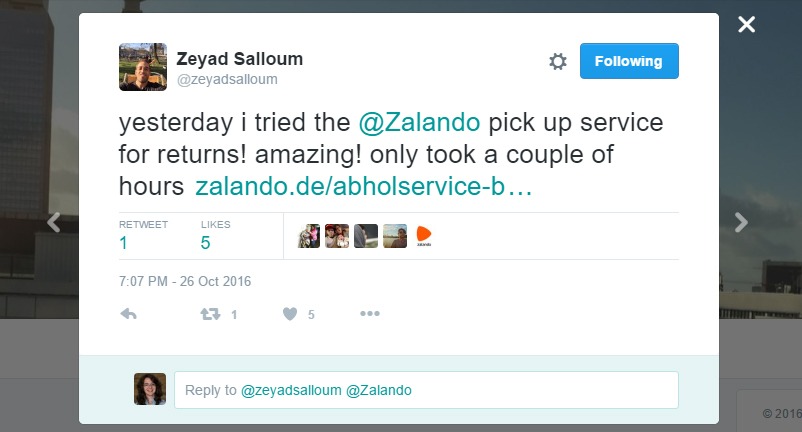 2. Showcase inspirational ideas about what to buy (w/ smart cross-selling & upselling tactics!)
62% of customers seek practical content about how to use certain products. In the world of fashion, this need grows in importance. Just think about the typical questions fashion shoppers may struggle with during their journey: "Which shoes go well with these trousers? Which bag would look nice with that coat?" This being the case, Zalando doesn't just position itself as a platform where you can…well… BUY fashion products. They go one step further to position themselves as experts in the fashion industry through their blog, guides, YouTube videos and events. They also showcase their expertise with these smart platform features:  
Shop the look:

When a customer chooses a product, e.g. trousers, the website shows a fully dressed model wearing the item with a matching blouse, shoes and accessories in different variations. All the items worn by the person are selected by Zalando's stylists, which increases trust in customers and suggests that the company really

gets

fashion. (Not to mention the obvious cross-sell opportunity planted with this feature. If someone likes the whole outfit, they can purchase every part of it without leaving the store!)


v

Gift-suggester: this site-function caters Christmas present ideas for children. The customer can select the gender, then the age of the child. After that the site automatically lists items picked by one of Zalando's fashion experts fitting the chosen criteria. On their UK site, the function even has a "face" called Mariya. This is a smart way to recreate a personal shopping feeling in an online environment.


v



Free consultation with stylists:

Zalando offers a

curated shopping service

, called 'Zalon'. It's currently available in three countries (Germany, Switzerland and Austria). The service takes two forms. In one scenario the customer provides their favorite brand and style preferences and the system suggests stylists who give advice via a phone consultation. The other 'Zalon' service offer is a

live in-store event

. Over the course of a three day event, ten stylists help thousands of customers choose trendy outfits at pop-up store locations.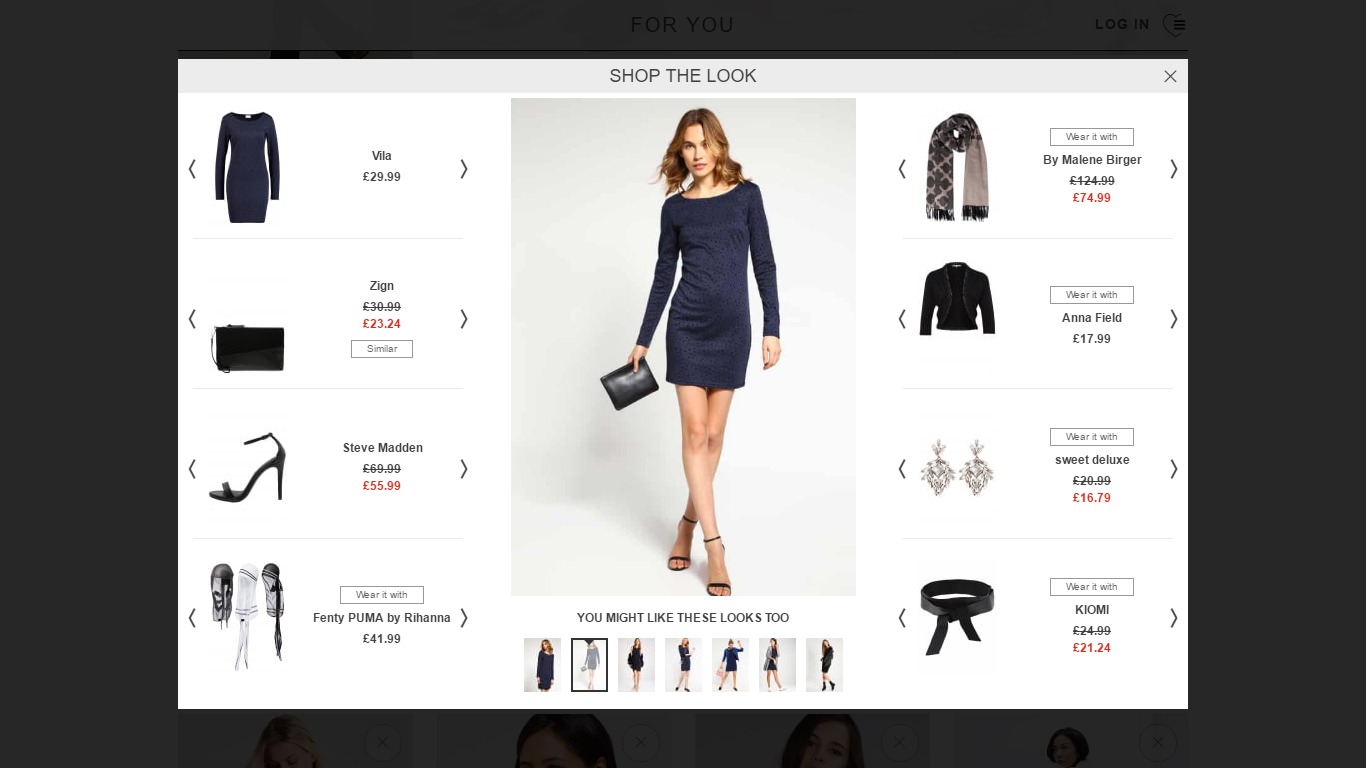 3. Incorporate fun and practical personalization tactics to boost sales
Zalando's online gift-suggester and shop the look feature are just the beginning when it comes to personalization. Zalando has much more hidden up their sleeve when it comes to tech innovation supporting their mission to create a personalized customer experience, connecting shoppers, brands and stylists.
Here are a few more solutions developed to manifest their vision:
Mobile app

: Zalando has an

Android, Windows and iOS mobile app

with amazing features including 'Photo Search'. If customers take pictures of their favourite clothes, the app will find similar clothes among the 1,500 brands that are available in Zalando's system. Plus, the app is capable of sending personalized product recommendations, fashion tips and price comparisons through a simple barcode scan. As adults

spend 59% of their time on mobile

, apps provide a new way for brands to reach them more effectively.


v

Sweepstakes

: During the 2016 holiday period the company announced a juicy incentive: customers could win one of the items they put on their "Wishlist" by entering a contest. What a clever way to encourage shoppers to browse products in Zalando, and choose the items they'd want to get for free! (And it provides an extra info for Zalando about which products are popular.)

Behind these features lies a go at challenging Amazon's product recommendation system which personalizes the customer journey. They list products:

Based on browsing history

Based on brands the customer follow

Based on related products



Are you impressed? With all of these smart features, it's clear that Zalando prioritizes a positive customer experience from the very first moment their customers start interacting with them. The goal is no secret either: generating a positive experience to convert customers easily, and increasing customer retention. This business model has proven fruitful at the current stage of the company as "each customer makes an average of 3.3 orders per year." (Source: Ecommerce News Europe) However, true customer loyalty starts when companies don't just simplify the shopping journey, but also 1) recognize, 2) pay attention and 3) offer rewards that can reflect on individual shoppers' needs. In the last section of my post, I would like to detail how Zalando could level up  their current strategy.  
How could Zalando upgrade their customer loyalty strategy?   
1) By creating a stronger community feeling around their brand, and
2) By providing a chance to build a long-term relationship with customers.
Doing so, they could ensure more repeat purchases and increase their customers' lifetime value.
Here are some suggestions on reaching these goals:
Encourage product reviews
It's hard to find product reviews on Zalando. What's more, the absence of product reviews actually discourages customers from being the first to leave one. Contrarily, Amazon is full of qualified product reviews. They even have a Vine program for top reviewers, determined through community ranking, who receive free products to test and review before anyone else. Zalando could do something similar, like reminding customers to leave reviews through follow-up emails or giving reviewers extra perks. It would help the company produce more user-generated-content, showcase that their customers' opinion matters, and shine a spotlight on brand advocates who will attract more customers.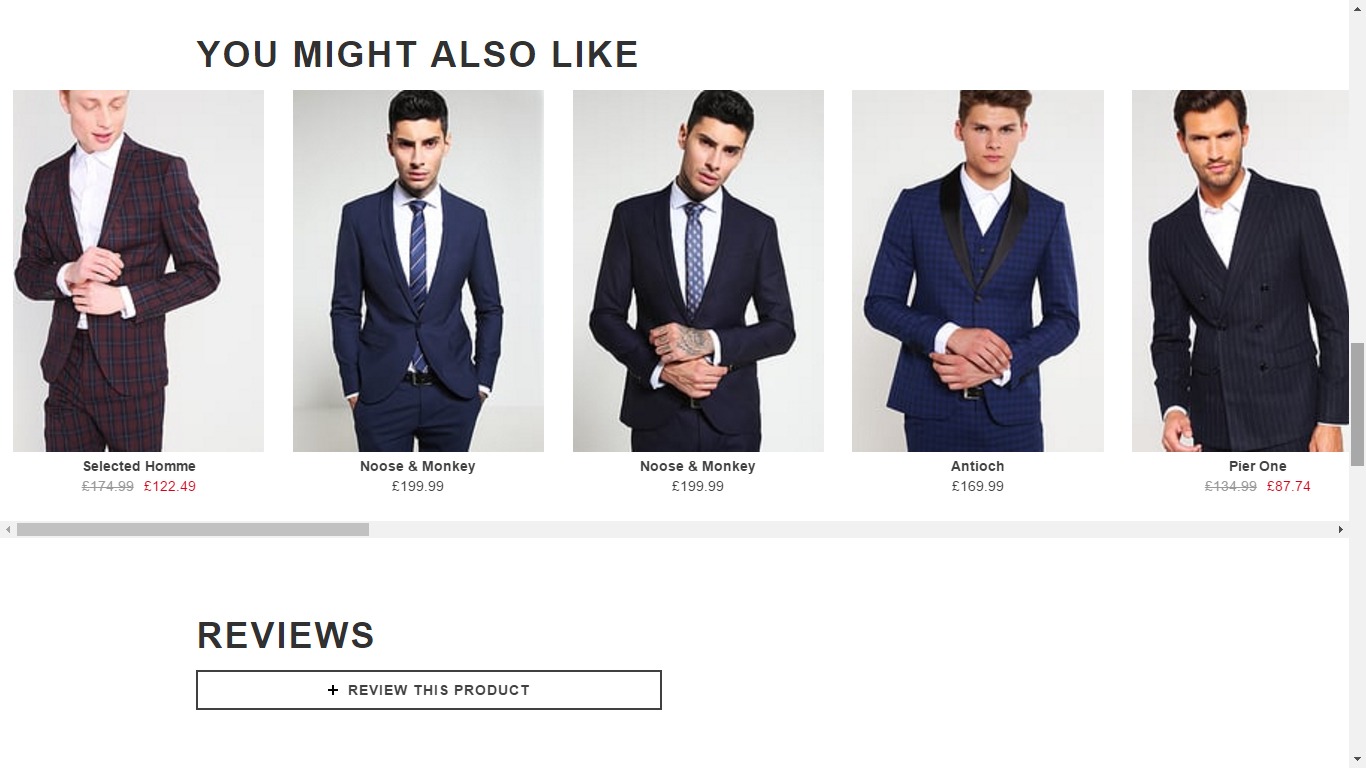 Motivate deeper engagement with brand content
Zalando produces a lot of content on different channels, but nothing ensures that their messages will reach their customers. In their place, I would encourage customers more directly to follow and interact frequently with their Instagram profile, SnapChat account, YouTube channel, mobile app or even Facebook page. What about filling out a quiz based on a YouTube video that shows how to tie a necktie? What if customers can earn daily fashion points for using the Zalando mobile app? How about announcing a contest where customers can upload their Instagram pics by using the company's hashtag? I'm sure it's clear what I'm trying to illustrate here: the more customers know about the company, the more they interact with it on their preferred channels, the more engaged and loyal they become.
On Zalando's YouTube channel there are videos from a fashion blogger called Chloe. She shares her favourite piece of clothes through her videos but these videos reach just a small fraction of Zalando's customers.   
Reward & recognize customers
We know well the good ol' stat, that 69% of customers want to be recognized by brands. This is where a loyalty program shines. Zalando offers a special "gift card" that they describe as a loyalty program for brands. This comes in the form of a physical punch card that customers stamp at different brands (like MasterCard, Samsung or L'Oreal), to earn Zalando discounts. But for such an innovative fashion company this old-fashioned concept is too dated to build real brand loyalty. How might they level up? By introducing the next three elements:

VIP club

: This is a perfect way to generate exclusivity around the brand. However, especially in the case of Zalando, this shouldn't mean that VIP members will get more discounts in the first place. What should be emphasized here is the

feeling

of being part of a special community where limited – mostly experiential – rewards await the few chosen ones. We're thinking opportunities like VIP tickets to the

Bread and Butter tradeshow

, a full-day shopping opportunity with a stylist, or the opportunity to test products before their official release date. The point here is to form an emotional and memorable bond between company and customers.


v

Customer tiers

: The next step after launching a VIP club, is to

let customers gain status

within it. The point of customer levels is that even customers who haven't spent much at the company feel that the company DOES care about them and recognize them. It's just simple psychology. Not to mention, levels will encourage customers to shoot higher to unlock the benefits attached to next levels, which means that Zalando could use incentives to upgrade customers from their

current life cycle stages

to the next ones.


v

Rewards for non-purchase related activities

: As mentioned many times on this blog, purely transaction-based rewards (discounts and coupons for purchases) are not ideal for forming a real emotional bond with customers. To increase brand engagement, Zalando should reward customer activities other than purchases, including writing reviews, watching videos, providing information about product preferences or playing with content quizzes. The goal here is that customers should engage with brands on different channels, including their emails (with rewards for opening and clicking emails), mobile app or website content (watching guides, tutorial videos, etc.).
All of these three points would perfectly fit into Zalando's "wowing customers during their journey" strategy. It can help to gamify the customer experience while making the customer journey more fun.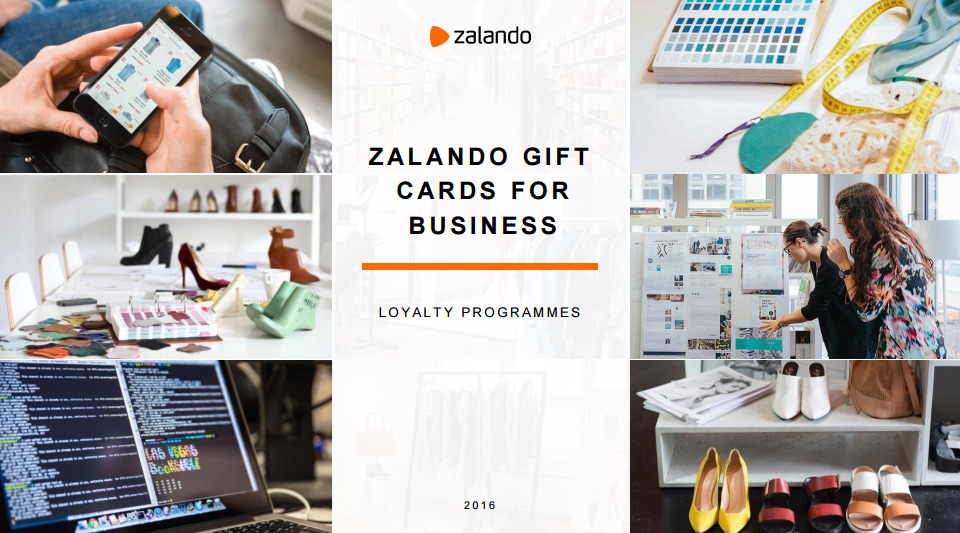 One-to-one communication based on customer data
A report from Forrester written by Anjali Yakkundi and Ted Schadler revealed that 68% of companies said that personalization is very important in driving brand loyalty, but 53% of companies lack the technology to realize that! And here are some more findings about what marketers tend to personalize (form the easiest to the most "complicated" ones):
75% of cases their ecommerce site,

55% of cases their promotions and product offers

49% of cases their product recommendations

44% of cases reminders and alerts

32% of cases content on mobile app
Zalando follows in the footsteps of companies who personalize their ecomm site, product recommendations and mobile app messages. This  is all good and smart. But what about their promotions? Let's just take an example from their collaboration with Italian luxury brand, Marni. On their site they have a beautiful landing page listing Marni shoes exclusively designed to sell at Zalando.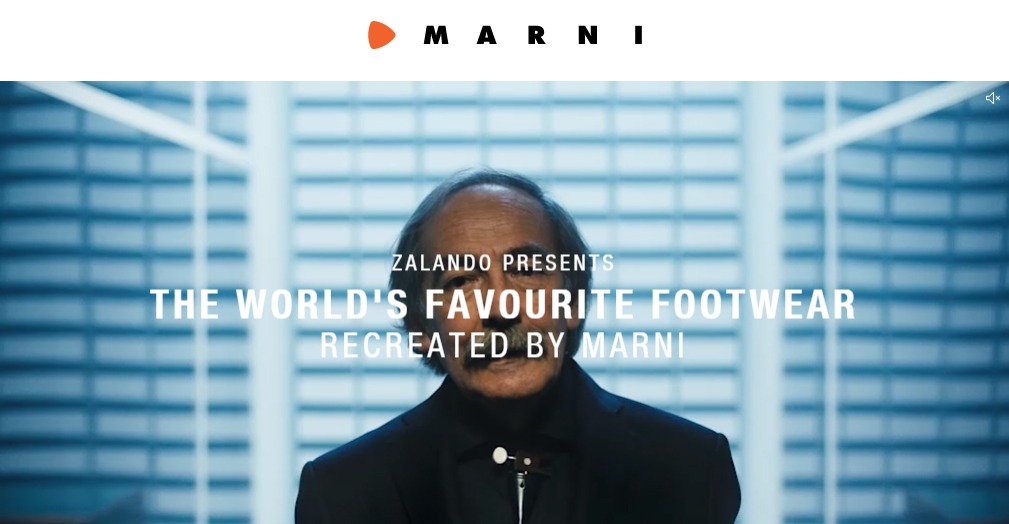 Now, how could Zalando drive the most valuable traffic to this landing page? By reaching out to customers via email, SMS or ads who:
are women and

like the Marni brand or

like buying luxury shoes or

usually spend over £100 on shoes.
In a shocking turn of events, I recently found out few brands use this kind of data in their marketing campaigns. Meaning most brands aimlessly bombard everyone with the same emails. Is Zalando doing the same? Hopefully not. As I see it, they've been running Google ads for the brands I follow on their site (I just run into a Levi's ad from them while writing this article). However, I've only received generic email newsletters from them so far.
What could improve their personalization techniques further is to use the data they already have in their communication. A loyalty program can give them even more information and a reason to communicate with their customers. For example, notifying customers about loyalty program related events (point bonuses, loyalty membership anniversary or special events for VIP members). Just as Bryan Pearson noted in his Forbes article:
"Rewards and loyalty strategies should be viewed as means to an end, with the end being a superior experience that is informed by data and designed to address individual shopper needs to the best of the company's ability."
Conclusion
As you can see, Zalando has a smart business strategy. Besides offering great prices and convenient return opportunities for customers – we know that coupons and discounts are the major influencers on purchase behaviour – they smartly introduce personalization tactics, satisfy customers' need for inspirational ideas regarding product usage and position themselves as experts in the fashion industry. Their retention strategy is nearly complete – and makes them a formidable Amazon challenger in Europe.
If you are interested in how Antavo Loyalty Software can help you with an engaging loyalty program completely tailored to your business strategy, then sign up for a VIP demo here. Our Head of Sales would be happy to show you how we can help.