In a recent post, we covered the differences between umbrella and single-brand loyalty programs, and dove deep into the world of umbrella loyalty programs. But what about coalition loyalty programs?
Also called "shared loyalty programs", coalition loyalty is a fascinating concept in which many unrelated brands join together in a partnership and offer a joint loyalty program. Sometimes, this partnership is branded and led by the participating brands themselves (frequently seen in airline loyalty coalitions), but we've also seen the concurrent rise of independently branded coalition loyalty programs. Arguably the two biggest names are Nectar in the United Kingdom and Plenti in the United States.
This article serves to explain how coalition rewards programs work and explore their advantages and disadvantages from a business strategy standpoint, so you can decide whether this approach is worthwhile.
How coalition loyalty programs work
Unrelated brands can sign on to be a part of a coalition loyalty program. The idea is that points in one unified program can be earned from a variety of purchases anywhere. How points can be spent depends on the coalition program and the partners involved, but one thing is for sure – there are multiple brands and options to choose from when it's time to redeem.
The advantages and disadvantages of coalition loyalty programs
On the plus side, from a consumer's point of view, if you shop frequently at more than one partner brand, you don't have to think about separate programs. And if you'd prefer to have a reward at a restaurant, you can rack up points from hotel and retail partners and spend those points for a discount while dining out. So there's a great level of freedom involved. Another plus side is that you'll get information about buyer behavior from outside your own business.
Another advantage is user-friendliness and the relatively smaller planning period. Coalition programs are increasingly offering mobile apps and the structure is already built, so joining is faster than building an independent loyalty program. In the case of Nectar, the advertised benefits include the mobile-focused redemptions… no more paper vouchers, so it's nice and tidy!

Nectar.com advertises convenience for consumers I'm not going to argue: having many brands in one mobile app and a fully-digitized program are great selling points.
For smaller companies that don't yet have a strong brand presence, coalition loyalty programs can be a cost-effective way to let customers get rewarded for their business with you. And, as you can see, many large brands have joined in, too.
However, there are several disadvantages which were much talked about this year, especially as AT&T exited Plenti . (Interestingly, Nationwide, Direct Energy, Enterprise, Hulu, Local Dining and National will also join AT&T, and will no longer be participating in the program after December 31, 2017. Macy's participation is also "under review".) One inherent disadvantage of coalition programs, especially when you have a popular brand, is that you're sharing the program with other companies under the coalition program's branding. That means there's a very limited amount relationship-building and branding that you can do within the program. Rewards for your own brand are generally yours to choose, but the card, app and certain communications offer relatively little freedom to customize, when compared with building your own program. And if you can't communicate and build a two-way consumer-to-brand relationship, what exactly are you building?
To add a layer of confusion to this structure, some brands offer an additional loyalty scheme or higher tier, so to speak next to the coalition program. To take several participants of the Plenti program for example, Macy's offers additional benefits in their own branded loyalty program. Rite Aid has linked their independent program with Plenti, so you could potentially have two different schemes to use at Rite Aid if you don't link them together. On one hand, having two schemes may help brands reach customers who aren't members of the coalition program – and also reach coalition members who might not ordinarily shop there. On the other hand, it's double the communication and for people who are relatively brand loyal, it may leave some room for doubt… what's the best option?
A couple of years ago, there were people questioning why you could earn points by shopping at a certain store at Plenti, but not get rewarded there. This is certainly a major concern, especially given that the redemption process—getting something really cool in return for your business—is an activity which has such a major effect on brand perception.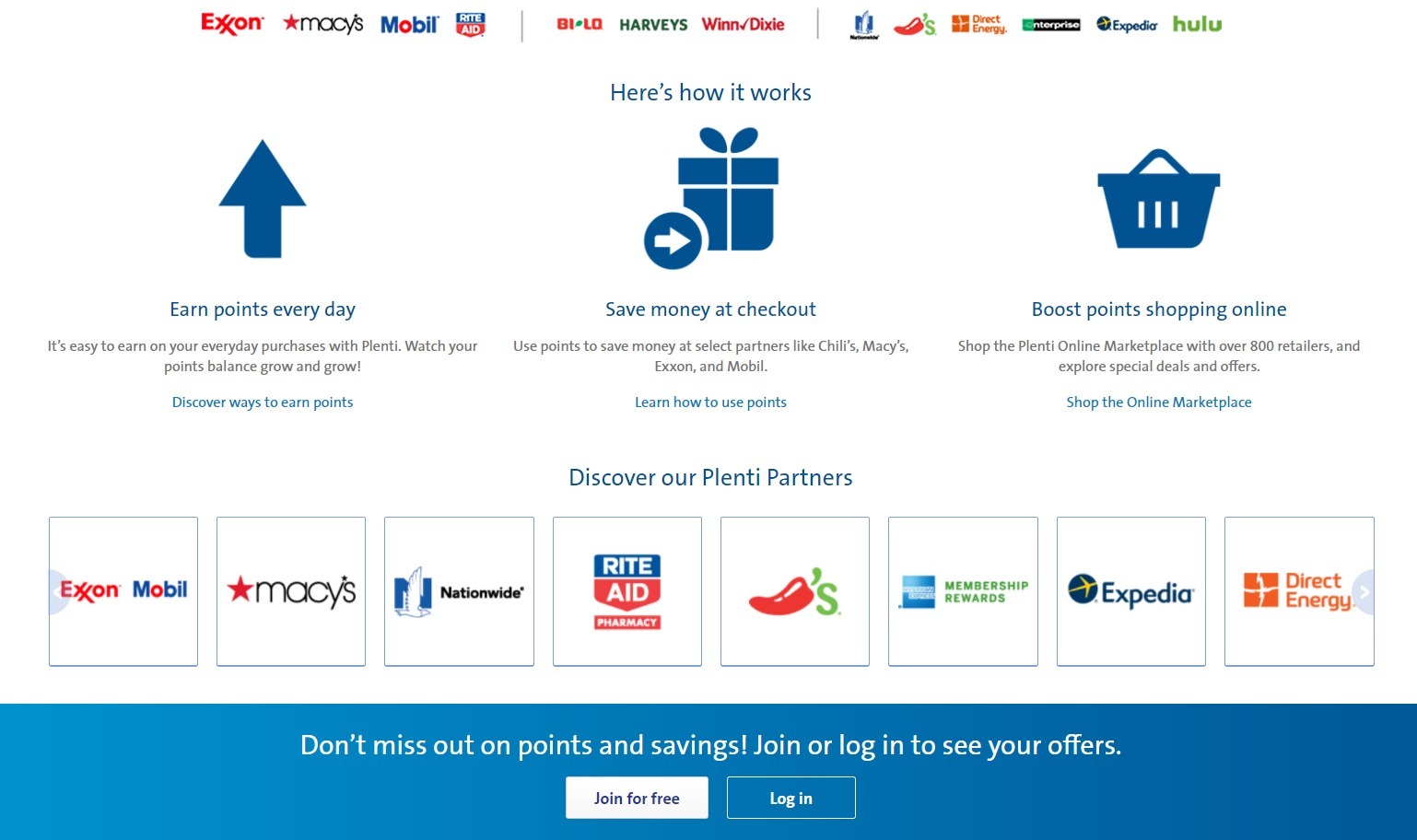 One criticism of coalition loyalty is about where points can be redeemed. Even today you can use Plenti points to save money in a variety of places – but only with "certain Plenti partners."
Convenience vs. Personalization
To sum things up, coalition programs offer unparalleled convenience for brands to get started up and offers convenience for consumers, too. However, there's a lot left to be desired in terms of making the experience more personal from each individual brand's standpoint!
If you're a consumer that uses coalition loyalty programs to shop – or a member of a coalition loyalty program, leave a comment below about your personal experiences with coalition loyalty. Our team loves to follow loyalty trends and we'd love to hear some personal and business success stories or ideas for improvement.