Fashion Loyalty Programs? The 7 Most Inspiring Loyalty Programs in Europe
How can you use privilege programs to foster massive brand loyalty for fashion? How to build fashion loyalty programs that go beyond the transactional relationship with your customers?
With the dominance of fast-fashion brands, which offer similar styles to more expensive brands at a more affordable price, deep transformations have happened in the industry: we now have no less than 52 micro-seasons of fashion! This makes it clear as the summer sky: offering high-quality products is no longer enough to win the loyalty race. Brands need to offer intangible benefits, such as experiential rewards, and a brand story that resonates with customers.
In this context, we are looking to Europe for inspiration. After all, it is the primary melting pot for Western fashion styles. In a world so volatile and competitive as apparel retail today, certainly the old continent has a thing or two to teach us in regards to loyalty concepts for luxury fashion.
We've picked some of the most inspiring fashion loyalty programs in Europe for a brief showcase of creativity, business thinking and downright excellence in treatment. Scroll down and be inspired!
LUISAVIAROMA: LVR|PRIVILEGE

The loyalty program has really activated top spenders, which led to an increase of 59% in customer retention and a €16m increase in revenue over two years.

In addition to rewarding purchases with points, the LVR|Privilege loyalty program combats discount fatigue by offering rewards for soft customer actions such as completing a customer profile, connecting social media accounts, sharing LUISAVIAROMA products, and so on.

Special privileges include secret promo days, birthday gifts and access to exclusive events.
Why it works:
The LVR Privilege program neatly fits in with the image of the Italian luxury fashion retailer. It is a stellar example of loyalty program that rewards a variety of customer actions in addition to purchase. The benefits are constructed in such way that luxury shoppers see each tier as giving them access to exclusive and valuable rewards, which encourages a deep level of emotional engagement with the brand and its products.
(P. S.: Curious about how this fashion loyalty program came to life? Check out our case study!)
Missguided: Refer A Friend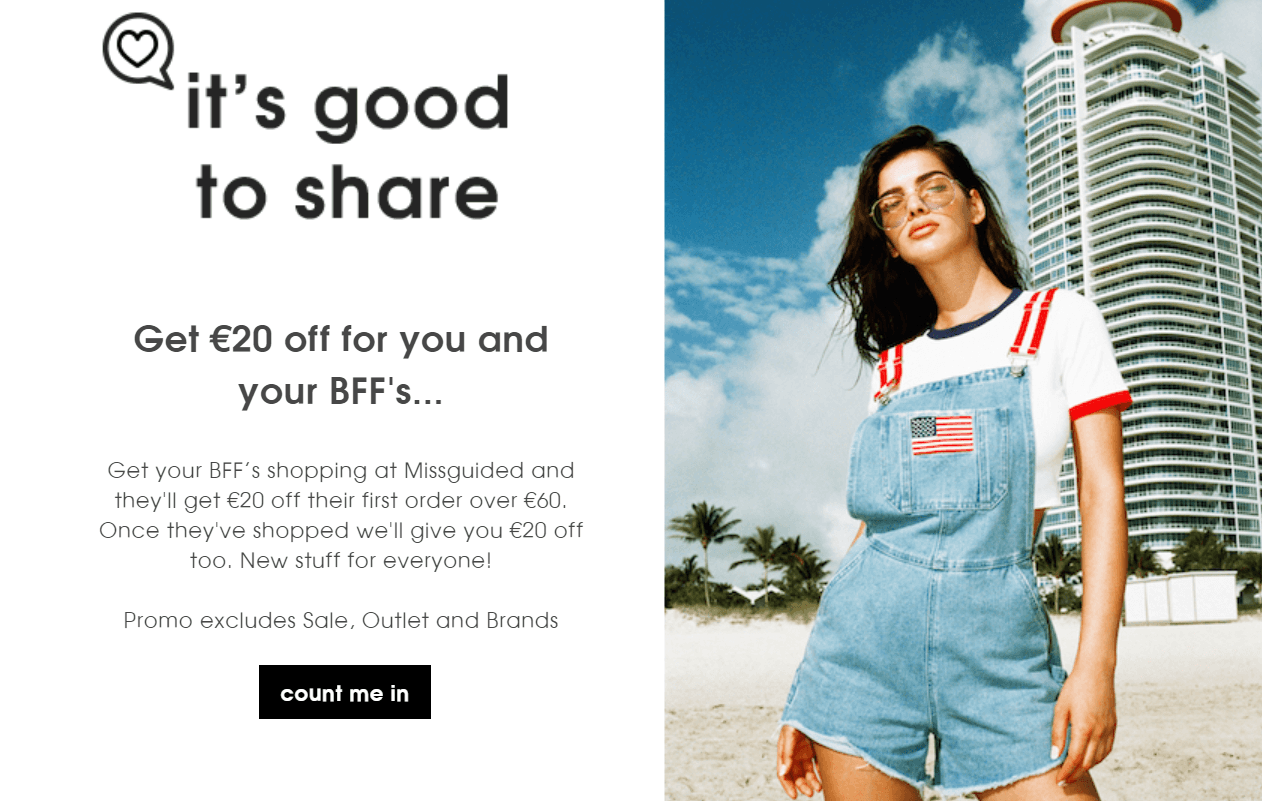 The UK-based multi-channel retailer uses a clear and simple message for their referral marketing initiative: get your favorite people to shop and you will receive a consistent discount for full-priced items.
Why it works:
Word-of-mouth referrals are the number one way in which millennials discover new fashion and accessories brands to shop from: it's applicable to 64% of women and 45% of men. Missguided is keeping it simple with their referral program. The fixed discount means they can maintain control over their bottom line while providing a never-ending incentive for new recommendations.
Moda Operandi: M'O Rewards

A singular concept for online retail, Moda Operandi is an online trunk-show platform from which you are able to make orders directly from the unedited collections of designers such as Zac Posen and Marchesa months before they go on general sale.
The M'O Rewards multi-currency loyalty program starts off with the classical spend-points-for-rewards mechanism.

It announces some hidden treasures along the way

Privileges include exclusive access to exciting new arrivals, insider information and tempting (secret) tokens of appreciation in order to "never miss a M'Oment".
Why it works:
This fashion loyalty program features a clean design and the benefits are communicated well, using smart teasers that keep customers looking out for highly-appreciated surprise-and-delight rewards.
Simply Be: Perks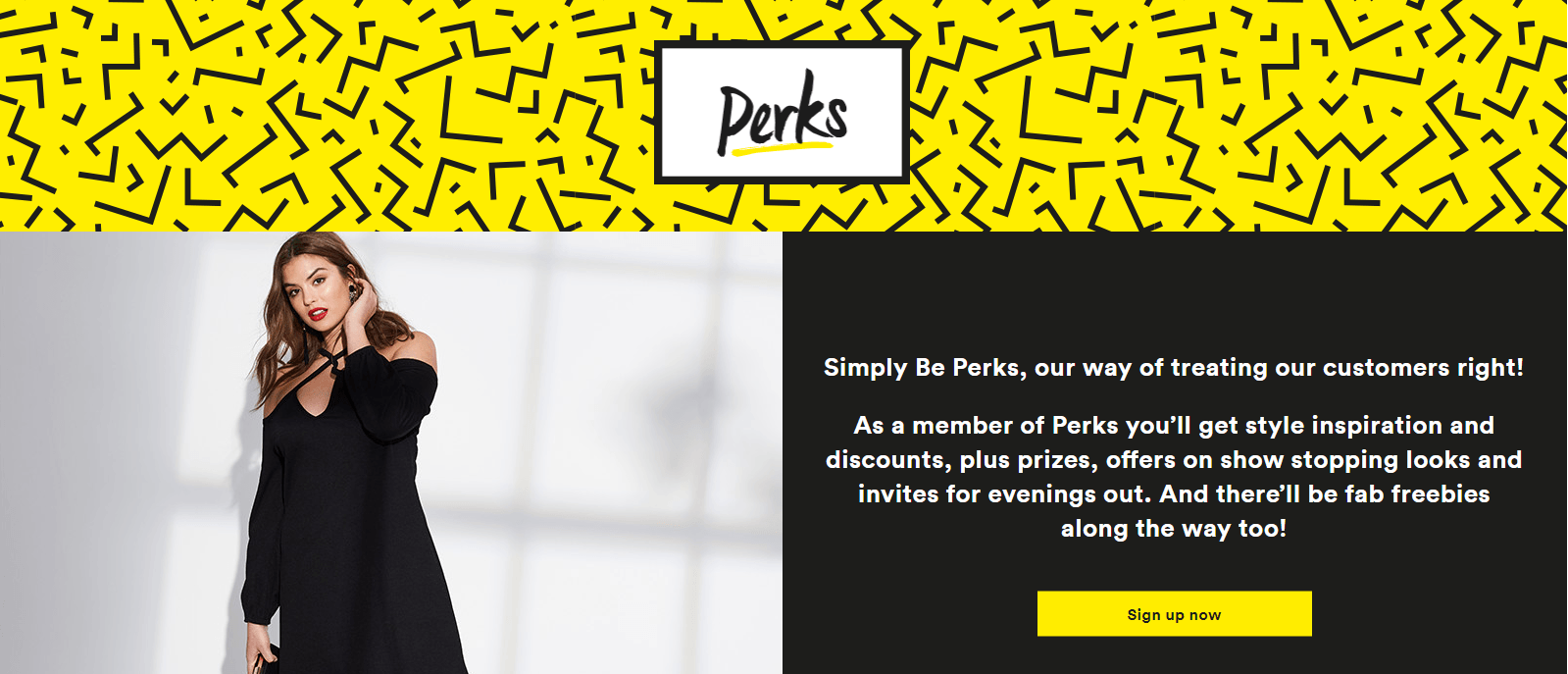 Their concept is avant-garde: instead of having customers collect points or scan loyalty cards, they award personalized rewards based on each customer's history of interactions with the brand.

Rewards are all about the well-being of customers, carefully selected after a survey.

Some of the privileges are made possible through Simply Be's partnerships with brands in beauty, fitness, travel, entertainment and fine dining.
Why it works:
#SimplyPerks encourages customer participation with user-generated content, which is fully in line with today's trends in decision-making for fashionistas. It is a highly personalized concept that lets Simply Be offer experiential rewards that cater to millennials' preferences and are awarded based on customer value, individual preferences and past rewards claimed.
MATCHESFASHION: The Curator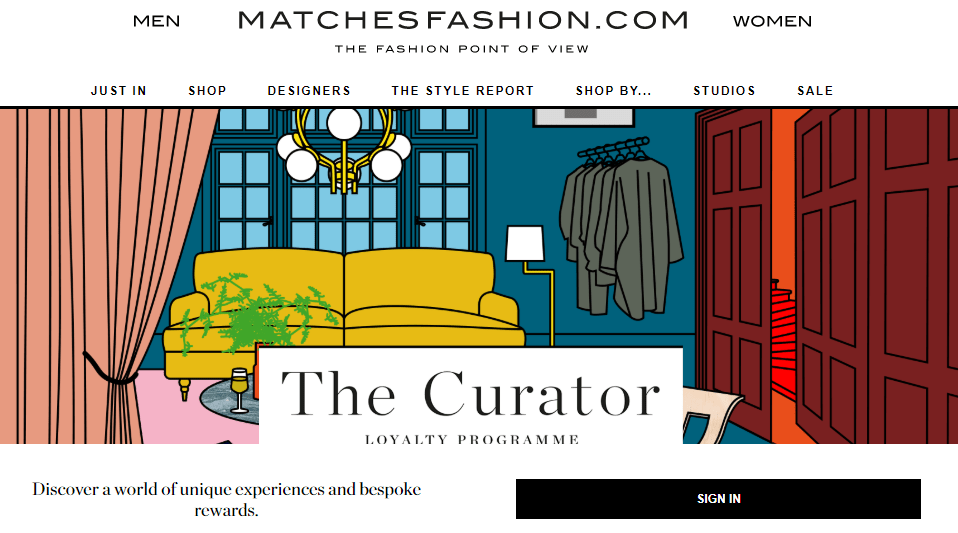 As the modern luxury shopping destination for the confident global fashion customer, MATCHESFASHION offers products from 450 established and innovative designers, including Prada, Gucci and Balenciaga. And their loyalty program, The Curator reflects this level of exclusivity.
Features a 5-level tier system where customers rank up by collecting Curator points.

Spending €10 grants 1 Curator point.

Higher tier levels offer a wider range of rewards.
Why it works:
MATCHESFASHION encourages customer engagement with experiential rewards and a tier system where purchases directly impact leveling. On higher tiers, customers can access benefits such as birthday rewards, seasonal gifts and exclusive offers that are unavailable for regular shoppers.
TK Maxx: Treasure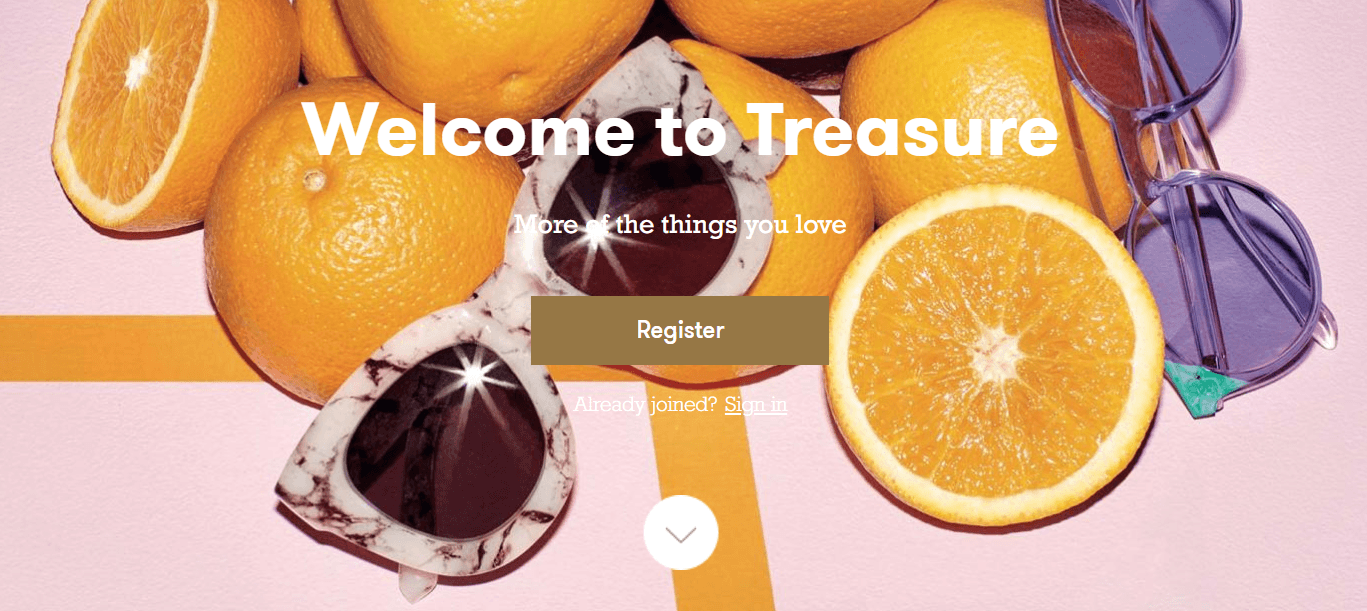 At this point, you might be asking yourself: "Wait, how does TK Maxx belong in this showcase?" Well, we can give you two good reasons. First, their gold label is reserved for only the most luxurious of designer labels. Secondly, their loyalty program is really well articulated!
Offers purchase-based surprise-and-delight rewards.

Customers can redeem them on a monthly basis using their membership card.

Tk Maxx even offers in-store VIP experiences and access to flash events.
Why it works:
TK Maxx's fashion loyalty program taps into the need for exclusive experiences and for promptly-awarded rewards that keep customers coming back for more. It also features a creative combination of online and offline experiences that are set to be part of their customers' micro-moments.
YOOX NET-A-PORTER: Extremely Important Person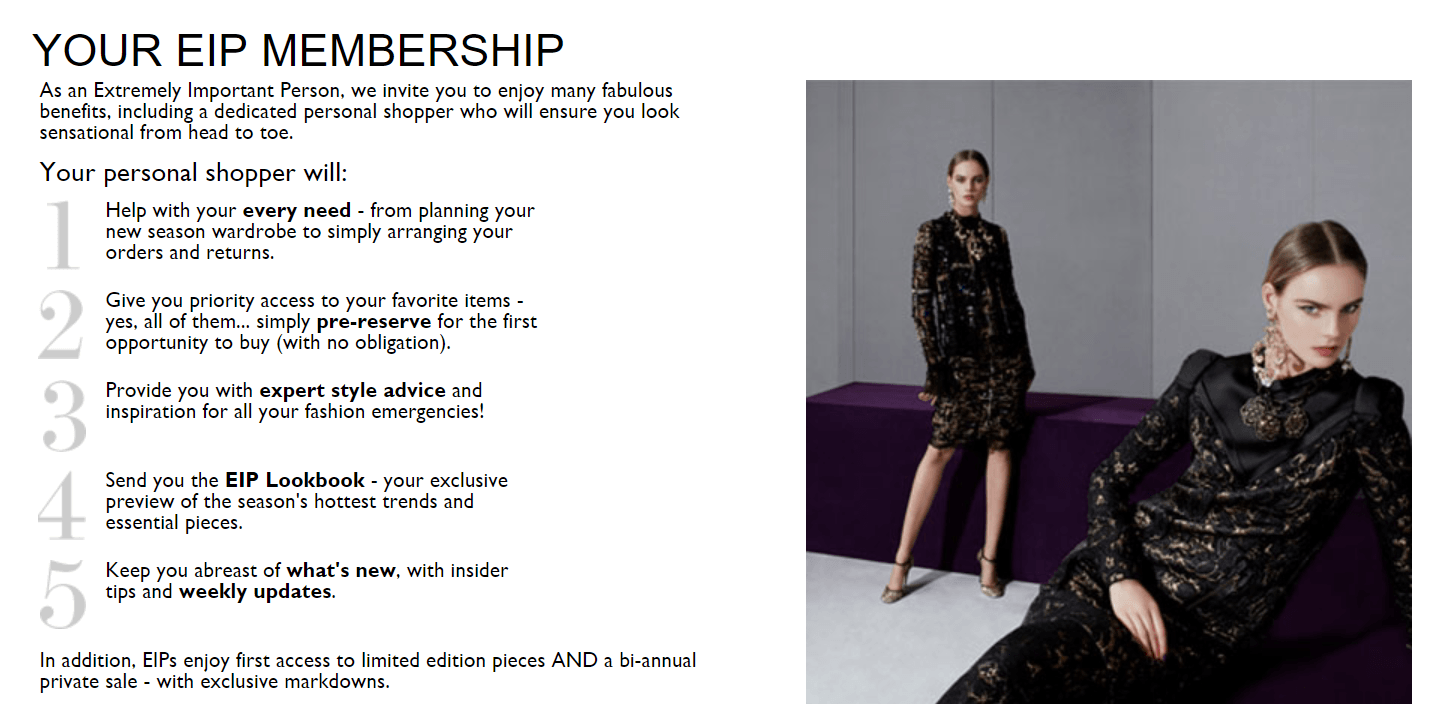 With a monthly audience of over 6 million luxury fashion aficionados, the giants NET-A-PORTER and MR PORTER are conquering the world with their enhanced personal shopping experiences for top customers.
Members receive a highly-personalized set of fashion consultations (not online, but one-on-one home sessions!) after which they can choose which products to keep.

The service is available to customers in London, New York, Hong Kong and Los Angeles.

Members also receive exclusive season previews in the EIP Lookbook.
Why it works:
Speaking about luxury fashion privilege, what could possibly be more anti-standard and better tailored to customers' wants and needs than a personal consultation with a professional style advisor? Way to stay abreast of what's new and lead strongly into those repeat purchases!
Feeling inspired to run your own fashion loyalty program? Contact us and let's start!