After attending more and more eCommerce related conferences, I noticed that everybody was talking about automation. Moreover, many eCommerce business owners that I had the chance to talk to said they're already using some kind of marketing automation.
And it's no wonder.
According to Emarketer the reasons behind this trend are that 66% of ecomm marketers think that automation (and even AI) can improve the customer experience in their stores, and 44% of them say it helps them focus on more creative tasks that add value to their companies.
These are understandable reasons for using a marketing automation solution. But after this, I started to think about something else: What does the future hold for us in this field? Especially in terms of driving customer loyalty?  
In order to find the answers, I asked 41 experts. And luckily, they even touched on fields that I didn't originally plan to investigate, but their insights were so valuable that I couldn't resist sharing them with you.
So here come their thoughts!
First off, why invest in marketing automation?
While the question I asked from our experts was about the future of marketing automation, some of them mentioned another topic that shouldn't be neglected – and I also found it follows my intro perfectly. Adam Vowles from TWDG.co.uk and Tracey Wallace from Big Commerce dived into "the whys". More precisely, why and how marketing automation can help eCommerce marketers.
Adam Vowles, Head of SEO, Suso Digital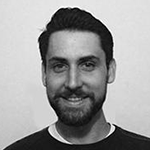 Ecommerce marketing automation is heading down some exciting paths, mainly due to the rise of big data. Good automation should always be routed in helping marketers make better, more educated decisions about who their customers are, how they behave, and how to increase engagement. By collecting and analysing huge sets of customer behaviour data we are able to design systems and funnels that let us connect to our target market and not only create loyal engaged customers but brand advocates as well. Everything that can be automated should be automated… Marketers should focus on the creative aspect and build the automation into the process to allow them to focus on improvements.
Tracey Wallace (@TraceWall), Managing editor, BigCommerce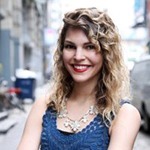 Running a lean business is no longer a pipe dream. Most entrepreneurs do it –– even those running multi-million dollar businesses. Why? Because of marketing automation. Consumers today require increased engagement unparalleled on the internet before. And it takes a massive amount of dedication. But, not everything has to be one off. Dedicate your precious time (because you have very little of it!) to tasks that require heartfelt outreach, or to coming up with insanely cool content and experiences for your customers. For all those interactions that can be automated, do it. This is the power of marketing automation. Everything from an abandoned cart email, to a welcome emails, to a receipt email << they can all be optimized to drive traffic back to your site, close sales and ultimately create an on-going conversation between you and your customer.
Attila Kecsmar, CEO, Antavo Loyalty Software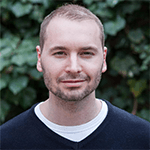 The competition is bigger from year to year in the world of eCommerce and retail. And you can only keep up if you're able to scale your business. And scaling applies to marketing communication, too. That's only possible for companies using some level of marketing automation. Basically, it's a natural process. Those companies that don't have marketing automation in their strategy will struggle to survive.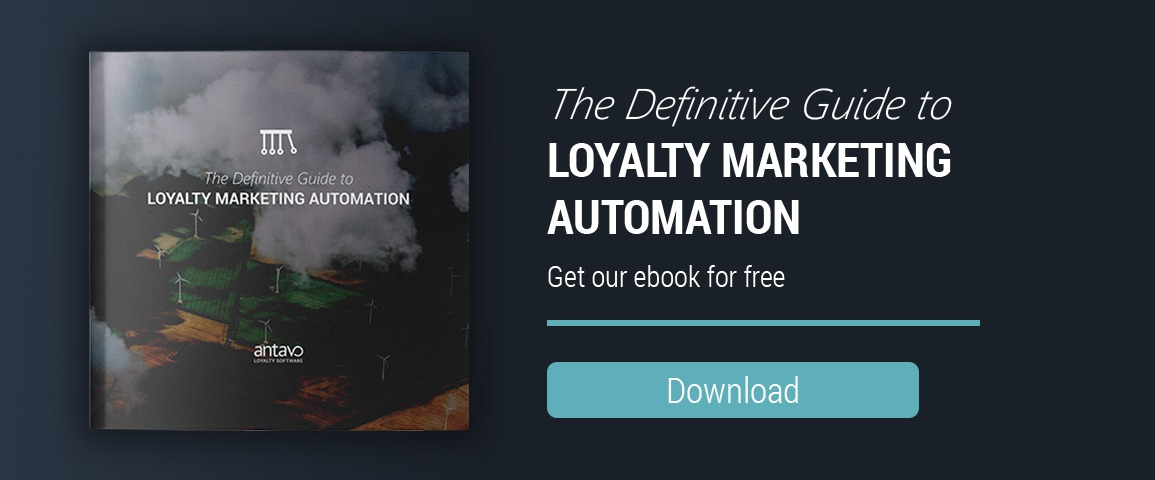 But before you introduce a marketing automation solution…
Take a step back. When it comes to involving a marketing automation solution in your eCommerce business, our experts recommend considering the following five questions:
How effectively can a marketing automation solution drive the results you seek in your current business's state?

How much do you know about your current market and target audiences?

Are your buying personals well-defined enough for a successful marketing automation campaign?

How you can ensure that your automation efforts really improve the level of personalization?

How does the software you choose to use provide proof about the effectiveness of its automation solution?
And now for the details…
Robert Allen (@Rob_H_Allen), Editor, Smart Insights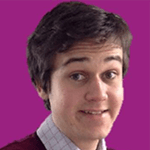 Marketing automation in eCommerce is going to have to transform its focus if it's going to become a powerful force for driving customer loyalty. At the movement marketing automation justifies itself in terms of how it is useful to marketers: How it can lead to more conversions at lower cost, etc. etc. As it becomes an ever more popular technique with marketers because of its effectiveness, consumers will begin to feel bombarded by re-marketing emails and other techniques common to marketing automation. This will lead to a lowering of effectiveness across the board. This kind of tail off in effectiveness is common with all kinds of marketing techniques. AT&T's first ever banner ad had a click through rate of 44%, now you'd be lucky get to 0.04%, and that's if it's not being blocked entirely by an ad-blocker. To be a force for customer loyalty, marketing automation will have to transform itself from focusing on how it can help the marketer, to how it can help the consumer. The development of smarter  recommendation algorithms and better Chatbots able to assist users with purchase and make the customer journey almost frictionless will be key to this.
Jay Adams, President and CEO, Makesbridge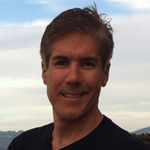 Marketing automation is best known for B2B contact nurturing, contact management, timely relevant messaging, and quality scoring; and these concepts do map closely to B2C loyalty fundamentals.
However, I see a few areas that need to be addressed before B2C loyalty marketers will widely embrace marketing automation.

First, since marketing automation is more expensive than simple bulk emailing, providers need to develop more cases that prove marketing automation's effectiveness.

Proof includes increases to:
Redemption rates

Purchase frequency

Brand engagement

Email engagement

Top line sales

Margin per transaction

Customer sentiment
Second, pricing structure and term obligations need to be adjusted to help make the economic case. As it stands today, a "buy it all" marketing automation platform is risky for an e-commerce businesses that operates on 5%-10% net margin.

Third, develop an "e-commerce loyalty" version which is a less pricey and can still send millions of emails per day, support interest-based profiling from online behaviors, automatically retarget, perform dynamic content publishing and maintain online engagement scores.

Fourth, develop more relevant cloud connections. Simple API connector services are not sufficient to fulfill real time triggers for mega-scale e-commerce businesses. So marketing automation providers need to invest in building more connections with loyalty engines, e-commerce platforms and reward fulfillment services.

Fifth, feature a customizable KPI dashboard that combines performance data created by the platform, attribute data and data from third parties.
George Anderson (@216_digital), Lead Content Writer, 216digital, Inc.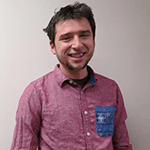 Ecommerce marketing automation needs to become more intelligent, and it will. As customers wade through more and more noise in the mobile-first world, highly tuned recommendations will rise to the top. Marketers need to be more selective than ever in adoption of marketing automation technology. They need to know their market and know which services will deliver amazing experiences for their customers. Marketing automation is not a one-size-fits-all solution.
Darren DeMatas (@ecommerceCEO), Selfstartr.com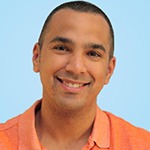 Marketing automation is one of those tactical "shiny objects" can be a real waste of time when not part of an ecommerce strategy. It pains me every time I hear marketers, online stores talk about personalization and automation and don't even have a persona for their ideal customer. Having said that, it can be a very powerful way to form a tight relationship with your customers, once you actually understand them.

Pamela Hazelton (@pamelahazelton), Ecommerce and Online Consultant & Developer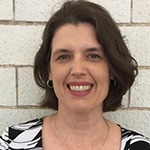 While I'll always say that literal interaction with your target audience is key, there are times when automation can play a vital role. Tools that help identify support issues can help you reach out more quickly and direct customers to specific pages or contact forms. Just be sure the tool "listens" properly. You don't want to be called out for bad practices because automated software addressed a message in poor taste. Spend some time studying and collecting the right keywords that will trigger an automatic response, and monitor those responses and replies periodically. In other words, avoid complete auto-pilot, and never rely solely on what the service recommends. You know your target audience better than software ever will.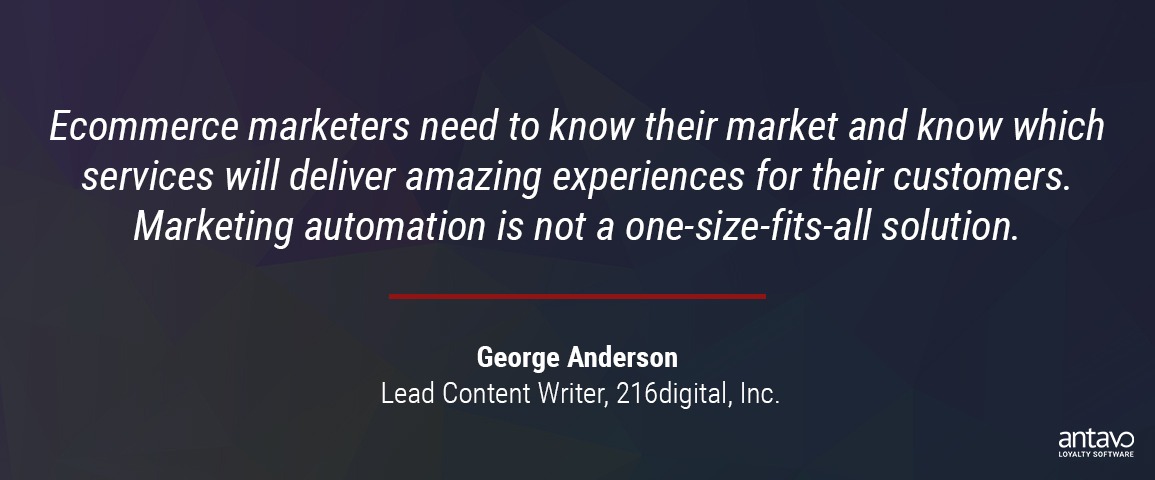 What does the future hold for eCommerce marketers in automation, to drive customer loyalty?
The next 34 experts share how marketing automation allows (and will allow) you to increase your income through a delightful experience that pleases customers and satisfies their needs on the highest level. I categorized these improvements around ten main fields. Namely:
Full-automatization of data collection and analysis

Match business goals better with personalized offers

Send more tailored product recommendations & offers

Build more detailed buyer personas for well-targeted ads

Provide a multichannel experience

A deeper mobile integration to get even closer to customers

Create a long-lasting relationship with customers

Improve communication throughout the customer life cycle

Detect user-generated content more effectively to drive more sales

The rise of AI to build 1-on-1 customer communication
Now let's see how the experts explained it all.
1. Full-automatization of data collection and analysis
Ruthie Berber, Co-Marketing, Yotpo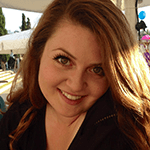 Marketing automation is eCommerce's secret weapon when it comes to consumer engagement – and engaged customers are loyal customers. With marketing automation, merchants engage customers with tailored content based on their profile data and purchasing behavior. One way to spur loyalty using email marketing automation is to communicate highly personalized, playful and worthwhile rewards for customer birthdays. With automation you can populate the settings with user's data points – a combination of the customer's gender, purchase information, birthday and more – to generate unique and dynamic marketing content for each customer.
Max Robinson, FishTankBank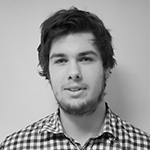 To inspire customer loyalty, you need to have a clear understanding of who your customers are. We've used marketing automation to get an idea of where are customers are based, what age they are and even how they're finding our site. Using this information, we can then create tailored advertising content for each demographic. For example, we recently created an email marketing campaign that sent different emails to different types of customers. By automating the collection of this data, we've improved the efficiency of our marketing efforts greatly.
Jennifer Worsham (@leadliaison), Director of Marketing, Lead Liaison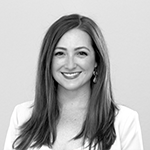 Trust and loyalty is built off of relationships. Relationships are built off of personalized connections. As a result, marketing automation will continue to evolve in eCommerce by better understanding customers, their buying behaviors/tendencies, and demographics. Combining this information into powerful profiles will help marketing automation better communicate, and subsequently build loyalty with customers.
Jessica Thiele, Marketing Manager, VL Inc.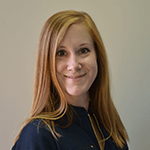 It's 2016, going on 2017, yet we're continually surprised to work with businesses that either manually move their marketing data via copy and paste or – believe it or not – rekeying their data. If you're looking to grow your business, you need to be able to automate these mundane processes to a) maintain clean data and remove as much human error as possible, b) save time, money, and resources, and c) keep a smooth customer experience (the former two contribute to the last in very direct ways). Businesses that have automated their business from marketing downwards are able to focus on what they do best – running and growing their businesses.
Teya Tuccio-Flick, Partner & VP Marketing, Whereoware agency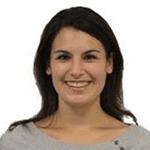 Marketing automation is the vehicle to deliver a holistic, personalized e-commerce experience to customers. By personalizing the experience – displaying the right products, images, and promotions that resonate with each visitor – customers find the e-commerce experience simple and rewarding, which increases customer loyalty. Marketing automation will evolve to capture customers' behavioral data (the actions they take) across channels and digital properties. If the marketing automation tool can track and capture a customer's behavior as they move from one website to another, to social media, to mobile, and back again, in a non-obtrusive way, that marketer is empowered with a true 360-degree understanding of their customers. There are many automation platforms that do this, although many have limitations that I foresee technology will overcome. Surprising, personalized customer experiences delights customers and increases brand loyalty.
Martin Zhel, CEO, Orior Creative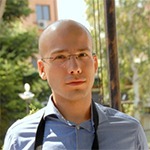 I believe marketing automation is incredibly important as a way to drive loyalty to any eCommerce store. The key to maximize results is to personalize each email based on the behavior and interests of your subscribers.
People don't want you to send them the same generic offer as anyone else. Instead, you should be tracking every action they take online and use that information to deliver better campaigns with time.
That way you can segment your campaigns based on:
The initial and follow-up offers people subscribed to
Which pages people visited on your site
Which emails people opened
Which links people clicked on in your email campaigns
Contact information (job position, company type, etc.)
Bought products or services
Geo location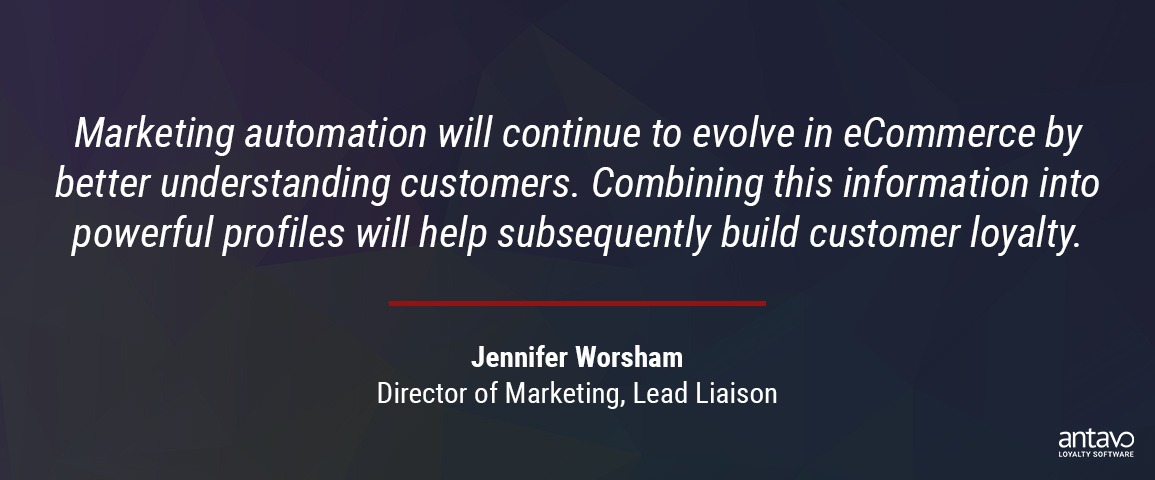 2. Match business goals better with personalized offers
Marcus Miller (@marcusbowlerhat), SEO & Digital Marketing Strategist, Bowlerhat
The real trick with all marketing is to deliver a message that your prospect or customer is glad to receive and that in some way makes their life easier. The required evolution here is tighter integration with business logic. If a customer buys 30 days of multi vitamins from you then drop them an automated email to place another order with 10% off on day 25 – "running out of multi vitamins – 10% off today". Combine a real need with a smart automated offer and you have another sale and a happy customer who you have truly helped. We have recently used such an approach with an online retailer of Dermalogica products to suggest a repeat order with a discount for a client called lafantine – this is a tricky industry where folks typically go to the cheapest supplier each time they need the product and has helped increase retention rates and reorders.
Dimira Teneva, Metrilo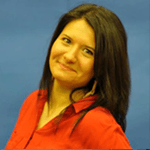 It will gather as much information – preferences and behavior – as legally possible/ people willing to give away and add predictive analysis to completely personalize the customer experience. On-site push notifications, product recommendations, promotions, email funnels will all be tailored for a cohort of customers instead of standardized. Automation is about being relevant, timely and "just what I wanted" in a data-driven and non-intrusive way, with the least amount of manual work behind the scenes.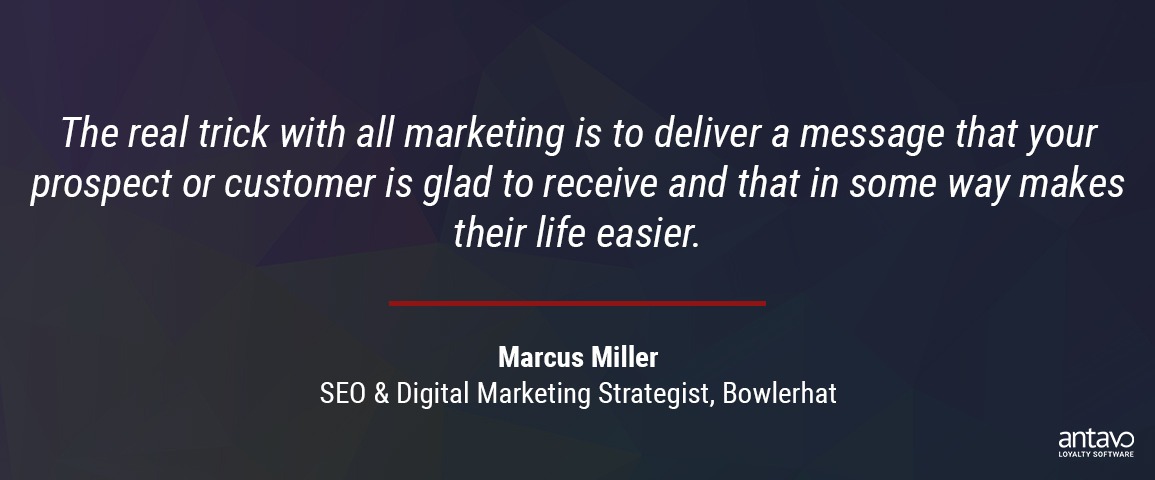 3. Send more tailored product recommendations & offers
Shep Hyken (@Hyken), Customer service and experience expert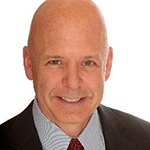 Today's big buzzwords in marketing and CX are personalization and customization. With all of the data we have on our customers, there is no reason not to give a more tailored and unique experience. It's the same with marketing automation. Want more response, opens, click-through's, etc.? Then, customize and personalize your messages. It's more than using a name. It's delivering a tailored message that is relevant to the individual customer.
Rebecca Stickler (@becca_stickler), Content Marketing Specialist, WebpageFX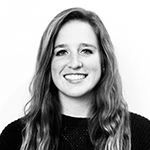 The best use of automation for ecommerce retailers is adding personalized content. 56% of consumers say they would be more inclined to use a retailer if it offered a personalized experience, so adding relevant product recommendations and tailored offers is a great way to boost online sales and customer loyalty.
Diane Ellis Scalisi (@dianeellis), Ecommerce Strategist, GrowthAi.com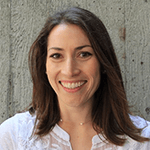 Online merchants are leaving money and loyalty on the table by not connecting the dots concerning a buyer's intent. All purpose emails sent to the entire customer list just don't cut it anymore. The future of marketing automation will present estores with new ways to make their customers feel like they really "get" them — including information about when individual customers make purchases, for whom they make purchases, and perhaps even why they make any given purchase. With the high degree of personalization that eCommerce giants such as Amazon are deploying, practices that may have previously seemed creepy or out of bounds, such as "remembering" sizing information or the times of year a customer makes her purchases, can now actually help grow a customer's loyalty.
Donald Pettit, Sales Team Leader, SalesWarp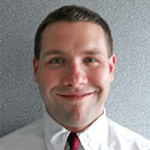 Marketing automation will evolve to continuously engage customers. I think about brands like North Face that will seamlessly engage based on more data availability. Let's say you sign up for a North Face Unlimited Account with email, phone, text, smart watch, and "purchase network" notifications. So, when you book your vacation, the network notifies North Face that you booked a week in Cabo. North Face can then email you promotions, integrated with that data:   "Click here to have your board shorts, backpack and sandals shipped to your hotel the week of your vacation."  You can get text updates when the order ships, and receive a photo on your smart watch when it's placed in your room, and receive a retroactive discount for sharing photos of using your gear on Instagram. You can also stop by the North Face store and get discounted surf rentals and lessons, all of which is coordinated through a handful of channels and devices. Suddenly, your vacation feels sponsored by your brands, and the photos prove it.
Dallas McLaughlin (@bossdjay), Director of interactive marketing, The James Agency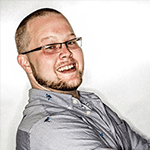 Personalization and timeliness are quickly becoming the core components of any successful email marketing campaign. Gone are the days of the batch and blast mentality of loading up an entire email marketing database and sending a singular message. Marketing automation tools have shown even the most uninformed consumers what the possibilities of email marketing are. This has resulted in consumers having higher expectations than ever before in terms of what types of emails they want to receive and are willing to engage with. While the expectations of consumers is at an all-time high, so too is the willingness of the consumer to reward businesses who can meet or exceed these expectations. Businesses seeing the most success are collecting the data upfront, putting the data into action and sending emails to targeted audiences with content that aligns with their interests. An example of a common personalized and timely automated email sending is tying your marketing platform into a weather tool and sending specific products or services when the weather aligns with their use.
Jakub Firuta, Content Manager, LiveChat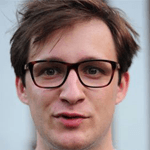 Marketing automation helps your ecommerce business on two levels. It allows you to go really deep with the personalization of your campaigns so that more potential customers can reach your product pages. It also allows you to work with a really large scale that normally is reserved for large email blasts only. I think the more customer information marketers are able to gather, the better campaigns we'll see. It will allow us to create targeted campaigns for a greater number of customer segments. As a result, marketing automation will allow you to create a bond with your customers on a scale that would be impossible to achieve with more traditional email marketing methods.
Csaba Zajdo, Ecommerce specialist, Optimonk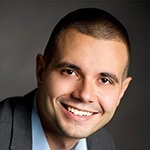 The focus of most eCommerce site owners will shift dramatically from bulk email marketing campaigns like newsletters or promotions towards highly personalized "transactional"  emails. So basically, most emails will be sent to an individual based on a certain action (e.g. signing up, invoice, cart abandonment, stock updates, etc.) in which users expect to receive some kind of communication. The content of these emails will be customized as never before based on the users browsing and buying history. That's why transactional emails will be a valuable commodity in the prospects inbox which will result into higher open rates while also maximizing on the opportunity for online stores to increase their overall engagement.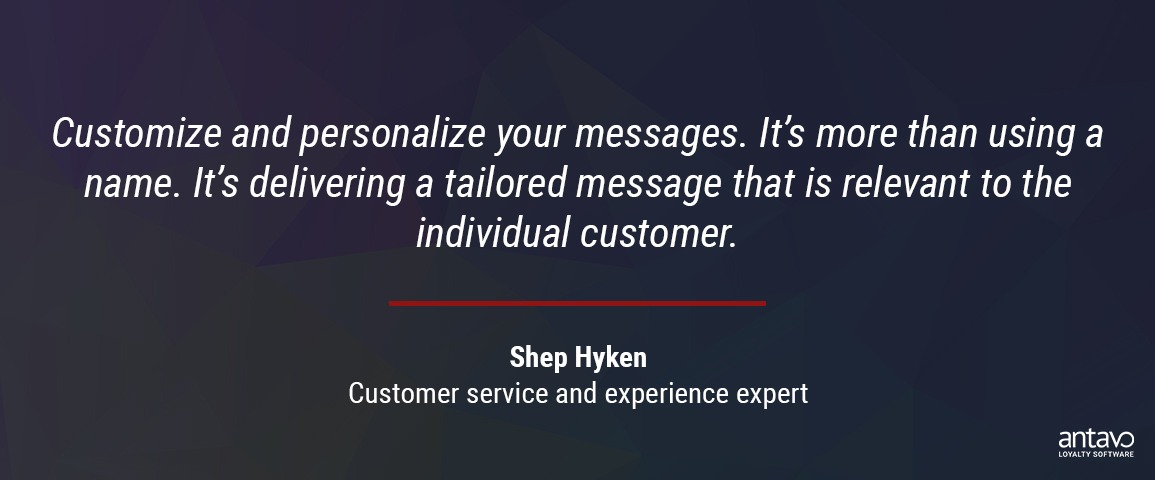 4. Build more detailed buyer personas for well-targeted ads
Joe Sinkwitz, CEO, Intellifluence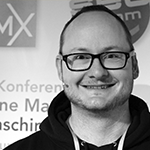 One way eCommerce marketing automation will result in more customer loyalty is through CRM -> buyer persona -> peer influence. Mining customer data for trends is not a new science, but now that services such as Infer have made it easier to understand who is likely to be a prospective customer based on current customer data, an eCom analyst can rapidly build out buyer personas in an automated fashion and use the "ideal" customer data within services like Twitter and LinkedIn to determine peers, targeting those peers with custom ad offers that show familiarity and use psychological wealth signal triggers to result in a higher engagement rate than non-targeted ads. The result of the increased engagement of peer based ads is more sales, and thus more data to build out further buyer personas for more targeting. It is a virtuous marketing automation cycle.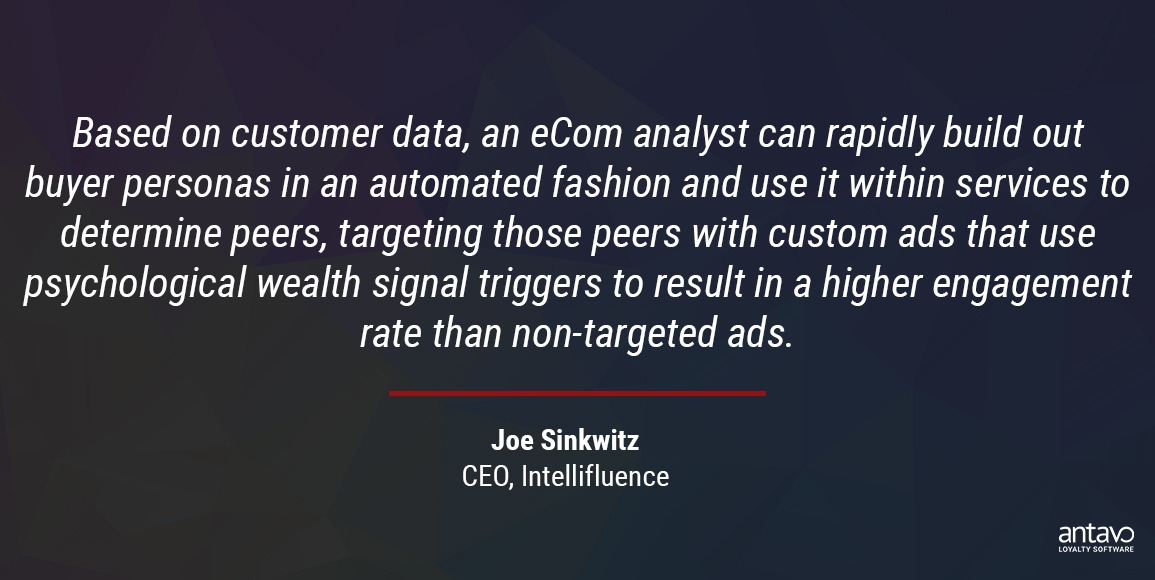 5. Provide a multichannel connection with customers
Ivan Mazour (@IvanMazour), Ceo & founder, Ometria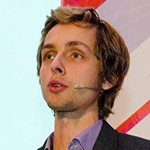 Winning the attention of customers has never been more of a challenge for online brands. With consumers being bombarded with hundreds of notifications, emails and ads each day, online retailers must start to prioritise relevancy if they want their marketing messages to stand out to customers and drive repeat purchases and long-term loyalty.

Creating automated marketing campaigns that respond to customer actions is a great way of achieving this. In the past couple of years, we've started to see online retailers embrace automated tactics like sending welcome campaigns to new subscribers, cart abandonment emails to those who don't complete a purchase or date-specific messages such as birthday emails, for example. The beauty of automated campaigns is that they're far less time-intensive than regular broadcast emails – you can just set them up and leave them quietly generating revenue in the background.

It's important to realise, however, that the relationship between ecommerce and marketing automation is very much in its infancy. In the coming years, we expect to see more retailers employing advanced automation tactics, such as:

predictive marketing

: brands using individual customer data to predict what they're most likely to buy next and when, and sending triggered messages at the optimal time.

cross-channel campaign automation

: brands creating campaigns that target individual customers on the channels that they're most responsive to, based on that customer's interaction history with the store.

dynamic content

: tailoring the contents of automated messages to the tastes of the recipient in order to make it a completely personalised experience.
Fredrik Winberg, Ecommerce owner, Caliroots.com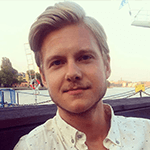 I think that we need to think CRM 2.0 and involve all channels in the marketing automation process. We're talking about email, SMS, Facebook, Instagram and display retargeting – everything needs to be tied together and synchronized.
Arielle Hurst, Marketing, Pure Chat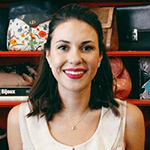 Now that businesses can connect with customers through more channels than ever (think email, live chat, phone, text, desktop notifications!), those channels should be integrated with your marketing automation to foster even more customer loyalty. For example, at the end of every chat conversation you should have an automated follow up process that sends a thank you, coupon or extra reward points.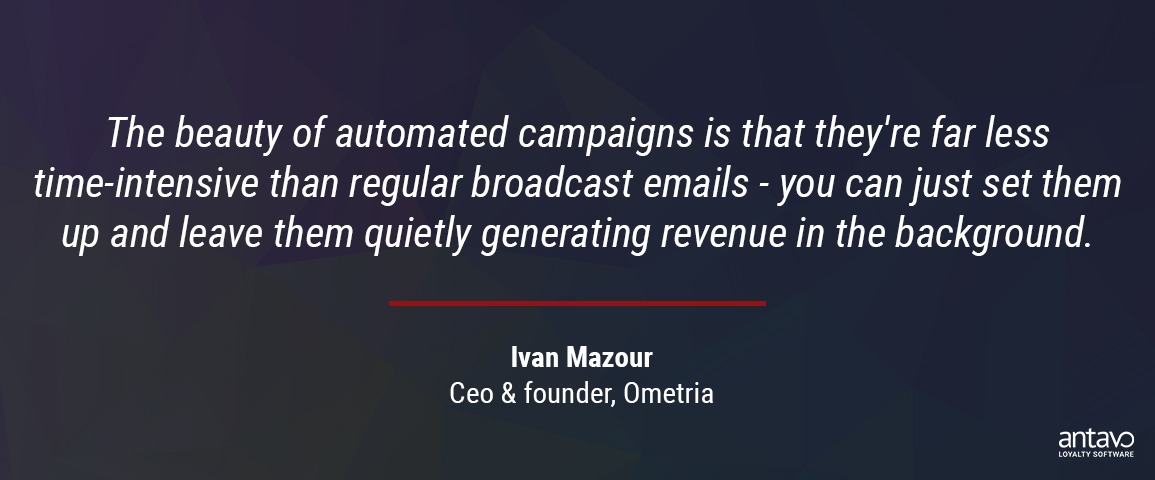 6. A deeper mobile integration to get even closer to customers
Izaak Crook, Digital Marketing Executive, AppInstitute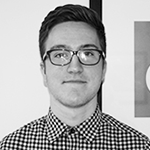 At AppInstitute, we see a lot of benefit from using well timed automated marketing emails. Meanwhile, our customers have commented on how well their in-app push notifications drive customers back through the door. In the future, I'd like to see more eCommerce businesses utilise automated push notifications to boost their mobile sales – as they are often more effective than email due to them appearing straight on customer's phones. One great way this could be used for eCommerce is by sending a push notification to users who have abandoned their shopping cart, reminding them the product is still available or offering a discount.
Chad Rubin (@itschadrubin), Skubana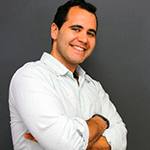 Marketing automation will continue to evolve as e-commerce rapidly changes. More personalization will be core to your strategy with more individualized nurturing of your prospects. Along with that, mobile will be a heavily weighed part of this as social emerges with conversational commerce. Sellers that sell on marketplaces, such as Amazon, Walmart, Jet will be able to leverage tools that the marketplaces will begin to provide to target those customers and win back more business to the channel and to the retailer.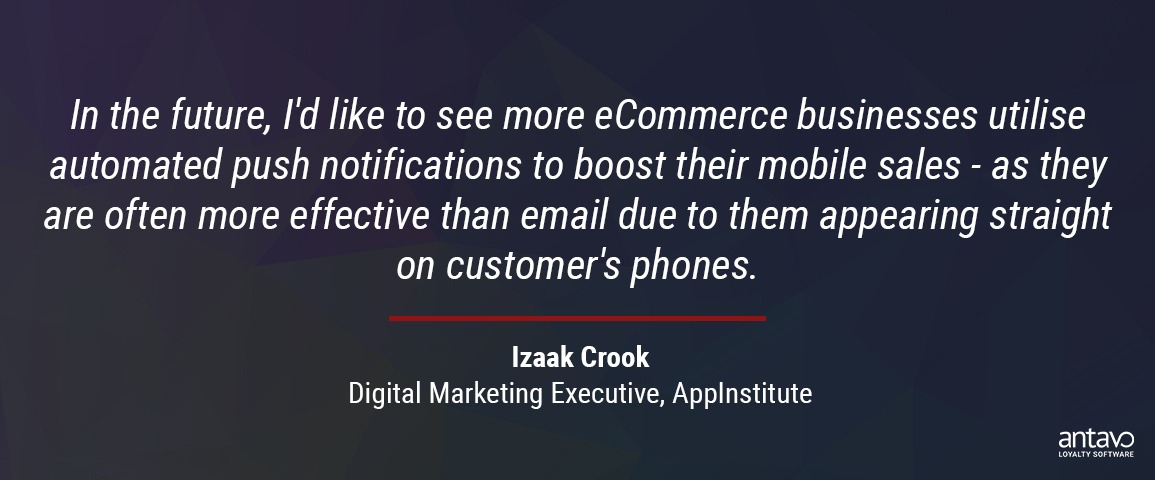 7. Create a long-lasting relationship with customers
Scott Schilling (@ScottSchilling8), Schilling Sales and Marketing, Inc.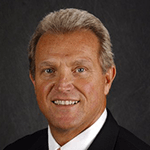 Marketing automation is essential in this day and age. Entrepreneurs are stretched thin handling far too many things concerning their business if far too little time. This is happening at a time when nurturing your customer base and maintaining a public presence through social media is more important than ever. This is why we have gone to 100% done-for-you social media service. It is imperative to consistently "touch the market" to stay top of mind. Customers do business with those they know, like and trust so an on-going relationship needs to be a priority. The buying action most people forget is that customers buy when they are ready…this combined with know, like and trust means you must have a relationship in place and top of mind prior to the customer being ready to making a purchase decision.
Stacy Caprio, Search Marketing Manager, Accelerated Growth Marketing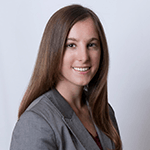 To drive loyalty and returning customers, marketing automation should evolve past simply segmenting by industry, page visits, and name personalization, to incorporate more specific recognitions of customer personality and rewards. For example, a candy store offering a birthday email coupon for the customer's favorite most-purchased candy along with a personal thank you note for being a customer for X days.
Felipe Cardoso Barbosa, CMO, Route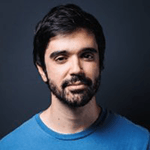 Today is common to see big eCommerces contacting customers with really targeted emails based on data like purchase history, visited products and items that were left on the cart without the transaction being completed. I think Marketing Automation platforms for eCommerces rely a lot on this kind of transactional emails. They lack the focus on the human touch, the personal conversation a company should have if their clients. It seems they are built to sell, sell, sell. Driving customer loyalty is more than just sending good offers based on past behavior, is creating a relationship even if it means contacting people without selling anything. I believe that to help drive customer loyalty, marketing automation platforms must offer a possibility for marketers and customer success professionals to add really personal emails (plain text, with a tone that seems someone really cares about the customer) to be sent automatically depending on how the customers are interacting with the website and other emails. And all this should be done in a predictive way: the platform will always know what type of email to send.
Bret Bonnet, President, Quality Logo Products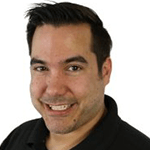 It's important to research and develop a tool that will allow for a new marketing strategy. Our approach is to create separate, customized funnels that will monitor a customer's "purchase temperature." Since no two customers are alike, marketing automation will create specific email offers based on a customer's purchasing history. In addition, this tool will retarget customers who have high engagement with our website, as well as reengage customers who visited the website, but didn't necessarily make a purchase. For those customers, we would offer an individualized discount for their purchase if they place the order in a specified amount of time. Ultimately, we want to leverage a customer's shopping habits and purchasing history to cater to their individualized experience on our website.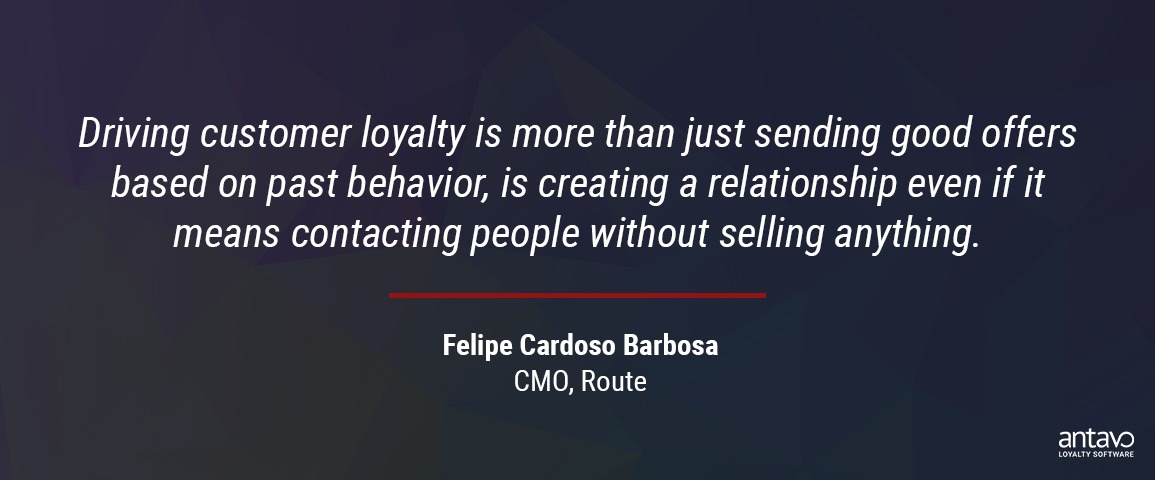 8. Improve communication throughout the customer life cycle
Jess Tiffany (@tiffanyintl), President, Marketing and Networking University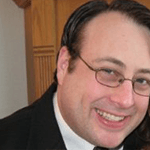 As email automation becomes more and more sophisticated. I see  it holding a much higher ranking in customer service, sales and retention. There tends to be a certain flow or "sales funnel" that happens when a customer shops for and purchases a product. Utilizing analytics we can anticipate many of the questions and concerns a client will have, and when they may have these challenges. We can then proactively solve these issues before they have even manifested themselves into a problem in the customers' eyes. As a consumer and as a business person I feel we have an obligation to make each person's experience better all along the life cycle, from inquiry to purchase and to maintain open dialogue and build relationships to nurture an ongoing relationship.
Matthew Mercuri, Digital Marketing Specialist, ERA Environmental Solutions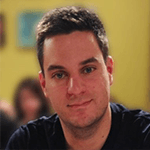 Customer loyalty is all about bridging the gap between sales and customer service. Usually, a CRM's account file is not adequately handed off to the people who need it. Account Managers and Sales Representatives have done their due diligence with the sale component, but most of them simply scramble inefficiently when a customer care problem arises. CRMs and marketing automation can help retain customers simply by extending the natural "pipeline". This is achieved by inserting new steps in the progress, ones that pay particular attention to helping the customer after a sale occurs.
David J. Bradley (@DavidBradleyMBA), Digital Marketing Strategy Expert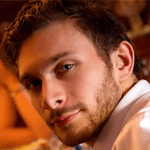 In short, Smart CTAs are intelligently delivered calls-to-action based on set criteria for the individual on the web page at that moment. For eCommerce, that can mean aligning to a prospective customer early in the Buying Cycle, offering a discount; or, with a long-term customer, offering an insider bonus with a new order for past customers only. There are endless ways to use Smart CTAs, but the point is to make the experience more personalized for your audience.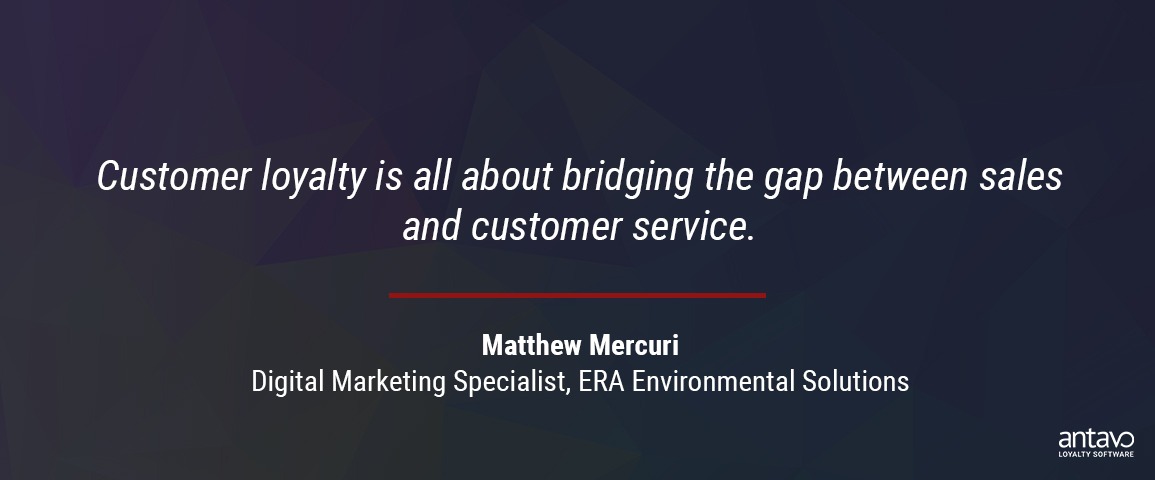 9. Detect sales-driven user-generated content more effectively
Luisana Cartay Febres (@lucartay), Content Manager, Photoslurp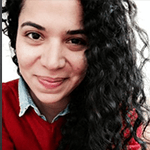 The main aspiration for brands will no longer be major influencers accounts with huge amounts of followers. We're going to start seeing that less established influencers become especially appealing, because is way for brands to pinpoint the message to the target audience, even if this means a lower level of exposure. In this, automation plays a big part. To identify less established influencers, brands must search for product-related user-generated content on social media. Then, they will give them exposure and reward them. This can be an extenuating job. Word of mouth is a great resource for brands. But behind it there must be a well-oiled machine of automated processes, that encourage users to speak and share content about the product.
Ruthie Berber, Co-Marketing, Yotpo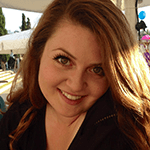 Another way to inspire loyalty is by automating the collection and distribution of your user-generated content. Customer contribution helps build brand credibility and can be automated intelligently. When businesses automate their marketing, they can be instantly more efficient in delivering a personalized eCommerce experience to their customers. This is why it will likely become an increasingly crucial tool in driving customer loyalty.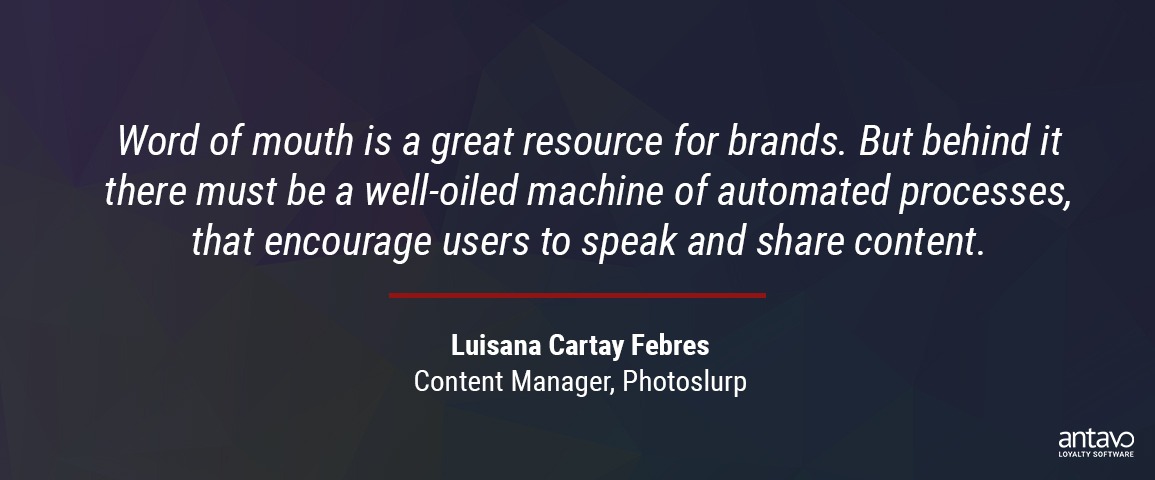 10. The rise of AI to build 1 on 1 customer experience
Camille Guillot, Partner Marketing Manager, Emarsys
The holy grail of customer loyalty is a true understanding of each and every individual and designing specific content accordingly. Every marketer needs a solution that can learn and generate intelligent communication, through every channel, both online and offline.
One of the most powerful aspects of marketing automation is that it has the ability to empower content and consolidate it into one unified brand experience. By combining big data with intelligent, data driven, lifecycle marketing technology ­– such as an artificial intelligence marketing solution, brands can analyze historical, behavioral or contextual data to extract insights about what matters most to each individual customer. From there, brands can optimize resource investment, whether it be hyper-personalization, incentives, or a less complicated checkout process.

Brand awareness, acquisition, retention and engagement are the cornerstones of every marketing strategy. Never forget: it is all about the data. Collecting swathes of customer information is just the beginning, but the ability to understand and to act upon it is where the difference will be made.
Marco Ritratti (@marcoritratti), Email Marketing Manager, LUISAVIAROMA.COM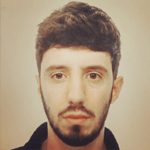 In the future, not only the processes that compose marketing automation will be automated, but machine learning will also drive the creation of the right automation for every single customer. From personalization within prebuilt automation, to a fully custom marketing experience created automatically for every customer.
Eyal Reich, Co-Founder & COO, Storeya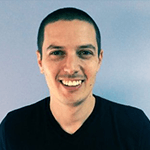 The process should be seamless. The ideal system should have AI capabilities that would know to best describe and price your products, run your paid campaigns automatically. This system will know which products to promote, the best target audience and the bidding for each ad. Once the users reach the online store they will receive on-site promotions customized to their needs and desires.
Frank Lee (@franklee84), Marketing Head, Rebates Zone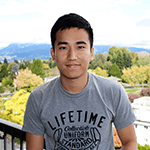 Marketing Automation's paramount task is to generate highest possible revenue for companies, and for these purposes, many companies have developed automate procedures that sends e-mails and performs social media actions. The biggest revolution that can be brought in automate procedures is the invention of complex algorithms that by ignoring the customer's perception, faults or lack of knowledge whatsoever provide them with the best possible answer. If the person is getting the exact thing what he wants only in one search, it is obvious that he is going to build a loyalty. An ideal way is to use Artificial Intelligence, which could communicate with customers without any flaw and prescribe and convince the customer about the sophistication of the product. If the customer gets the right thing, he is bound to develop a sense of loyalty.
Josh Blanton, CMO, Next Steps Digital/JeremySaid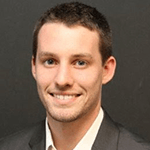 Marketing automation has been around for over a decade and, with all things that last, it has evolved in use past simple nurturing. The drip tools and landing pages offer an excellent opportunity for customer onboarding, training, and renewals – all while being tracked at the engagement level so you can analyze and refine your campaigns. Marketing automation tools also offer you a plethora of information about your individual users. While many systems integrate with dynamic remarketing platforms such as AdRoll, I think a smart AI that dynamically shows relevant products based on user-activity will be included with marketing automation solutions of the future. This would go a step beyond uploading a product list and showing the consumer the same product they had recently viewed; it would be based on lifecycle stage and lead score. Imagine, ads that actually work to dynamically nurture, rather than immediately sell.
Gabor Koncz (@gkoncz77), CEO, Automizy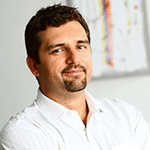 Marketing Automation could use Artificial Intelligence. It sounds a high-level approach but it isn't – it just makes sense. AI would be able to recognize patterns that you wouldn't be able to see and take action much faster than you. The only thing you see is that your customers receive much more relevant, personalized emails and as the system collects more and more data it will improve the experience your customers have with you. Don't be scared but it could build a much more consistent and reliable brand with highly targeted and personalized contents, offers and messages. And these are very important pillars of customer loyalty.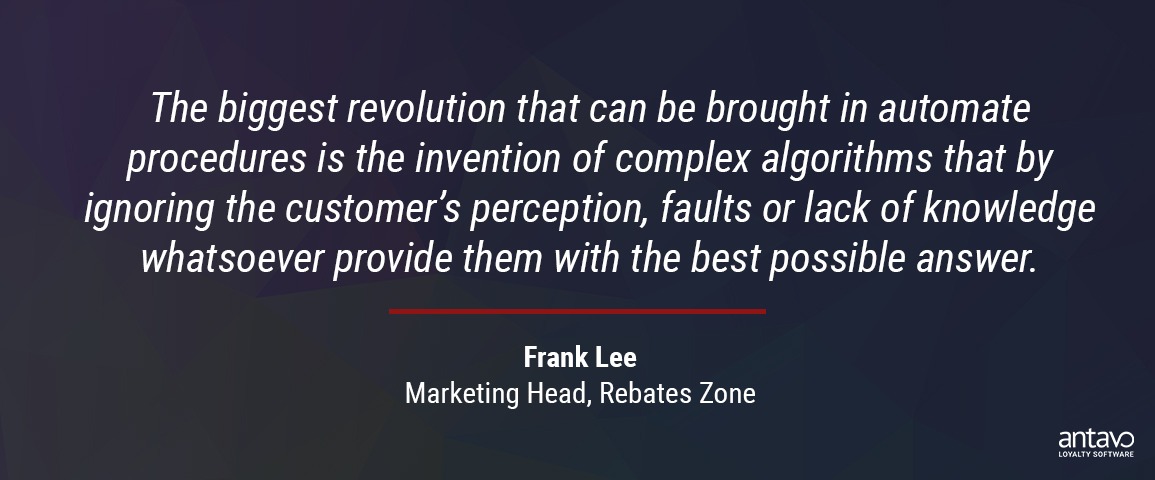 Conclusion
I know, this post turned out to be really massive. But I believe that it's useful to read for anyone who is interested in the current state of marketing automation, to those who are about to launch a marketing automation solution for their estore, or for those ecommerce marketers, who want to be ahead of their competitors and see what tactics and improvements can help them now, to drive customer loyalty.
If you would like to see how marketing automation can work in a loyalty program software, like we have at Antavo, then sign up to a demo. Our Head of sales, Andy, would be thrilled to show you.
What are your thoughts about the future of marketing automation? Just reply in the comment section below. I would love to discuss this topic more with you.