Google Shopping started in 2012 and has become one of the fastest growing e-commerce platforms. In the last year Google has added many new features to help retailers increase sales and focus more on the mobile experience and product discovery.
The growth of Google Shopping has been truly dynamic, which we can see from the 2018 Google Shopping Benchmarks Report. The channel's total revenue has increased by 64% from 2016, mobile purchases grew by 19% (reaching 36% of total revenue in 2017), and overall impressions increased by 80% year over year.
To take one particular retailer for example, we can see how Amazon has performed on Google Shopping in the following diagram.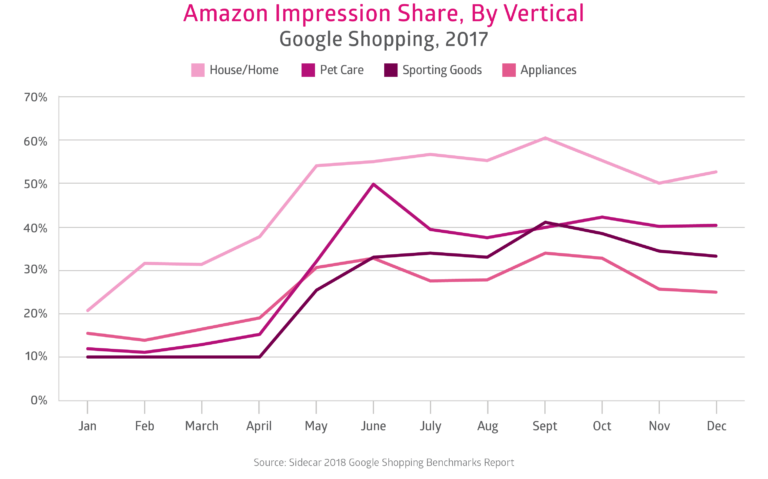 The First Purchase Made Through a Google Shopping Campaign. What's Next?
The results show the success of this platform. If you create an impressive ad, you can attract the attention of a future customer and, after clicking on the link he/she can add your product to the cart. Google Shopping is an effective tool for increasing your sales and encouraging people to check out your store and make a purchase.
So far so good. However, once the customer finds you through Google Shopping and makes the first purchase, the journey isn't over yet. How could you get those customers to shop again and again? Sadly, customers often don't return after acquisition – they remain one-time buyers. Have you thought about how you can improve customer lifetime value? How you can encourage your buyers to make a second purchase?
As a brand or retailer, you need to offer more and focus on the next logical step by incentivizing customers to come back, rather than making another Google search for the same product and buying it elsewhere next time.    
Here are some tips you should keep in your mind for your marketing communication and strategy. It's very important to impress your first-time buyers!
Create a Great Customer Experience
First, you have to research your target group's needs and desires. The desktop and mobile application surfaces are very important, because this is the first "meeting point" between you and your online buyer. These platforms must be both impressive and easy to use at the same time. You have to offer more or deliver something special to capture your first-time buyers' attention and make them regulars.
All of us have the same questions in mind when we buy something from a new online store: "What will I do if the bikini doesn't fit? Will I get my money back? I would like to buy that dress, but why does shipping cost so much?"  
Zalando, an online fashion retailer, has created a great policy that wins first-time buyers' hearts. They offer free shipping service to everyone, and in addition their delivery time is just 2-4 days.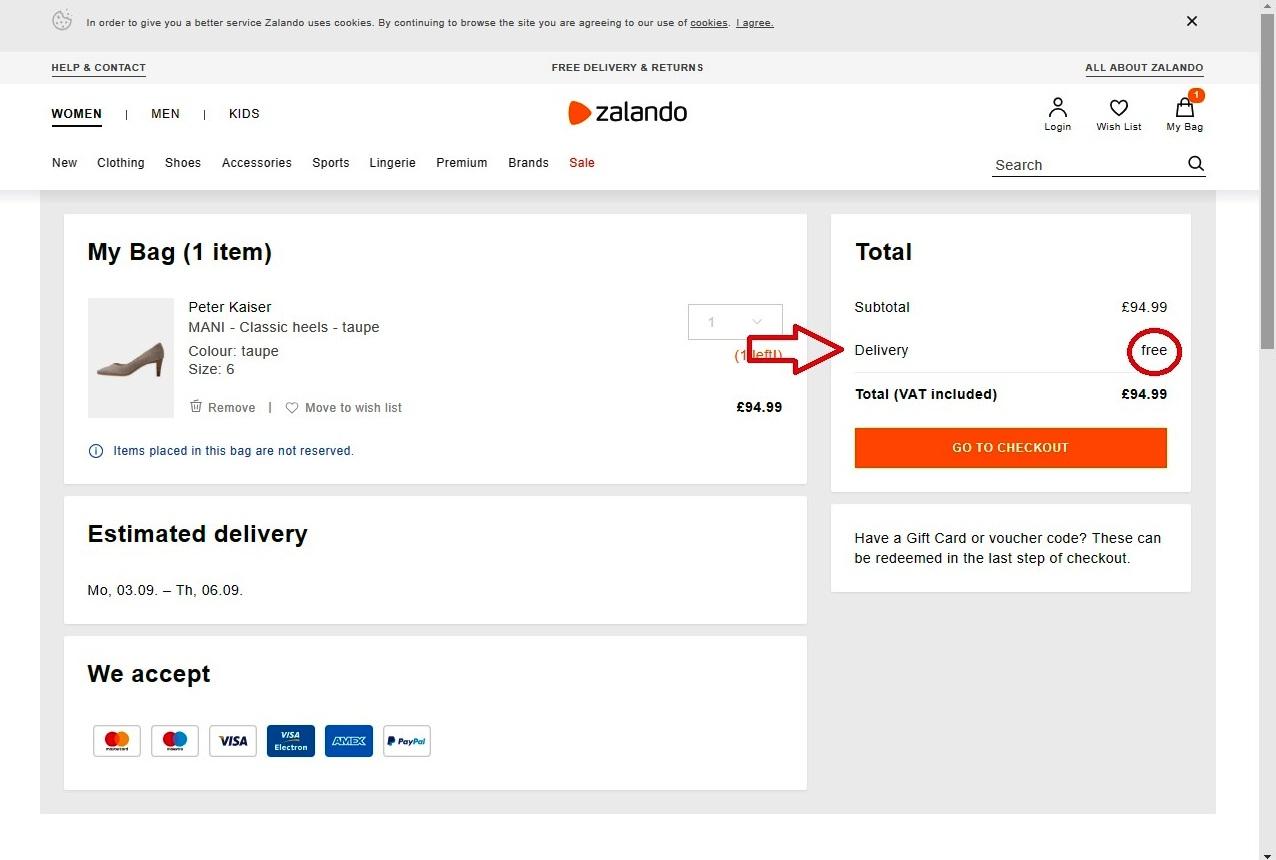 Zalando offers another convincing service from the Day 1 – they offer a 100-day return guarantee for free. And if that weren't enough, they have a free pick-up service, which means you can give back those small shoes that you purchased wherever you want.
Another Important Device: Personal Treatment
There are some basic tools to start with, used by most retailers you can start with. Here are some simple, but proven, newsletters examples you can build into your strategy. These kinds of emails show that you care about and are thinking of your customers.
It happens to all of us: sometimes we forget about our memberships. You can remind your customers and give them a special offer.
After a purchase, you can send an email that includes information about the shipping status. Also, after delivery you can ask your customers to leave feedback in return for a reward or special offer.
Give customers special, personal treatment. Remember their birthdays and offer them unique gifts to celebrate. This is where loyalty programs come in.
Work Out Your Own Loyalty Program Strategy
Think differently. Don't be afraid to try new things and break out of the usual frames – don't be afraid to go for a loyalty program, even if you are in luxury fashion (we wrote an ebook about how to do it well). Encourage customers to complete their profile on your store. With more detailed profiles, you will have the opportunity to get to know your customer base better. You'll have the chance to keep in touch with them and you'll be equipped with information that makes it easier to influence customers to return for their next purchase.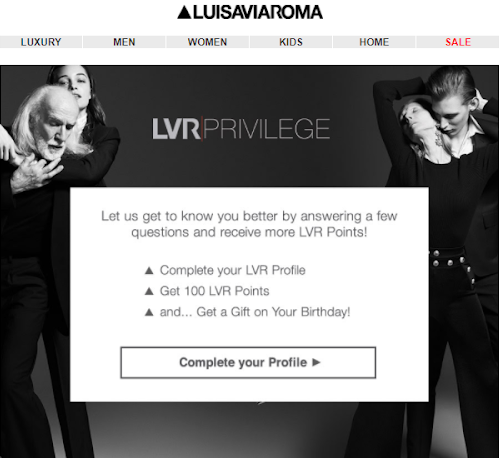 Never forget that one of the most important parts of your loyalty program is the rewards. Every customer loves being pampered. Research also shows that reward programs strongly affect customer decisions when they choose which retailer to shop with during the holiday season. And you don't need to think of only monetary rewards – experiential rewards have a bigger impact, and in many cases they don't even cost more.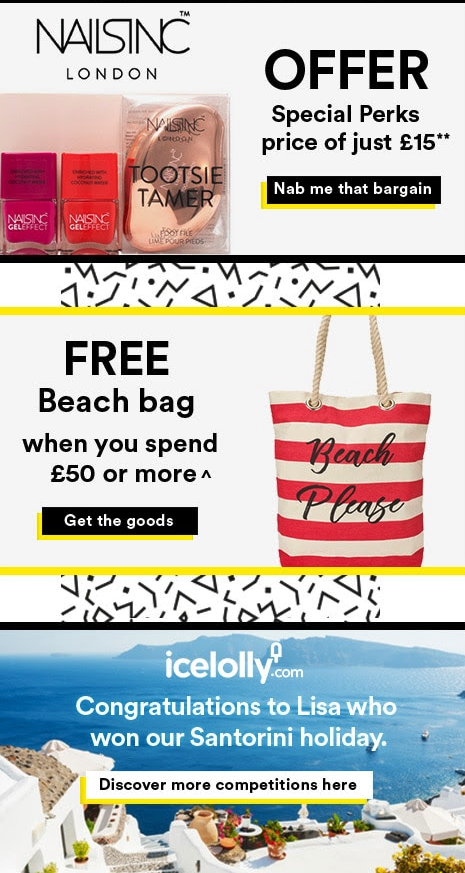 Conclusion
Getting new customers with Google Shopping is just the first step. The most important work begins after that, in trying to make them regular customers. You have to stand out from the crowd and use a combination of great customer experience, personal treatment and a loyalty program. We're here to help you work out your strategy.