E-commerce marketers are always on the hunt for the "killer app", an application that kicks customer experience up a notch and increases sales in the process. But not so fast: the marketplace is chock full of aspiring programs – and this is especially true for Magento apps.
Don't worry, this post is here to help! Our team compiled a list of the most prevalent Magento-related solutions — with a sparkling track record of improving the online experience — that enhance a certain area of your marketing activity.
We published the original list in 2016, but the software landscape has changed so much in the past years that we decided to revise (and seriously expand) it. We curated the best apps in their category based on Magento's suggestion, their rating, customer feedback and our personal opinion. Most Apps work with Magento Open Source and Magento Commerce.
So let's go through our list of 25 top Magento apps. If you are in a hurry though, use this index to quickly navigate to an app of your choice.
Table of contents:
1. Sailthru: Personalisation-heavy communication
Personalisation is a driving factor for today's marketing automation campaigns. Offering customers relevant content is absolutely necessary to build a long and meaningful relationship with them. Automated email campaigns go hand-in-hand with personalisation, giving you the ability to react to certain customer actions with custom-tailored messages.
The Sailthru Customer Retention Cloud seamlessly combines email marketing and personalisation tools into one convenient package. The app collects information about people's shopping habits and uses the information to deliver an individualised experience on all channels — including emails.
We share clients like Anine Bing with Sailthru, and we know that they do a great job serving them!
Get this Magento app from the Marketplace.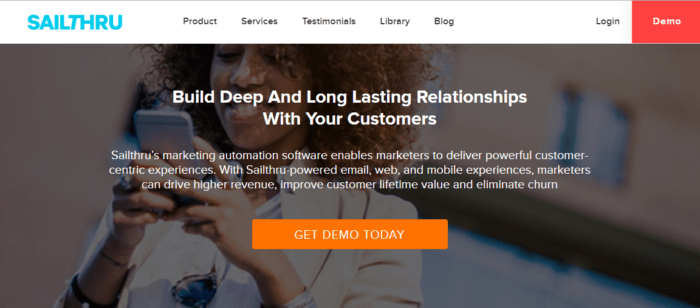 2. dotdigital: Omnichannel Engagement
dotdigital (formerly known as dotmailer) is a customer engagement platform and the go-to choice of fans of omnichannel marketing. The company's solution empowers marketers to connect customer data, surface powerful insights, and automate intelligent messages across email, SMS, social, and more.
By seamlessly integrating your store with the Engagement Cloud app, a wide array of customer data can be synced (including order data, wishlist, and social profile). Further features include dynamic content personalisation, extended reporting and strong support for omnichannel integration.
Beerhawk and Represent are both clients of dotdigital and Antavo, testifying the effectiveness of our respective services!
Get this Magento app from the Marketplace.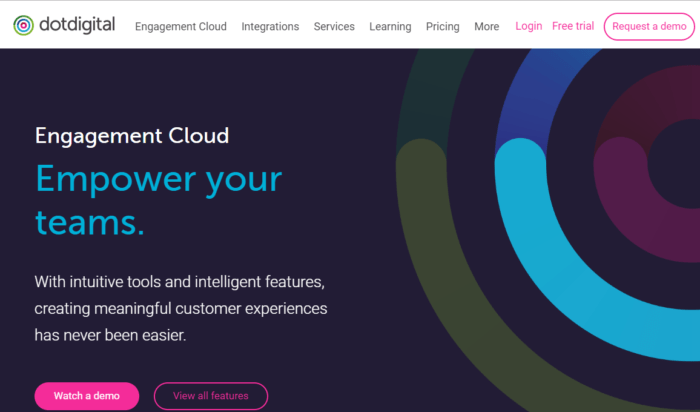 3. Listrak: Reaching customers at the right time & place
One way to retain shoppers and prevent cart abandonment is to trigger an effective counteraction. Displaying an exit-intent popup message or sending an email reminding them of the unfinished business: these are just a few creative examples.
Listrak Retail Solution acts as a digital marketing platform that's tied directly to your Magento store. The app gives CRM teams the tools necessary to build engaging marketing campaigns and optimise the performance of existing ones. Listrak is also an invaluable tool if you are looking for accurate analysis and real-time product recommendations.
Listrak and Antavo count Jimmy Jazz among their shared clients, and we know that they do an excellent job!
Get this Magento app from the Marketplace.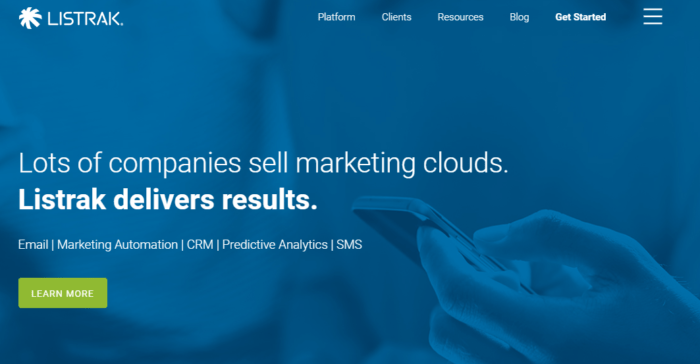 4. Eyemagine: A backdoor to HubSpot
HubSpot is an unavoidable force when it comes to inbound marketing. If you are using this extremely potent CRM tool, you surely wish to connect it to as many systems as possible in order to be even better at tracking and segmenting customers. This begs the question: can I integrate a tool like HubSpot with Magento? Thanks to Eyemagine's handy little app, the answer is yes!
After activating the module, all the available customer information, order data, sales history, abandoned cart data and more will be automatically synced from your Magento cloud to your HubSpot portal. Plugging HubSpot into your Magento-powered store can greatly boost the workflow of your CRM team.
Get this Magento app from the Marketplace.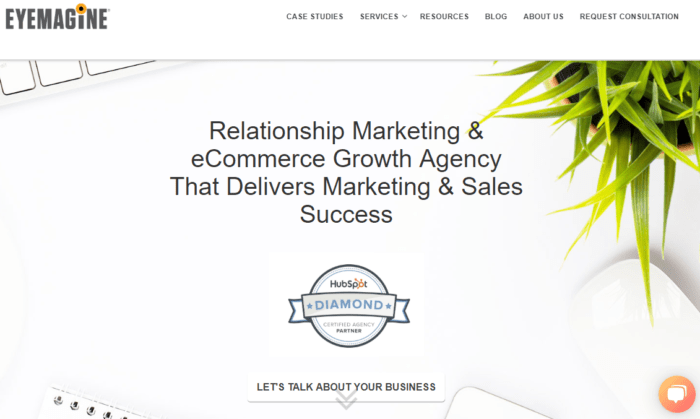 5. MageWorx SSU: Search ranking dominance
A well-designed website and an arsenal of retention tools is worth nothing when you're at the bottom of the search list. In order to make people aware of your offers, ensure that the on-page SEO is spotless. You can start by getting rid of duplicate content and working on the internal link system, but steps such as improving the site infrastructure require a refined toolkit.
Cue in SEO Suite Ultimate from MageWorx: an all-in-one SEO extension for Magento. The app has a wide array of capabilities, from spotting duplicate content to enhancing site indexation and optimising URLs. This out of the box solution turns SEO management into a simple task instead of a chore.
Get this Magento app from the Marketplace.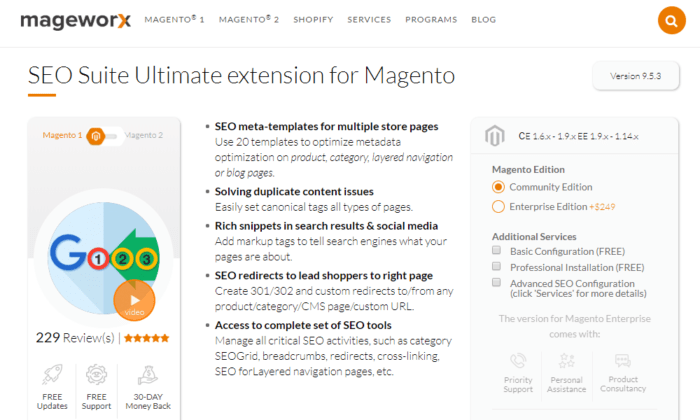 6. WebKul: A far-reaching affiliate network
Affiliate marketing has long been a cornerstone for accelerating online sales. It allows other sites, bloggers and influencers to partake in your advertisement campaign and carry your brand name to audiences you never dreamed of reaching before.
In this sense, The Affiliate System module of WebKul ticks all the boxes: it brings a complete management platform coupled with the option to create personalised commissions for different affiliates. On one hand, companies enjoy advanced configuration options and detailed statistics, while participants can track all the information related to how much traffic and how many transactions were generated.
Get this Magento app from the Marketplace.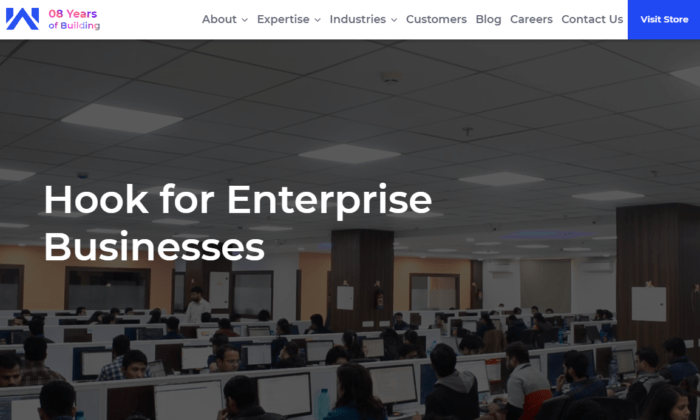 7. Antavo: A loyalty program that goes beyond transactions
Reward programs come in all shapes and sizes these days, but I've got some insider info for you: you don't need to compromise your profit margin with discounts in order to foster loyalty. Next-generation customers want to be rewarded for more than just buying things.
That's where Antavo comes in. With Recognition Loyalty™ — a concept tailored to the 21st-century customer — members can be rewarded for completing challenges, using your product or even for working out!
Furthermore, we offer unique features you won't find anywhere else, such as gamified profiling that unlocks a whole new level of customer data in an engaging way, and 'special interest groups' that give exclusive access to those who would like to get early access to their favorite product.
Get this Magento app from the Marketplace.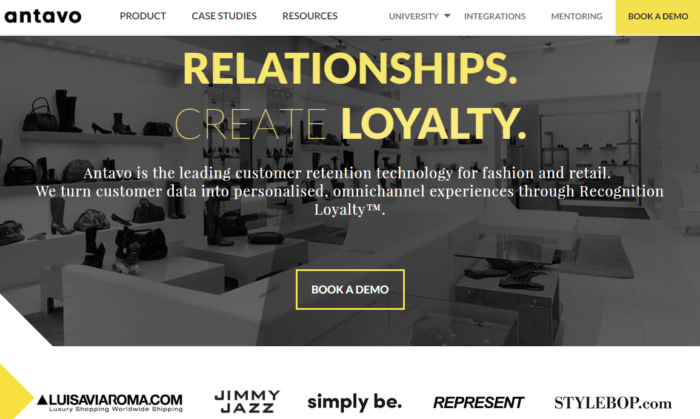 8. Mirasvit: Exposure through product feeds
The concept of product feed marketing is quite interesting: by sending detailed information regarding your online store's inventory to comparison shopping engines, you receive free exposure. Raising awareness of your top products is always a great move, therefore it's essential to have an app that makes the process easier.
That's where the Advanced Product Feeds from Mirasvit enters the picture. The main forte of this app is the balance between manual and automated feed generation. It comes with more than 50 pre-made templates that are customisable to fit your individual needs, and product attribute patterns can be combined for even more possibilities.
Get this Magento app from the Marketplace.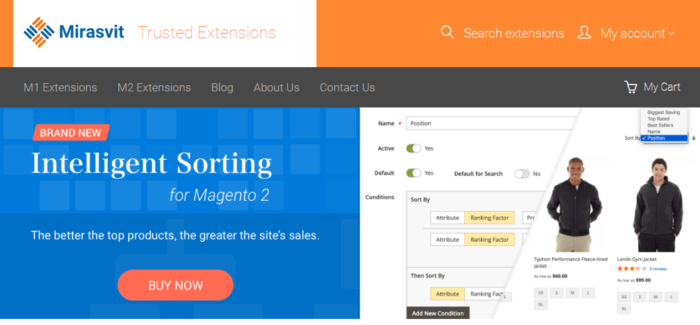 9. MageWorx GC: The perfect gift (card)
Gift cards are a tried and tested way to keep customers around. Consider this: 82% of millennials are willing to redeem their loyalty currency for a gift card, making it just as tantalising as discounts or experiential rewards.
The Gift Cards module from MageWorx is a must-have if you seek to drive extra revenue and get your brand noticed via a tangible incentive. The app offers variety in terms of price and card type. Plus, you can set an expiration date or alert, playing on people's FOMO.
Get this Magento app from the Marketplace.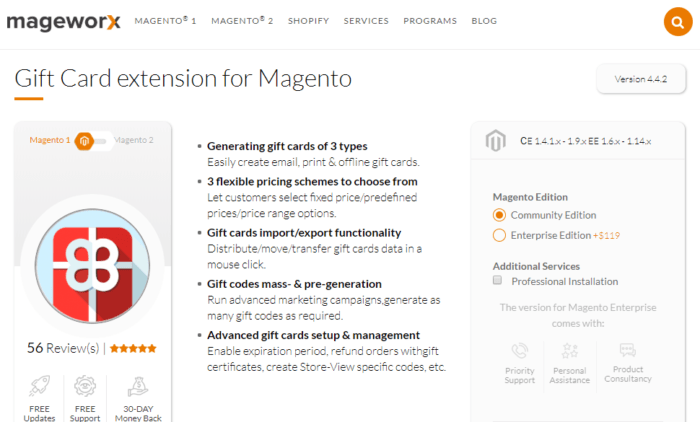 10. CedCommerce: Selling on Facebook Store
In the world of e-commerce, stores are aiming to represent themselves on as many marketplaces as possible. Naturally, the fight for brand visibility has extended to social media, too. So it comes as no surprise that there's an app dedicated to connecting your online warehouse with the de facto king of social media, Facebook.
The app in question is the Facebook Store Integration, courtesy of CedCommerce. I choose to highlight it because of the feature list. The app boasts the ability to target trusted customers, effortlessly manage multiple product lists, and have the whole advertising deal done in as few clicks as possible.
Get this Magento app from the Marketplace.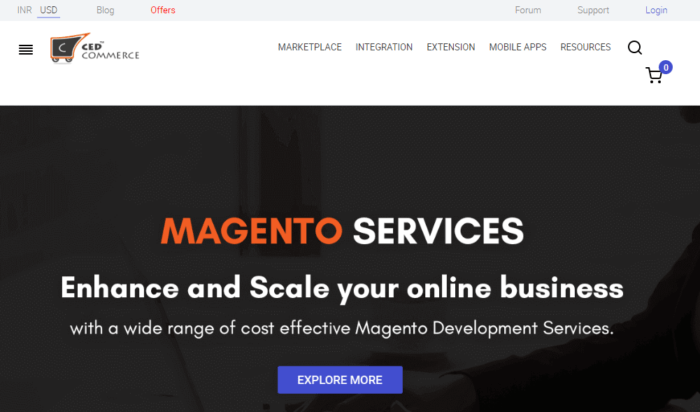 11. ConnectPOS: A bridge between online and in-store
One of the main reasons why stores are looking for an omnichannel solution is because they wish to bridge the gap between their brick-and-mortar store and webshop. Point of Sale technology is the perfect candidate for solving this problem, as it connects the two channels in real time.
ConnectPOS, presented by the company of the same name, enables users to display all sorts of product data on the screen by pulling all of it to the POS. Store attendants can effortlessly manage the inventory, check the stock and search for wishlist items using various attributes.
Get this Magento app from the Marketplace.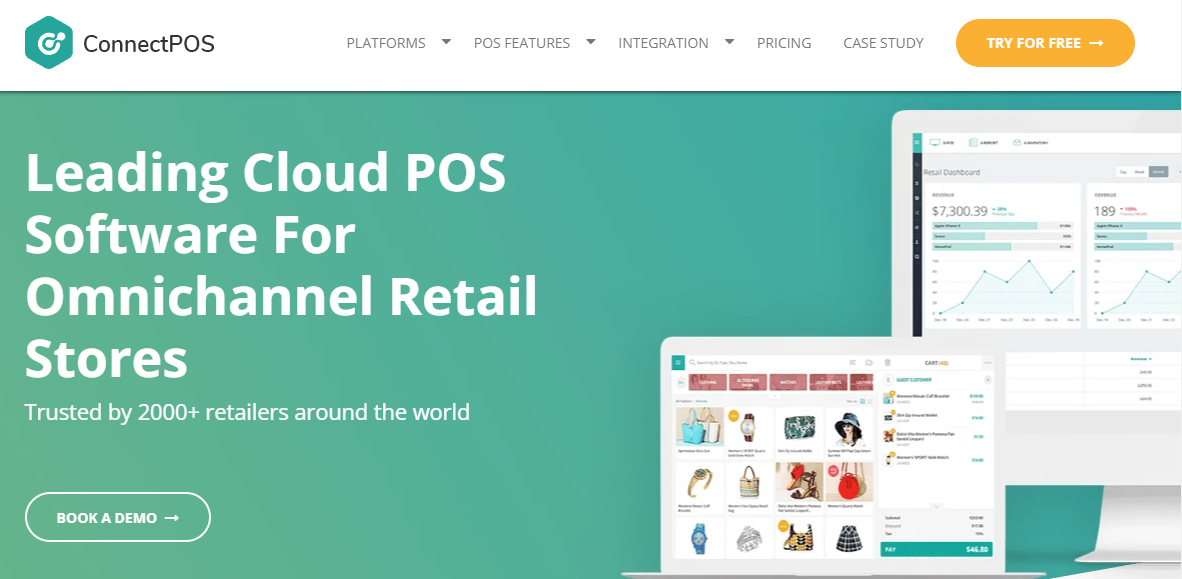 12. Fresh Relevance: Supercharging personalisation
Personalisation is like the holy grail of CRM teams. It can be used in so many ways, yet utilising its full potential is oftentimes difficult.  For this reason, it's highly recommended to add a Magento app that's an all-in-one profiling tool.
Fresh Relevance is one such solution. It works with any email marketing platform and offers a satisfying range of features, ranging from personalised product recommendations to social proof web widgets. If you are looking to perform profiling and segmentation real-time, it's definitely worth a look.
Get this Magento app from the Marketplace.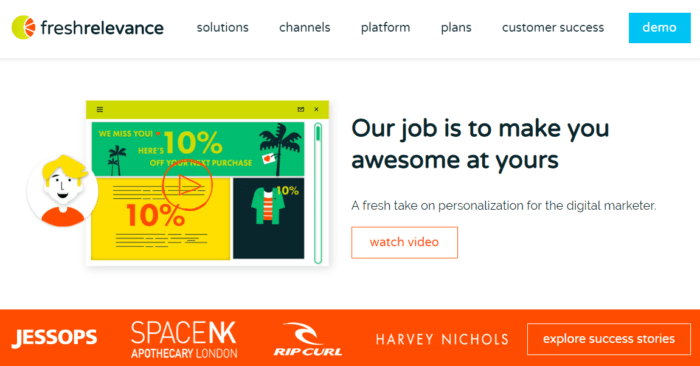 13. Magenest: Breadcrumbs leading to your store
Location, location, location – this mantra is shared not only by real estate agents but also by omnichannel brands and retailers who own both a brick-and-mortar and an online store. Ensuring that customers set out on the journey to the physical store hinges on whether they know the fastest route. And this is where a store locator embedded in your website can be a great asset.
The Store Locator and Map List from Magenest is a simple yet extremely helpful app that allows you to add a map – or multiple maps, if you are present in more than one location – to your website, showcasing all the available store locations. Even better, customers are guided to the nearest brick-and-mortar via their preferred mode of transportation.
Get this Magento app from the Marketplace.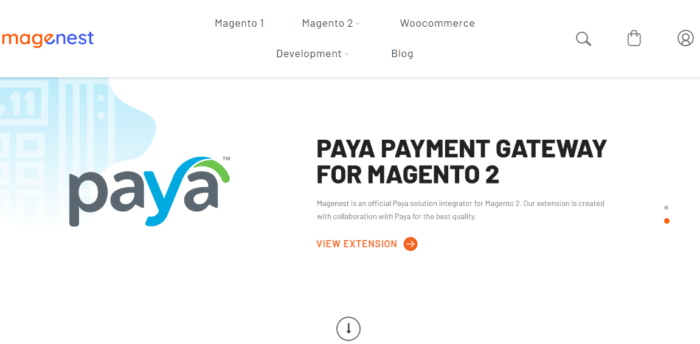 14. iPhone-centric view
We live in an age where user reviews and word-of-mouth recommendations are worth more than any advertisement.  If you wish to capitalize on your existing community and wants go give them a tool so they can recruit the friends and family members, then what you need is a refer a friend module. Luckily, there's one on Magento by Aheadworks.
As the name suggests, this module lets you add a dedicated section to your eCommerce website people can use to invite others via a referral code. For your eyes only, there's also a section where you can set what kind of benefits they'd get for their efforts.
Get this Magento app from the Marketplace.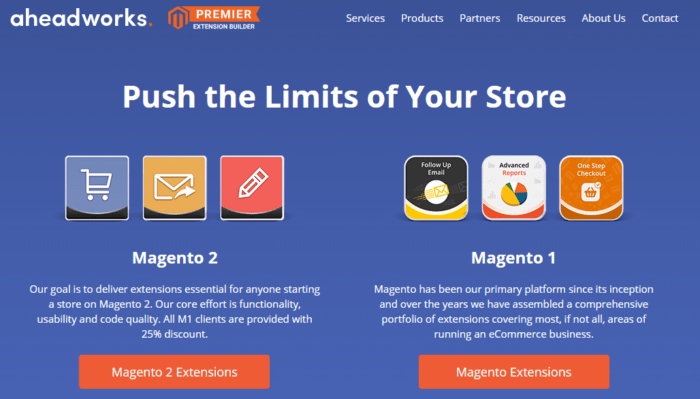 15. Amasty CSS: FOMO through stock status
Nothing makes a customer more inclined to make a purchase than seeing that there's only one piece left of their desired object. Indicating the exact number of available stock is a widely used marketing trick, but you can take this to a whole new level with Custom Stock Status (also done by Amasty).
The app capitalises on people's fear of missing out by literally spelling out the current condition of the stock. The lines are fully customisable and you can upload any icon of your choosing. Furthermore, the whole process is automated, making the marketer's day easier.
Get this Magento app from the Marketplace.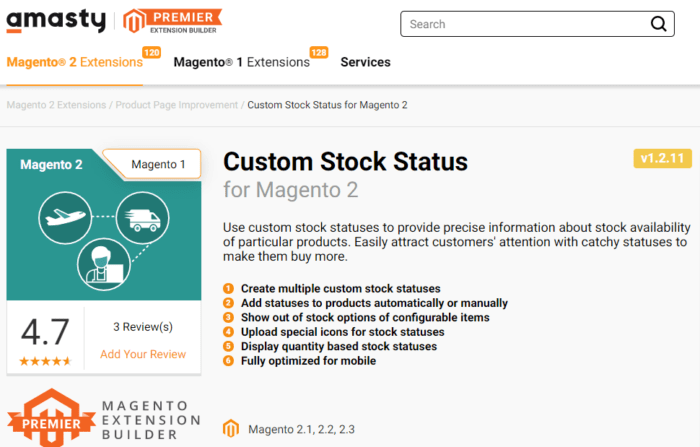 16. FMEextensions: Attention-grabbing banners
Visuals are the first front in the battle for conversion. In order to win over customers, you need to design an appealing storefront – and banners are usually the first thing they'll see. Plus, people crave novelty and newness, therefore it's an absolute must to have a banner extension on Magento to configure the store appearance with ease.
FMEextensions' Banner module is a safe bet, offering all the necessary features: banners can be placed anywhere on the website; the lines appearing on the banner are freely customisable; and disabling the feature only requires one click.
Get this Magento app from the Marketplace.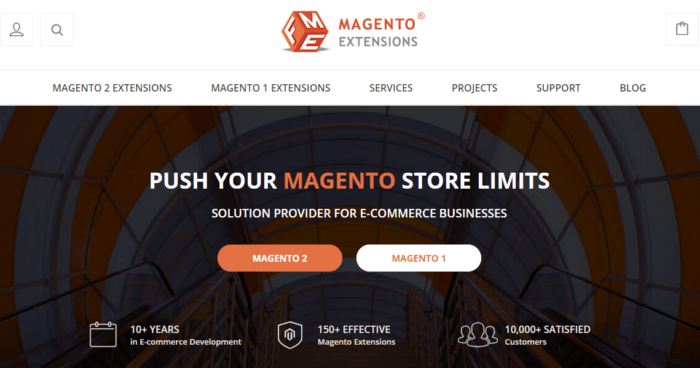 17. Algolia: Lightning-fast search experience
In some cases, you need a certain app not because it offers a feature you lack, but because it performs an existing functionality even better. Case in point, the Algolia Instant Search.
It upgrades the default search experience that comes with Magento by introducing a version that's quicker and updates the products and categories in real time. The search system also allows users to set typo tolerance and pair up synonyms, which guarantees more relevant search results for the customers.
Get this Magento app from the Marketplace.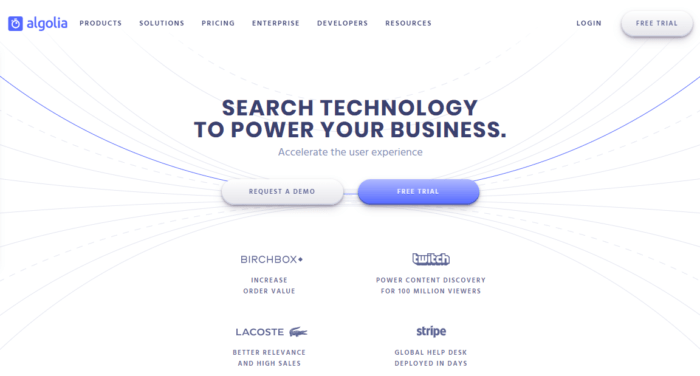 18. Fastly: Content delivery in a blink of an eye
Continuing the thread of elevating the basic Magento experience, I present the Fastly CDN app, which is a module in charge of speeding up the content delivery.
Fastly's edge cloud platform prides itself on speed, which is quite noticeable on the admin's end — the installation only takes 30 minutes. Another aspect worth mentioning is that Fastly protects your online store from unexpected traffic spikes during holiday seasons, thanks to its high-performance network.
Get this Magento app from the Marketplace.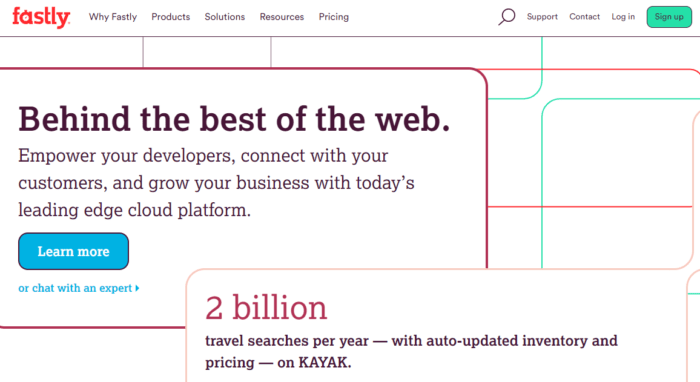 19. DataFeedWatch
If you advertise on shopping channels and marketplaces, then it's a requirement to submit a data feed that features all your product information. This can be a real hassle, as the requirements and formats differs for each channel. Luckily, there are specialized Magento apps out there that do the dirty work for you.
For this section, we've picked DataFeedWatch because they not only integrate with a large pool of eCommerce marketplaces, but also provide an optimization feature to make things even more convenient.

Get this Magento app from the Marketplace.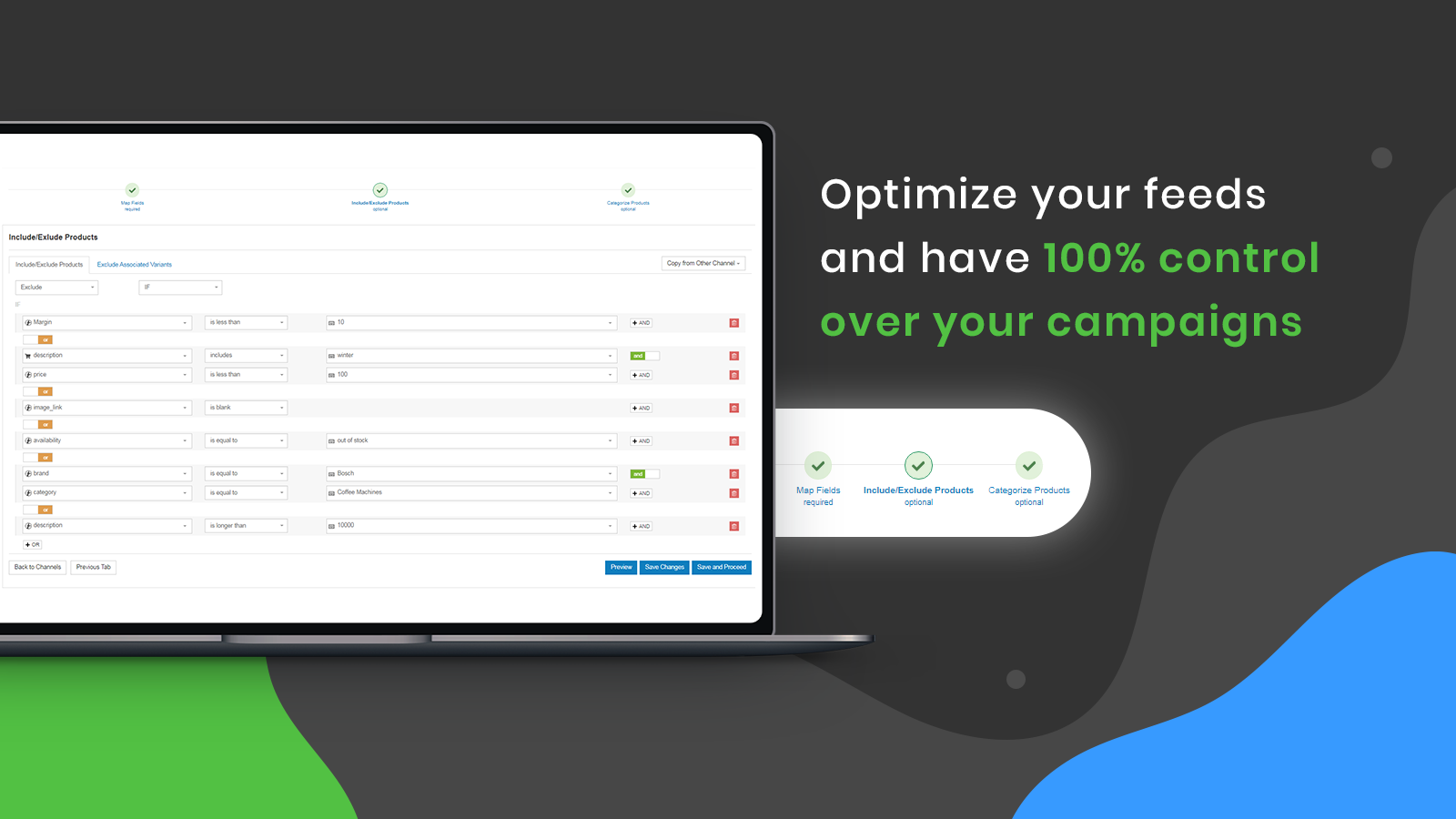 20. Plumrocket: Mobile freedom
I think I made my case about the importance of lightning fast browsing experience, but let's not forget to apply that sentiment to mobiles either. Making loading time short for smartphone owners is crucial: they tend to browse while on the go and making them wait would no doubt turn them off.
Coming from Plumrocket Inc, the Accelerated Mobile Pages app promises to reduce page load time to an astonishing 0.4-0.5 seconds. This feat is done by simplifying HTML structure with inline CSS, asynchronous JavaScripts and adding special AMP tags to allow Google to cache your Magento pages easily.
Get this Magento app from the Marketplace.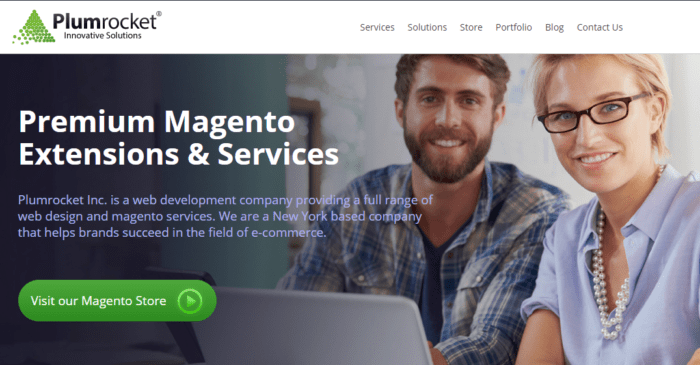 21. OneStepCheckout: Fuss-free shopping
We've said it before and we'll say it again, customers won't stick around if the checkout is complicated. Actually, this is among the top 8 reasons why customers might jump shop before completing their purchase . So if you're demanding four pages of personal information and confirmations, chances are high people abandon you.
OneStepCheckout is as simple as it sounds. Get everything you need from customers on one single page while still allowing for multiple payment methods. Give it a try and find out if your store sees better conversion at checkout.
Get this Magento app from the Marketplace.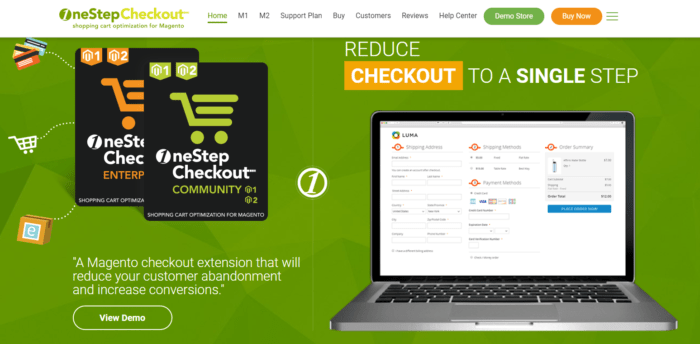 22. Authorize.net: Safeguarding recurring customers
Every store owner knows — whether it be e-commerce or brick-and-mortar — that security has the utmost priority when money changes hands. Customers trust you with their financial information, and letting them be leaked could land you in serious trouble.
Authorize.net from ParadoxLabs takes this burden off  your shoulders. By integrating the app into your Magento marketplace, the payment information of recurring customers will be stored at the company's secure servers.
Get this Magento app from the Marketplace.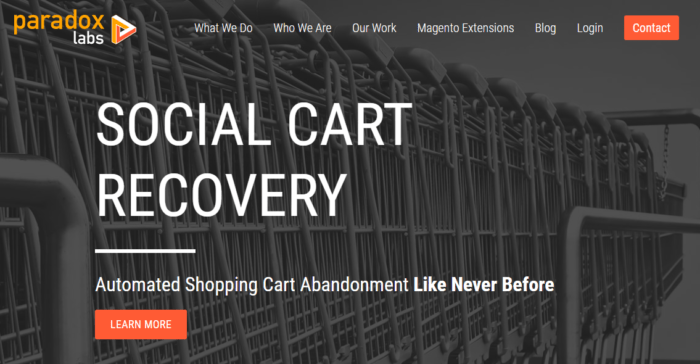 23. Springbot: Streamlining the management duties
One drawback of data-driven marketing is that the more services you connect to your platform, the more difficult it'll be to organize the influx of information. If you are struggling with your customer retention duties, then seek out an all-in-one app, like Springbot.
This tool streamlines the process of automating, analyzing, and personalising your store's marketing campaigns. This includes trackable email campaigns, triggering personalised messages on certain actions, optimising your retargeting ads, the management of social media posts, and receiving reports for the best performing channels.
Get this Magento app from the Marketplace.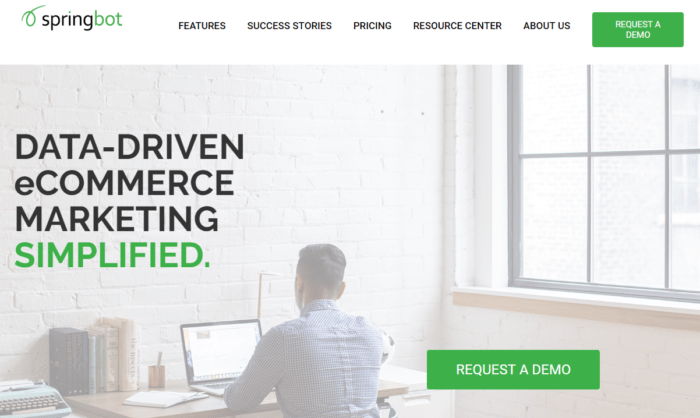 24. ShipStation: Smooth delivery
Despite operating in an online environment, the job of webshops ends in the physical world, in our homes. Luckily, there's an app for everything at the Magento marketplace, and order fulfilment isn't an exception.
ShipStation is a leading web-based software designed to handle processing, fulfilling, and shipping in a professional manner. Even if the orders come from different marketplaces, the app syncs them together under the same roof.
Get this Magento app from the Marketplace.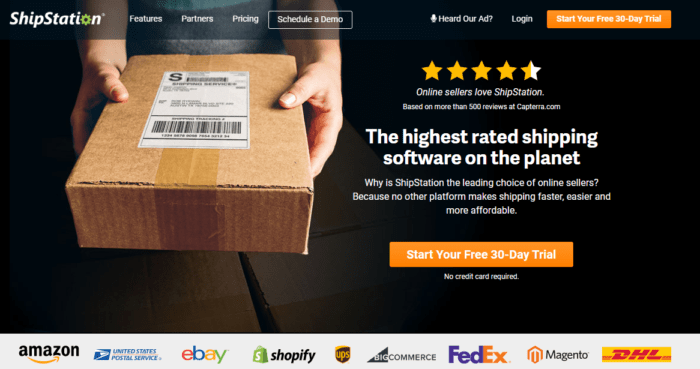 25. Staying in touch
LiveChat speaks for itself: it's a chat tool for customer support and online sales. Displaying a field for getting in touch with the company creates an air of confidence, reassuring customers that your team is ready to answer their questions, tackle their issues and provide further help.
Remember: solving the problem of existing customers costs less and yields more loyalty than appealing to new ones. LiveChat even has built-in functionality to engage stalling customers by addressing them through a proactive message.
Get this Magento app from the Marketplace.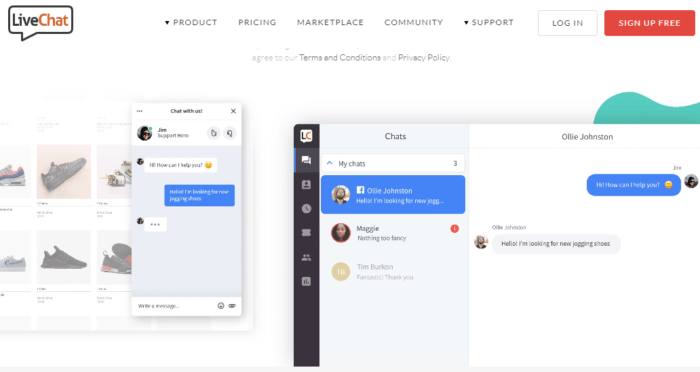 Now Capture Those Conversions With These Magento Apps
The tools above — or similar ones that offer the same functionality — will be a big help for your CRM and customer service team. Of course, your job with Magento doesn't end here, with other tasks – such as creating a personalized design for your online marketplace platform with other stunning applications where a multi-vendor marketplace development company can help you – still being on the checklist. But with the right app at your side, the sky's the limit!
Naturally, conversion is just one facet of customer retention. You need to ensure that customers keep coming back to your feature-rich webstore. And I believe we can help you with that.
Antavo's loyalty solutions step beyond conventional methods and engage customers outside of the buying cycle. If you are interested, then subscribe to our newsletter to receive top-level insight on a weekly basis.