I hear it all the time. "Loyalty programs simply don't work for consumers of luxury products."
Please pardon me if I sound harsh, but I think that's just an excuse. A loyalty program can work wonders in luxury! I've even seen these programs work for luxury car brands and dealerships, and that's an industry with a much longer repurchase cycle than fashion.
This mindset – thinking a loyalty program can't work in luxury – is probably the reason that rewards programs are still relatively rare in the world of luxury retail, but I think retailers are losing out.
There are several key ingredients: research, creativity and planning. As a Loyalty Strategist at Antavo, I've had the pleasure of working with clients and seeing this kind of work unfold. One great example is LUISAVIAROMA. A lot of careful planning went into their LVR Privilege loyalty program from the very beginning.
And the results actually surpassed their expectations! You can access their case study right below.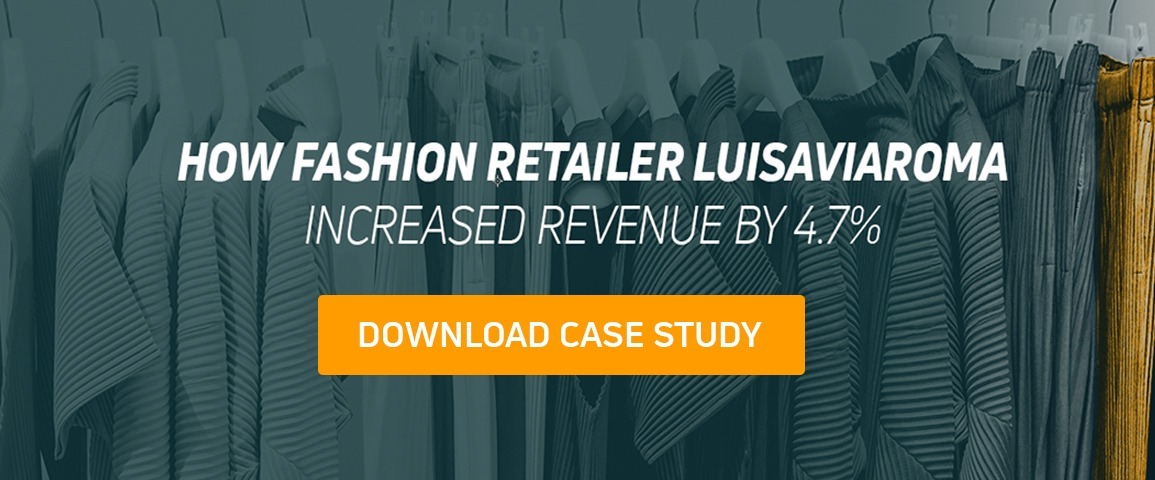 So before we get to their results, there are three things that any purveyor of luxury goods should do, in order to make a loyalty program really work for their customer base:
1. Know your customers
Use all the data you have and get to know what moves your customers. And if you don't know, don't be afraid to ask. A short survey is all it takes to know what kind of promotions and rewards interest your shoppers. This is exactly the approach that LVR took, before turning to Antavo. LVR already knew their customers wanted a loyalty program. They also used surveys to see what type of perks and rewards their customers wanted to see. These questions help make budget and marketing decisions much easier.
Once the program is launched, continue on your quest for data. LVR included profiling questions about consumer's shopping preferences in the loyalty program, so members can actually get points for filling out their profile about favorite brands, dress size and other information that helps LVR personalize communication with their best customers.

If you have any doubts on whether your strategy will appeal to your customers, just ask!
2. Prove you know your customers
Once you're armed with info, the job is only half finished. Having a lot of data does little good until you can put it to work.
Even when you first begin planning your loyalty strategy, consider what marketing automation tools you already have access to, and what tools you're planning to incorporate into the mix. Ask what kind of data would help you improve upon the experience, from the customer's perspective. Is it product recommendations for your top shoppers? Is it special promotions for the customers who haven't visited your site recently?
In the case of LUISAVIAROMA, prior to the loyalty program's introduction, they were using minimum personalization – language and country played the largest role. Now they can track and use point balance, membership tier, rewards redeemed, social shares – the list goes on – in their communication. The integration between Antavo and their ESP, Emarsys, has played a vital role in putting their new data to work. They now freely create segments in the loyalty program and use those segments to target in their promotional campaigns and emails.
LVR also has a whole new list of reasons to reach out to their customers, which they didn't have before. This includes account balance updates, pending point emails (which have had incredible conversion rates for LVR with an open rate over 65% – more than than 5x industry standards – and a click through rate of more than 20% – more than double industry standards), new loyalty point campaigns, the introduction of new rewards, and more.
In addition to email campaigns, there's a lot you can do with your current tools – whether that's connecting the loyalty program to your fashion app, or even bringing the program into your physical stores, using POS integrations, mobile loyalty cards and coupons, push messaging or beacon technology. The technology is already available, so all luxury brands have to do is choose what makes the best sense for their sales and communication strategies.

There are so many options for creating a smooth omnichannel loyalty experience, online, in stores and on mobile.
3. Seek out and offer exclusive rewards
Rewards are the central part of any loyalty program. For fast-selling non-luxury goods, many customers are attracted by the discounts and coupons. For lovers of upscale shopping, discounts can also be attractive, but to give customers a sense of real value and keep their valuable attention, discounts should be balanced with members' only rewards and exclusive experiences.
Look for brand partnerships. In the same way that two brands can partner up to host an amazing event for the lux crowd, they can do the same for rewards. It's all about knowing what makes customers tick. Is it a spa vacation? Is it meeting the designer? Is it a makeover to go with that new outfit?
Those big ticket, exclusive rewards can be balanced with less costly rewards and perks like a discount on the next purchase, free shipping, or early access to next season's best looks.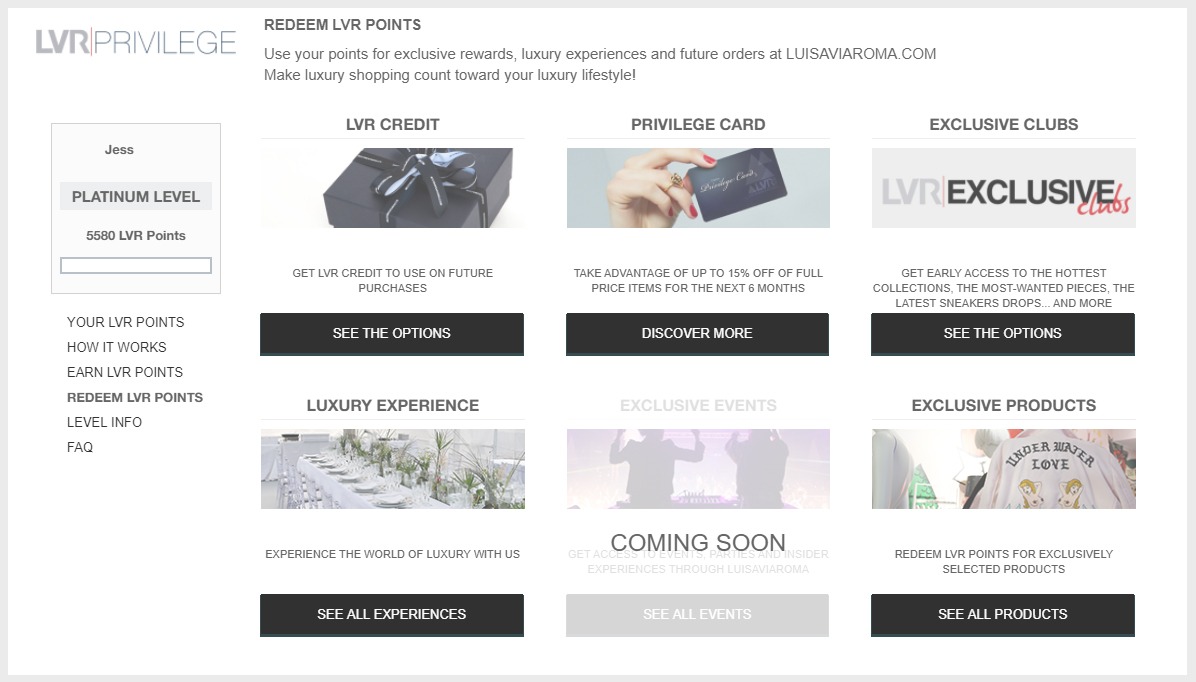 LVR Privilege focuses on exclusivity in their rewards offering, something that their customers have always loved.
Now let's see some results.
This is all just talk until we share the results that actually back up LVR's well-planned strategy. The program in a very short period of 90 days after launch, got customers back to luisaviaroma.com, and encouraged them to spend more. Thanks in part to LVR Privilege, they saw a 4.7% upswing in revenue and a 293% ROI on the program.
Download the case study here to read about their returns in detail.
Again, these results were after a surprising three months, and we look forward to seeing even more amazing results as some of the high shopping seasons approach this year, including Christmas – the buying season.
At Antavo, our Client Success Managers and Loyalty Strategists help guide clients in the planning phase of your loyalty program, including talking through point value and structure, as well as which activities, promotions and rewards best suit your audience. If you're considering your own loyalty strategy, get in touch with us. We'd be happy to show you what our platform can do. Jessica is an expert on all topics related to customer loyalty, helping fashion and retail companies to learn more about their possibilities in CRM and customer retention, so they can launch successful loyalty programs. Fun fact: in her free time, she loves to dance, paint teddy bears, and learn Russian.