Top 10 Loyalty Program Questions You Cannot Skip
Are you unsure of how to plan your first loyalty program? Or have you already created one but feel that something is missing? Relax. You are in the right place. Whether you are in the planning or the implementation phase of your loyalty program, after going through this check-list of loyalty program questions, you will find those crucial points where a loyalty program could go wrong.
Are you ready to make your loyalty program a success? Let's dive in!
1) Goal: What do you want to achieve?
It is important to clarify the reason behind launching your loyalty program.
Answer these questions: Why do you want to start a loyalty program? What is the business goal behind your decision to start a loyalty program? List your answers and then sort them by their importance.
Here are some typical answers:
Get more check-outs
Increase the frequency of purchases
Increase the general basket value
Activate 'sleeping' customers
aims-loyalty

These four listed goals come from four different weaknesses: a lack of engaged customers, constant one-time purchases, low-value purchases, and a lack of new customers.
2) Numbers: How will you measure your results?
Now you know your goal. That's cool. But a goal is nothing without exact numbers. Pay attention to the details.
Where are you now (in numbers)? What would you like to achieve with your loyalty program (in numbers)? What is your timeline?
Creating a number-based plan for the next three months will show you the return on investment (ROI) of your loyalty program's integration, and in the long-term, this will fuel and focus improvement.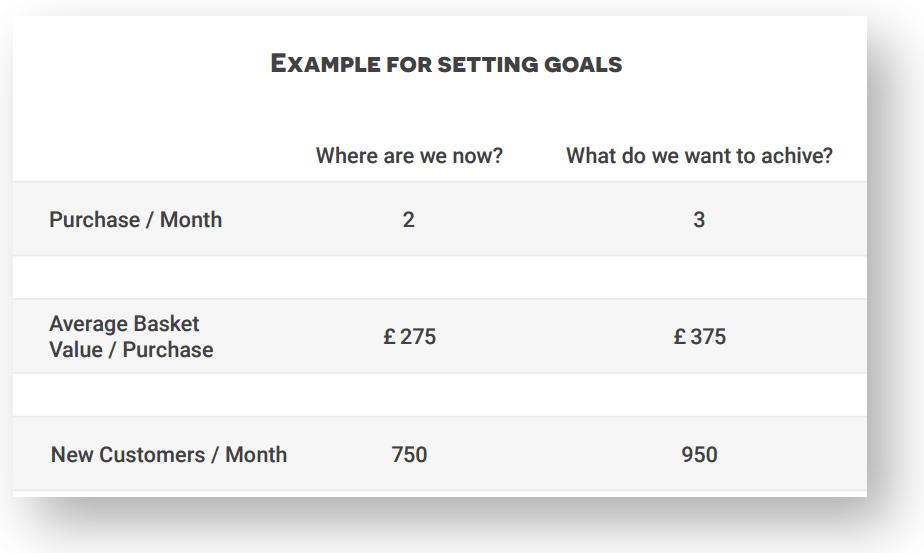 If you don't put exact numbers beside your goals, you won't be able to measure your loyalty program's performance. So calculate as accurately as you can.
3) Focus: Whom do you want to target with your loyalty program?
Don't shoot blindly with your loyalty program's love bullets. Why?
Because customers are not equal; they want different things from you. A returning customer may appreciate it if you acknowledge them as an opinion leader, while a new customer might be more interested in discounts.
First, choose only one customer segment and then think about how you can make them help you reach your goal.
Choosing only one segment also means that you won't be able to make all of your customers happy. Once you have a polished strategy for a segment, you can go for other customer segments.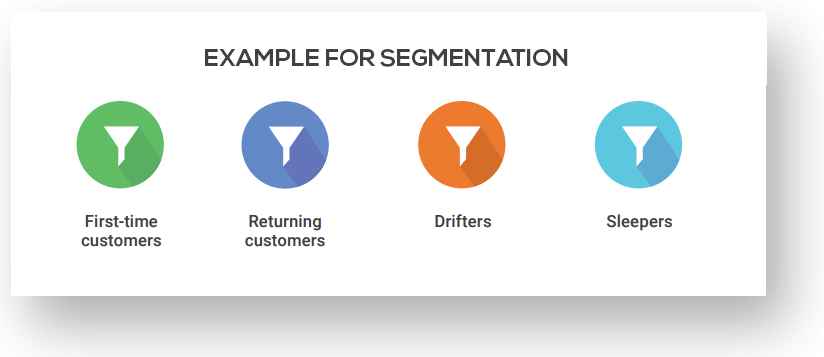 Different customers can be motivated by different incentives, so focus only on one segment when you are creating your first loyalty program.
4) Money: How much will you spend on your program?
Running a loyalty program costs money.
And rewards are not the most expensive part. What can really eat up those banknotes is the time and effort that you spend on building and launching your program.
And I haven't mentioned advertising yet! If you have a loyalty program, then you should talk about it on every channel where your business is presented.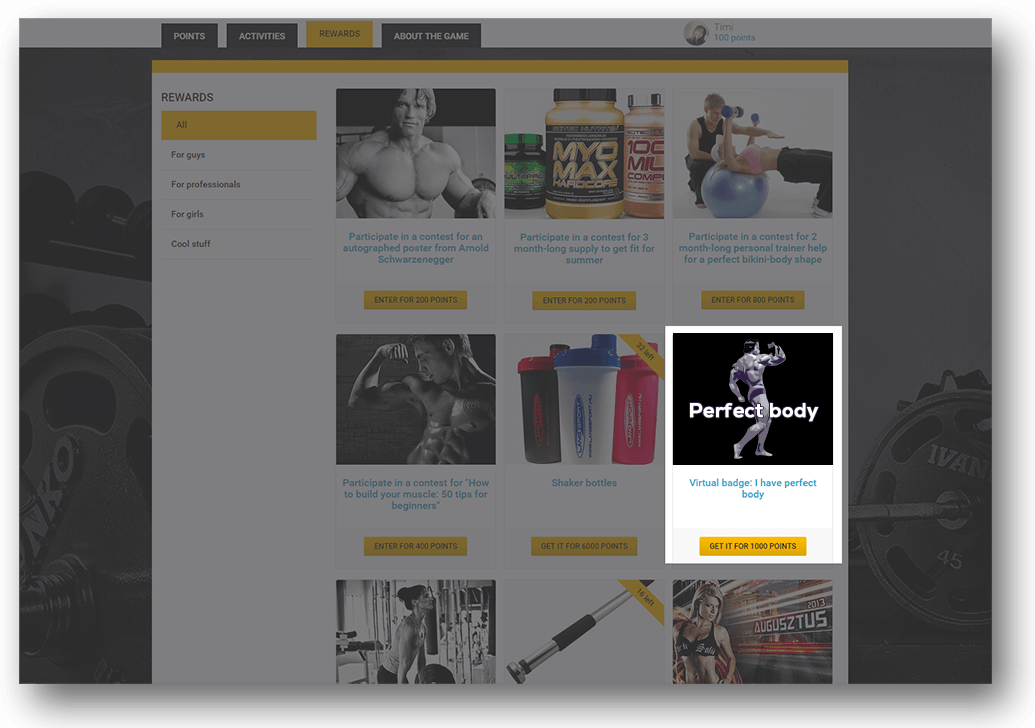 Virtual rewards can replace monetary ones for a certain period. To lower your program's cost even further, try using a loyalty software like Antavo. It can save you a lot of work.
5) Technology: How will you technically implement your loyalty program?
Crafting a loyalty program is not just a marketing or a business strategy challenge; it's also a technical one.
If you build your own platform, it's full of uncertainty, failures, and never-ending trials. You have to spend a lot of time to find out what works and what doesn't. But if you can build up what you want, you can work towards your goals.
On the other hand, a ready-to-use loyalty program software can be easily integrated into your online store. It may have everything that you want from white labels, to customisable design, and even smart gamification methods with inventory controls.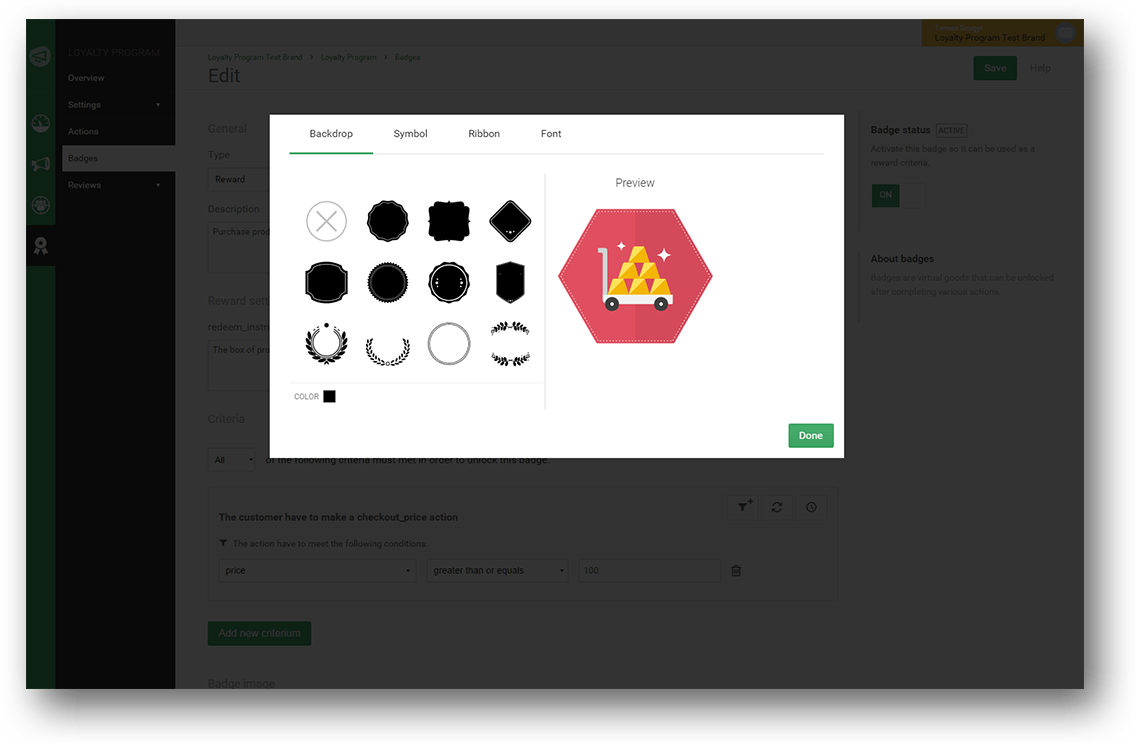 Here at Antavo, we focus on creating a user-friendly platform from where you can launch a loyalty program with ease while using our examples as a guide.
6) Actions: What customer actions do you want to encourage?
List every customer action that could be beneficial for your online store.
Do you want customers to recommend your most popular product for newcomers? Then you may need regulars to write reviews about purchased products. Let them be the ones who convince others that what you offer is really good.
Consider using your pages, social media channels, third-party pages, or mobile apps for customer actions you want to encourage.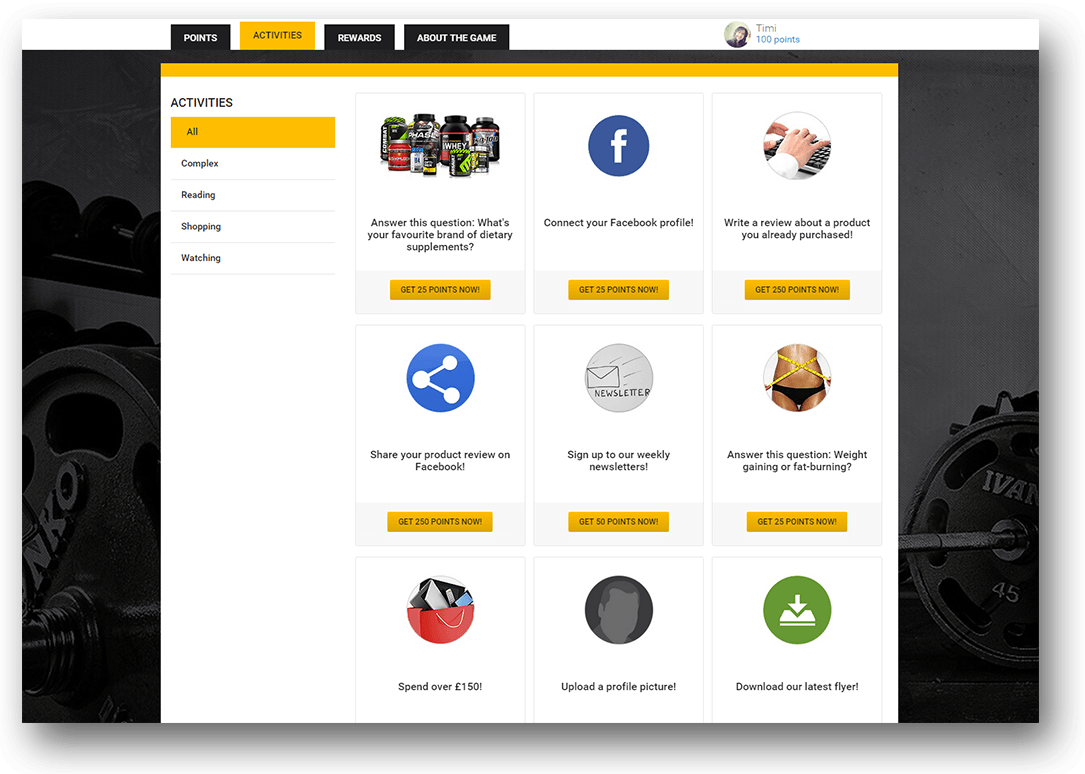 List all of the possible actions that a customer can take on any of your channels. Through this body-builder shop's example, you can see website-related actions.
7) Incentives: Why will people do what you want them to do?
People will only do what you want them to do if they feel the urge. But offering free stuff and discounts won't ensure real engagement. If customers get better deals from others, then they will leave you.
That's why gamification can be your finest ally here. If customers can earn points, get virtual rewards, achieve different customer statuses, and see their ranks on a leaderboard, then they will be thrilled to play.
Why? Because it's like a game. And people love to play games. (In this blog post you can read more about why gamification can be really useful in your store.)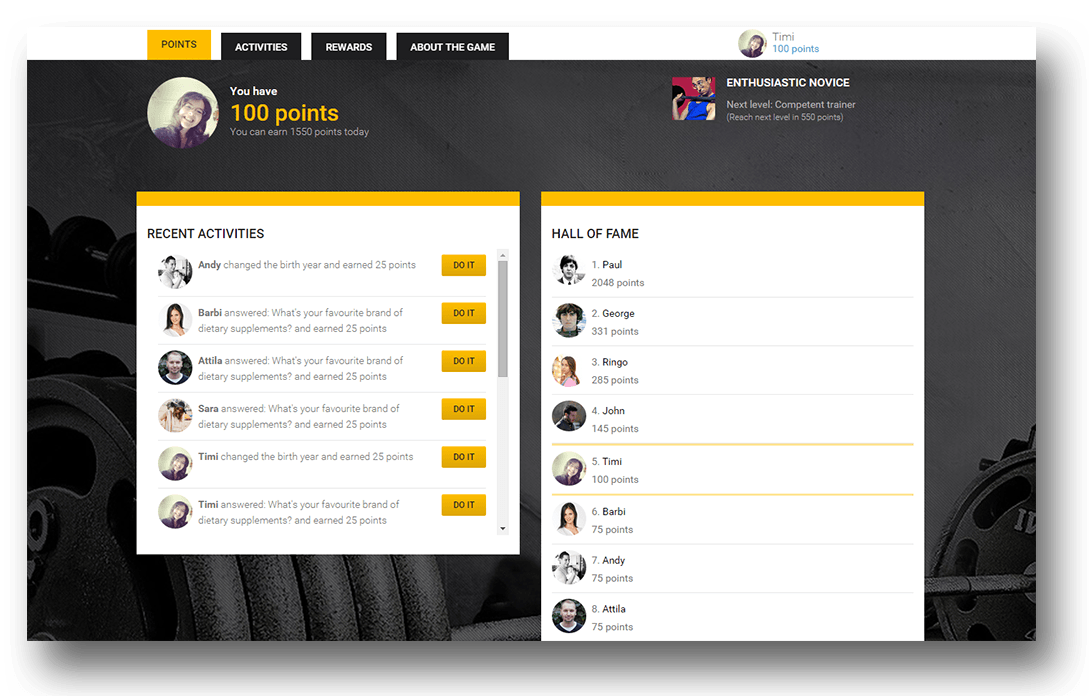 This body-builder shop's customers can achieve different levels and check a leaderboard to see where they rank. The icing on the cake is that they can see others' recent activities, too. This can motivate them to act on the spur of the moment.
8) API: How will you connect your loyalty system to your up-and-running webshop?
You can purchase a loyalty software or create your own program. Either way you will need to integrate your ecommerce system with it.
What does this really mean? Well, you have to a find a matching connector.
For example, let's say you want to give points for creating a wishlist in your online store. This action happens in your online store, but the points need to be counted in your loyalty program so that customers will see points in their personal profile.
It sounds easy, but from a technical point of view the solution is not obvious. An unconsciously chosen connector can make your loyalty program dreams a nightmare.
Antavo offers a ready-to-use loyalty software with API connectors. It's easy to use, so the money will stay in your pocket.
9) Promote: How will you keep people engaged in the long run?
Have you finished creating your loyalty program? Good. But there is no time to relax. Your customers need to know about it.
The fact that you have a loyalty program won't attract customers. You have to inform, educate, and engage them.
So here comes Captain Obvious: promote, promote, promote. Advertise your program with banners, newsletters, calls-to-action, Facebook ads, etc. The point is to make your program visible for those who matter.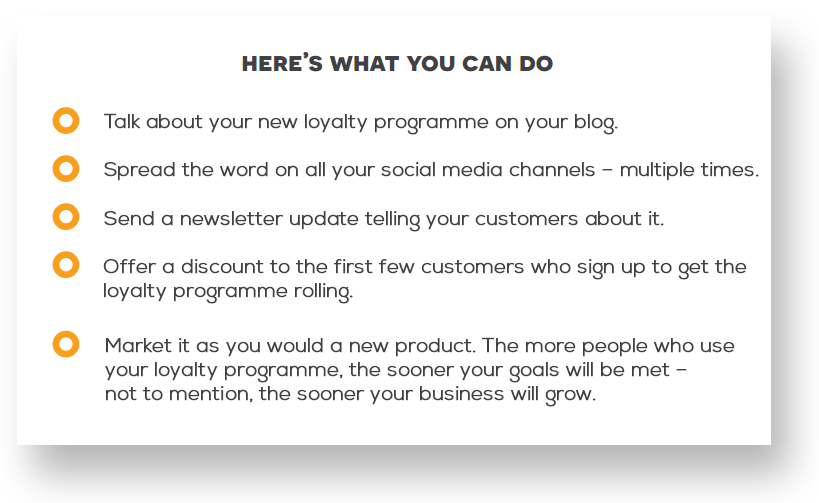 A loyalty program's success can be determined after a few months. At the beginning, customers may not know what to do with it, how to play with it. That's why it's crucial to talk about it on every channel you own.
10) Adjust: How do you optimize the loyalty program based on feedback?
You have successfully launched your loyalty program, but here comes the real thing!
Imagine that your loyalty program is a new product; a product that still needs to be polished.
Don't hold back in searching for customer feedback and when you get this feedback, integrate it. If there are weak points, modify the existing actions or rewards and also create new ones to keep it fun.
Running a successful loyalty program is always a learning-by-doing process.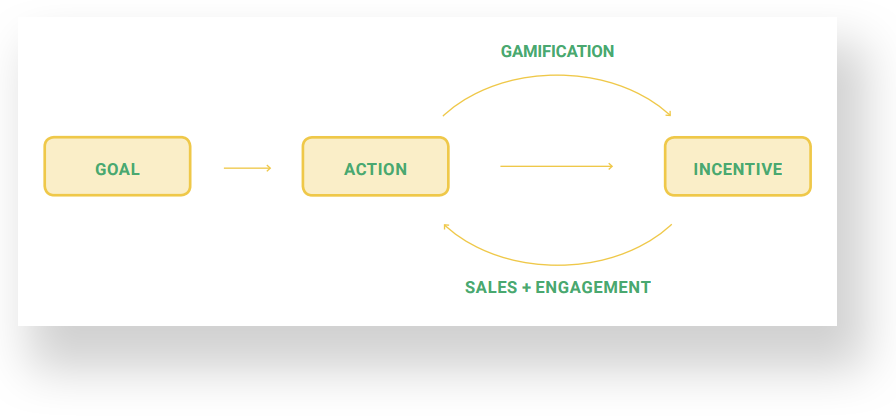 All of the questions listed in this post come together in this diagram. Your goal, the desired customer actions to reach it, the gamification process that creates incentives for customers to take action, and then the sales- and engagement-oriented results of your loyalty program are all included.
Answering more loyalty program questions
Well, it's only 10 loyalty program questions, but by answering them, you can reduce the stress and uncertainty around your loyalty program.
Isn't it worth a few minutes to go through this list?
You can expect a lot more in return. You will be able to see the bigger picture that includes your customers, what they like to do on your site, when they make their purchases, and what they do before purchasing a product.
Of course, you might have some lingering questions yourself. We at Antavo are always ready to tackle any topic regarding loyalty and customer retention. Subscribe to our newsletter to get updated about the hottest trends, or book a demo and we can start a discussion.