Many businesses are suffering at the moment due to preventive measures surrounding the Coronavirus. But this won't last forever: in time, the streets will be filled with joyous crowds, and stores will be able to re-open their doors. When the time comes, be prepared for a huge battle for customers; not only with your local competition, but also with Amazon, which will no doubt try to dictate how people shop. Having a loyalty program in store can be a meaningful differentiator, but only if you call your customers' attention to it from day one.
In order to support your research for upcoming global trends, I'll show you how a loyalty program can be efficiently (and creatively) promoted in the store environment.
Strategically Set Up Brochures With Registration Codes
Placing a leaflet on the counter is a tried-and-tested way to make customers aware of your loyalty program. The decorative piece of paper attracts their attention while waiting in line and, if the deal is promising enough, they'll register.
If you want them to enroll before they even reach the cashier, you can do one of two things:
Place brochures or signage in other areas of the shop

. If you're in fashion retail, the dressing room wall is an ideal place: customers spend a lot of time there, and their gaze usually wanders while switching between garments.

Feature a QR code right on the brochure for quick registration. Customers can scan it with their phone to be instantly redirected to the enrollment page. If the signup process isn't too lengthy, there's a high chance that customers will arrive in front of the cashier as a full-fledged loyalty member.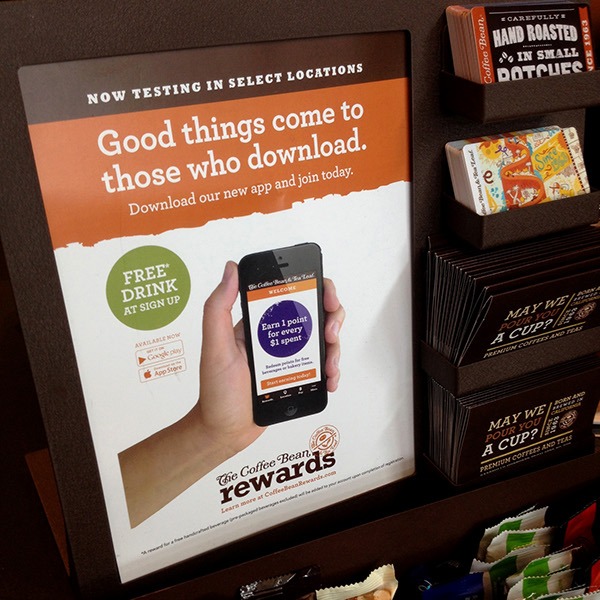 Combine Product Tags With a Photo Contest
Consider promoting the loyalty program using your most popular products. By putting a unique tag on these products, enclosed in a small sachet, once customers purchase the item, they'll be made aware of the program. Similar to the brochure, each tag can have a unique QR code, but when customers scan this type of tag, they receive a reward. If that customer isn't a member yet, they'll need to register before claiming their reward.
This incentive can be a small sum of loyalty points, a small gift at the counter, or a one-time premium service, such as free shipping. The reason why you need a sachet — which can be opened up by the cashier — is to prevent savvy shoppers from stacking up rewards by scanning multiple QR codes without actually buying the products.
There's also a way to grab attention without giving everyone rewards. In this case, the QR code can lead them to a photo or Instagram contest. Doing so encourages customers to submit user-generated content to win, and generates a lot of social media buzz for your brand, while you only need to hand out one prize.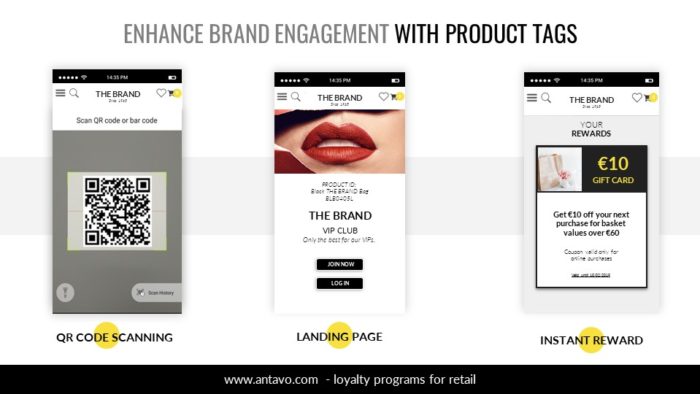 Use Beacon Technology With Loyalty Passes
Combining location-based technology (like beacons) with mobile passes is a great way to enhance the customer journey. Not to mention these tools contribute to the creation of a fully omnichannel loyalty strategy.
When a customer registers for the loyalty program in store or online, the

welcome email should include a link

to their downloadable loyalty mobile pass.

Once the pass is on their phone, your beacons —

low-energy transmitters that communicate through Bluetooth

— are able to send push notifications when the customer is in close proximity.

Send a message to your customers, notifying them that a

mystery offer awaits in their nearest store

.

Once they enter, the beacon triggers the reward, which can be something like a double-points event.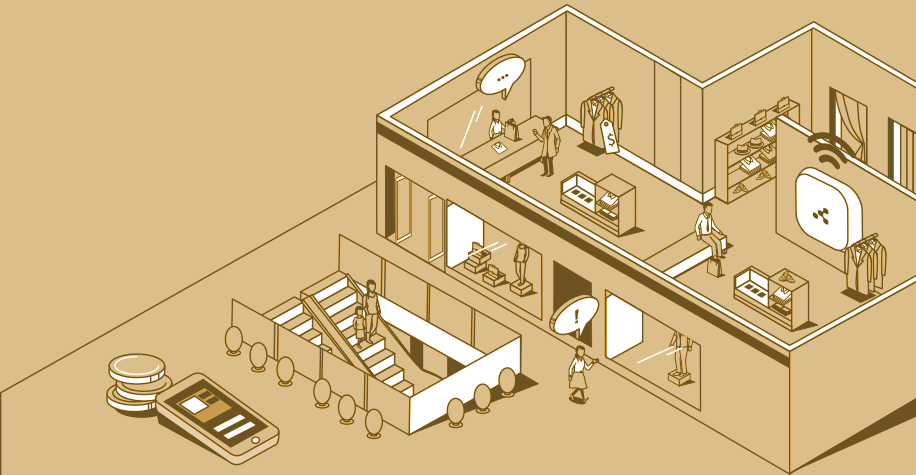 Showcase NFC Technology
Similar to beacon technology, NFC (Near Field Communication) is a way to spice up the store experience. It's the same technology that allows customers to pay by touching their credit card to the cashier's payment terminal, but in a loyalty program, NFC enables people to use their smartphones to interact with store-exclusive loyalty program features.
For US streetwear retailer Jimmy Jazz, Antavo ran a limited-time event to enhance in-store interactions. At the company's flagship store at Harlem, Antavo set up an NFC tag on a large TV screen in the store window. Fitted with an NFC tag, the screen looped a colorful animation, playfully prompting passersby to touch their phone to the designated area.
Those who did it were redirected to the enrollment page of Fresh Selects, the company's loyalty program. This fun experience was meant to motivate customers to enter the shop to find out more about the deals.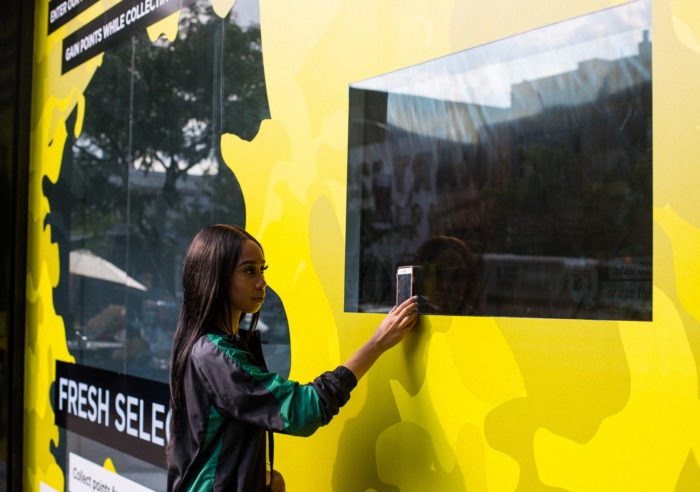 Introduce a Kiosk In-store
Customers love self-service kiosks, because they help shoppers gather information and speed up the shopping process. But kiosks can also be geared towards promoting a loyalty program.
If you're a business serving customers in lines or waiting rooms, you can

set up a kiosk where waiting customers typically gather

.

Offer priority lanes as a members-only feature. This encourages customers to take the time to enroll into the program, to get the extra benefit and finish their errands quicker.
For more sophisticated engagement, Antavo offers the Loyalty Experience Kiosk. The device uses facial recognition, along with Apple- and Google-supported NFC technology to give customers a next-gen store experience. This involves gamified activities that prompt store discovery, gives customers product recommendations and incentivizes members to let you know about their favorite products, characteristics, shopping habits or personal interests.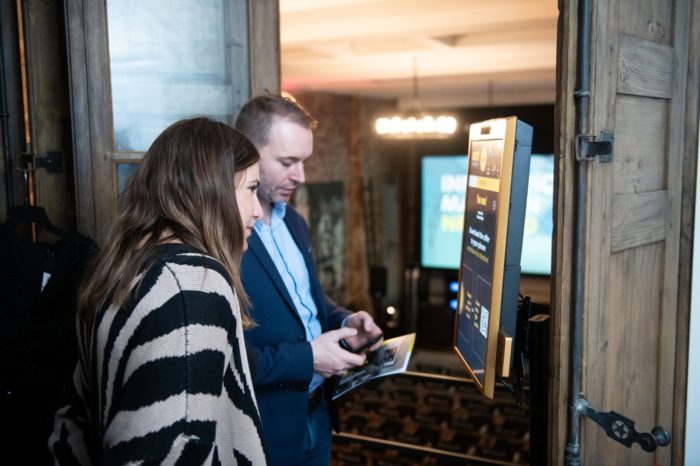 Success Lies in Preparation
Implementing a loyalty program takes time, so maybe this is the right time to start planning, in preparation for when the market finally starts to reawaken. But in the future, when the stores reopen and the retail craze begins, having a unique selling point, like a loyalty program that's strong both in-store and online, could help your company stay afloat.
If you're curious about what kind of loyalty programs are out there, we have a guide that makes it easy to see which program elements best match your business structure. And finally, our team wishes you the best during this trying time. Stay safe!