The activewear industry — alongside the footwear industry — is expected to reach some amazing peaks in the future. To demonstrate to you how big of a slice of the fast fashion vertical we're talking about, Global Industry Analysts, Inc. forecasted that Sports and Fitness Clothing will reach $231.7 billion by 2024; but in January 2020, Allied Market Research predicted a much higher number of $547 billion. COVID-19, however, has changed the game significantly, especially for brands focusing on offline retail. With loyalty programs, these footwear or athleisure companies can reclaim their lost customers and forge a stronger bond with them, as well as drive other important business KPIs.
Footwear and athleisure need to respond quickly to the accelerated shift from offline to online by creating clear USPs for their consumer base and by investing in their digital capabilities. In times like these, it's important for brands to foster supportive relationships with their customers by making it as easy and safe as possible for shoppers to engage with brands and find the right clothes. Sizing solutions, loyalty programs, and UX optimizations are key for those initiatives and opportunities.
Sebastian Schulze
Co-Founder and Managing Director at Fit Analytics
What Are Footwear and Athleisure Loyalty Programs?
Footwear and athleisure loyalty programs are customer retention tools designed to increase customer lifetime value, boost in-store traffic, generate word-of-mouth and promote an active lifestyle, among other key actions.
Bear in mind though that designing a successful customer retention campaign is similar to running a marathon: both of them require a lot of steps. But the reason so many companies stumble at the starting line is that they are fixated on giving discounts or rewarding transactional behavior only. Let me tell you a secret: brand alignment happens outside the store. Those who are wearing athleisure or fine footwear are doing it for the experience, as activewear represents self-discovery and wellness.
You need to tap into this lifestyle and be present for customers during everyday moments. Being able to engage shoppers outside of the buying cycle will help you stand out from the competition and increase customer lifetime value.
The Biggest Customer Retention Challenges for Footwear and Athleisure Industry
There is a price war in the footwear and athleisure industry. Even if you manage to perfectly align your fees and stock, you only just got yourself into the game. You'll need something more to win it: a powerful differentiator, another reason for people to shop. Discounts won't be enough—even if customers expect them, they might shrink your profit margin. Discount-led behavior won't change overnight, but you can foster the mindset of "Rewards need to be earned" by gamifying the customer journey.
As for footwear, high return rates are a burden on the industry and mar the customer experience. The root of the problem is that people buy products with the wrong size. In order to provide proper recommendations—and make communication feel personalized — footwear companies need to incentivize data sharing and feed the information to their marketing engine.
Other important KPIs for both industries that are drivable by loyalty programs include:
Increasing the basket value

Rewarding already loyal customers in a cost-effective manner

Multiplying the touchpoints and boosting footfall

Establishing an addictive brand experience

Creating thematic and seasonal campaigns

Discovering and supporting influencers and brand advocates

Promoting sustainability and other movements
Best Loyalty Program Features for Footwear and Athleisure Companies
1. Introduce a Tiered System
Instead of simply presenting members with an earn & burn program, create a ranking system where they can advance to the next level by engaging with your loyalty program. This ensures that they keep coming back time after time and remain interested in your offers.
The key to success is making the tiers appealing and motivating. The loyalty experience should be about the thrill of climbing the ladder. The names of the tiers should reflect this sentiment, giving customers the impression that reaching the top is an important milestone.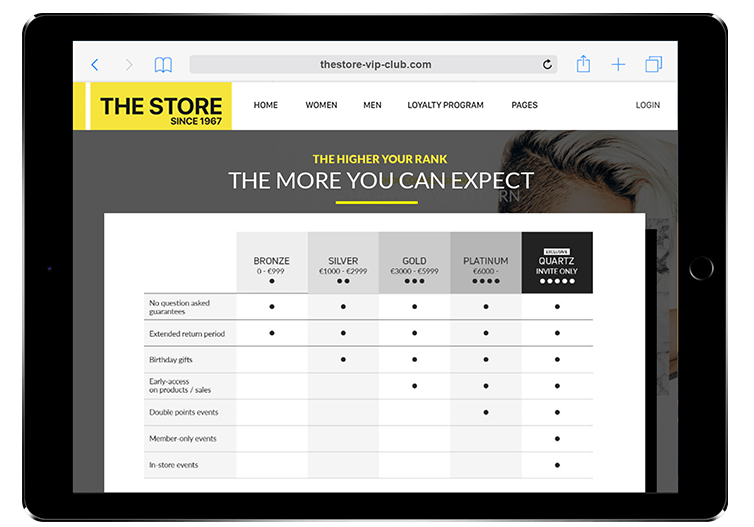 2. Be Their Workout Partner
There are multiple fashion-tech solutions out there that can give your membership program an edge. The most noteworthy, without a doubt, is Fitbit. You can base your campaign around tracking the customers' workout progress. Every time they go for a run, they earn bonus points based on the length of the activity, which is logged by the device.
Smart tagging is another relevant trend that's steadily growing. It allows companies to insert a little chip inside the apparel that sends information every time it is being used. The reason why this technology is great is that you can reward customers for wearing your product and collect offline customer data at the same time.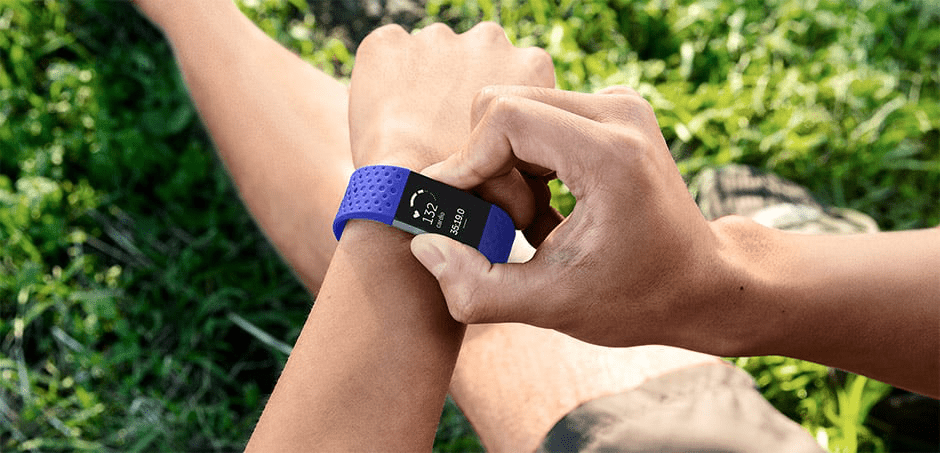 3. Build a Like-Minded Community
Nothing makes customers go crazy like being invited to a private group. Imagine your very own closed club, which can be accessed only after paying an entrance fee in loyalty points. Upon entering, members receive access to unique and exclusive perks. The benefits can include:
Posts and advice by lifestyle experts on how to set up their workout routine or the newest diets available

Motivational quotes by brand influencers

A leaderboard where they can compare Fitbit scores

The opportunity to be a part of the brand's promotional campaign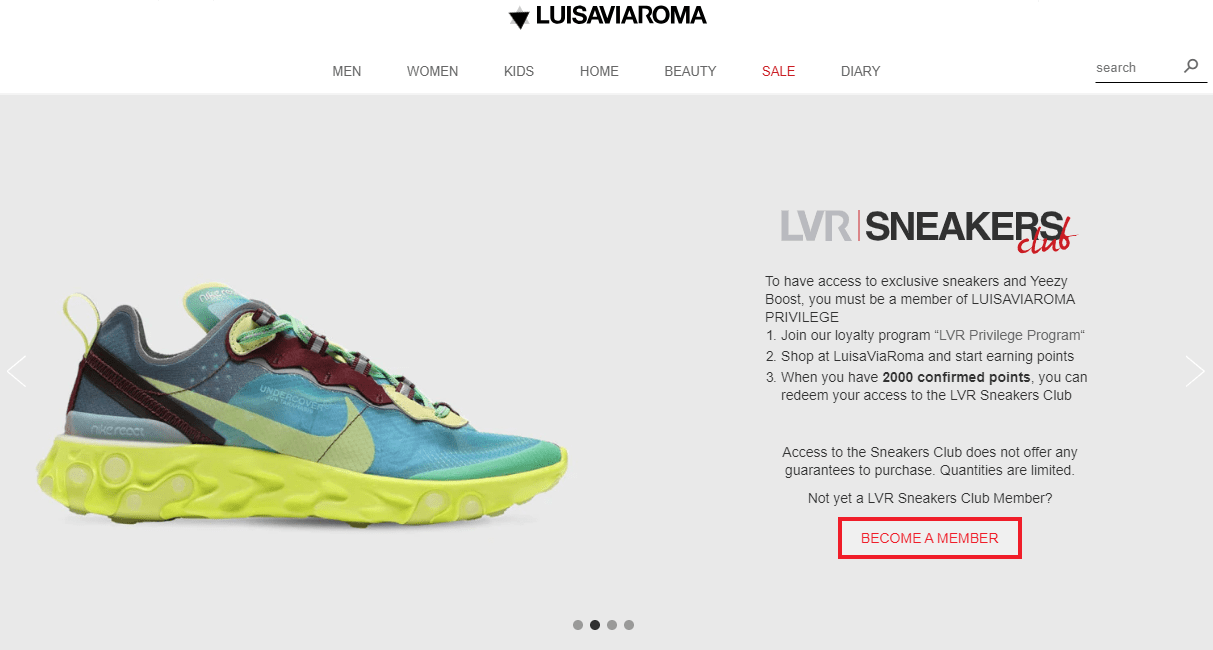 4. Make The In-store Shopping Experience Truly Special
It's impossible to have a personalized dialogue with a customer if they don't have a fun time browsing in your stores, whether it be physical or online. With the rise of the nomadic customer who values individuality and experience above all else, it's essential to make your loyalty program truly omnichannel.
Invite VIP members to an in-store community event

Use

mobile passes

and beacon technology to get their attention

Integrate virtual fitting – like

Fit Analytics

or

True Fit

– to make the online purchase easier

Offer exclusive perks such as digital receipts and extended warranties in higher tiers

Connect with customer values by donating a percentage of their purchase to a charity or environmental causes during special events
Other than housing people's mobile passes, Mobile Wallet solutions are great tools to identify in-store customers. Learn the details in our video.
5. Promote Product Discovery With Treasure Hunts
People love participating in game-like events, especially when there's a prize on the line. The next time you have a store opening, hide a few bonus objects on the shelves. The point of the game is to have customers search through the store and scan the barcodes with their phones. Antavo's technology is capable of tracking their progress by identifying whether they captured the right item or not.
Once all products are captured, you can reward them with bonus points, grant a gift bag, or enroll them in a sweepstake. Organizing such in-store events convinces people to pay frequent visits to your stores and check out the latest deals. The chances are high they already have loyalty points waiting to be spent, so they'll grab a product or two and head to the cash register.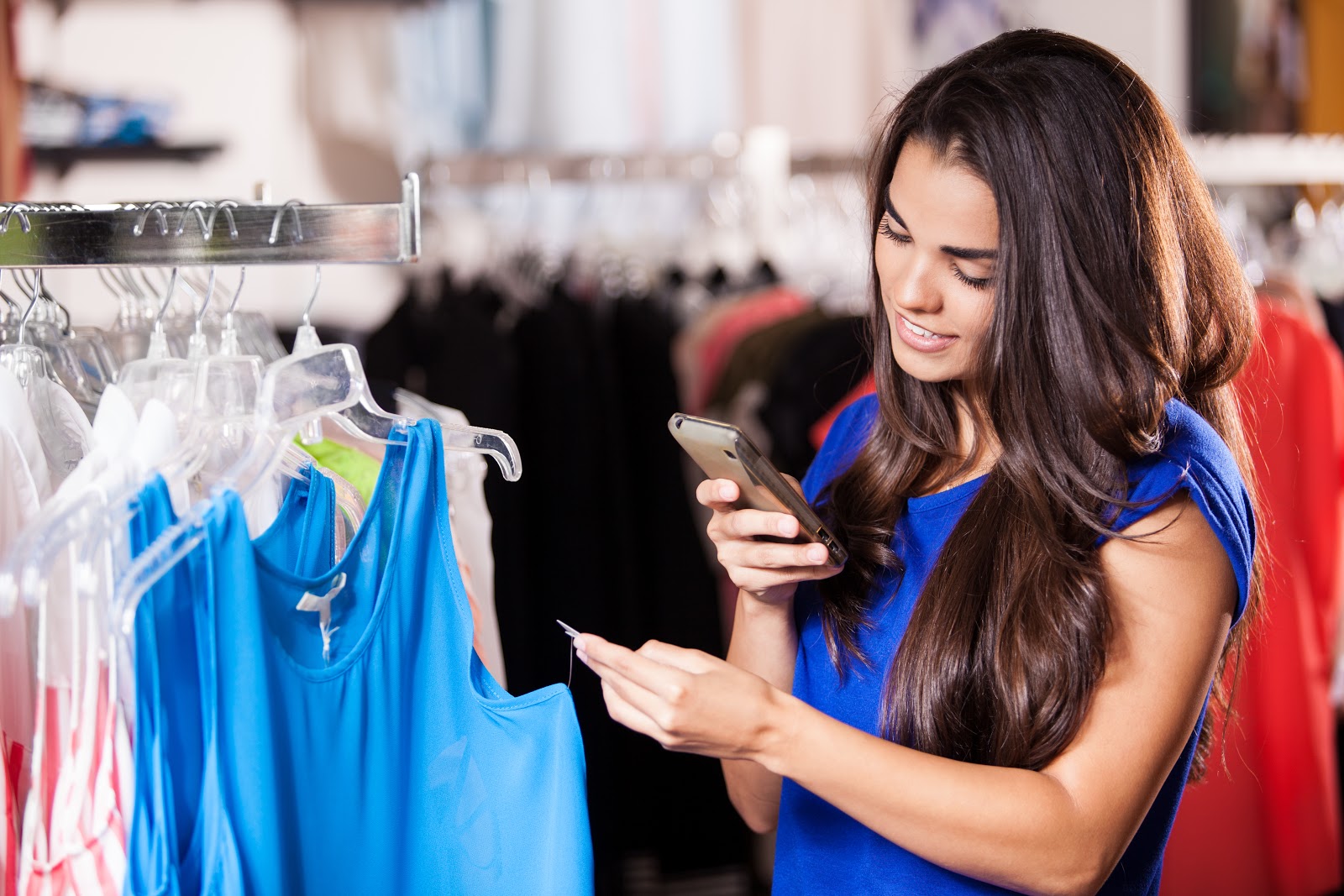 6. Learn More About Their Preferences
Incentivizing customers to fill out their user profile and integrating virtual fitting aren't the only sources of information. To discover additional data about their likes and dislikes, favorite brands and personality, use some form of gamified profiling.
Tinder-style quizzes are ideal to collect a large number of answers with customers choosing between liking or disliking a certain product

For more a abstract topic, such as personality traits, it's recommended to give visual quizzes, as they help customers conceptualize the answers

One-click or multiple-choice questions are the best if the answer includes an explanation

Classic NPS surveys feature a rated scale or slider, allowing you to gather more nuanced data on consumer preferences

In case educating customers is high on your agenda, you can also use quizzes to test whether or not customers read or watched the content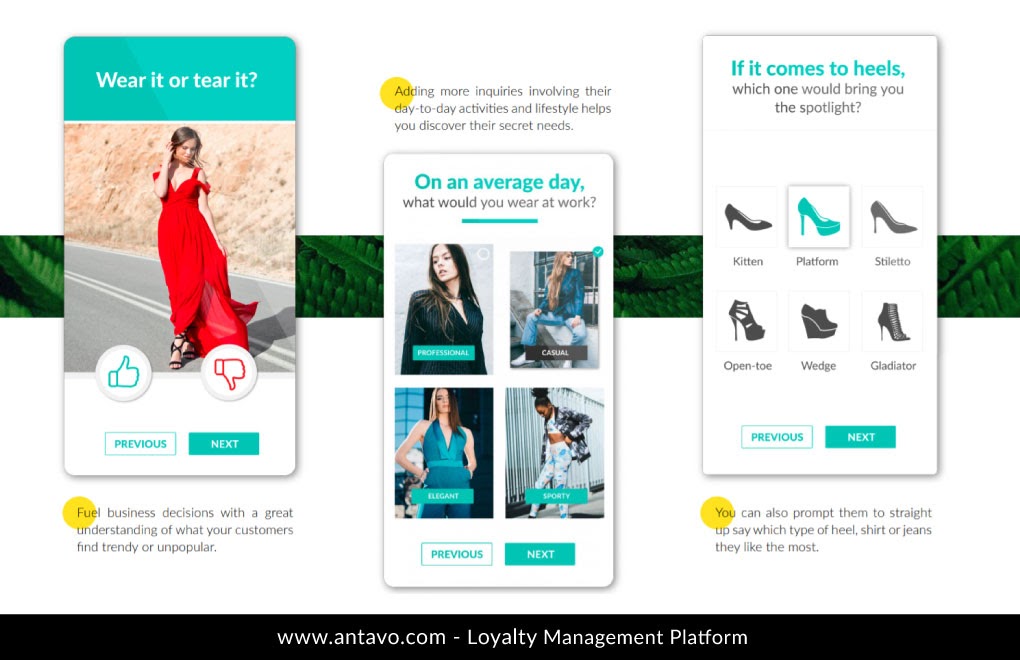 7. Gain Virality on Social Media
Customers tend to listen more to the opinion of their friends and family members than any corporate advertisement. One way to use this trend to your advantage is to extend the rewards system to Facebook and Instagram. The easiest step is to offer some points when customers link their social media profile to their account or publicly share their favorite product pages.
But to achieve true virality, you'll need something even crazier: social media contests. Ask customers to leave a comment with a specific hashtag or to upload images wearing your products to enter the contest. Then you can give a small reward to everyone, or appoint judges who pick the best entry that earns one big prize.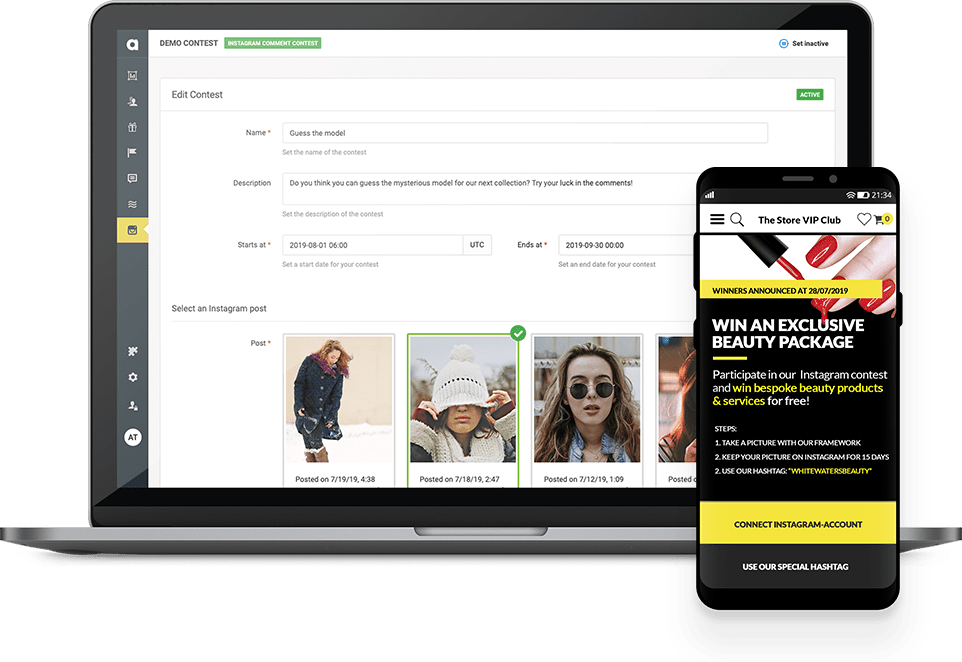 6 Inspiring Footwear and Athleisure Loyalty Programs
1. Nike – Nike Plus
Nike is the largest supplier of sports apparel and footwear in the world, and its brand is recognizable everywhere. The loyalty program NikePlus is a perks program, meaning that instead of collecting points, the emphasis is on community building, as most benefits are instantly available to all members.
Signing up is free, and there is a members-only shop that unlocks after finishing the enrollment

Tracking workout progress using Nike's dedicated app rewards users with exclusive products

Nike partnered with Apple Music, ClassPass, and Headspace to offer access to music, fitness classes, and guided meditation

Members also enjoy free-shipping, receiptless returns, and even a 60-day wear test for sneakers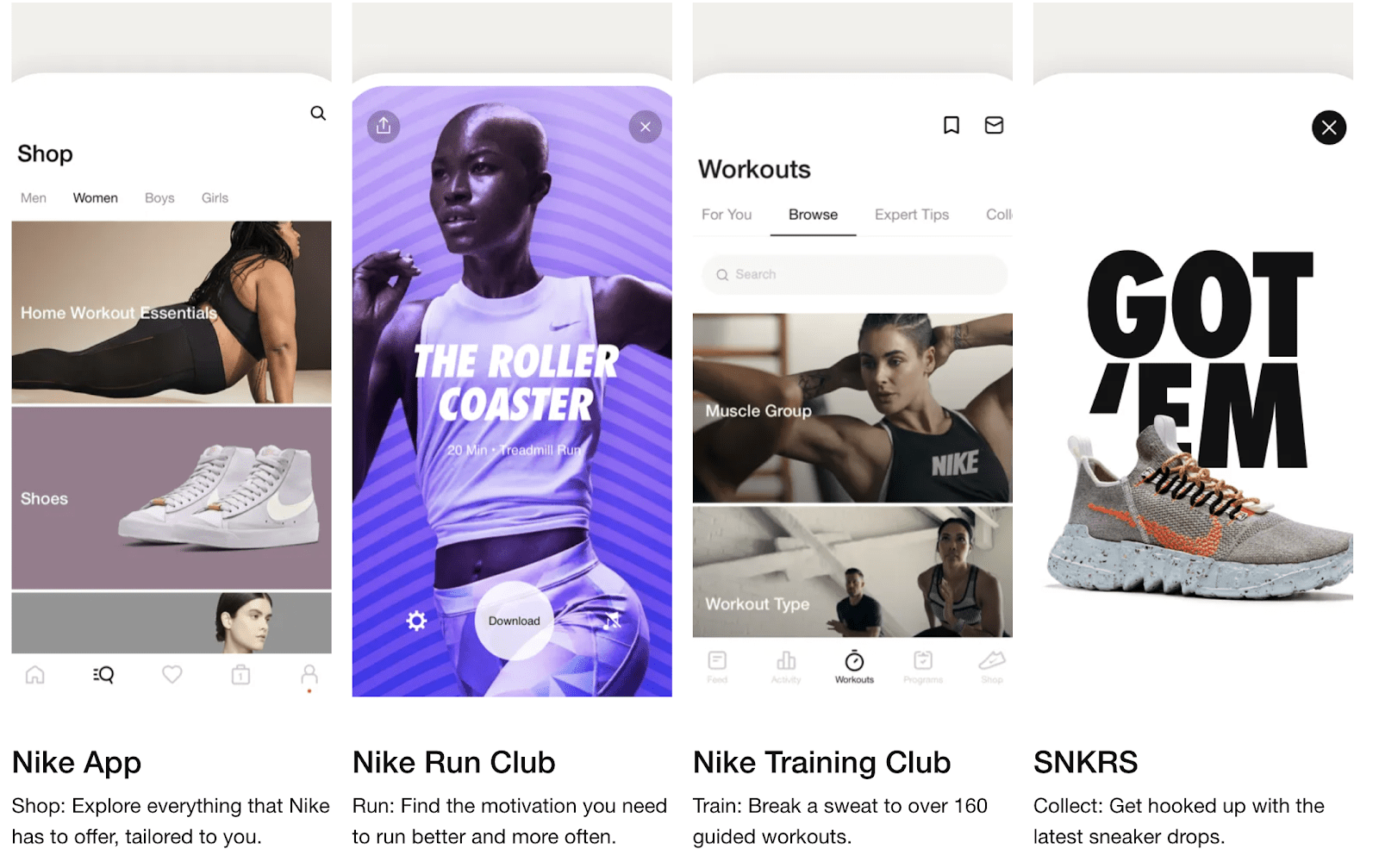 2. Adidas – The Creators Club
Adidas is an international retailer of sportswear and footwear for all ages, known for its soccer wear/equipment and classic sneaker styles such as the Stan Smith. Its program The Creators Club, is an interactive and rewarding loyalty program with four different tiers.
Members earn 10 points after every $1 spent

Tiers are based on points, and reaching higher levels grants access to the premium features of Adidas' app, birthday bonuses and early access

Another way for customers to earn points is to share their purchase on social media, using the app and completing the online customer profile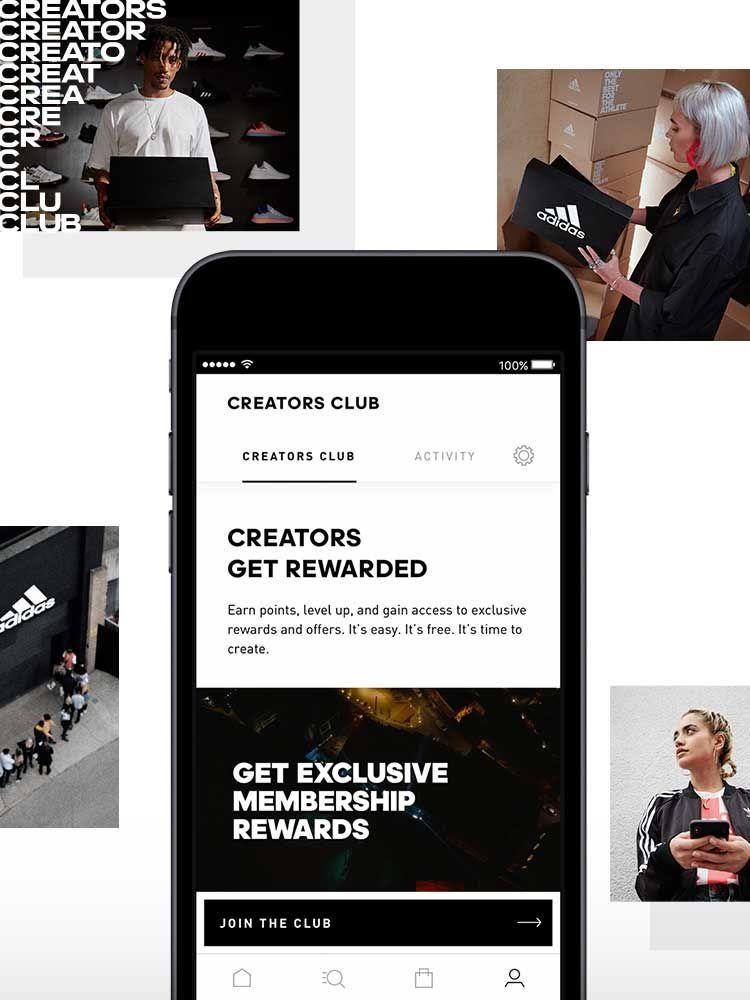 3. Girlfriend Collective – The Collective
Girlfriend Collective is a young sustainable activewear brand for women based in the United States. They have become increasingly popular with young and earth-conscious shoppers who want to maintain a great athletic style. Its loyalty program revolves around rewarding a variety of actions, both transactional and non-transactional.
Joining the loyalty program grants 25 points instantly

Shoppers can redeem points for discounts (100 points = $10, 250 points = $25, 500 points = $50), free shipping, and early access to products.

Uploading images to Instagram with the #GOODJOBGF showcasing good deeds (volunteering, planting trees, doing charity) awards 100 points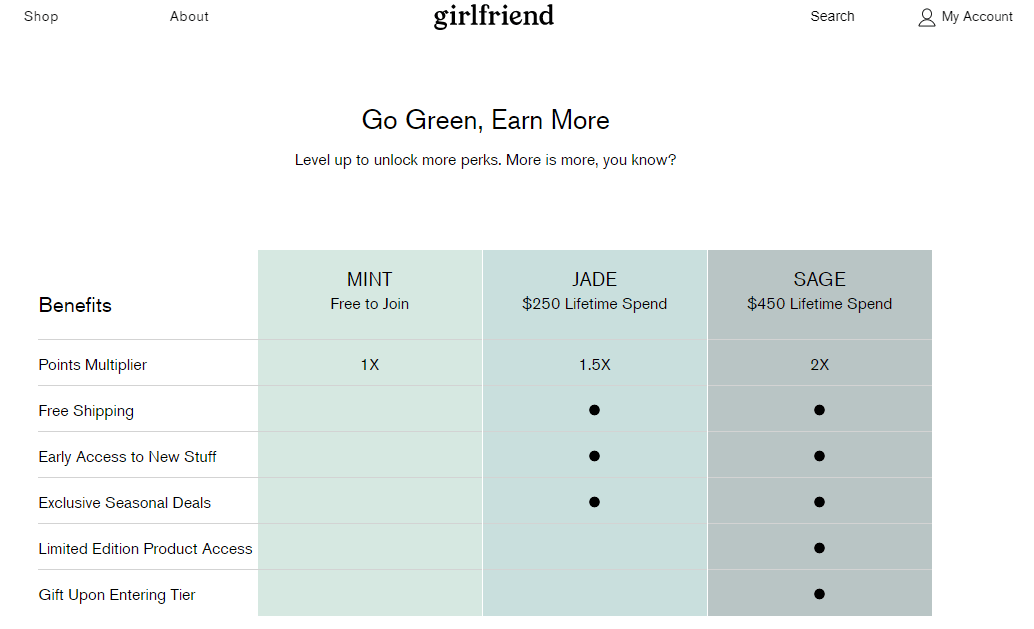 4. DSW – VIP
DSW is a footwear retailer in the United States offering thousands of shoes for men, women, and kids. DSW VIP is free to sign up for and offers further savings through a point and tier system.
Spending $1 earns 1 point, and after $100 spent a $5 discount is awarded

Additional members-only benefits include free shipping, $5 off for birthdays, and 50 points for donating a pair of shoes

There are three tiers in total, based on annual spend. On higher ranks, it's easier to reach, birthday gifts are more valuable, and customers can share the experience by sending gifts to their friends

5. Fabletics – VIP Membership
Fabletics is an online subscription retailer that sells affordable and stylish sportswear and footwear for women. Their business acts as a sort of loyalty program, with members getting access to VIP perks.
Members are required each month to choose a complete outfit or to skip that month

Active members enjoy free shipping and returns

New members get a discount on their first purchased outfit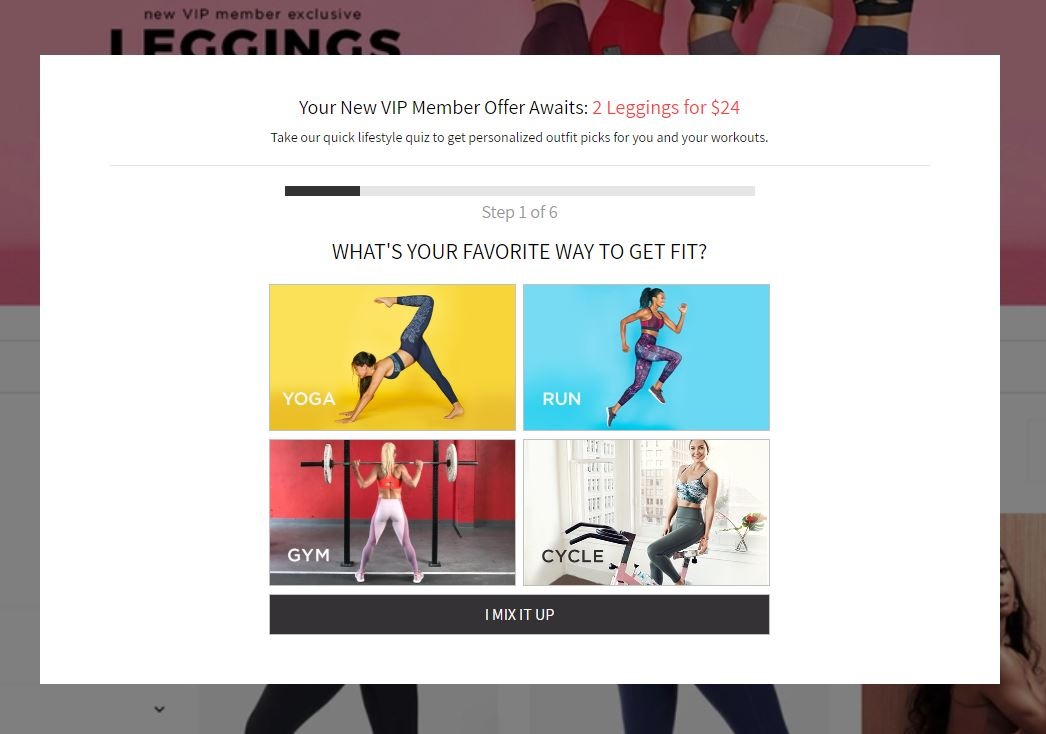 6. Nine West – 9W Rewards
Nine West is an online women's footwear and accessories brand from the United States. It originally had brick and mortar stores but has closed them and transitioned to all online sales. 9W Rewards, the loyalty program, is unique as discounts and coupons can be redeemed in multiple ways.
Spending $1 is worth 15 points

Members can choose between getting a $15 or 10% discount on their entire order – so they can maximize the value of their reward

There are other ways to earn points, such as 1000 points for a birthday, 250 for writing a review, and 200 for liking Nine West on Facebook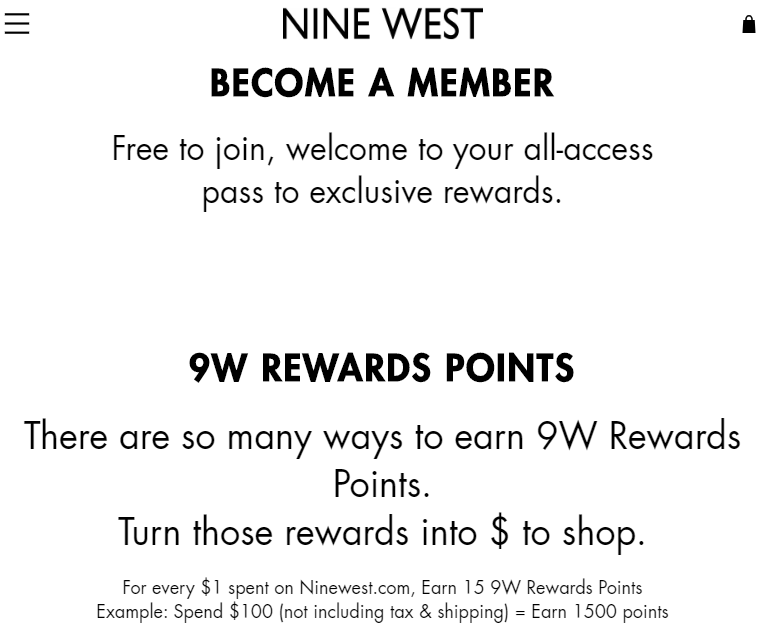 Taking the First Steps
Naturally, no two footwear or athleisure loyalty programs are the same. A good loyalty program always matches the principles and core values of a brand. Designing one from top to bottom can be a huge undertaking, but with the proper guidance it can be smooth sailing.
For more information on running a successful loyalty program, check out our ebook. We also love sharing our knowledge, so feel free to book a demo and we'll show you how our loyalty platform can work for your business.