While I was preparing to write this article about the concept of a loyal travel agency, a memory suddenly came to me. During check-in at the crowded and noisy Istanbul Airport, a kind staff member asked if I would like to sign up for Turkish Airlines' Miles & Smiles loyalty program. Honestly, for a moment, I toyed with the idea. But as I witnessed my friend in front of me (who had actually accepted the offer) filling out a hilariously long application form… I replied with a straight-up "No." Not to mention that while he was busy doing the paperwork, our line completely stopped moving."What the heck is taking them so long?!" people were murmuring behind us.
This is a problem quite typical in the travel industry's loyalty programs – including airlines, hotels and booking sites. After some investigation, an article from IndependentTraveler.com by Ed Hevitt made it clear to me that there are further problems in travel loyalty programs, in addition to long wait time when it comes to signing up, earning points and getting rewards. To summarize, here are the three main problems :
Companies fail to explain how loyalty points are calculated.


This can be even more confusing if there's a strategic partner involved in the loyalty scheme, where customers can earn loyalty points in a completely different way than in the main program.

Customers are not well-informed about how they can earn points.


Turkish Airlines also failed to help out here. They just said:

You can earn points by travelling with us.

Yes? That's all? I'm sorry, but that's obvious… and it's not enough incentive for me to sign up.

Customers don't know when and where they can redeem their points.


People become loyalty members to earn rewards. Earning points and then redeeming them for rewards is the loyalty program's main purpose and is what makes customers stay.
This is a pretty sad state of affairs for companies that want to develop word-of-mouth. Even worse, these elements can actually gain these companies negative word-of-mouth, that's for sure.
But there's another side to the story. Not only do the loyalty programs themselves need to be improved, but they should be shaped to fit to millennials, whose buying power is increasing. For them, expressing their individuality is what matters the most – even when they participate in a loyalty program. Statistics from Retail Touchpoints and Groove also support the importance of this trend, offering these five statistics below: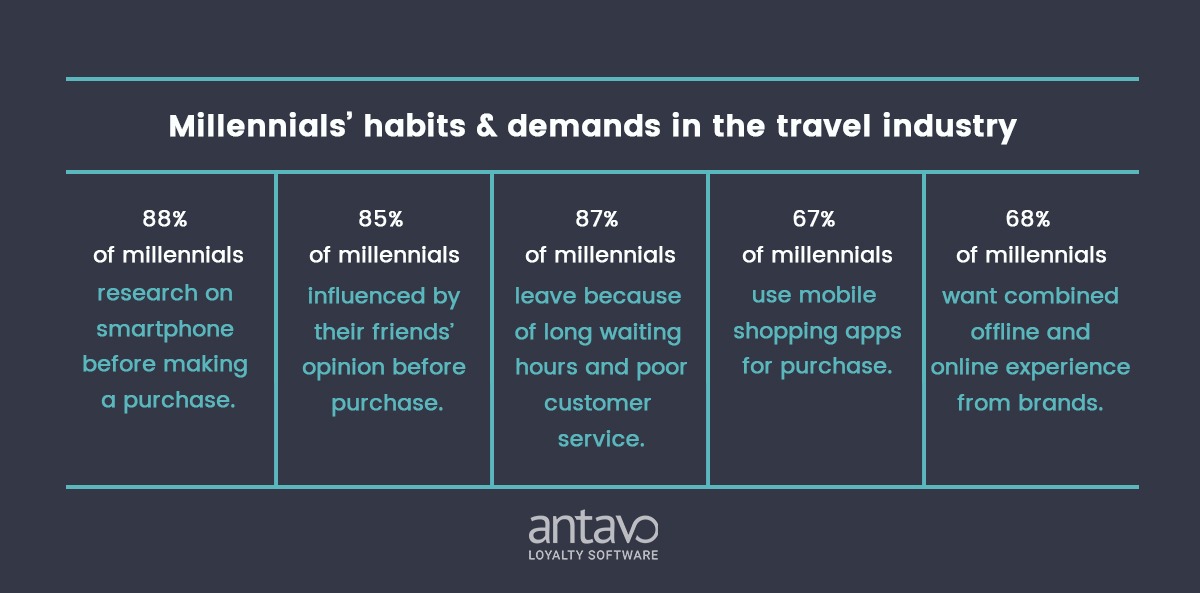 Now, we see what the usual problems with loyalty programs in the travel industry and have better insight on what the largest part of today's traveling customer base, millennials, wants in exchange for their loyalty.
Now let's talk about how to create a loyalty program that can generate positive word-of-mouth for your brand and eliminate the problems mentioned above, while also satisfying your millennial customers' needs!
1. Branding is everything in a loyalty program
This point is ALWAYS overlooked. Why should you bother building a brand around your loyalty program, when your main brand already has a well-defined and sparkling identity?
The reason is simple: you should design a loyalty program that entices. This is what differentiates you from your competitors and also tells customers that they are about to sign up to something amazing!
Just take an example from Wyndham Rewards! It's no wonder they ranked first among the best hotel loyalty programs, according to US News. They created a mascot, a wizard, who promotes their loyalty program in short, funny videos, and appears on their loyalty program's explainer page, too. The wizard's main message is: the magic comes from program members, not from the brand. Loyalty members deserve the best possible treatment.
2. Make registration quick and socially-connected
The best example I've found is what Hotels.com does in its rewards program. This booking site promises that loyalty program registration takes only two minutes – and it's really two minutes! People just need to fill out five fields, quite unlike the long scroll my friend was presented with from Turkish Airlines. (They should consider making online registration possible at the airport, too. It would definitely increase the number of sign-ups!)
What's even more, they make the process even simpler by allowing registration through Facebook – which is what many customers prefer to go with, as a study by Janrain Inc. conducted last year revealed that 61% of customers use Facebook credentials to shop.

3. Keep it simple when it comes to explaining point earning and their values
Recently we discussed how retail giants – like Starbucks and American Airlines – have changed their loyalty program rules. More precisely, in American Airlines' AAdvantage program, starting this year, customers collect 5 miles per $1 spent, which replaced their original frequent buyer program, which was based on the distance that members travelled – not on the money they spent. (Note: the program has 4 tiers, so the more customers spend, the more miles members earn per dollar spent.)
This new rewards model makes it clear for customers exactly how points are calculated, and it also makes it possible for AA to reward bigger spenders more. And although it seems basic, it simply can't be ignored, because the more a customer spends, the more valuable they are to your company.
Starbucks has the very same reward mechanism as American Airlines; therefore the benefits of their program are the same from a business standpoint. Our Customer Loyalty Strategist, Jess Mizerak, explains the benefits basing your rewards program on spend, in this video.
4. Charity type rewards can give a real boost for your word-of-mouth
The reason why people sign up for a loyalty program is not just because it's charming. It's because of the reward scheme that you offer, and shows that you do so much more than your competitors!
Just take an example from jetBlue. These guys are really onto something! They offer a chance for their loyalty members to donate their points to charities or good cases that they care about! Research shows that these kinds of rewards get more publicity for companies, and also make it 39% more likely that customers will recommend them!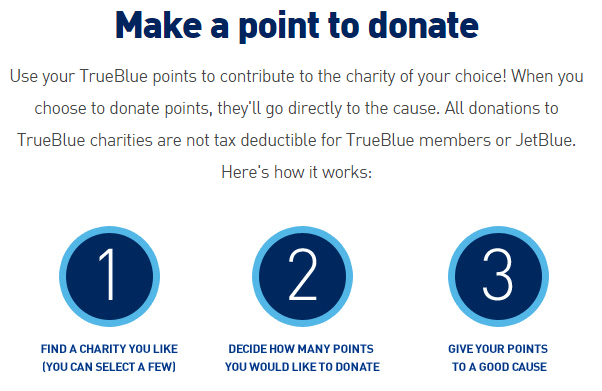 5. Give an exclusive service to your members that makes you shine like a rock star
I have already talked about Hotels.com Rewards– and it seems they have some more great incentives in their program that should not go unnoticed. Here's one charming element from their loyalty program: if loyalty program members use their services 10 times in a row, they get 1 night free at one of the hotels booked through their site!
And they don't stop there! Actually, they have a hidden loyalty feature: Unlock Secret Prices. The function is only available for loyalty members and it unlocks better discounts than what's available to the public. That's what I call a really exclusive feature!
There is one other thing I'd like to point out. Be sure you can provide rewards that at no cost to the customer. If there are any extra costs, like fees and taxes – be upfront about it. That prevents unpleasant surprises for customers. Hotels.com lets customers know they can get a free night's stay after purchasing 10 nights through their site, and also say (in big bold letters) that they won't be covering taxes and fees. Just imagine if they didn't make that clear upfront… I'm envisioning many frowns and much negative word-of-mouth! (Plus, when it comes to the feeling of exclusivity, you can count on predictive analytics, which can help you to provide personalized recommendations based on customers's shopping habits.)

6. Let members get rewards in a relatively short timeframe, with gamification
Two additional problems with travel loyalty programs are that customers:

1) need to wait too long to redeem their points for rewards; and
2) the way they can earn points is limited to purchases alone.
This is where gamification can help! Here are two stunning examples for both of these points:
JetBlue noticed that customers usually book tickets for economy class. The company wants to encourage this customer group to purchase additional services, like traveling with pets and purchasing seats with more legroom. Those who purchase these services, will earn more points. This is how they are able to make more money from this customer group. Not to mention they let customers earn points by sharing their pages on social, referring a friend, writing reviews or tweeting about them. Literally, they engage customers throughout the customer life cycle by letting them collect points every time they interact with the brand. This is how point collection should work in a great loyalty program!
Wyndham Rewards offers a "go fast" feature to their loyalty members, which allows them to use their 3,000 loyalty points as a discount during their next booking. As a comparison, for a free night they should collect 15,000 points. See? The free night opportunity seems so far away, because members need to collect points for a long time in order to qualify for that reward, BUT a discount is so much closer, letting members use their points after collecting only 3,000 points. It seems more desirable.
Of course, I'm not saying that you shouldn't have a huge reward in your loyalty scheme. This is what gamification is all about. You should offer different milestones for customers to shoot for in the form of rewards with different value. That's the trick to satisfying many different customer segments.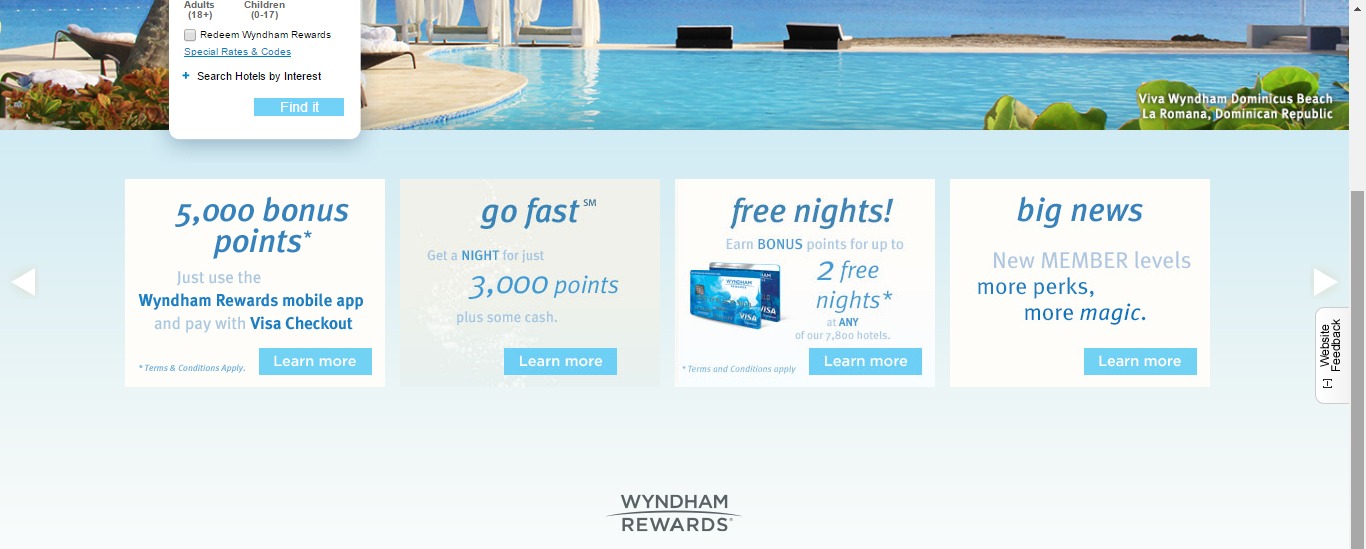 7. Collaborate with strategic partners to give extra value for your customers
Actually, the article that I mentioned at the beginning of my post pointed out a very serious problem that frustrates many customers: big hotel chains, like Sofitel Miami, don't grant loyalty points for customers who book a room through third party sites! Unfortunately, this applies to existing loyalty members, too! Airlines, on the other hand, handle this issue without any issue.
Another intelligent move that airlines, hotels and booking sites can make is collaborating with other brands. For example, they can work together with car rentals, hotels, and shops that sell accessories for travelers. They can let their members spend their points on partner companies' products, services and gift cards, or even let them collect points when purchasing from these brands.
Working together with other brands through your loyalty program is a great way to improve your own branding, increase awareness, and give customers a great feeling of convenience, knowing you're a one-stop-shop for their travel needs.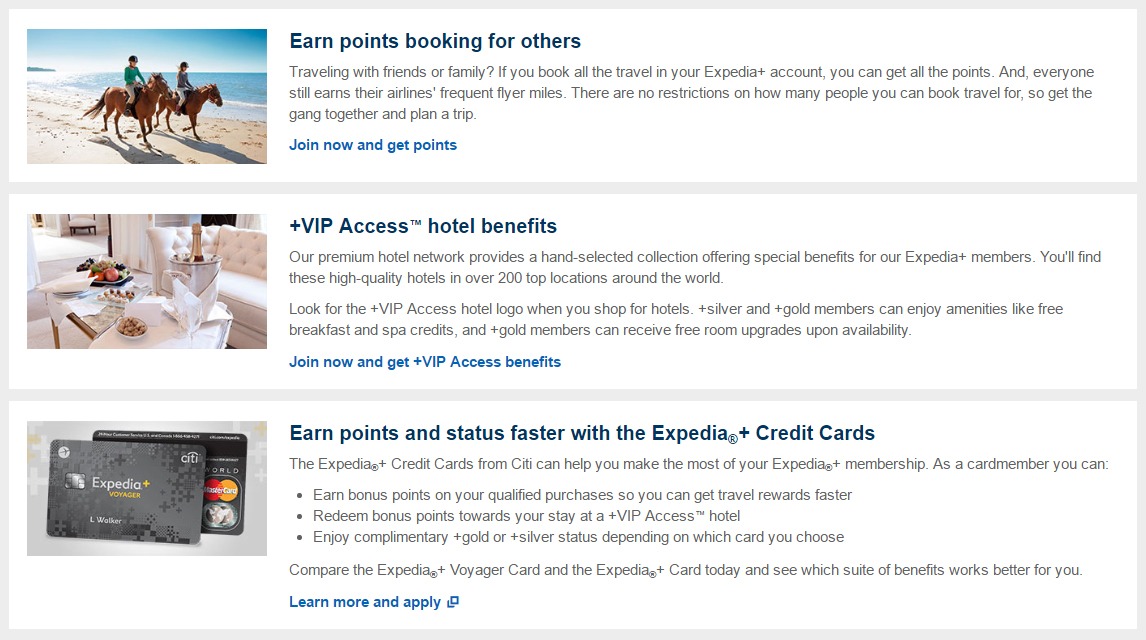 8. Extending your loyalty members' experience by using a mobile app!
Let's keep going with Expedia. They offer a mobile app called OpenTable, which lets customers book tables for restaurants, make orders and pay for them (without waiting for the waiters or waitresses) and even makes it possible for them to check out restaurant reviews and write reviews for themselves. This is really the perfect combination of offline and online customer experience, not to mention it can really make life easier for their users!
There's one way they can make this an even bigger success story: by wiring the mobile app with their loyalty program – just like Starbucks does it. Imagine if customers could spend their loyalty points in restaurants, or collect points by writing reviews on OpenTable. The potential is endless!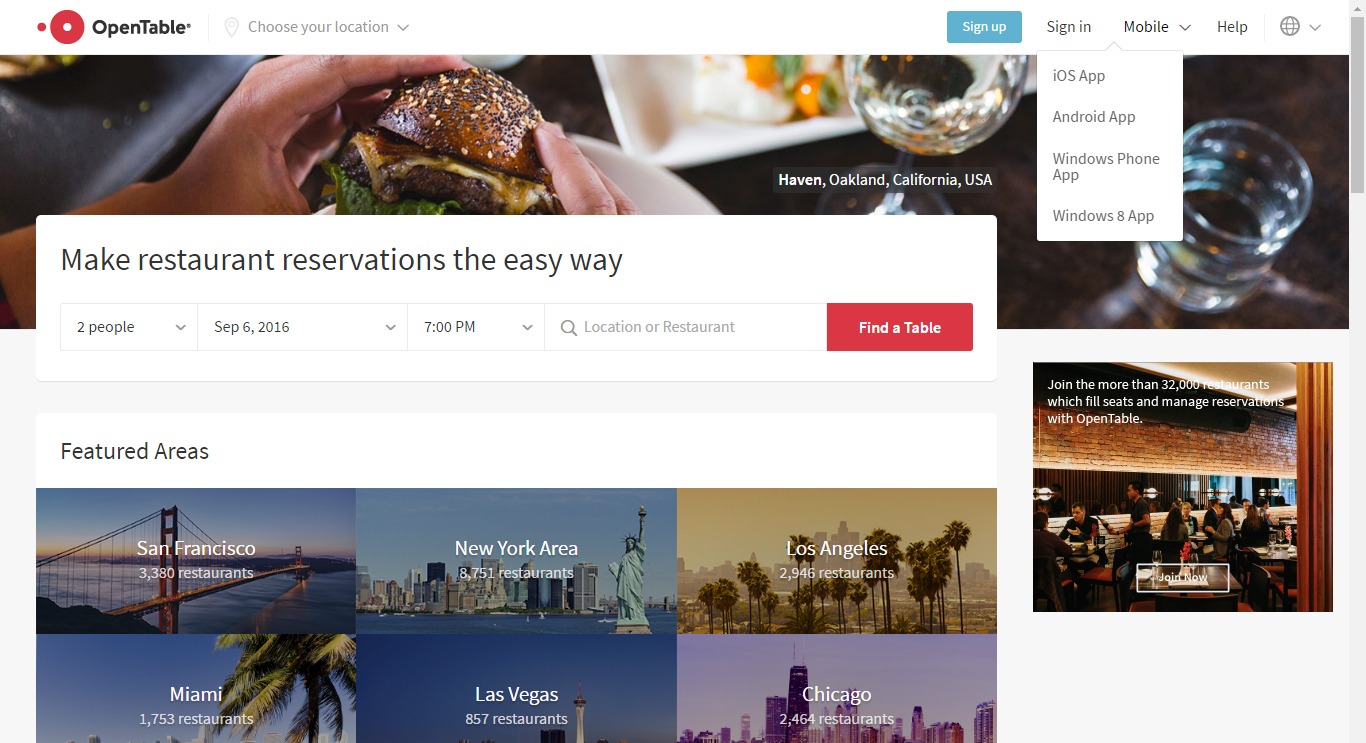 Conclusion
See? Everything lies in how you use your loyalty program to serve and please your customers.
You can reward different types of customer actions, stand out among your competitors by offering customers charitable rewards, exclusive features and gamification options. Not to mention, you can make an amazing impression by integrating your mobile app and loyalty program, providing a seamless experience whenever your customers are interacting with your brand. And that's the perfect ticket to getting more word-of-mouth for your brand.
If you're interested in how Antavo can help you create a loyalty program that generates word of mouth, sign up to a VIP demo. Our Head of Sales is ready to show you how we can help.