Intelligent tracking prevention is in town, folks! And with current data policy changes worldwide, changes like this are not going away anytime soon.
Back in June at WWDC17, Apple announced that iOS11 and Safari 11 will have built-in Intelligent Tracking Prevention. But what exactly does that mean?
It means that the third-party cookies that are so prevalent in online advertising will only work effectively for 1 day, and after that they will not be able to track the Internet user's browsing history and "follow" the user around the web. Meanwhile, first-party cookies have reason to celebrate: these cookies will remain intact for 30 days, then are purged.
So retailers using targeted advertisements to acquire new customers will need to use first-party cookies in order to keep up the pace during the 30-day period.

Here's a look at how quickly cookies will get swept into the trash bin.
And will it affect many consumers? Yes. Although Safari has a share of just over 5% of the desktop browser market, when we're talking the North American mobile browsing market, this figure is around 50%. These stats, as well as an incredible explanation of intelligent tracking prevention can be found here on ExoClick's YouTube channel.
As the argument goes, tracking prevention will be great for consumers, because of a new level of respect to privacy. The advertising industry, however, is none too thrilled. After all, this means there's a lot less time to convert! On September 14th, major advertising trade groups got together and published an open letter about their concerns, which you can read here.
Retailers that have been relying on targeted advertising in recent years are probably wondering what's next. And the tracking providers have good reason to consider new options and developments.
But it's not necessarily a bad thing for retail. It's a call for creativity. I recently spoke with Shep Hyken about the fact that even retargeting isn't as effective as it could be. He pointed out that sometimes retargeting ads follow you around for weeks after visiting a site quickly, just once. That's the sort of thing that makes me switch an ad off.  
So, as the customer acquisition landscape changes and as data laws get introduced (or tightened), it's a good time to focus more heavily and creatively on customer retention and loyalty. Although new acquisition technology certainly won't disappear, recent industry changes give us a lot of reason to believe that consumers would prefer to share their data knowingly and transparently. A loyalty program is an ideal place for that transparent transaction to occur. Not to mention it's a more cost-effective strategy.
If you're ready to take the next step in customer retention, consider some tricks for building loyalty toward your brand and products, across all of your channels. Or focus on generating more data and offering more personalization by building or refining your loyalty program.
A loyalty program gives you access to more data.
The loyalty program, just like a newsletter, requires the customer to join at his/her own will, accepting the terms and conditions set forth by the retailer or brand. Usually these terms include the handling of customer data, allowing the brand to use that data to create better offers and advertising.

A loyalty program can bring in additional data in several ways:
1. Profiling: The loyalty program can be used to add incentives for customers to fill out their account profile. This can be a great source of data, if you're asking brand and product-relevant questions in the profile, i.e. sizing in the case of fashion). If customers can earn points or an instant reward for filling out their profile, they're more likely to do so.
2. Survey: One alternative to full profiling is to have a separate survey or ask individual questions for a smaller sum of points.

3. Social media connect: If your loyalty program members have the opportunity to connect a social media account to the program, that connection will transfer a certain amount of data stored in the social media account into the customer's profile in the loyalty program, for example in the case of Facebook, this means a profile photo, gender or approximate age.

4. Customer behavior: Quite possibly even more powerful is the access you have to transactions made in the loyalty program – and not just monetary transactions. Events like signing up for a contest, connecting a social profile or sharing a product page are all actions that you can communicate based on.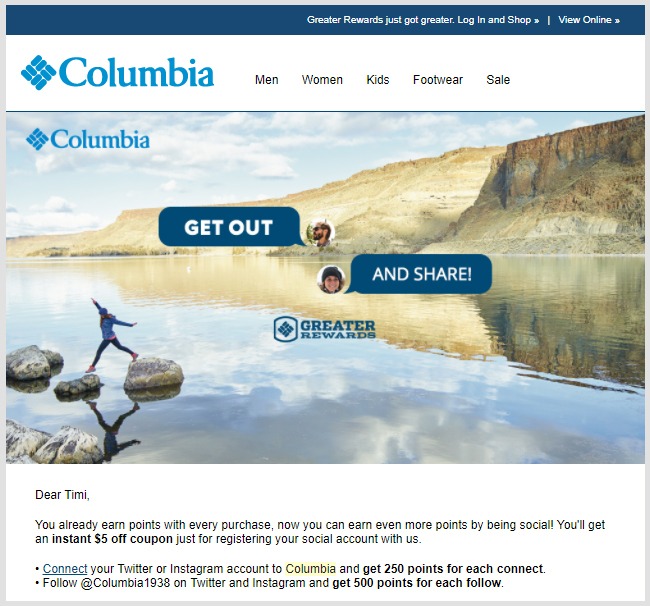 Columbia encourages members to earn points by connecting their social media accounts by rewarding them with extra points. Once the action is done, they'll send a nice thank you email and will know that member may be willing to take other actions in return for points. Smooth!
And should we still be concerned about cookies?
There's a lot of talk about using first-party cookies instead of third-party cookies. In Antavo's case, cookies are set to our client's subdomain, meaning that our third-party cookies actually become first-party cookies in use. That's why Apple's latest change does not affect white-label solution providers like us.

And why are first-party cookies so great, anyway? They can function even in incognito mode or under ad blockers. In the end, the main takeaway of this change is that retailers should own and control their customer data – not other parties. And we support this as a provider. We forward all trackable customer data to our client's CRM, ESP, CSM or other platforms, giving our clients ownership of the data and helping them build better all-around customer profiles.
How can loyalty data be put into action?
The data you get in your loyalty program can be used in myriad ways. First and foremost, it can be used to get way more personal in your email campaigns, showing more personalized offers. This can include loyalty-related offers, such as certain rewards or new actions that customers can take to earn points. It can also mean discounts or contests that customers in certain segments are most likely to show interest in. And it also means NOT showing those offers to customers who are unlikely to be interested. Because the more you show irrelevant offers to a customer, the more likely they are to say "Adios, amigo!"
Think of all the possibilities you have to target your segments. Low-spenders may be interested in discount rewards. Higher spenders may be more interested in the spa trip reward. Or you can segment even further, using age range, gender or reward redemption history within the High Spenders category, to really ensure the right rewards are getting seen by the right shoppers. Knowing your customers means you can cut through the noise by promoting rewards and offers that really speak to them. And your customers who share the most will be the most likely to refer their friends to your store. Well hello, customer acquisition!
And if you're starting with a small amount of segments, you'll be able to create new segments using the additional data you gather, which you'll be able to use across your marketing strategy, from loyalty offers to emails to advertising.
But isn't the loyalty landscape changing, too?
Sure it is. You can't just take the approach that one size is going to fit all. Not everyone responds to the same things, and the right loyalty software is going to give you the features and the reporting that you need in order to make sure you're getting the data you need to put the right products, offers and rewards in front of the right customers.
In a study called "What is the future of data sharing?" 80% of consumers "were positively influenced into sharing personal data with companies when they received special offers or data-enabled benefits." With those kinds of odds, it's a wonder that many retailers are still shying away from asking what they need to know.

This article was co-written with Jessica Mizerak, the Loyalty Strategist at Antavo Loyalty Management Platform.