The entire world envies the lifestyle presented by Italian fashion brands.
Chinese dream of wines from Sicily, Russians wrap themselves head-to-toe in Italian luxury brands in Milan, and Americans consistently feature handsome Italian men cruising on Vespas through Rome in Hollywood movies.
For a long time I didn't truly understand the secret behind the success of the "Italian brand". But then I started working with them and the shroud of mystery fell away.
In the next 7 points I've summed up for you what Italian fashion brands have taught me about customer loyalty. Be prepared! You may be surprised at some of the points.
1. Don't Focus on Your Product
My all-time favorite video is The Golden Circle by Simon Sinek. In his TED video Sinek asks: "Why do some companies achieve things that completely exceed our expectations, while others with the same resources fail?" The fundamental difference between great companies and everyone else is that they start with "why". People don't buy what you do, they buy why you do it.
If you have walked the streets of Trastevere or eaten out with locals in one of Italy's beautiful metropolises, you know that Italians don't need to learn Sinek's concept — it's already coded into their DNA.
Ginevra Capece Galeota, one of the top branding experts in Italy took Dolce & Gabbana as an example: "They amplifies their heritage through glamorous stories and always adopt it to local markets". Their original clothes were inspired by eclectic, thrift shop Bohemia, with daring colors and wild animal prints. And these motifs follow the company's motto:
"When we design, it's like a movie, we think of a story and we design the clothes to go with it." – says D&G's founder, Domenico Dolce.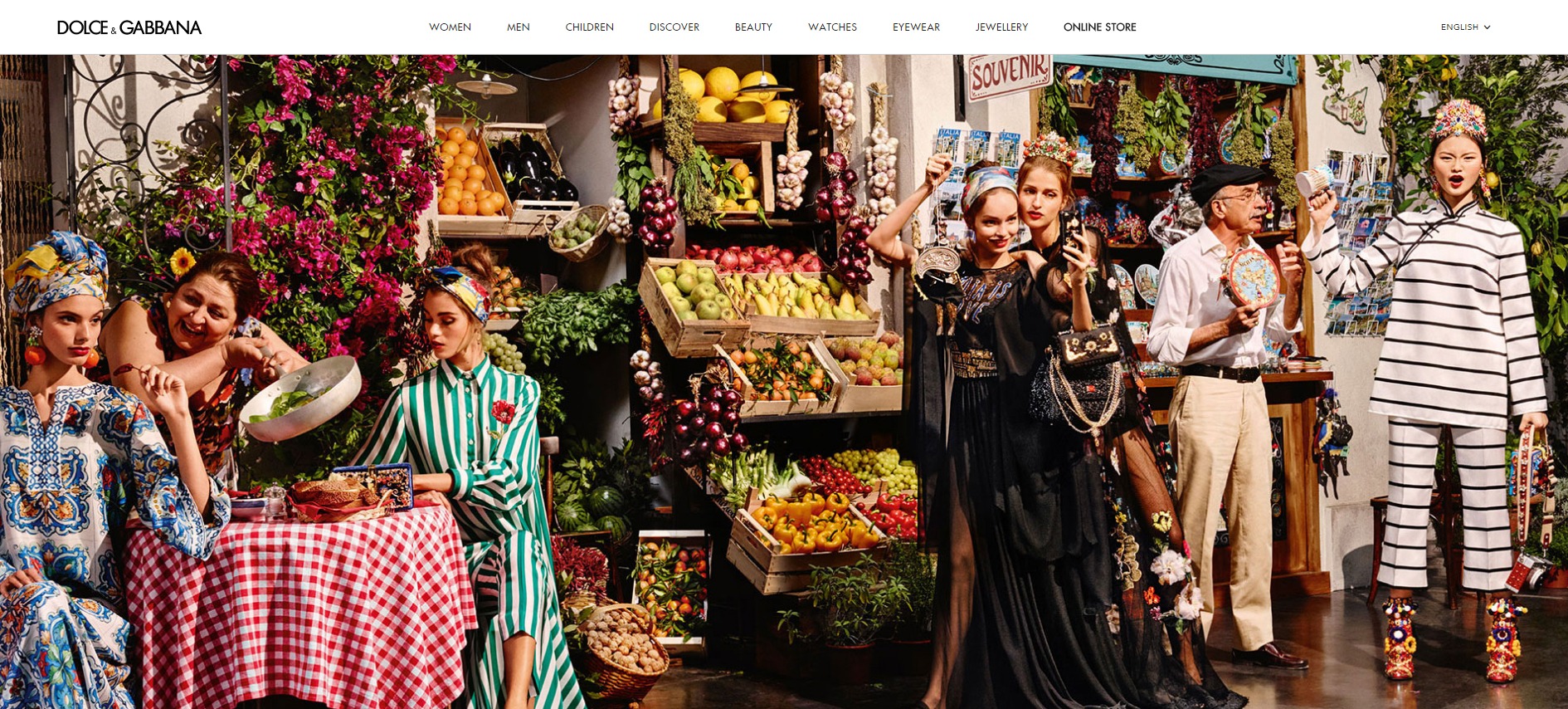 Dolce & Gabbana's homepage communicates a story.
2. Create a Lovable Brand
Edoardo Caovilla, the third generation descendant of family owned Venetian shoe manufacturer René Caovilla has a long history. I personally feel that a a $1,000 high-heeled shoe decorated with Swarovski crystals couldn't be farther from my taste, but checking out their strong brand presence on social media (including YouTube) is no doubt a lesson worth remembering.

If you wish to make sure your loyalty program stands out like Dolce & Gabbana stands out on social media, you need to position it right. Check out this video to learn more about it.
3. Tell Your Brand's Story
To be honest I'm not a great storyteller, and unfortunately after we grow up we also forget to tell stories. We don't get storytelling classes in schools and Pablo Picasso stated the problem correctly when he once said: "Every child is an artist. The problem is how to remain an artist once he grows up".
So be with children as much as you can and tell stories to them. You will know if they get bored and leave after five minutes that you need to improve anyways.
Practicing your storytelling will be very useful in your marketing. As it so happens, you can't bore customers into buying your product. You have to involve them, make them part of your brand's journey, and let them find their own stories through your product.
In the end you have to share with them the following:
What you're doing
What you're failing at
What you're learning from your failures and success
What you're doing behind the scenes
Take Prada's example on how they tell their story through the series of unique images.
A behind-the-scenes storytelling example from Prada.
4. Drive Word-of-Mouth
Impulse buying is pretty common in fashion, so spending less on ads and more on incentivizing customers to drive word-of-mouth and UGC reviews definitely makes sense. Just check this diagram for visual proof: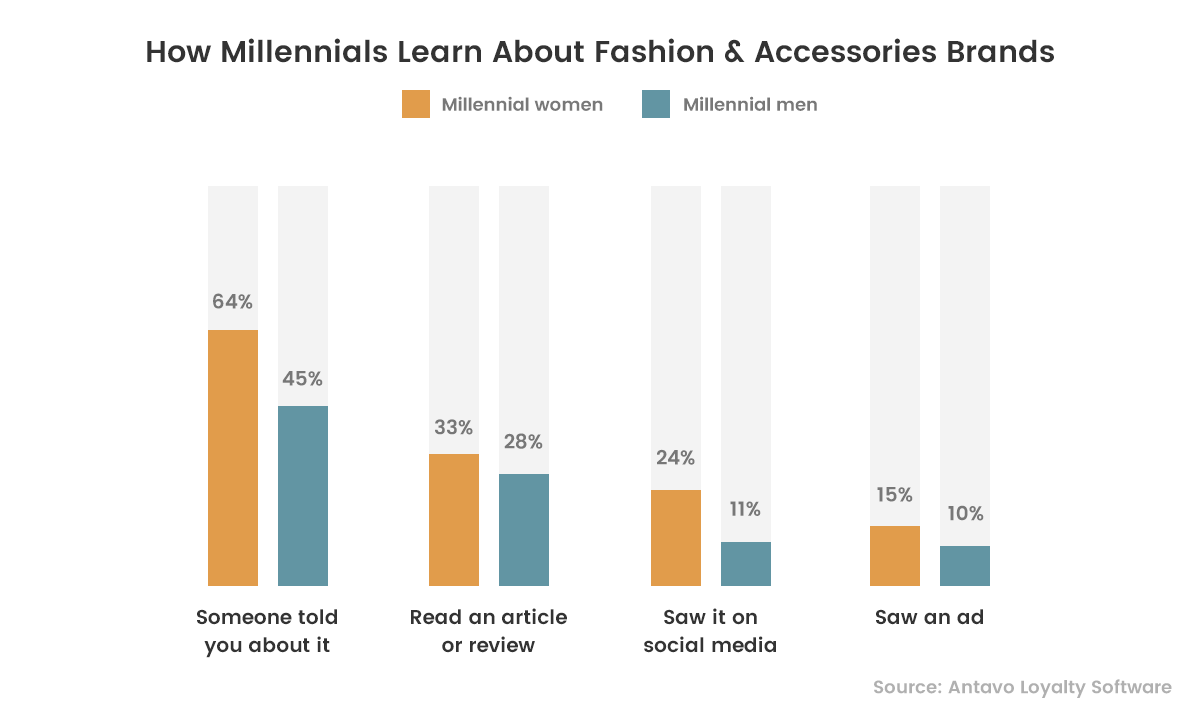 Millennials discover fashion through their friends' recommendations. Source: Antavo
Our stats show that if you incentivize and reward your customers they will be:
5 times more likely to share your product pages on Facebook
4 times more likely to follow and 8 times more likely to share on Twitter
4 times more likely to watch your videos
4 times more likely to write product reviews
8 times more likely to upload selfies with their purchased product to Instagram
A way to reward customers is to set up a rewards program. If you wanted to learn more about what rewards programs can do for business, sign up for a VIP Demo and we'll show you how it works.
5. Reward your Brand Advocates with Experiential Rewards
According to Luxury Daily, luxury brands struggle to retain their customers year after year. Customer retention for Italian brands has become a big issue and unlike their competitors, who usually give discounts and freebies in their loyalty programs, they've started to give out experiential rewards.
Customers can spend points on things they would otherwise not be able to get. Such as:
Limited edition products which are not available in stores
An exclusive invite to an event
Early access to new products.
Another example of a fantastic experiential reward?
Valentino invited their most influential customers and brand advocates to the opening of their New Flagship store in NYC. Author Simon Sinek had a VIP book signing on the cocktail party. Guests were offered 18-year-old Glenlivet malt scotch and gourmet appetizers, and explored the entire men's ready-to-wear and accessories collections. Dressed in a fitted Valentino suit, Sinek mingled with attendees throughout the event.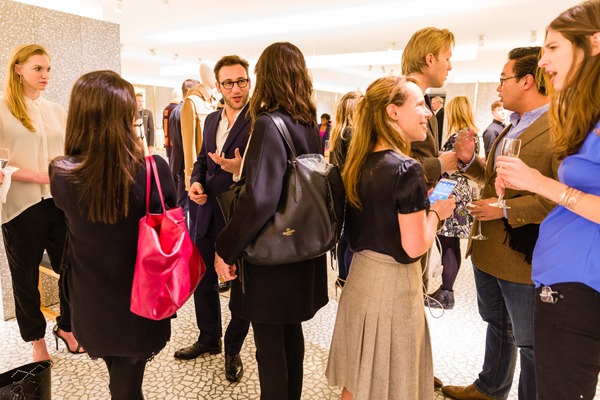 Brand advocates felt privileged and posted photos from Valentino's event to social media. (Source: wsjnoted.com)
6. Personalize your Products
"Give a man a fish and you feed him for a day, teach a man to fish and you feed him for a lifetime."
Brands can learn a lot from this old Chinese saying. If you can involve a customer in the product's design process you have won their loyalty for a lifetime.
How can you do that? Give them the option to customize your products! By providing this opportunity you will create a deeper connection between your customer and the product they create. Plus, given that the product will be unique to them you will have lower return rate and higher prices.
I've heard from Giorgia Longoni, Global eCommerce Marketing Director of Ray-Ban, that their customized sunglasses generate 40% of their online revenue!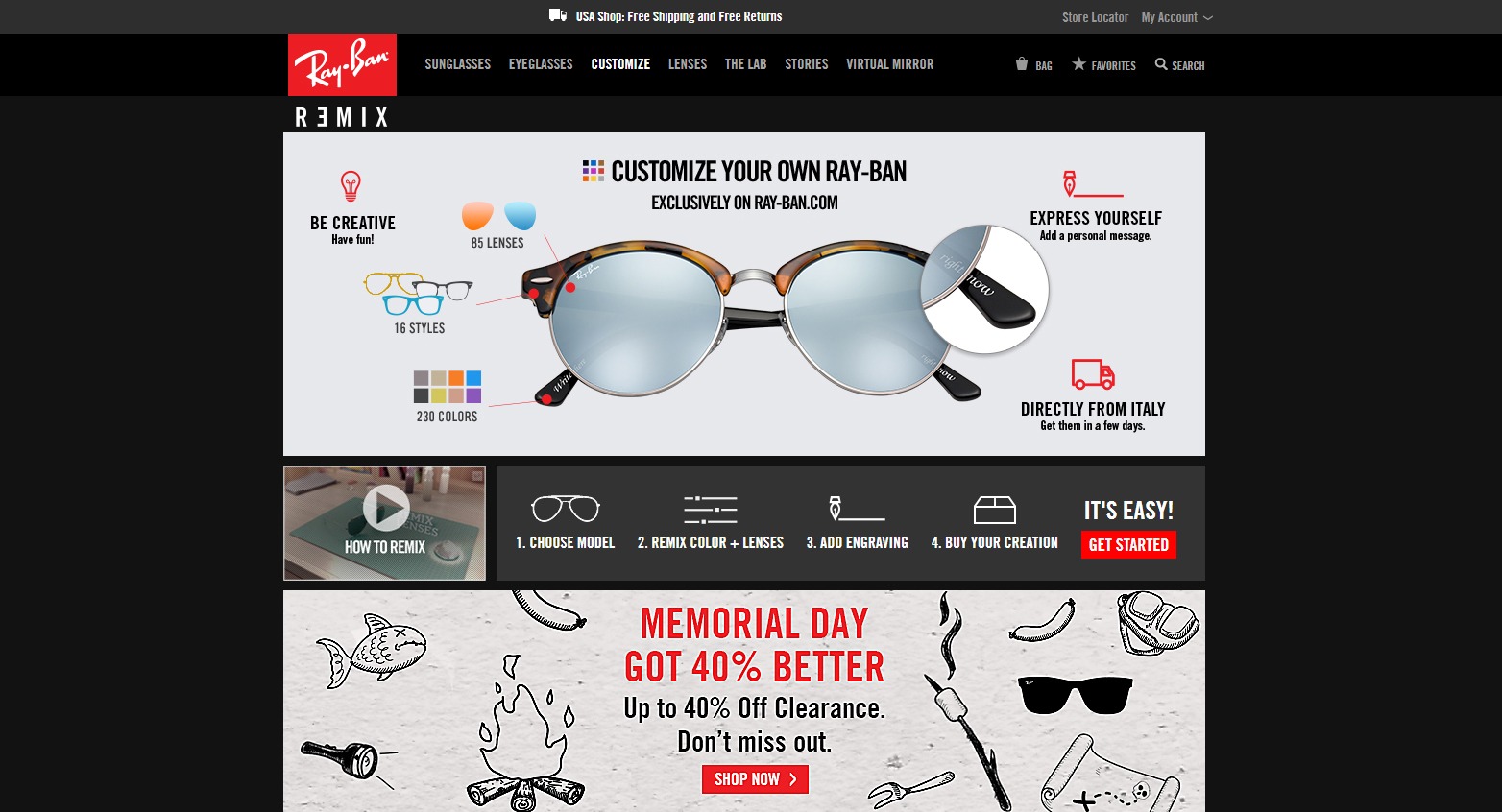 Ray-Ban from Luxottica group also allows their customers to personalize their sunglasses. In 2013 they launched Re-Mix, allowing customers to mix different frames, materials and styles in 220,000 possible variations. Now Re-Mix generates 40% of the brand's online revenue.
7. Connect Content and Commerce
The CMO Council's study, based on reviews from 287 global senior marketers found that only 5% of them have highly integrated content in their webstore, however 64% say they have plans to improve this.
Many ecommerce sites suffer from the 'two site syndrome.' This refers to segregated brand marketing and ecommerce sites basically living two separate lives. The reason: content creators and ecommerce teams often work in different offices and don't communicate with each other. Moreover, they also lack tools to overcome this problem.
According to Jarvis Macchi from Brooks England you don't need a digital strategy, but you need to embed digital in your strategy. Brands and content creators need to create stories together.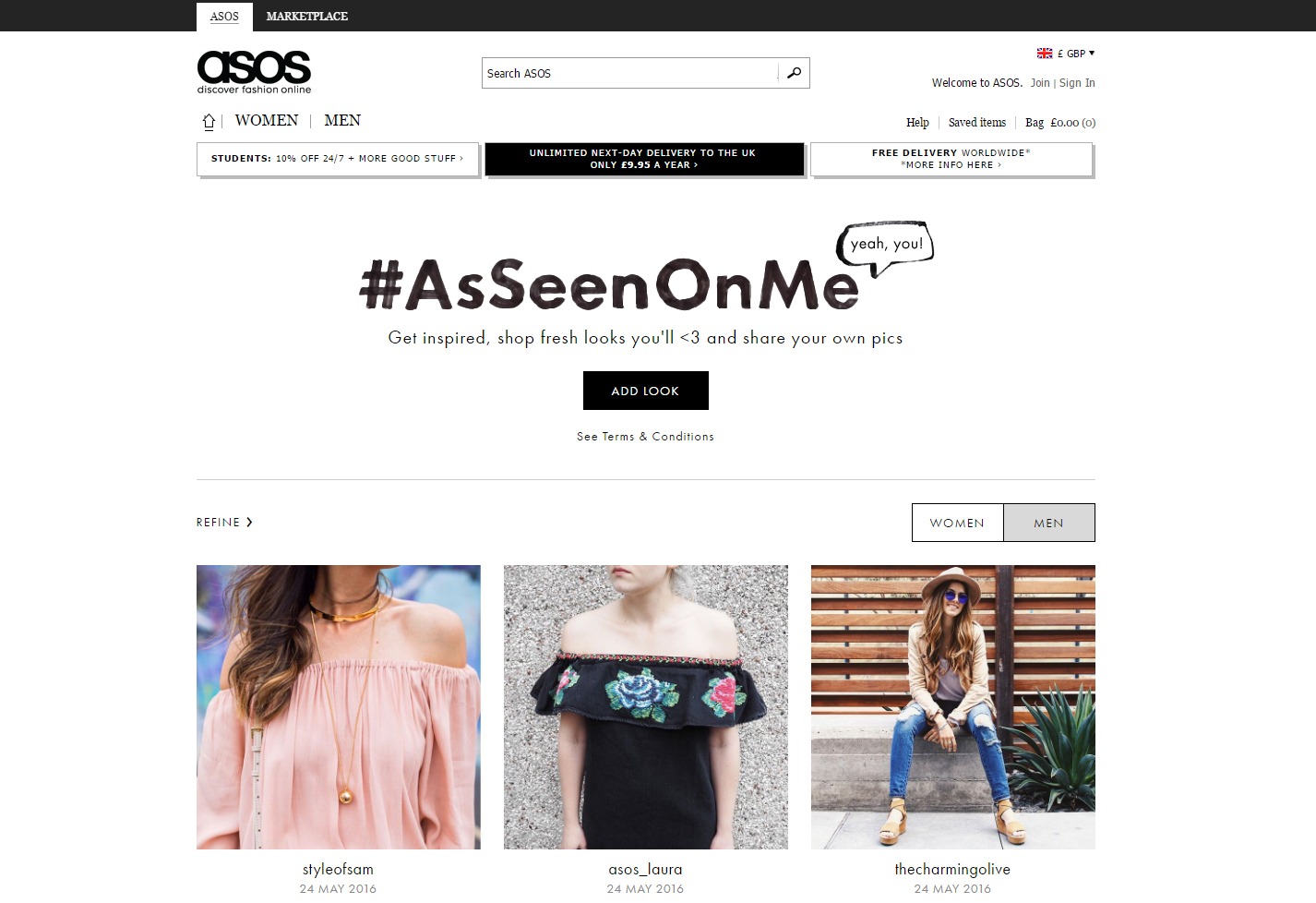 In this example from the U.K., ASOS created their "#AsSeenOnMe" platform where their community of fashion enthusiasts can show off their purchases and buy products, effectively recognizing their customers as their best salespeople and brand ambassadors.
How to Apply the Italian Fashion Brand's Lesson to Your Ecommerce Store
I understand that putting together campaigns or activities like this takes a lot of resources and means many different teams in your company need to work closely together.
You don't have to dive right into the deep end and start building your brand's story or creating a huge, all-encompassing vision… You can start small with activities like running an Instagram contest where you incentivize your customers to upload a selfie wearing their newly bought dress, or simply start rewarding your brand advocates.
I hope that this post inspired you and your team, and that it will help you to create a lovable brand and bring you a little bit closer to your customers. To get more great posts about e-commerce marketing and customer loyalty delivered straight to your inbox twice a week, sign up for our newsletter. Let's keep in touch!
The source of the cover image is dolcegabbana.com.