Before I started sketching notes for this post, a video made me remember one hot day in August of 2014. I was lying down in my comfy room, and browsing my Facebook News feed. Then I saw this video my friend had shared. She said it made her cry for hours. "What an exaggeration…" I thought, and started to play the video. I will never EVER forget the experience that video gave me. It moved me. It made me CRY. For real. And that's the power of viral marketing.
In the video, an FBI trained forensic artist drew several women without seeing them. The portraits were solely based on the women's self-descriptions. Then the artist re-drew the very same women based on descriptions by people who had just met them. In the end they compared the pictures. And the dramatic climax hit me cruelly. The self-described images were heartbreakingly plain and tired compared to the "real" faces of the women.
This video was part of Dove's "Real Beauty" marketing campaign (that launched back in 2004 (!)), and is considered to be the most viral piece of the campaign, generating 66 million views. At the same time, critics found the campaign quite controversial, but do you know what? Dove definitely presented the right ingredients, including:
Loveable brand presence
Video marketing
Shared values
Sense of mission
Well-targeted audience
These ingredients still win, and will definitely continue to rule the online marketing world for a few more years. The most innovative campaigns of 2015 proved it. Moreover, they also evolved the tactics that worked for Dove. Let's see how!
1. Humor can sell even the weirdest product in the world
Have you ever heard of a movie called Deadpool? It was all over the news, social media and billboards on the road to the nearest Walmart.
What is this movie doing on my best marketing campaigns list?
Many sources, from Forbes to Hollywood Reporter say that Deadpool, which opened in February of 2016, couldn't have ever become such a worldwide hit without the extremely viral marketing campaign that preceded it months before the premier in August 2015.
Let's see what the creative marketing masterminds behind Deadpool came up with to make the weirdest and wildest comic book character ever lovable:
Viral marketing tidbits: In December the "12 Days of Deadpool" campaign started to promote the movie's second theatrical trailer that premiered on Christmas day. The campaign included tweets, branded emojis, funny gifs (but no spoilers!) that used the fun factor that Deadpool's perverted and satirical character himself has. It's no wonder that this resulted in a Deadpool meme boom on 9gag.
Omni-channel appearance: Besides traditional movie marketing elements like teasers, TV spots, interviews with Ryan Reynolds (the actor behind Deadpool), the character appeared on Tinder, Porn Hub, even in Hyundai Super Bowl ads! All these were full of self-awareness and showcased specific characteristics of Deadpool, like his womanizer side in the Super Bowl ad in which Ryan Reynolds clones gaze at women in the most hilarious situations.
Seasonal sensitivity: As the movie premiered close to Valentine's Day, the marketing team tricked people into believing that the movie was a romcom (well, to be fair romance really did play a big part in it), and insinuated that it could be the perfect program for a couples date. And with this stunt, not just action-movie-loving men, but also drama and romcom loving female audiences' awareness was also raised toward it.
The most important proof of Deadpool's marketing success was that it could stand out in December, despite the fact that Disney's biggest franchise, Star Wars: Episode VII – The Force Awakens premiered the very same month. In the end, Deadpool became the biggest movie hit in the history of 20th Century Fox.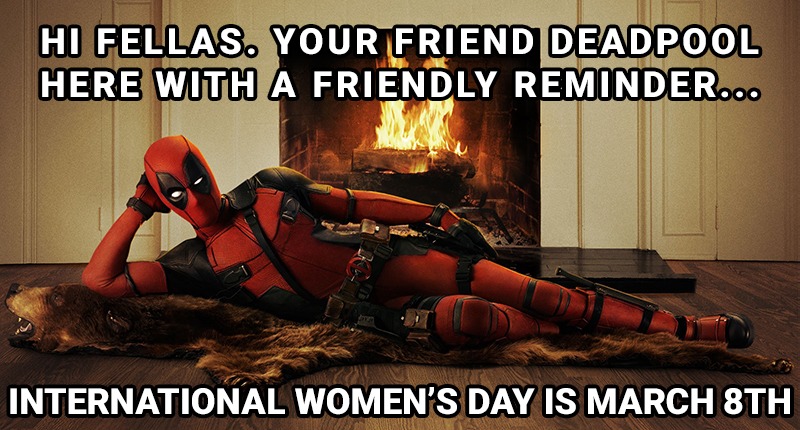 2. Even the most old-fashioned product can be sold with the right message on YouTube
When was the last time you sent a greeting card? Why even bother to buy a piece of paper and mail it when there is a quicker digital way to handle this kind of expression of gratitude?
Well, American Greetings' Cardstore wanted to overcome this disinterest toward their cards. As national Mother's Day rolled around, they teamed up with the Mullen Lowe agency, and launched the #worldstoughestjob campaign. The main promotional material of the campaign was a YouTube video in which people apply for the professional job of a mother without knowing it at the beginning. When the truth was revealed, they realized all of the hard work that their mother has done.
In the end, Cardstore's video received 24 million views, increased orders by 20%, and the shop's registered user base by 40%. Moreover, they reached their annual sales goals by May. (If you interested in learning more about Video ads, then check out our recent post about how you can create and use videos to increase your ecomm's profits.)
Cardstore created a video as part of their marketing campaign for Mother's Day that focused on the acknowledgement of the hard work of mothers.
3. Shared values increase brand awareness without borders
A Swedish men's fashion brand, Uniforms for the Dedicated wanted to promote their value of shopping with conscience.
They launched a pilot project called the Rag Bag. This is a bag that you can put your newly purchased stuff in, and then once you get home, you just need to turn it inside out, then put your unwanted clothes in it. Then just drop it into the closest mailbox. The bag has mailing stickers on it, so you can send the bag to your chosen charity, or to the default address offered by this Stockholm based label.
Why has this campaign become so successful?
The company transformed making a purchase for one, to a good thing for others, by decreasing the negative connotation of product consumption – that we are wasting money and things on our own happiness.
As a result, during the pilot project 300 bags were donated to charities in Stockholm, and then the campaign crossed the borders. Online retailers also loved these biodegradable shopping bags with their "shopping with conscience" message and ordered 1.1 million for their online customers. Besides this, the campaign received an enormous press coverage around the world.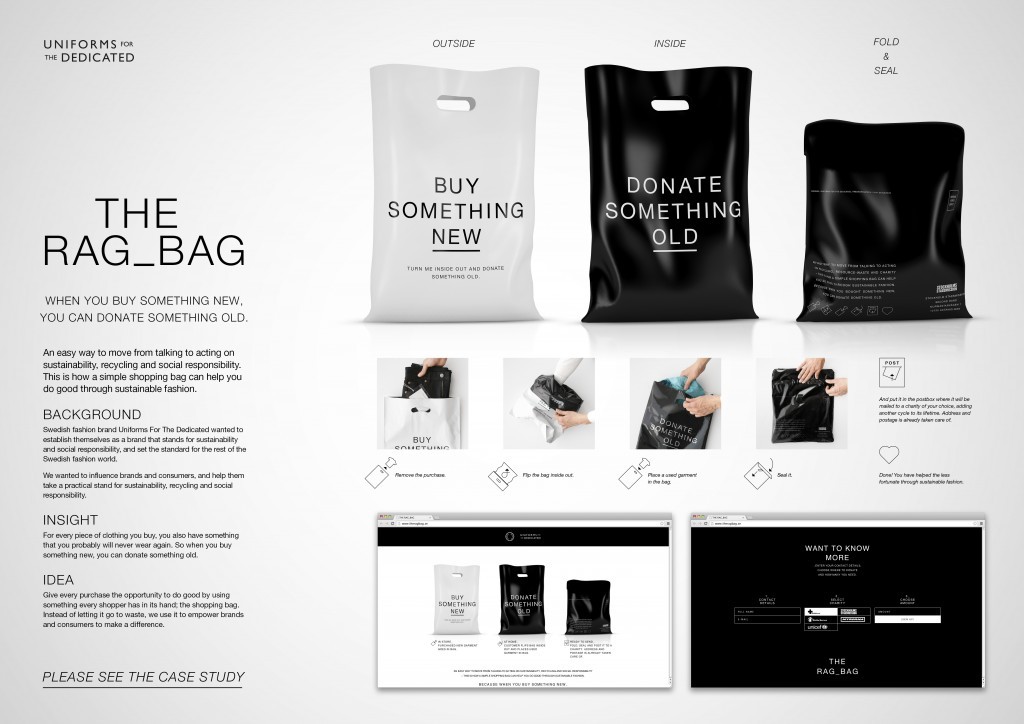 4. A sublime mission increases trust
It seems I couldn't leave out the Emmy-winning video commercial of Always, the feminine hygiene brand.
Similarly to Dove, Always has its own mission: they want to empower teenage girls by making them proud of being born a woman. That's why they launched a video commercial series in June 2014, and produced sequels during Super Bowl in 2015 and again around International Women's Day.
In the videos, they ask grown-up women and young boys to imitate a girl during certain activities like running or throwing an imaginary ball. At first, all participants make fun of this task, which insinuates that if you do something like a girl, it should be lame, and therefore insulting. After facing everyone with this interpretation, the participants realize their thinking. The final message becomes clear: doing something 'like a girl' can be a positive and powerful thing.
I'm sure that it's clear for everyone why this project went viral and generated more than 85 million views on YouTube in 150+ countries. The video was about a problem that many little girls and adult women experience in their lives. It was a personal issue that we can relate to and it plucked the viewers' emotional heartstrings.
'Always' raised awareness with its #LikeAGirl campaign to an issue that their targeted audience can easily relate to. This allowed them to position themselves as a caring brand, who values women. An extra factor in their campaign was, that they promoted it during relevant and seasonal world events, like International Women's Day, which allowed them to get even bigger exposure.
5. Snapchat's technology can illustrate a worldwide threat
We all love animals. And I'm sure that your heart also melts while seeing a cute baby gorilla clinging to its mother. But would you donate money now to save him from extinction?
World Wildlife Fund wanted to motivate younger millennials to do just this. Millennials represent a customer group that spends 26 hours in every month on social media apps, 60% of whom use Snapchat for entertainment.
Keeping in mind their targeted audience's habits, WWF illustrated how endangered animals are quickly disappearing with the unique feature of Snapchat – namely, that a selfie disappears after 10 seconds. This was the focus with their #LastSelfie campaign which went so viral that in one week nearly 40,000 Twitter users posted about it, it was seen by 120 million Twitter users, and WWF reached their monthly donation target in just 3 days!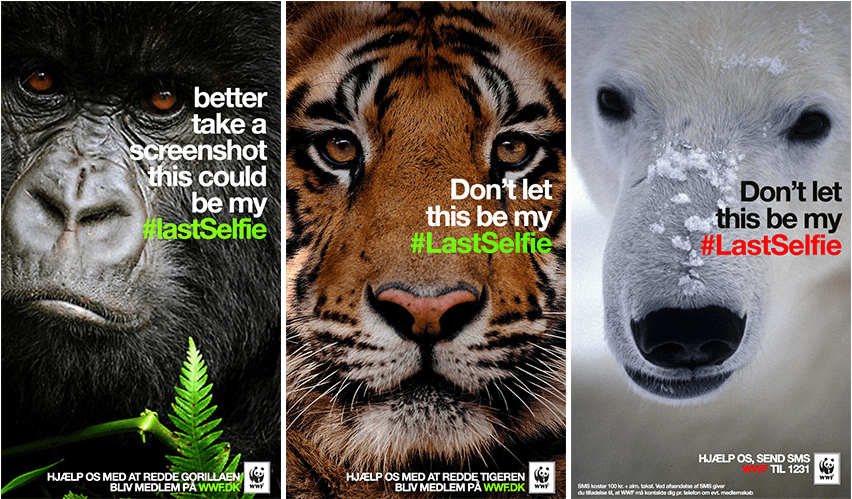 Did you notice the common factors in all of these five campaigns?
Each brand maximized their virality by taking advantage of the following factors:
Hashtags
Emotional connection
Creative campaign formats
Seasonal events
Multi-channel appearance
In light of these trends, I can't wait to see what marketing campaigns will be big hits in 2016! You can be sure that creativity won't be lacking!
Did you like this roundup of viral campaigns? To get more great posts about e-commerce marketing and customer loyalty delivered straight to your inbox twice a week, sign up for our newsletter. Let's keep in touch!