As life has started returning to normal after COVID-19, customers' demand for businesses to honor their loyalty is on the rise. However, when planning a rewards program, you might feel overwhelmed by the myriad strategies and schemes to choose from. If you would like to get a headstart on the competition, we will show you how seven well-known brands approach loyalty and the different game mechanics they've applied to keep their valuable customers by their side.
1. Amazon Prime – Shipping Convenience
Amazon, the largest e-retailer in the world, launched its subscription-based loyalty program, Amazon Prime in 2005. Introducing a membership fee might feel counterproductive in today's competitive market, but it has allowed Amazon to offer immediate and valuable privileges that free reward programs could never afford.
From the very first day of their memberships, Amazon grants Prime members unlimited access to their streaming services and offers exclusive prices and savings. The key benefit of their program, however, is shipping convenience. Members can enjoy free next-day delivery with 100 million eligible items and no minimum spend threshold. Furthermore more and more products are being added to the same-day delivery list. In select regions, Amazon indulges members with a 2-hour grocery delivery from AmazonFresh, which has been free for Prime members since October 2019.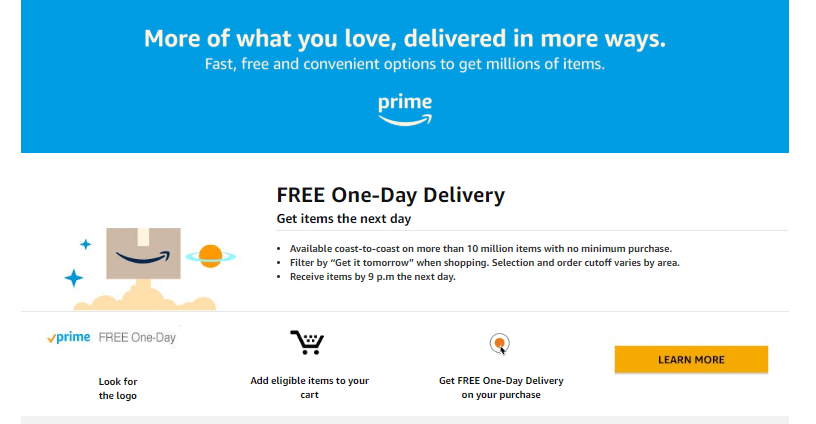 To optimize the investment that the company puts into shipping benefits, Amazon has introduced the 'No-rush shipping' option for members who are willing to wait six business days to get their orders, instead of the standard two-day shipping that they are eligible for. In exchange, members earn rewards on future purchases or immediate discounts.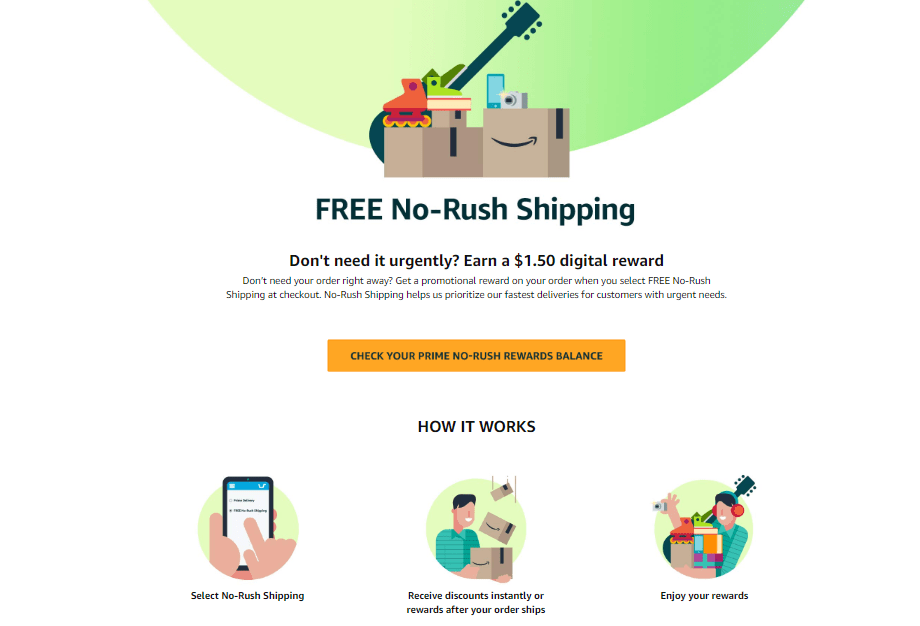 2. AutoZone Rewards – Easy-to-understand Rules
The American auto parts retailer AutoZone has a transaction-based loyalty scheme that is very easy to understand. Each eligible purchase of $20 or more in the previous 12 months earns customers a credit. After members earn 5 credits, AutoZone gives them a $20 reward, which they are free to use within 90 days.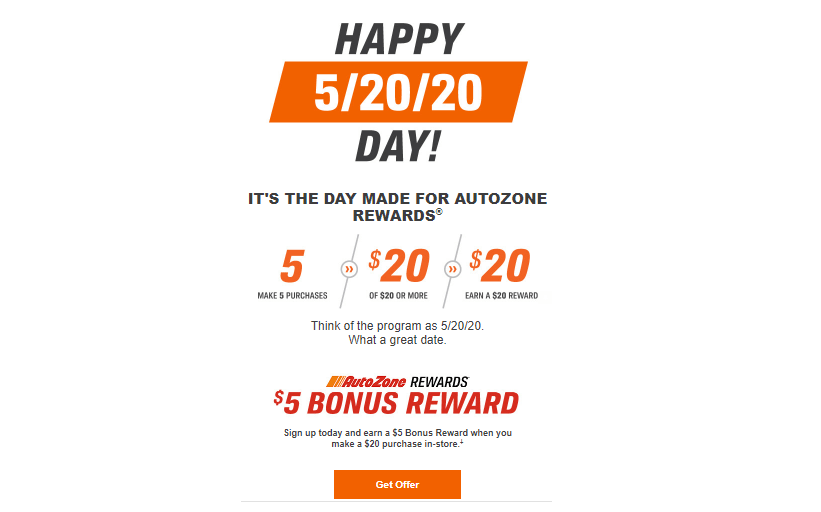 To engage customers with your loyalty program, it's really important to keep the rules simple and clear so members will know what to expect. However, if you plan to introduce limitations, you should be very cautious and make sure the communication of changes is equally as digestible. AutoZone, which introduced new expiration rules for their credits and rewards without notifying customers sufficiently, has incurred costs of $48.9 million for their oversight.
The company is still doing great things with their program, though. As plastic cards are being crowded out of customer's wallets, AutoZone's reward program is now accessible online or in-app. The downside is, customers need to download it. A more seamless alternative might be using digital cards made for Mobile Wallets, as they are available on all phone systems from the get-go.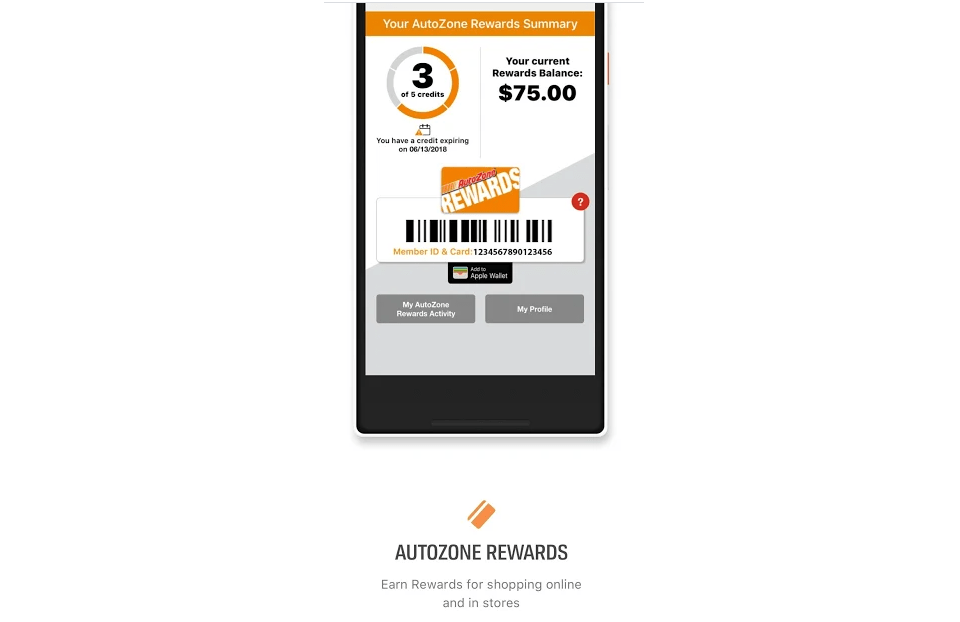 3. Kellogg's Family Rewards – Engagement Through Rewards
For FMCG brands that sell their products through retailers, it's especially important to find ways to communicate with customers directly. By building a standalone website for its loyalty program, Kellogg's is able to engage with Family Rewards members, even outside of the buying cycle.

Kellogg's was originally asking customers to enter codes that they could find inside product packaging, but five years ago it was one of the first companies to implement handier, receipt-based earning. Members can upload their online or in-store receipts via text message, on KFR.com, or send them in via email.

To make it easier to earn points, Kellogg's has partnered up with various retailers by providing an option to attach retailers' loyalty cards to Family Rewards accounts. As soon as the loyalty card is added, customers won't need to upload their receipts anymore. Instead, points will automatically be issued every time their card is presented to the cashier.
The heart of Kellogg's Family Rewards program is the exceptionally wide range of rewards they offer. This includes monthly sweepstakes, donations, free recipes, gift cards, downloadable coloring pages, books, apparel, and free discount coupons, just to name a "few"'.

4. The Vitamin Shoppe Healthy Awards – Supercharging the Loyalty Ladder
Omnichannel nutrition supplement brand, The Vitamin Shoppe, revamped its reward program a year ago. Healthy Awards is now a hybrid program that mixes the elements of traditional earn-and-burn loyalty program mechanisms with spend-based tiers and personalized rewards.
The program incentivizes repeat purchases with a complex program logic. While customers can climb the loyalty ladder by spending more (Silver membership after $200 spent and Gold membership above $700), points also accumulate faster as customers reach higher tiers.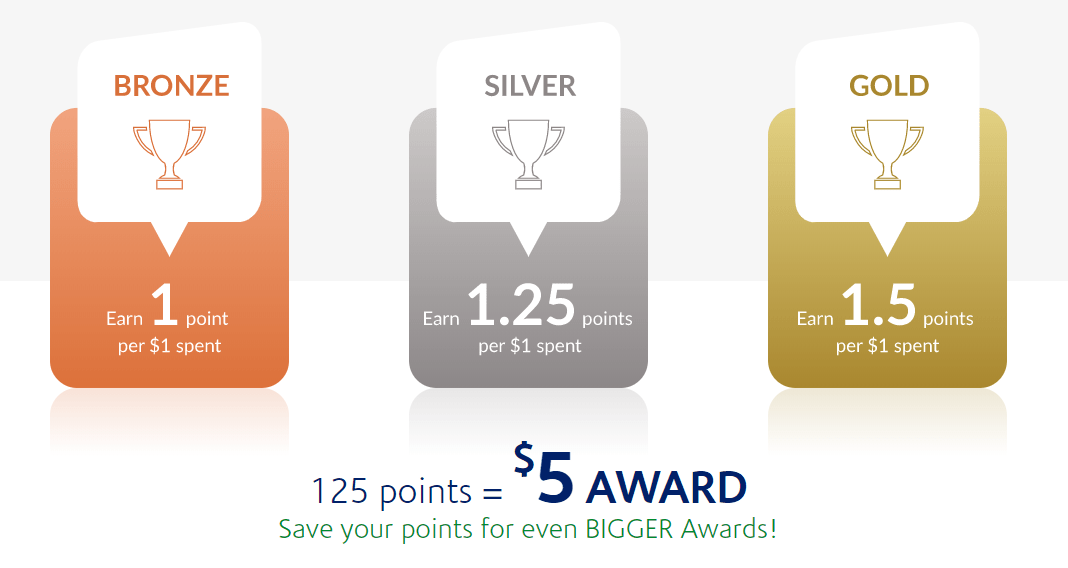 The Vitamin Shoppe offers educational content and nutritional coaching sessions as free perks for each of their loyalty members. These rewards help customers to find the Vitamin Shoppe products that support their personal fitness goals.

Like other brands, The Vitamin Shoppe responded to the COVID-19 crisis by introducing contact-free pickup and online community events, but the nutrition company didn't forget about their loyalty members and well-deserved rewards either. The validity of rewards has been extended from 60 to 90 days to ensure that everyone can use their coupons in time.
5. Uber Rewards and Uber Pro – Stress-free Rides with Successful Drivers
Uber is constantly expanding its loyalty programs, Uber Reward and Uber Pro, to new locations, targeting both potential customers and drivers.
Uber has implemented a point-based tier program for both audiences with tailored incentives and benefits.

Employing the traditional earn-and-burn strategy, the Uber Rewards program offers customers $5 in Uber Cash after collecting 500 points for eligible Uber rides and Uber Eats deliveries.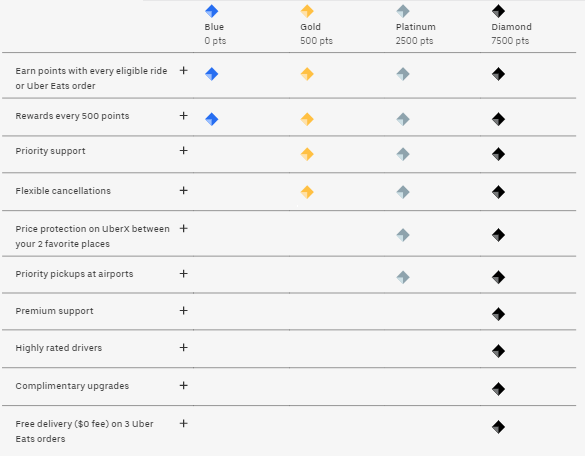 By earning points, members can level up to higher tiers, unlocking benefits that make using Uber stress-free. Gold members are allowed to rebook their ride without a cancellation fee, Platinum members get price protection between two of their favorite destinations, while Diamond status indulges customers with complimentary upgrades and 24/7 support.
To encourage drivers to provide customers with a great riding experience, Uber started beta-testing Uber Pro two years ago. Drivers can advance to higher statuses not just based on the number of rides accomplished, but also on the ratings they receive from their customers. In addition to cashback on gas and 25% off car maintenance, drivers can get access to roadside assistance, priority support, or even 100% tuition coverage.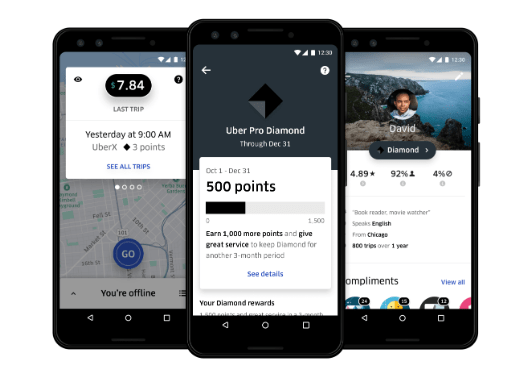 As an act of goodwill during the coronavirus crisis, Uber added six months of gratis Uber Rewards status to Gold, Platinum and Diamond members, and also showed their generosity by transporting healthcare workers for free.
6. The North Face VIPeak – Million Ways to Earn
Outdoor lifestyle company The North Face has built a reward program that uses the power of financial rewards to motivate customers to make repeat purchases, engage with the brand and stay in touch at every channel – the behavior that every brand seeks.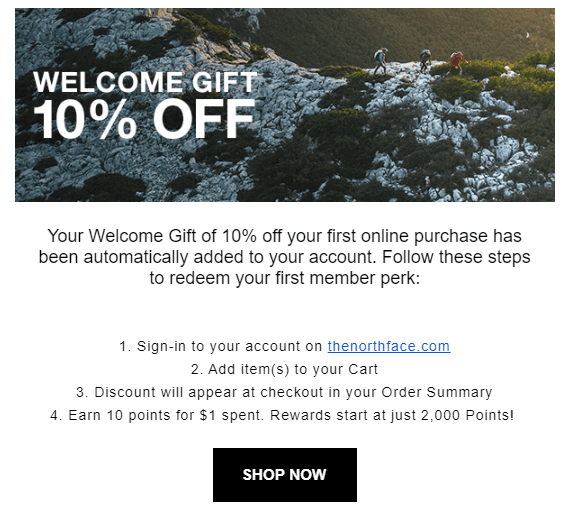 The program divides the year into three, four-month-long Peak Points Windows, in which customers can earn points in order to get a coupon at the end of each period. For every $1 spent online or in-store, customers get 10 points, plus there are plenty of soft actions to earn points with. Referring friends, downloading The North Face app, checking in at stores, completing a survey, using a reusable bag or participating in a campaign are all ways for members to earn additional points.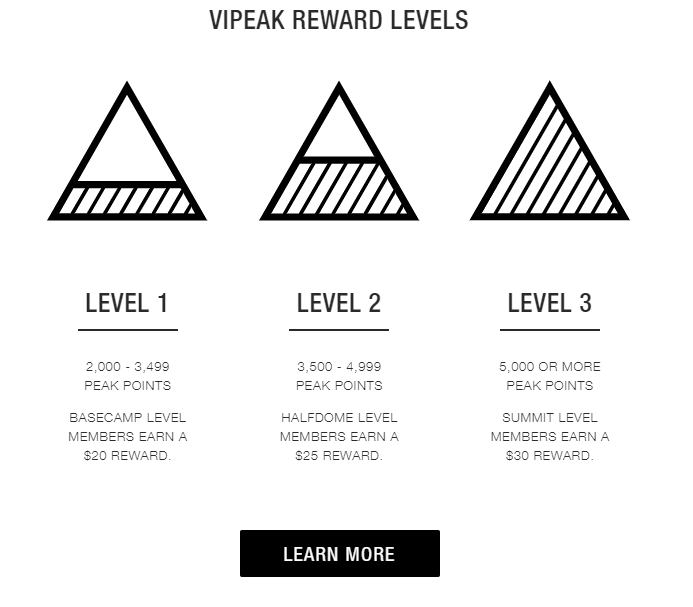 Despite the innovative point earning options, VIPeak unfolds only one way to reward customers: the discount coupon earned in the previous Peak Points Window. The program terms proclaim that members might be offered with further opportunities to use their points, however the details remain unclear.
7. The Home Depot Pro Xtra – Run Your Business with Ease
To honor their best customers, The Home Depot launched a loyalty program for professional customers who purchase work equipment and commodities at a high volume. With all the benefits that it offers, the Pro Xtra program helps professionals increase their profit margins by saving money, time and effort.
After logging in, customers can access My Pro Xtra Workbench to find and export all historical purchase data and invoices, so the data can be easily imported in their accounting software. Pros can issue buyer ID cards with spending limits for their employees ensuring all company expenses are tracked on the same account, and with the Text2Confirm solution in-store employee purchase authorization is quick and easy.

The program helps save money on each project. A volume discount is applied on each purchase of $1,500 or more, plus there are over 4,000 items available in The Home Depot spread with bulk pricing.
Conclusion
Now what if we mix the list of companies and the description of their reward programs. Would you be able to match them up again? I'm sure you would be. We've seen loads of companies use traditional earn-and-burn solutions, adding perks or tiered discounts and introducing point earning options of all kinds, but what do the above programs have in common? They each reflect brand essence and reward customers with tailored benefits.
Antavo has worked with well-known organizations such as Benetton, PepsiCo, Toys"R"Us, ABInBev and the NBrown Group to help their brands improve customer retention. If you want to know more about designing and launching an enterprise-grade customer loyalty program, check out our ebook.