Multinational food manufacturer Kellogg's doesn't require much of an introduction. We've all probably poured one of their treats into a bowl on a busy morning, or at least seen their highly recognizable mascot on store shelves. But did you know that the company also runs a loyalty program called Kellogg's Family Rewards? We were curious whether this reward system is able to live up to the cereal giant's name, so we decided to put the Kellogg's rewards program under the looking glass. And the results? Well, you'll see.
Membership Page
Kellogg's rewards program follows the principle of "show, don't tell" on its website. While many other companies use the home page of their loyalty program to share the general benefits of the system, Kellogg's cuts right to the case, showcasing its top products and rewards in a catalog-style manner.
Focusing on a gift portfolio instead of membership benefits can only work if you're running a purely earn & burn program. In the case of a tiered program, which is more sophisticated where not all rewards are instantly available, it's more important to display the tier chart so customers get a solid understanding of their progression.
Moreover, visitors don't need to be logged in to see which rewards, offers and coupons are currently available. Again, some companies like to hide their trump cards from unregistered members, but sometimes being upfront about the benefits is more effective when it comes to encouraging enrollment.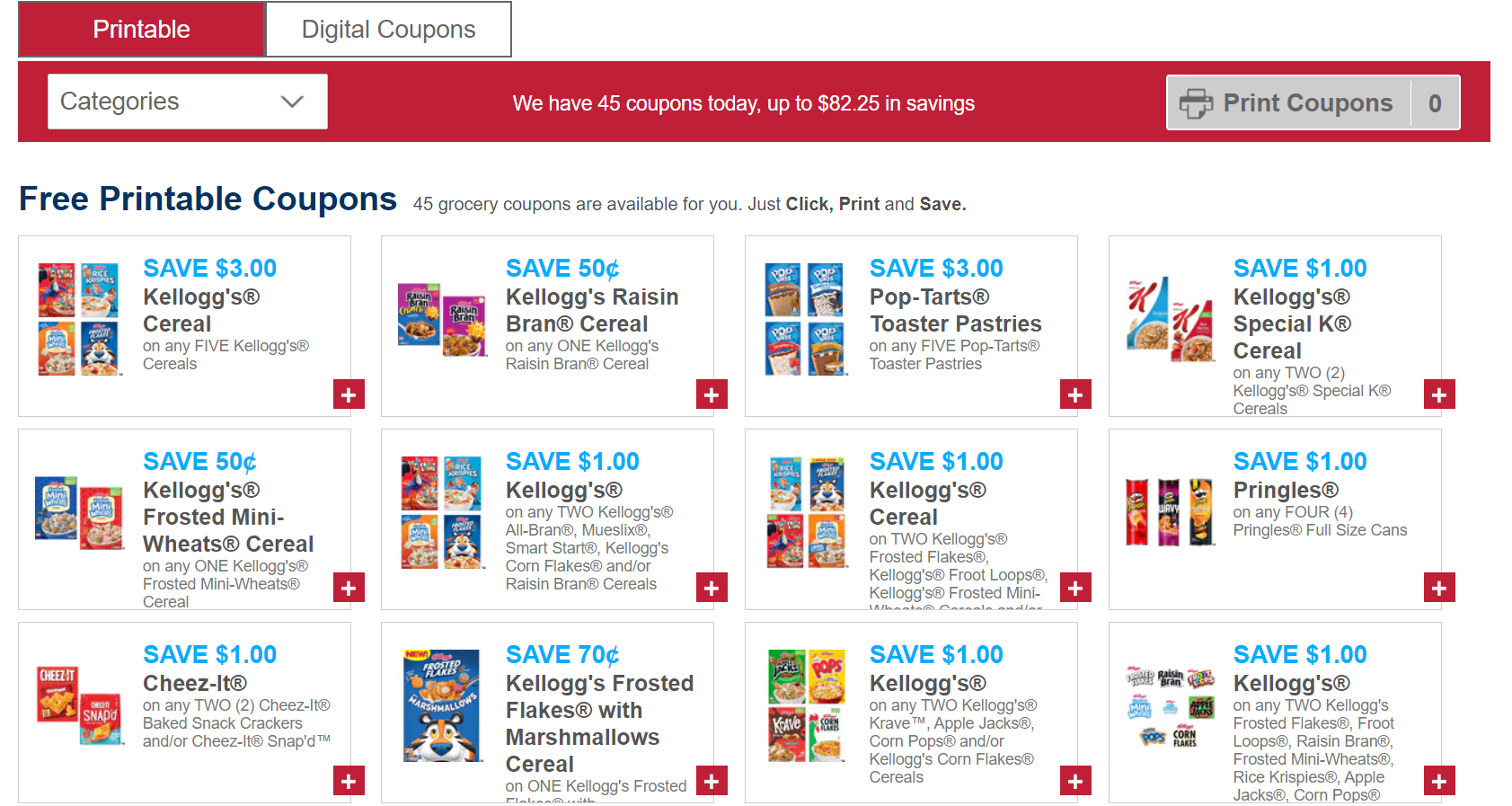 Enrollment
Kellogg's deserves another bonus point for a stylish registration page that reinforces the value propositions of the loyalty program. The company collects the most basic information (including name, gender, birth date, location), and then requires you to verify your account by entering a code sent via email.
The overall process is fairly standard and quick, though it could be sped up even more by asking only for login credentials, then asking customers to complete their full profile later for bonus points — a system Kellogg's rewards program already has, just with a few tweaks.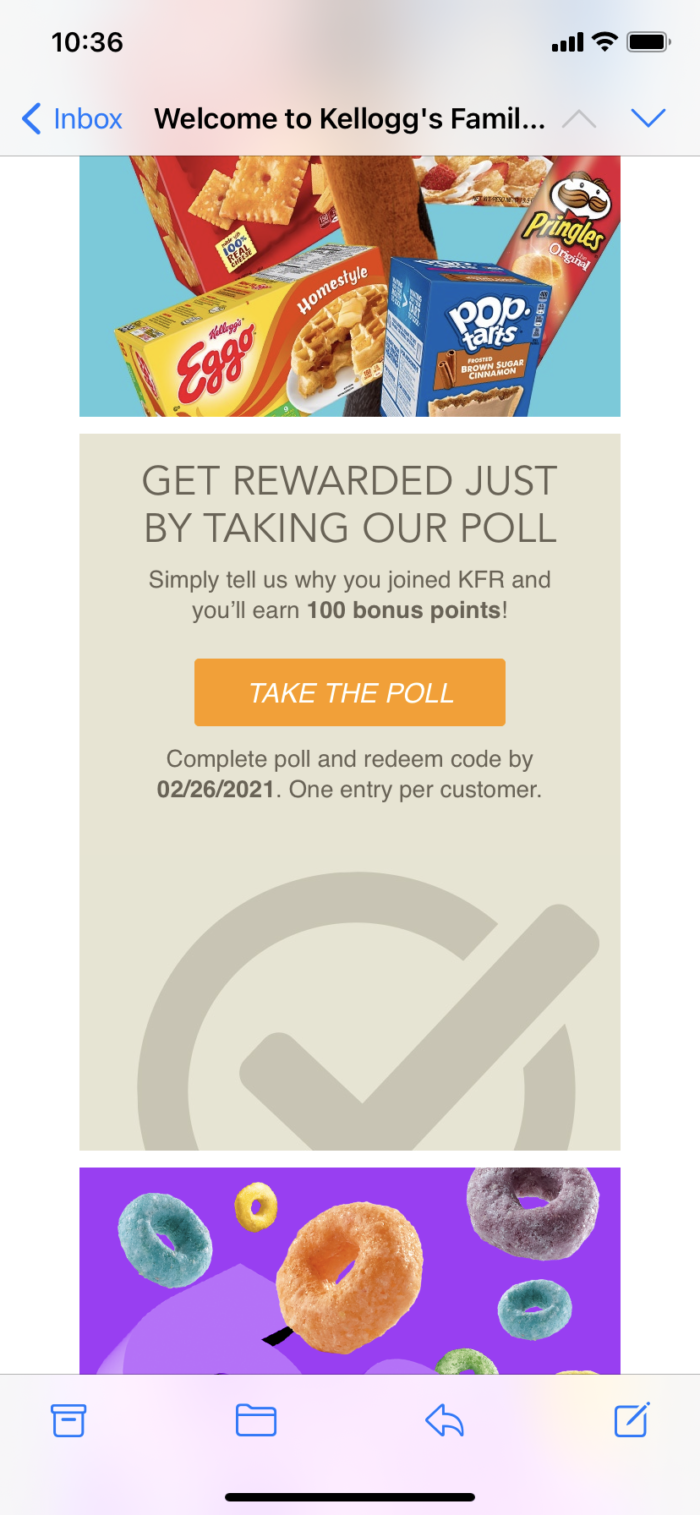 Looking to boost personalization for your marketing activities? Using gamified profiling within your loyalty program is the most efficient and cost-effective way to do so!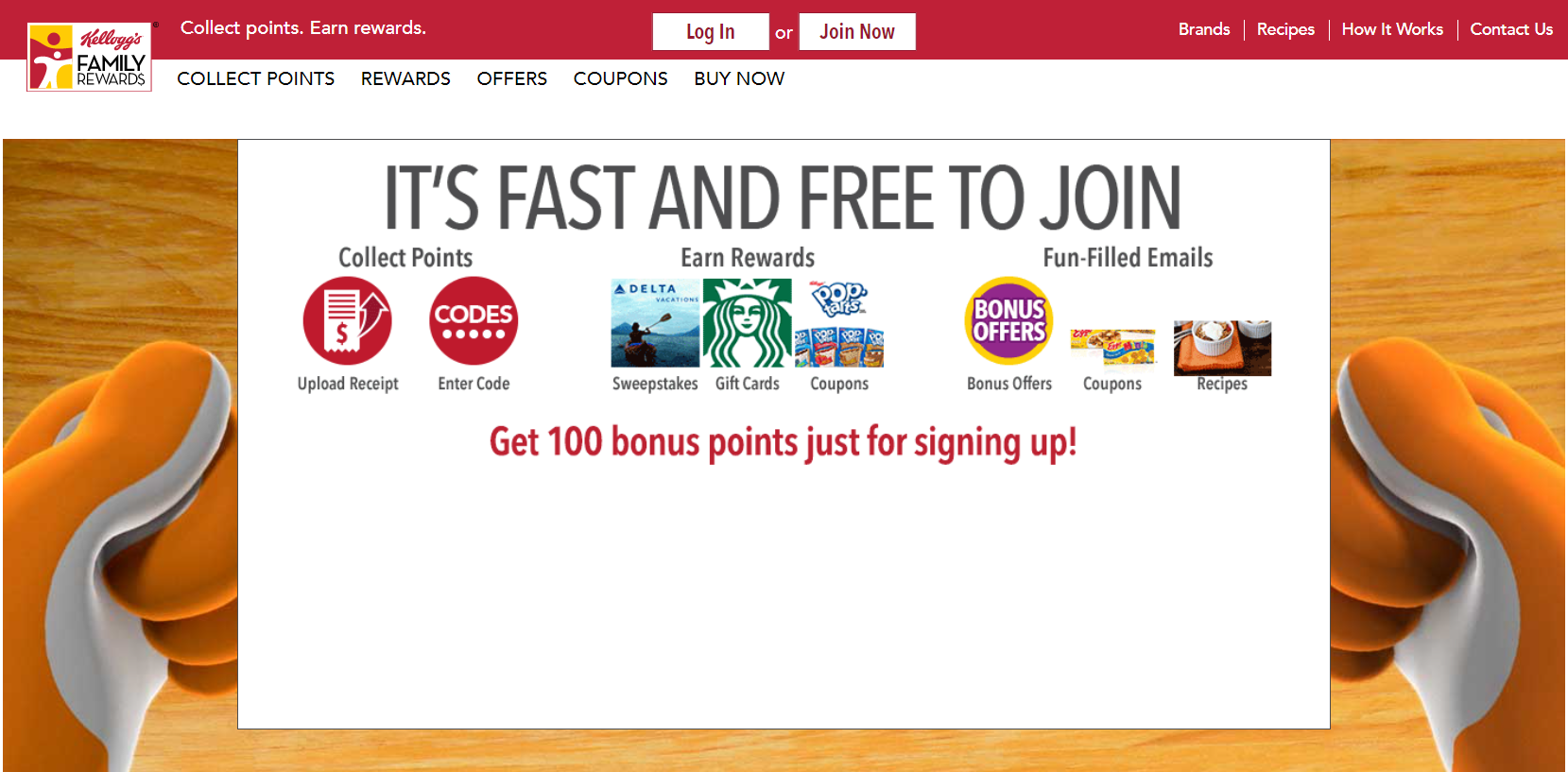 Point Accrual
Since Kellogg's sells its products through retailers, the most reasonable solution is to reward customers for uploading their receipts — which the company does. The real challenge, however, is to make it worthwhile for members to follow through with the upload process. Knowing that receipt uploads are the core pillar of its loyalty program, Kellogg's issued three actions:
The receipt upload page goes out of its way to explain the different ways to submit a receipt, both digital and physical. Members can also watch a tutorial to receive 100 points

The first receipt upload yields 100 bonus points, motivating reluctant members to give the system a try

Kellogg's Family Rewards runs limited-time donation campaigns, where every uploaded receipt contributes to a good cause, which is powerful encouragement
And to make it easier to earn points, Kellogg's has partnered up with various retailers to provide the option to attach retailers' loyalty cards to Family Rewards accounts. As soon as the loyalty card is added, customers won't need to upload their receipts anymore. Instead, points will automatically be issued every time their card is presented to the cashier.
Transactional & Non-transactional Activities
As mentioned above, the main way to earn points is to buy a Kellogg's product and upload the receipt. The company also runs limited-time campaigns where certain products — new flavors in particular — are worth double points.
Dedicating a team to running seasonal and thematic loyalty campaigns not only keeps the concept fresh for customers but also supports your brand's marketing activity.
In terms of non-transactional activities, Kellogg's loyalty program incentivizes profile completion, first-time receipt upload, first-time reward redemptions and so on.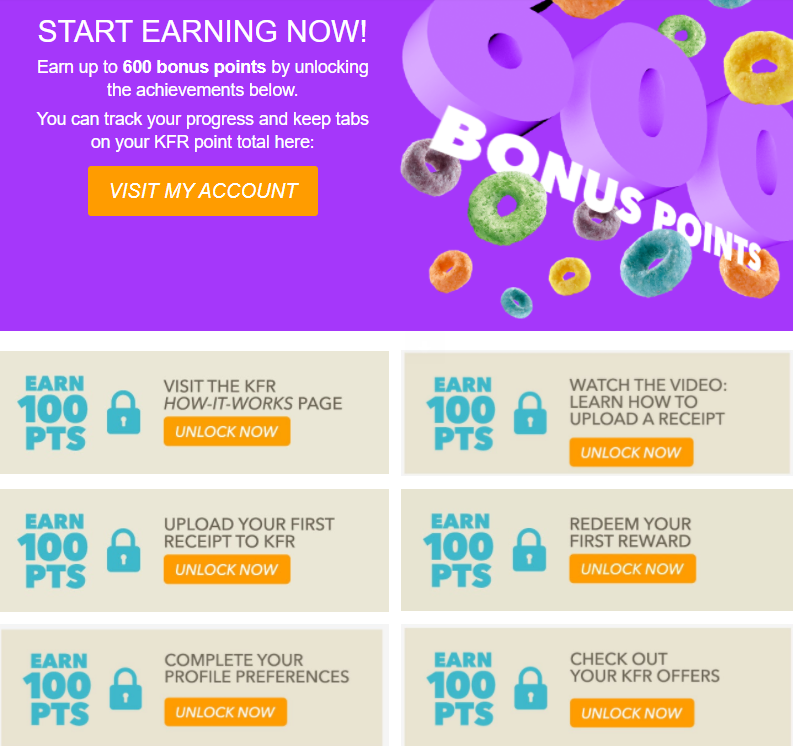 Rewards
Kellogg's rewards program is an earn & burn style program, meaning that the main activity is collecting points in various ways. These points can then be spent in the rewards catalog in exchange for a multitude of benefits.
The heart of Kellogg's Family Rewards program is the exceptionally wide range of rewards they offer:
eGift cards for partners such as Nike, Sephora, Barnes & Noble, Xbox

Restaurant and movie coupons

Branded merch (backpacks, socks, tumblers, etc.)

Donations to charities

Free recipes

Free digitally downloadable games for children (coloring books, matching tiles, etc/)

Prize draws
By including its partner network, Kellogg's is able to deliver a colorful reward catalog. It features physical and digital rewards, free gifts as well as coupons and gift cards. Thumbs up!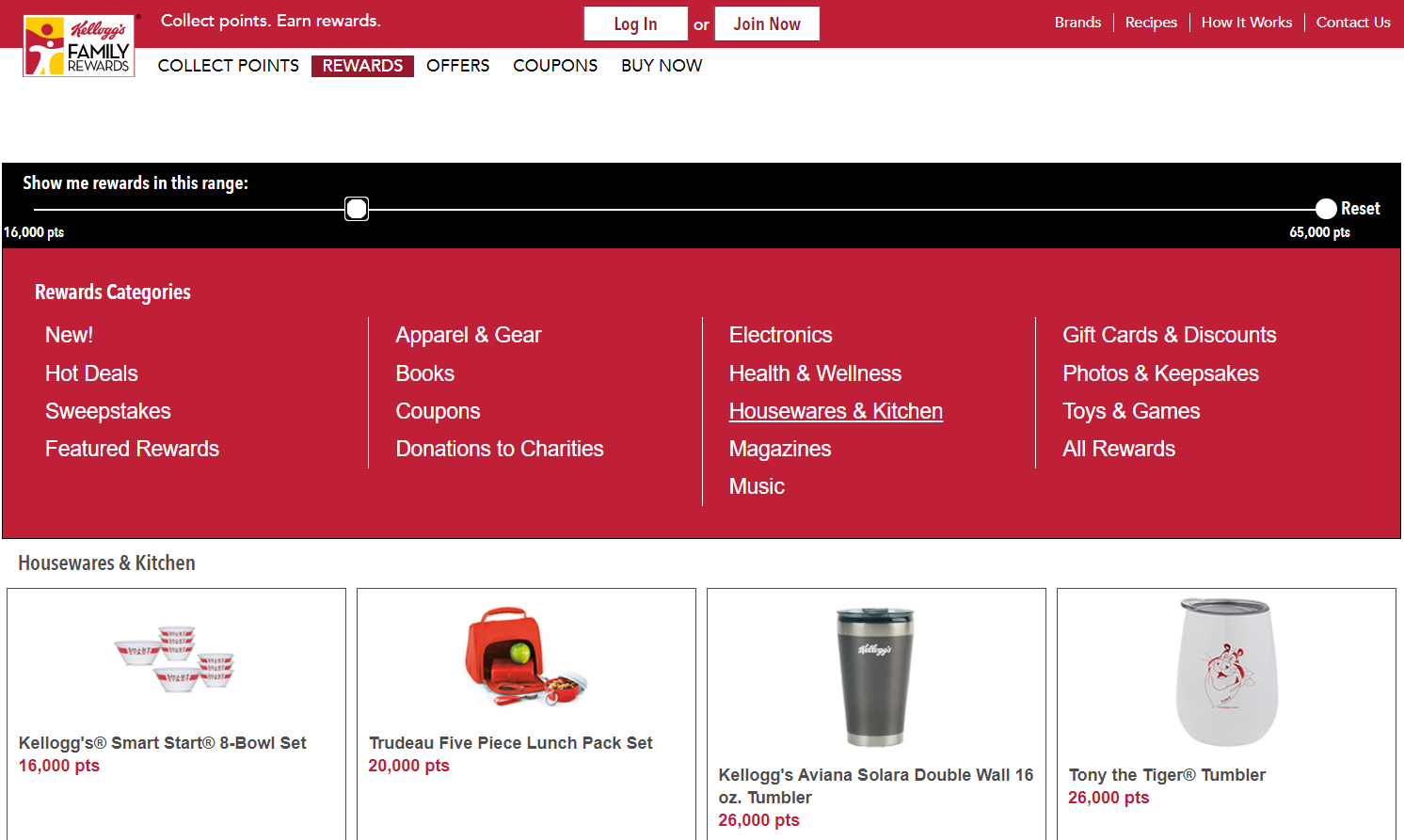 Loyalty App
If there's one area where Kellogg's Family Rewards is lacking, that's in mobile support. Without a dedicated loyalty app, the company is missing out on valuable customer touchpoints.
For starters, uploading receipts would be far easier using a loyalty application, thanks to the built-in functionalities it could provide. Also, apps are now able to support easy one-tap enrollment, further streamlining the registration process.
Lastly, a dedicated app can be a great, go-to way to stay in touch with customers. For instance, using push notifications to inform them about the latest offers, deals and rewards.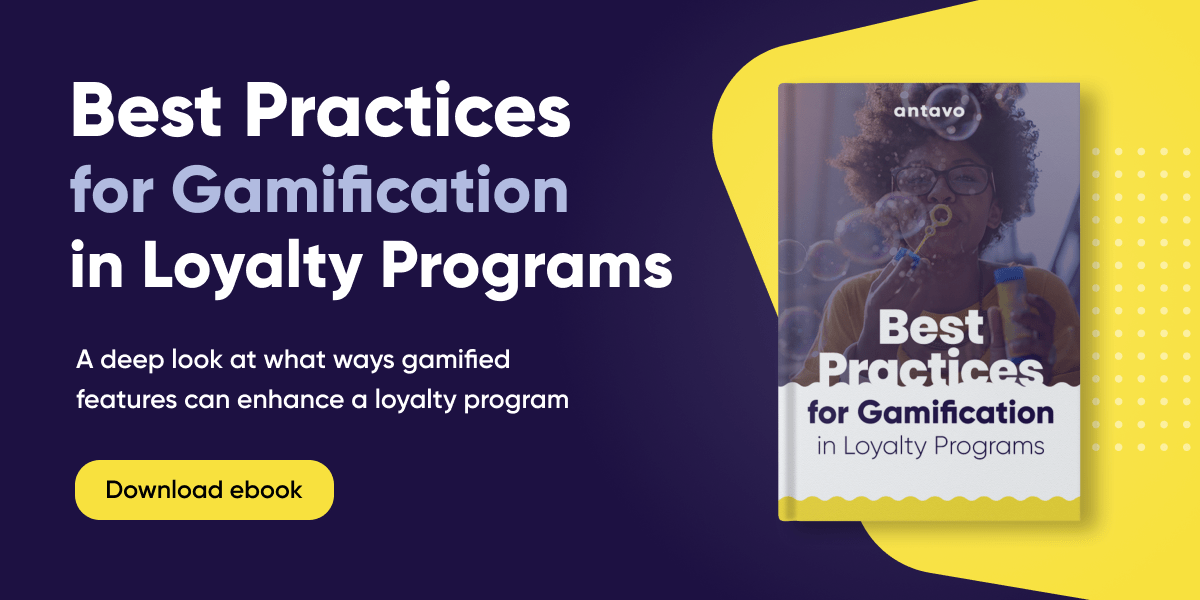 Final Judgement
Summarizing the pros and cons of Kellogg's rewards program, we can say that they are on a good track. Still, there is an opportunity for them to make the program even more effective.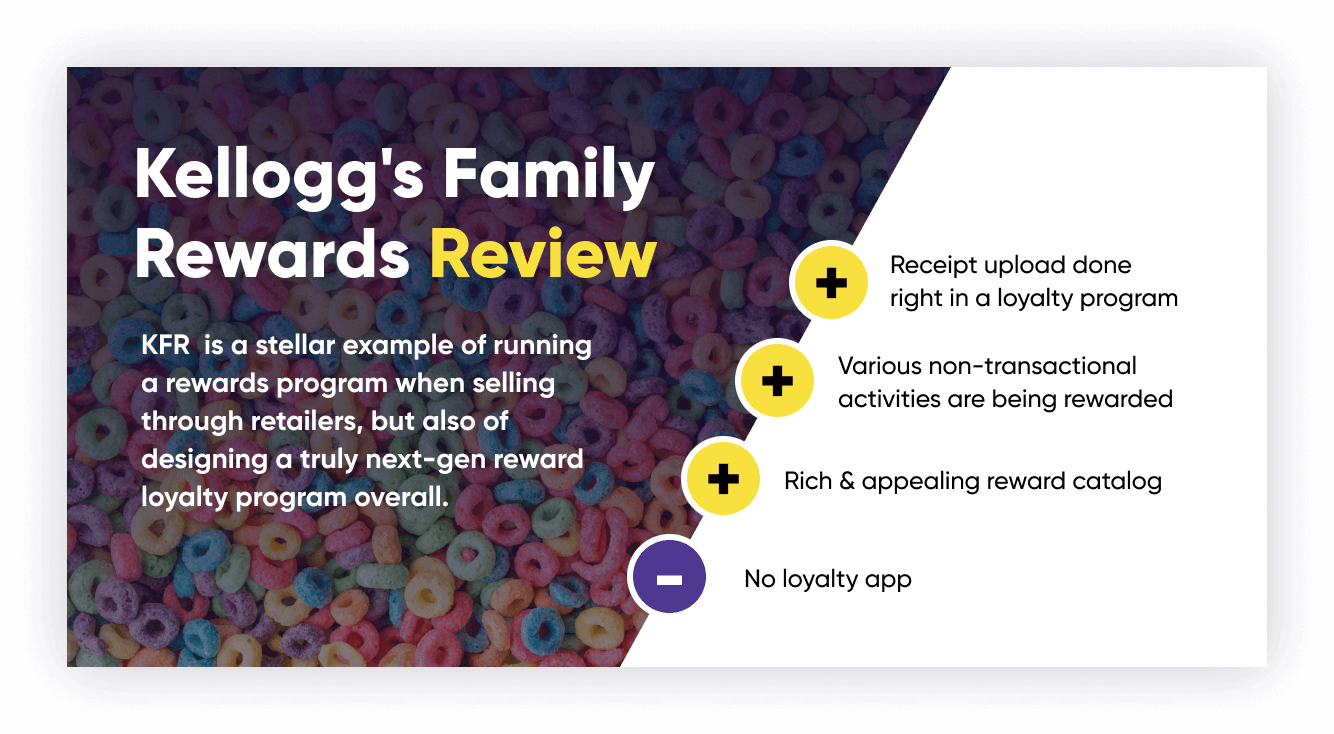 If you wish to learn more about next-gen and enterprise-grade loyalty programs, our blog section offers educational articles and guides, including one about food & beverage loyalty programs.

Already have a loyalty concept? Our experts are more than happy to discuss how Antavo's technology can make it into a reality, so feel free to include us in your RFP or contact us directly.

Also, check out our case study on the loyalty program we run for specialty beer retailer: