Watch video and see
how this works in action
Designed & Developed by Antavo: The Loyalty Experience Kiosk
Capture shoppers' attention
The Kiosk is a fun and exciting physical touchpoint your customers can engage with while shopping in the store.
Quick and Easy Access Through QR code, NFC & Facial Recognition
Customers can use the wall-mounted Kiosk as a gateway to access their loyalty program profile and interact with store-exclusive offers & fun games.
For zero-friction enrollment and seamless login, customers can connect with facial recognition, QR code or Apple & Google Pay-supported NFC tech.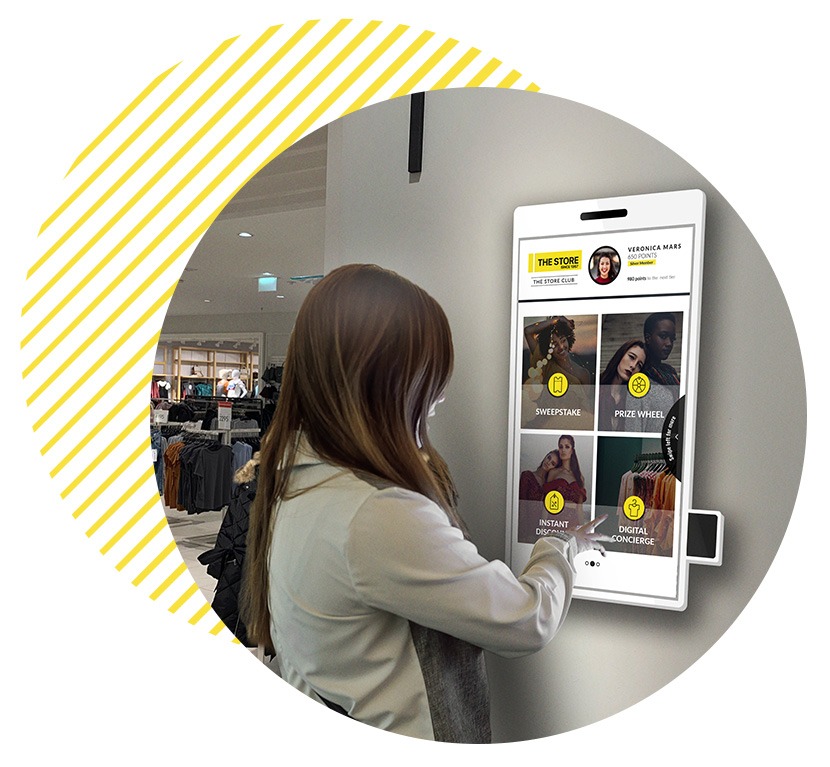 Gamified Store Experience
Use the kiosks to drive more customers to your stores, learn more about their product preferences, and provide a great experience.
56% of Gen Z customers say that a fun in-store experience influences where they shop. On top of that, the gamification market size is predicted to reach $40 billion by 2024!

This is the age of Retail 2.0.
Features and Use Cases

Incentivized profiling

Collect valuable customer information using quizzes and get to know the shoppers in your store by asking about preferred product type, favorite color, or shoe size.
You can even use the quiz to find out more about your customers' personalities and values.

Features and Use Cases

In-store Treasure Hunt

Thematic treasure hunts encourage customers to have fun, explore your store, and discover your latest products. When started, the challenge is automatically loaded onto the customer's mobile phone.

Features and Use Cases

Prize Wheel

Invite customers to spend loyalty points to spin the Prize Wheel for a chance to win store-exclusive rewards. This type of gamified experience is especially attractive to Generation Y & Z customers, who enjoy the thrill of risking their points for the opportunity earn bigger benefits.