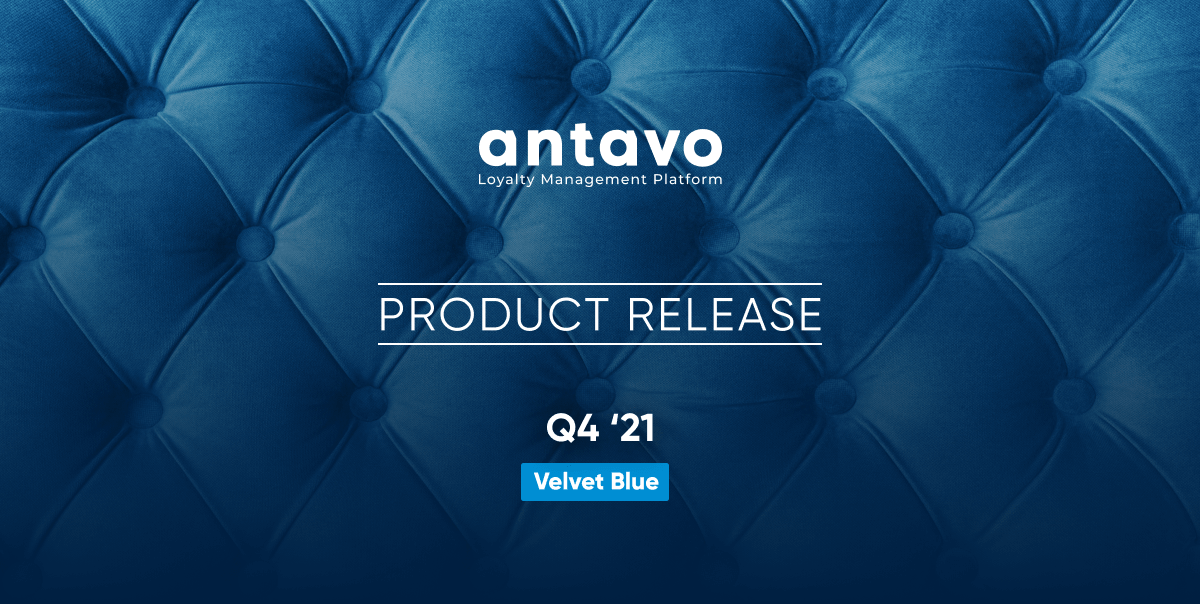 Antavo Announces Velvet Blue Product Release, Improving Time to Value for Marketers
February 3, 2022
Antavo launches its most recent product release and video event for Q4 2021. Named Velvet Blue, the release encompasses a range of developments that help marketers use their data better and get their campaigns to market faster. Among the updates include time-saving Campaign Blueprints, deeper integrations with Salesforce Marketing Cloud, and improved Quizzes & Challenges.
The updates included in the Velvet Blue release were created to help loyalty marketers ensure their work maximizes value and aligns with their strategic goals, faster, without compromising the customer experience. Our development team is committed to the experience our users have. We understand that improving time to value is one of the most important factors for increasingly agile teams in a fast-paced business environment.
Included in the release are improved content quizzes, which are now available for mobile apps, as well as catalog-based earning options, which give marketers even more flexibility in how customers can earn points.
Enhancements have also been made to improve the platform's adaptability and compatibility with Salesforce Marketing Cloud. Marketers can now fully configure how data fields are integrated for SFMC.
Additional time-saving improvements include the platform's new Route Highlighter functionality, which visually displays how each campaign or workflow was executed. And, to help marketers get their campaigns to market faster, a recently-added Blueprints feature gives users access to a set of pre-made workflows that cover common campaign scenarios.
"When it comes to customer satisfaction, it's our clients who know what's truly best for their target audience. As a loyalty technology provider, it's our responsibility to provide all the help they need to reduce the time to value of their work, making them even more effective in the areas they already excel in." – Viktor Fasi, Head of Product at Antavo
The features in this article are just a sampling of features in the Velvet Blue product release. The full product release is available in PDF format and as an on-demand launch event video.
The on-demand event video and full product release are available at https://antavo.com/releases/velvet-blue-product-release/
About Antavo
Antavo is a pure-play loyalty technology provider that builds comprehensive loyalty programs to foster brand love and change customer behavior for brands, retailers, and shopping malls. With a scalable and holistic loyalty logic, Antavo supercharges the marketing strategy of omnichannel and e-commerce companies, and delivers a next-level shopping experience with best-in-class in-store capabilities. Antavo was listed as a Representative Vendor in Gartner's 2020 Market Guide for Loyalty Management and was included in Forrester's Now Tech: Loyalty Marketing Q4 2020, and Now Tech: Promotions And Offer Management Providers, Q3 2021 reports. As a global company, Antavo empowers clients like BMW, Lagardere, Benetton Group, Jimmy Jazz, Telarus, Luisaviaroma, the N Brown Group and BrewDog. For more information, visit antavo.com.
Media Contact
Antavo
Eva Bacsi, Marketing Director