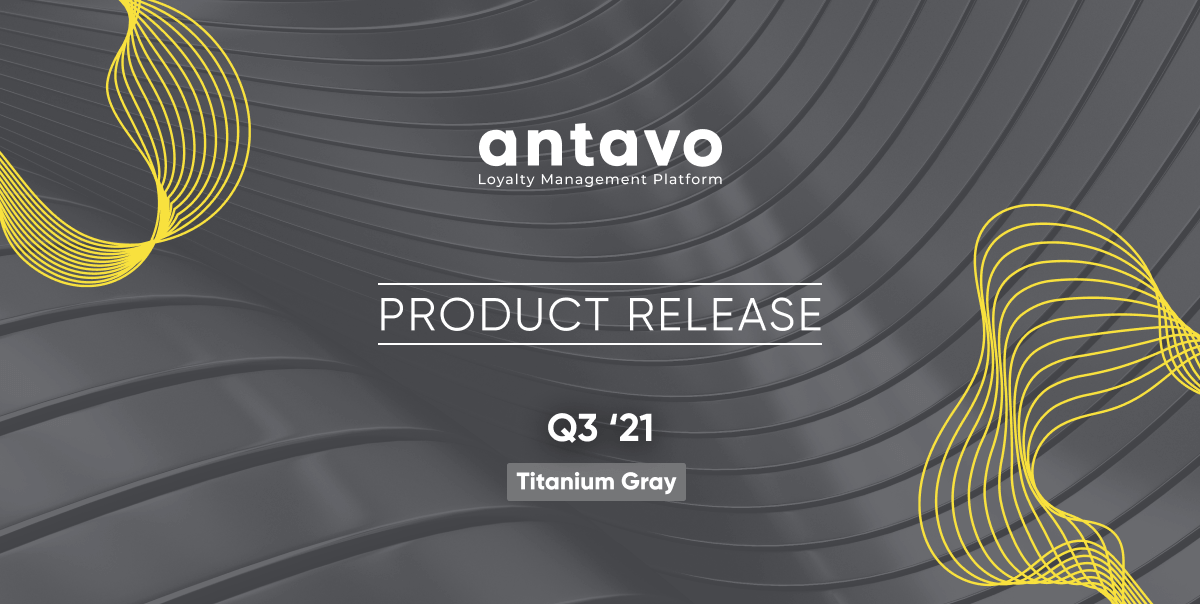 Antavo Announces Titanium Gray Product Release Focused on Security, Performance and Compliance
October 28, 2021
Antavo's latest product release for Q3 2021, called Titanium Gray, introduces improvements surrounding security, compliance, performance and includes additional platform updates. This product release was accompanied by a video tour of the update, launched on October 28, 2021. Update highlights include enhanced authorization options, the ability to optimize the number of API calls, and enhanced GDPR compliant logging.
The majority of the updates in this release are around security, compliance and performance, to help clients protect their business resources, maintain customer trust, and provide a better experience. For example, in terms of authentication, platform users can now choose from two options: using Google-supported MFA (Multi-Factor Authentication), or using SSO (Single Sign-On) with a custom service provider.
Antavo has also made a number of changes in session handling to ensure the loyalty platform meets even the highest security standards of its clients. The Loyalty Management Platform now meets all the requirements for the Ukatemi Pentest Certificate and the ISO-27001 standards. As a sign of confidence in its product, Antavo also launched an official Bug Bounty Program, inviting independent security professionals to provide feedback.
In addition, the update includes improvements in how API responses are managed through enhanced pagination capabilities, ensuring users have access only to relevant sections of the platform.
Finally, Antavo has made significant compliance updates, including improved GDPR compliant logging, enhanced audit logs that keep track of user activity, and expanded liability reporting capabilities.
"You can never take data security too seriously. Running a loyalty management program means that we're processing our clients' customer data, which is why we're dedicated not only to meeting regional and international security standards, but also to putting our clients' minds at ease by giving them all the tools and measures they need to handle security." -Viktor Fasi, Head of Product at Antavo Loyalty Management Platform
This is a unique product release as Antavo has released a video launch event coinciding with the product release PDF documentation. The event premiered on October 28 and features an overview of the updates led by the company's CEO, Head of Product and Head of Customer Success.
The on-demand event video and full product release details are available at https://antavo.com/releases/titanium-gray-product-release
About Antavo
Antavo is a pure-play loyalty technology provider that builds comprehensive loyalty programs to foster brand love and change customer behavior for brands, retailers, and shopping malls. With a scalable and holistic loyalty logic, Antavo supercharges the marketing strategy of omnichannel and e-commerce companies, and delivers a next-level shopping experience with best-in-class in-store capabilities. Antavo was listed as a Representative Vendor in Gartner's 2020 Market Guide for Loyalty Management and was included in Forrester's Now Tech: Loyalty Marketing Q4 2020, and Now Tech: Promotions And Offer Management Providers, Q3 2021 reports. As a global company, Antavo empowers clients like BMW, Lagardere, Benetton Group, Jimmy Jazz, Telarus, Luisaviaroma, the N Brown Group and BrewDog. For more information, visit antavo.com.
Media Contacts
Antavo
Eva Bacsi, Marketing Director