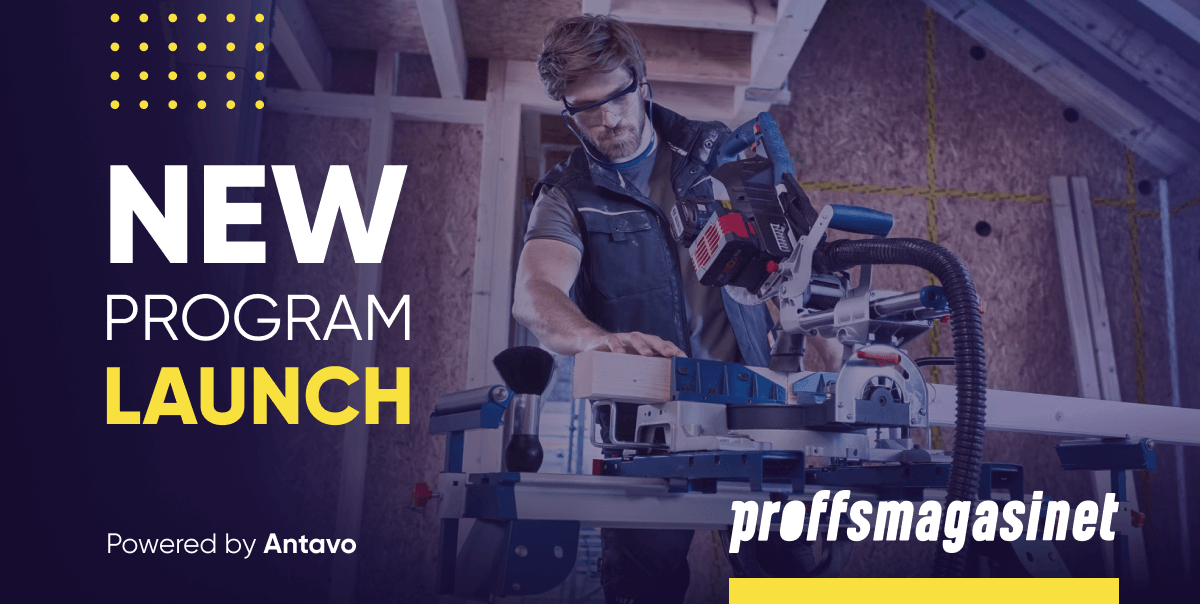 Antavo Powers Newly Launched Loyalty Program by Proffsmagasinet
February 3, 2023
Proffsmagasinet turned to Antavo to help them launch a loyalty program that builds a community, improves customer lifetime value, betters the company's overall data strategy, and enables more efficient work for their customer retention and loyalty marketing teams.
Proffsmagasinet and the Staypro brand offer professional hardware products and personal protective equipment through its online retail store for technical consultants, craftsmen, builders and do-it-yourselfers.
"It's amazing to see Proffsmagasinet's loyalty program up and running after just four months of working together. Hardware and equipment is a space where there's so much opportunity for unique loyalty campaigns, and we're glad to be a part of this program and can't wait to see how Proffsmagasinet evolves their program as they learn more about their customers during the first year." – says Attila Kecsmar, CEO at Antavo.
Their new loyalty program, called Staypro jäsenklubi has debuted online for their customer base in Finland, and rolled out under the name of Staypro medlemsklubb in Norway, and under Proffsmagasinets Medlemsklubb in Sweden. The program is available in three languages to meet the needs of each distinct market.
The program was launched just four months from the time Proffsmagasinet began working with Antavo.
The program features special pricing and a 365-return period for members of the program. Antavo's team also developed customized automated enrollment and unenrollment processes to meet Proffsmagasinet's legal requirements and business needs.
"In 2022, we set out on a venture to offer an outstanding customer experience and create new customer journeys. Antavo's technology has enabled us to build a program, customized to our operations, which we can scale and tailor to our needs. We're looking forward to rolling out across all markets and developing the program further as we continue to learn what customers love most about the program." – says Simon Lofgren, Marketing Automation Specialist at Proffsmagasinet.
About Antavo
Antavo is an Enterprise Loyalty Cloud, providing best-in-class technology to manage experience-based, paid, and lifestyle loyalty programs online, in-store, or on mobile.
Antavo's no-code, API-centric platform makes the loyalty program experience fully customizable and empowers loyalty and marketing teams to run their program internally, without IT help. The company invests 60% of its revenue into its product and issues quarterly product releases.
Antavo is a pure-play loyalty technology vendor recognized by Forrester, Gartner, Loyalty360, and is the preferred choice for loyalty consultants, agencies, and system integrators all over the world. Antavo empowers clients like BMW, KFC, La Cage, Kathmandu, Luisaviaroma and BrewDog, as well as global businesses in the travel, pharma and fashion industries. For more information, visit antavo.com.
About Proffsmagasinet
Proffsmagasinet, a Swedish professional hardware store for conscious craftsmen & do-it-yourselfers. With an assortment of over 100,000 products in the assortment — carefully selected from the best brands — Proffsmagasinet offers quality products with fast deliveries all over Sweden. Over 500,000 satisfied customers have already discovered Proffsmagasinet's comprehensive range and have received help and advice from our knowledgeable and talented customer service team. For more information, in Swedish, visit www.proffsmagasinet.se.
Media Contacts
Antavo
Eva Bacsi, Marketing Director
[email protected]

Proffsmagasinet
Simon Lofgren, Marketing Automation Specialist
LinkedIn
Niclas Levin, Community Manager
LinkedIn