If you are selling both online and in-store, then creating a great omnichannel experience is probably your top priority. An omni-channel or a POS loyalty program are both great at boosting sales and nurturing customers, as they enable you to deliver engagement at every touchpoint.
However, as an Onboarding Director, I've often seen customers struggle to offer a real time loyalty experience in their brick and mortar stores. Finding the right level of POS integration solution that works best for your company can be,the most effective solution to this problem.
In this article I would like to share 3 levels of sophistication.

To kick it off…
I would first like to introduce the term POI (Point Of Interaction), which sounds a bit less confusing than the word "client", that we use for too many things in the business world. So, a POI is a digital gate that establishes a connection between the customer and the loyalty system.
Examples of POIs are:
A laptop with a web browser

A mobile or a tablet with a web browser or a native app

The cash machine (aka POS)
Each of these has a different feature set: customers can consume digital content, interact with social media, participate in quizzes using the first two, while the POS is mainly used during purchase transactions.
The goal here is to deliver the same loyalty benefits to all your customers, irrespective of the type of POI they are using. You have to enable customers to earn and burn points during transactions made both in your online and in-store locations.
Once you've achieved this, all POIs are able to interact with your loyalty system. Yay, this sounds great – but unfortunately it is not enough.
What you've achieved in this first step is a successful multichannel system.Your program can now provide multiple ways to collect and use points – but you are still nowhere close to a centralized point balance needed for an omnichannel program.
Here is the difference between multichannel and omnichannel: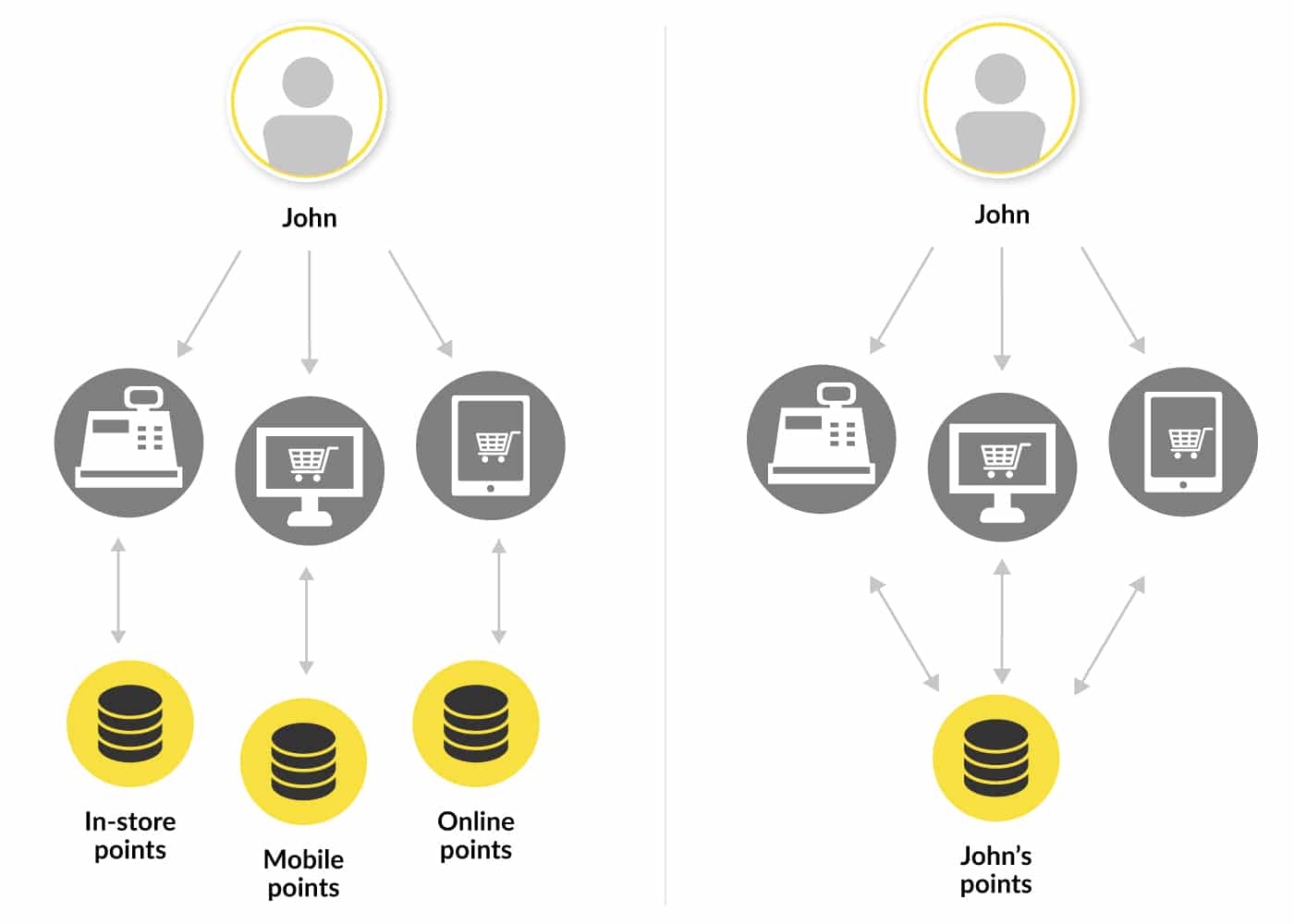 What you really need is an omni-channel setup where the user has a single point balance and every POI uses that. In order to achieve this, all POIs have to use the same user ID when your customer interacts with them.
With laptops and mobiles this is fairly easy as in many cases they connect to the same backend. However, the POS has to be capable of doing the same: to be able to identify the user (who has an online account already).
The clean and simple solution is to utilize multiple POIs for this purpose:
when you go shopping, just take your mobile with you

open your app at the cashier

show your digital loyalty pass (which is rendered as a barcode or QR code)

by scanning the loyalty pass, the POS can access your loyalty ID and use it when communicating with the

loyalty management platform

.
Identification solved! Now let's check the various options of this communication. (Since there is no defacto standard for this, I am sticking to the naming convention used in the Richardson Maturity Model for classifying REST)
Level 0 – Data push
This is a one way data flow from the POS to the loyalty platform. It's like a monologue: only one party can speak, the other party understands everything, but cannot react, there are no questions, only statements.
This is how it works:

Even though this is quite simple, it does have its benefits: customers can earn points after every purchase. The POS simply pushes all the details of the transaction (together with the user ID coming from the loyalty pass) to the loyalty platform.
This solution is great if you are looking for an easy way to support your campaigns and discount or volume-based incentives.
Level 1 – Data push and pull
As you could have already guessed, this is a two way data flow, while the communication still originates from the POS.
In the case of a Level 1 POS integration, the POS can facilitate a communication with the loyalty platform: it can both send data and query the loyalty platform, though the loyalty platform cannot do the same. This means that the POS can access the information of the customer standing at the cashier, but only if it asks for that.
Let's visualize this:

So how can you use this? Well, if you can send information and query data, then you are in great place already: just as at Level 0, your customers can earn points, plus the POS can query the point balance and the loyalty platform will be able to answer that request.
With this information the POS can notify the loyalty platform that it will be using points from the balance – this is how spending points is made possible.
Level 2 – Two-way push and pull
We saw all the basic features, what else is missing? Well, the two-way connection that can originate from both participants.
Think of a full-featured user experience in the POS, where after authentication cashiers can see the customers' point balance, tiers, benefits and all other loyalty information available. If there is an update in the user's loyalty history, the loyalty platform will be able to push this information to the POS system, and achieve a living connection.
Amongst others the cashier will be able to:
Access up-to-date user information (both loyalty and non-loyalty related) and use it for clienteling – depending on what tier the customer is in. (This one is especially relevant if you can give a special experience for those who are at a higher level.

Recognition Loyalty™

is all about that.)

Redeem and use a discount code for the customer.
This is how this process looks like:

If you are a technical person in your organization, you need to decide on the level of depth that fits your goals and priorities. For example, if you wanted to launch an omnichannel loyalty program before the holidays, you could benefit so much more from a Level 0 integration, than if you had nothing.
Conclusion
As you can see, the more sophisticated the integration is, the more work it takes to build it. So the bigger influence a company has on the source code running on the POS, the more complex features it can get.
If you already have a POS provider, ask for their help in finding the best solution for your organisation. If your POS provider is not flexible enough, our friends at PICO could be of great help. If you are looking for a new POS provider, it might be wise to choose one with a public API – like that of Epos Now so you can develop your own app.
Want to learn more? Please let us know – just mention me to reach me quicker . I am happy to assist you in finding the level of integration your company needs.