Introduction
Our FAQ Management module helps you provide your customers with valuable information about your loyalty program by allowing you to add a Frequently Asked Question section to the membership site.  The FAQ section will soon become the go-to destination when they are looking to find answers to their upcoming questions. Answering these questions in advance improves your customers' experience, clarifies potential misunderstandings and reduces the load on your customer service team.
You can find the configuration page of the FAQ Management module by clicking on the 'Modules' icon in the sidebar, and scrolling down to the 'Extension' module category. There you'll see the list of questions that were already set up.
Adding a new question
Click on the 'Create' button on the right-hand side of the module configuration page
Enter the question in the Title field
Enter the answer in the Description field
Click the 'Create' button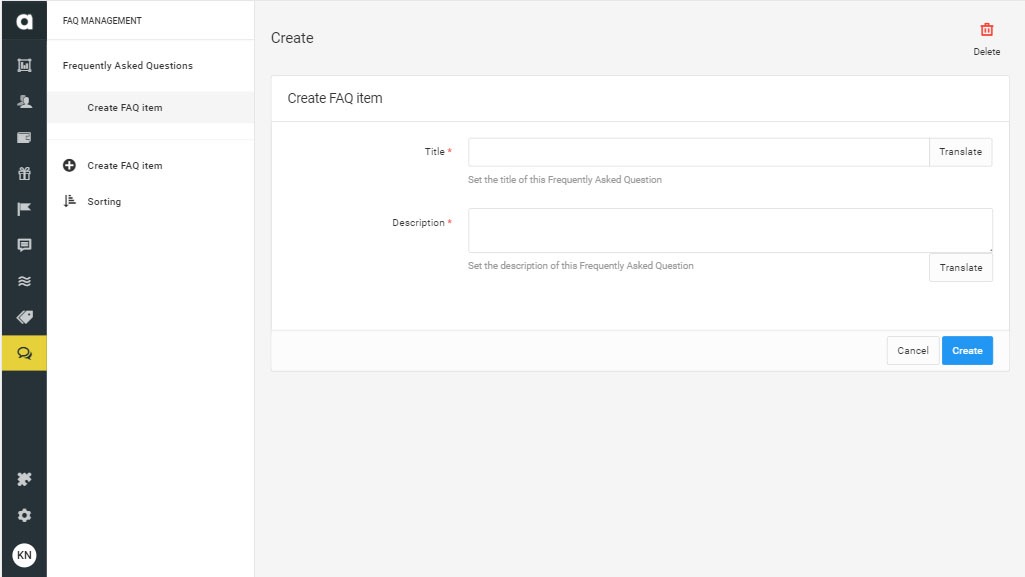 If you run your loyalty programs in more than one language, please use the Translate button next to each field to add translations.
Sorting questions
You can change the order of questions appearing on the membership site by sorting the items that you have already added. To rearrange the list, just drag and drop the item that you want to move up or down. As soon as you drop the item, the change will automatically be saved and take effect on the membership site.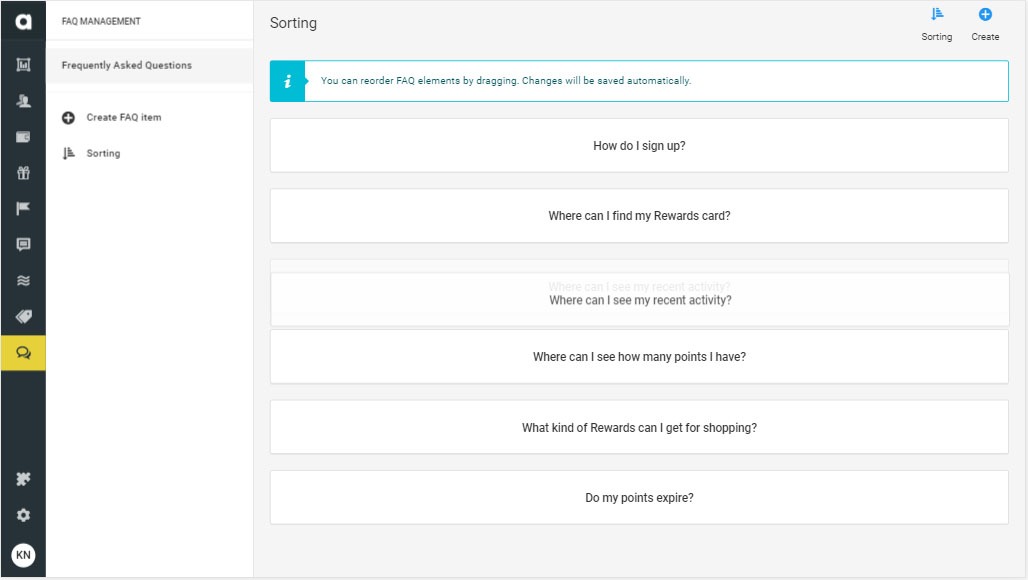 When you create a new question, it will be added as the last item in the list of Frequently Asked Questions, but you can move it anytime by sorting.
Editing questions
Navigate to the module configuration page
Click on the the 'Edit' button next to the question you'd like to edit
Edit the question
Click the 'Update' button
Deleting questions
Navigate to the module configuration page
Click on the the 'Edit' button next to the question you'd like to delete
Click on the 'Delete' button on the right-hand side of the page
Confirm your choice in the dialog that appears