Introduction
Use loyalty incentives to encourage your customers to provide information about themselves and their shopping habits. Ask a set of questions that you would like customers to answer and give points in return for the answers, assigning a point value for each question and specifying the format in which you'd like your customers to respond. Your questions will be presented on cards in the Loyalty Hub and you can use the data you collect in an export or sync them to your newsletter provider.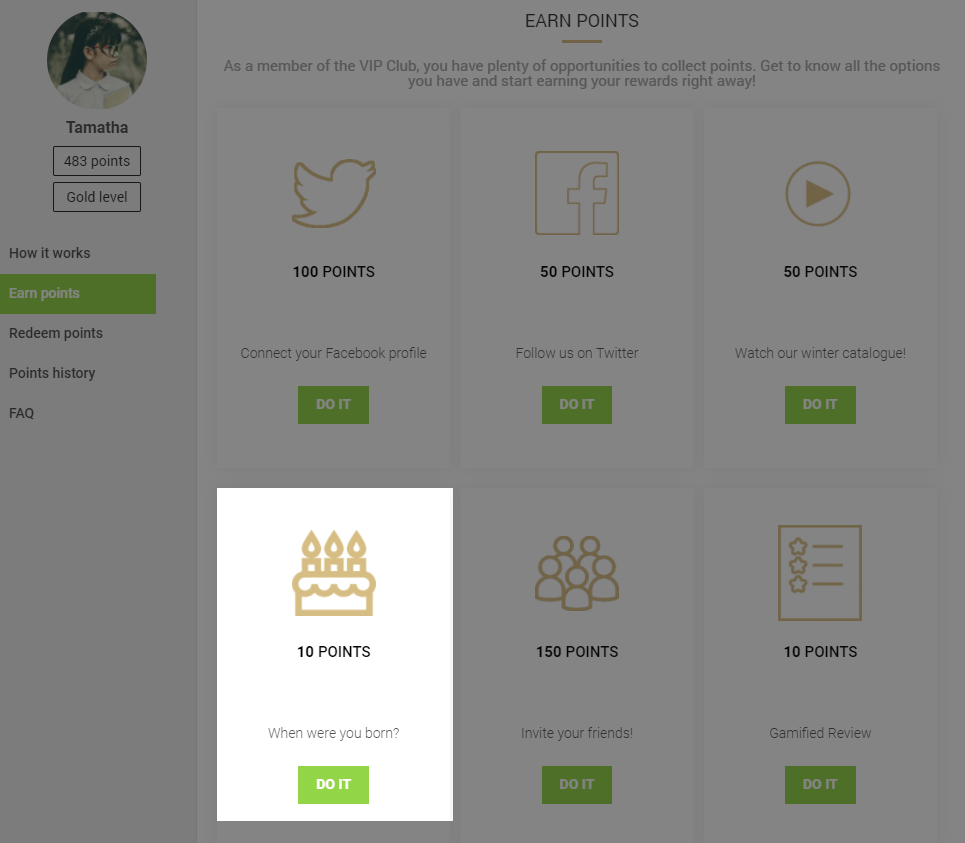 You can find the configuration page of Customer profiling module by clicking on the 'Modules' link in sidebar, and scrolling down to the 'Profiling' module category. First you'll find the list of your customer profiling questions that you have already set up.
Adding a new profiling question
Go to the Customer profiling module configuration page
Click the 'Create' button on the module settings page
Create a new field (predefined fields are coming soon)
Enter the question
Select the field type:

"String" – The customer can fill in a one-line field with any kind of text
"Numeric" – The customer will be able to input numerical data only
"Date" – A date selector will appear for the customer to choose dates from, and you can enter the date in date format
"Select" – The customer will see a dropdown list of answers that you've predefined. The customer can only select one option from the list.
"Multiselect" – The customer will see multiple answers alongside checkboxes. The customer can select multiple answers from the set you provide.

Define the set of answers (applicable to the Select and Multiselect formats only)
Set the number of points to be awarded for answering the question
Save the field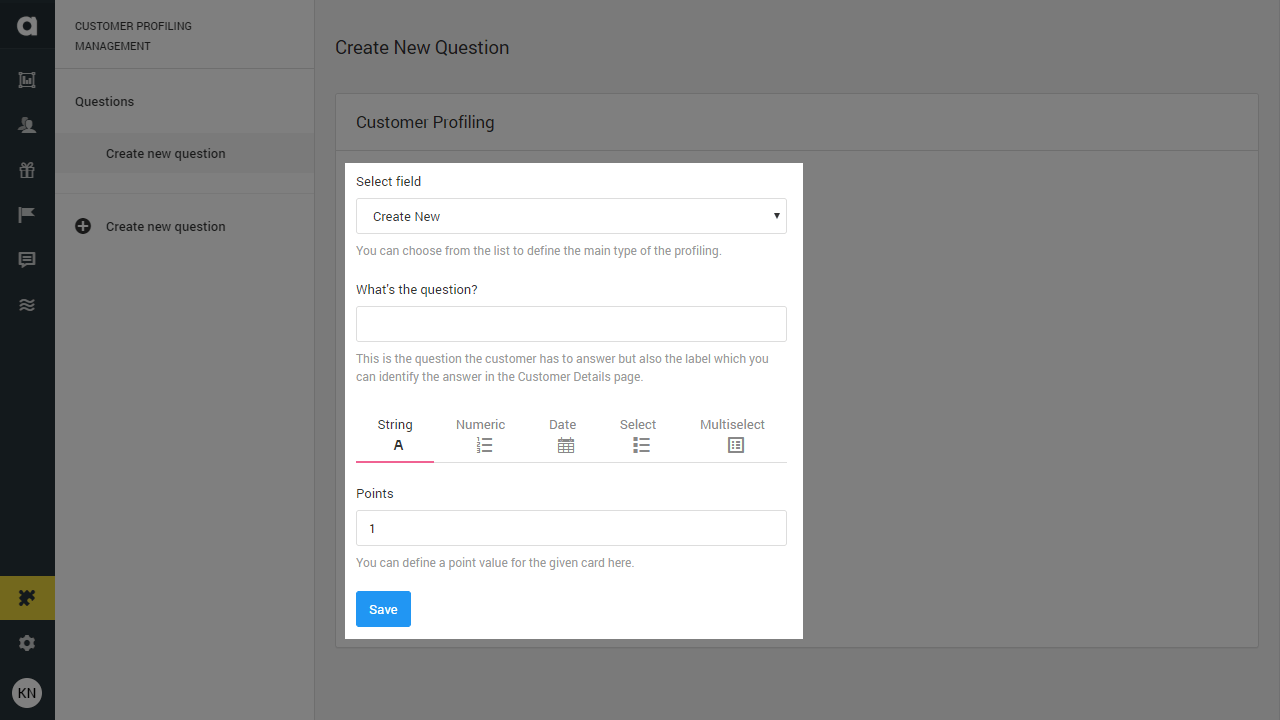 As soon as you save a question, it will be available to your customers as a card in the Loyalty Hub. You can edit and delete questions at any time on the module configuration page.
Important!Each question can be answered by the customer only once.
Editing a question
Go to the Customer profiling module configuration page
Click on the question you would like to edit
Please note that the field cannot be edited.
Edit your question
Save your changes by clicking on the 'Save' button
Deleting a question
Go to the Customer profiling module configuration page.
Click on the 'Edit' button of the corresponding question
Choose the 'Delete' option in the top right corner
Confirm your choice in the dialog that appears
Using the data
Get a detailed view of customer data by visiting customer profiles. There you'll see which questions your customers have already answered and their profile completion as a percentage of answers given from the total number of questions asked.
Implementing the module
In order to support this module, you need to use the Antavo Loyalty Plugin in your Magento / Magento 2 / Woocommerce store or implement a few changes in your Custom CMS.