Introduction
We have integrated our Contest Software into our Loyalty Platform to help you widen the range of point earning opportunities, generate buzz with sweepstakes and get more user-generated content with contests.
Reward your customers with loyalty points for participating in any of the 12 contest types available in our Contest Software. You can learn more about each of them here.
The contests launched with the help of our Contest Software are independent from your Loyalty Hub. You can run them on Facebook, on your website, or as a separate microsite. What our Contest module does is reward your loyalty members with loyalty points for participation.
You can find the configuration page of our Contest module by clicking on the 'Modules' link in the top menu bar, then selecting 'Gamification' from the list on the left-hand side. The page will open to a list of contests that have already been set up.
Connecting your Contest Software brand
Before connecting your Contest Software brand, you need to first create a Contest Software account, and request a plan from your Account manager.
As soon as your account is set up, you can connect your Loyalty Platform to your Contest brand:
Go to the 'Settings' page of your Contest brand and navigate to the Loyalty tab
Enter the API key and API secret that you find on the 'API' tab of your Loyalty Platform 'Settings' page
Click on the 'Save' button.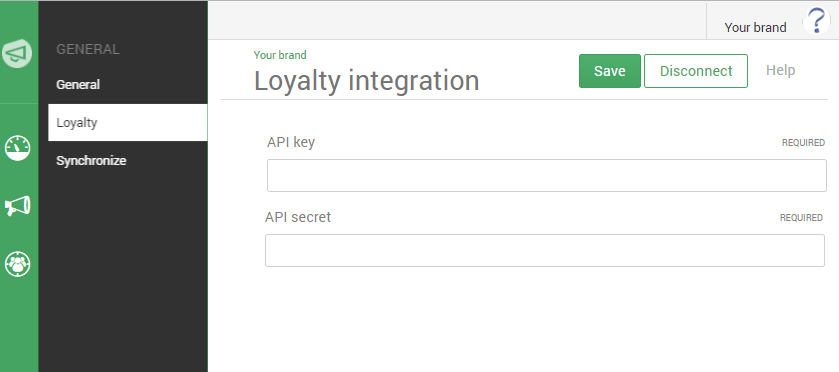 Setting loyalty points
After you have set up a contest in your connected Contest brand, you can use loyalty points to reward your loyalty members for actions taken in the contest.
First, you need to add the contest to the Loyalty Platform:
Go the the Contest module configuration page
Click on the 'Connect' button
Choose the contest you want to reward and click on the 'Connect' button in the popup which appears
As soon as the contest is connected, you'll be able to see the basic settings of your contest and assign point values to specific actions in the second section. (You can change the basic settings of your contest anytime on the Contest Platform.)
Here's the list of actions you can reward in each of our contest types:
Contests (photo contest, video contest, audio contest, presentation contest, Instagram contest, story contest)

Uploading an entry
Voting for an entry
Winning a contest as an uploader
Winning a contest as a voter

Sweepstakes (draw, poll, quiz)

Subscription
Winning a sweepstakes

Deals (group offer, coupon, giveaway)
Landing page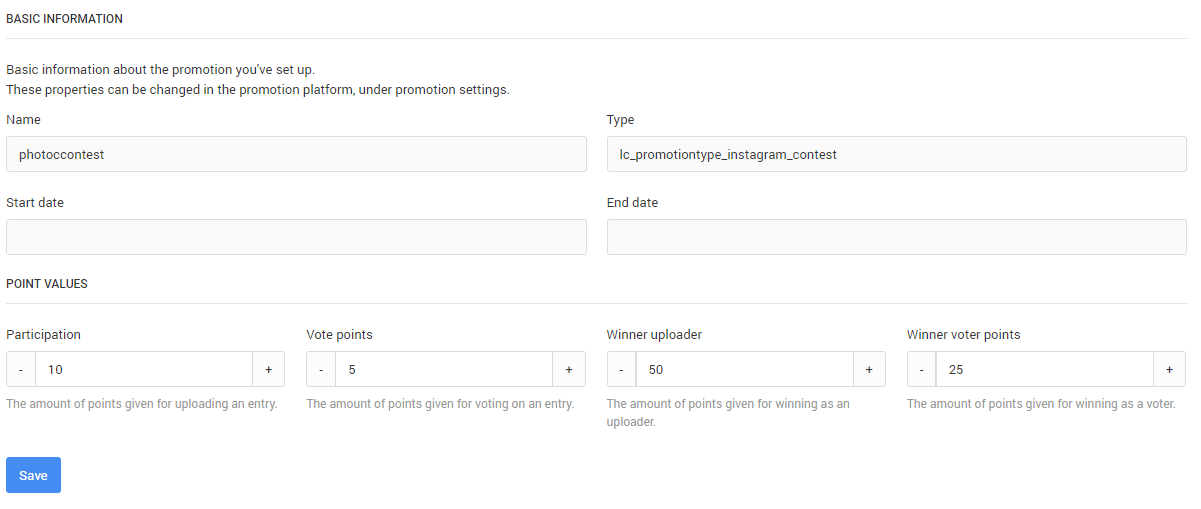 Make sure that you save the contest with a non-zero point value, otherwise it won't appear in the list on the Contest module configuration page.
Changing loyalty point values
Go to the Contest module configuration page in the Loyalty Platform.
Click the 'Edit' button of the corresponding contest.
Modify the point values.
Save your changes by clicking the 'Save' button.
Deleting a contest from the Loyalty Management Platform
Go to the Contest module configuration page.
Click the 'Edit' button of the corresponding contest.
Choose the 'Delete' option in the top right corner.
Confirm your choice in the appearing dialog.
Please, note that this delete only removed the contest from the Loyalty Platform, therefore no loyalty points will be awarded for contest participation, but the contest will remain active in your Contest Software account. To inactivate the contest, please enter the Contest Platform.
Best practices
By exporting your contest participants you can easily filter users who are not your customers or loyalty members yet. Don't miss the chance to send them a notification to join your loyalty program so that next time they can earn points for entering your contests.
We encourage you to incorporate the content your participants upload into your marketing strategy, but don't forget to include a section about the use of content in your Terms and Conditions.
Draws are the most viral contests as they are very simple to enter, requiring just a name and an email address.
Let your customers know that they can collect points by participating in your contests  add banners to your site to promote the point earning possibility. Feel free, to insert them into your newsletters as well.
Offering rewards of a high value can attract many people to your contest, but on the other hand, cheaper but more rewards can make your customers feel that they have a higher chance to win something. Try experiencing with both!
If you need help with our contest software, please use our 'Help' menu that you can find on each page of the platform or email us at support@antavo.com.
Implementing the module
In order to support this module, you need to use the Antavo Loyalty Plugin in your Magento / Magento 2 / Woocommerce store or implement a few changes in your Custom CMS.