The Pending events module lets you confirm customer activity completion before crediting points to customer account. To set this module up and define which events you'd like to include as pending events, please consult your Account manager.
You can find the configuration page of the Pending events module by clicking on the 'Modules' icon in the sidebar, and scrolling down to the 'Core' module category.  The page will open up to the Settings page where you can set up the automatical validatidation or invalidations of events after a specified period of time.
All you have to do is to specify the number of days after which the events should be automatically validated or invalidated, and define whether you want to validate or invalidate these events. Don't forget to click on the 'Update' button.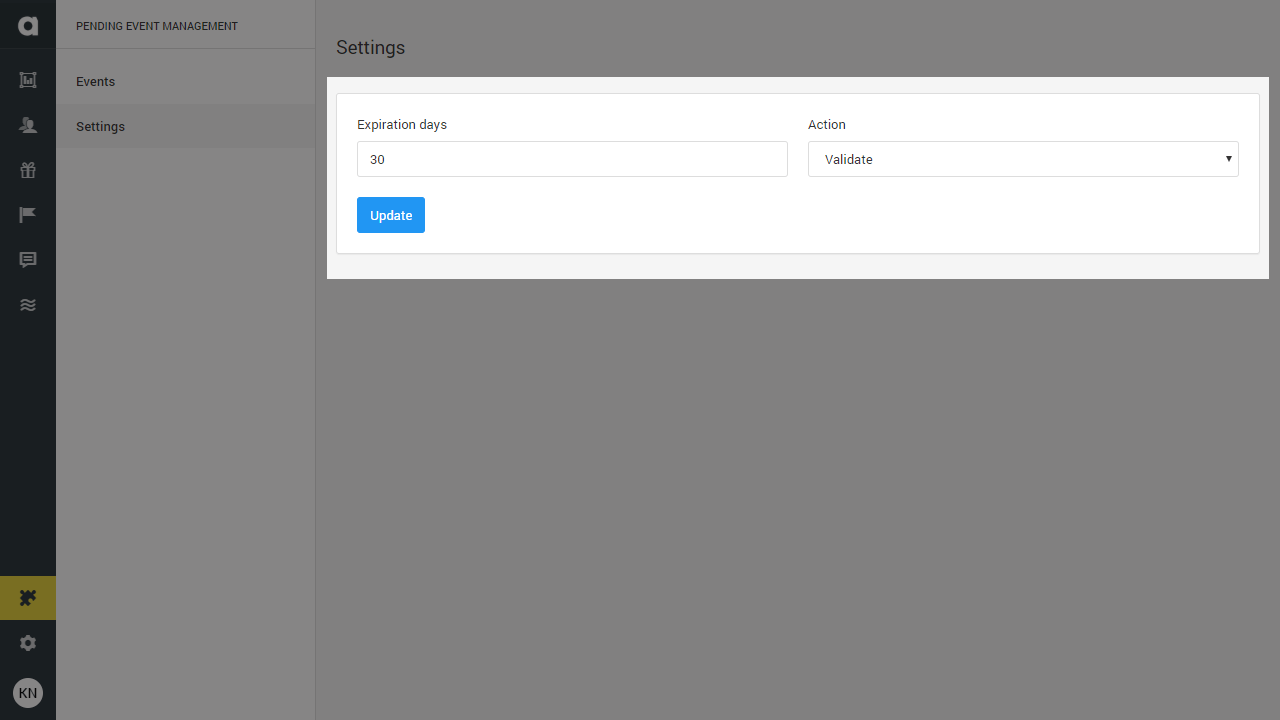 Under the Events tab of the module configuration page, you can find a list of pending events waiting for your approval or rejection. Or, in case you have an automatical validation or invalidation set up already, the list contains the events that has not expired yet. When a user event appears on the pending events list, you can manually approve or reject it.
Navigate to the 'Events' tab of the Pending events module configuration page
Click on the 'Edit' button by the event you want to handle
Click 'Validate event' or 'Invalidate the event' to approve or reject the event, respectively
Once you hit validate or invalidate the event, the action cannot be undone and the event will disappear from the list.
Inspirational use case
Introducing pending events is an excellent solution if you want to incentivize customer activities on partner sites. This module lets you send customer events to Antavo without our system issuing points, so you can check whether the customer completed the activity according to your expectations before rewarding the action.
Please keep in mind that this method requires manual management on your end.
Implementing the module
In order to support this module, you need to use the Antavo Loyalty Plugin in your Magento / Magento 2 / Woocommerce store or implement a few changes in your Custom CMS.