Does building an entire loyalty program seem like an overwhelming marketing challenge in your eyes? A Gordian knot that you can't solve yourself?
Don't worry.
A loyalty program is not as complicated and mysterious as you might think.
You just need to find the way that fits your company best.
But how exactly can you do it?
Here are 5 basic questions that can help you plan a kick-ass loyalty program from the very beginning. Just grab a piece of paper, and answer them!
1) What are your goals?
An Olympic runner knows what distance in how much time he should run to win.
The same holds true for a loyalty program.
You should know exactly what you would like to achieve, specified in numbers:
You want more engaged customers? How many?
You want to attract new leads? How many?
You want more repeat purchases? How much growth do you wish to see?
You see now the formula: your goals + the numbers which later help measure your success.
You don't want to spend time and money on something that may not bring the desired results, or could even harm your company's reputation, right?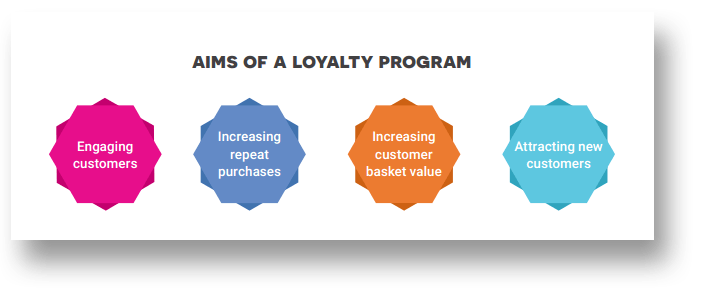 Having more than one objective for a loyalty program is never wrong, even though you should start with one aim in mind. But the biggest misstep you can make is not knowing when you have reached your specific goal.
2) Who do you want to target?
Not knowing who you want to get into a loyalty program is like leaving money on the sidewalk. Anyone can pick up the cash, but are they really in need of it?
So, let's make it crystal clear. In order to reach your aims, what customer segments should you focus on?
If you want to increase repeat purchases, then design a program for your current customers.
If you want to charm new faces in to your webshop, then create a program that hooks in new customers.
What can happen if you blindly promote your program for everyone?
Old customers may feel rejected. You didn't honour their faithful attention, the time and money they have already spent in your shop. Then why is it beneficial for them to stay if newcomers have the same privileges?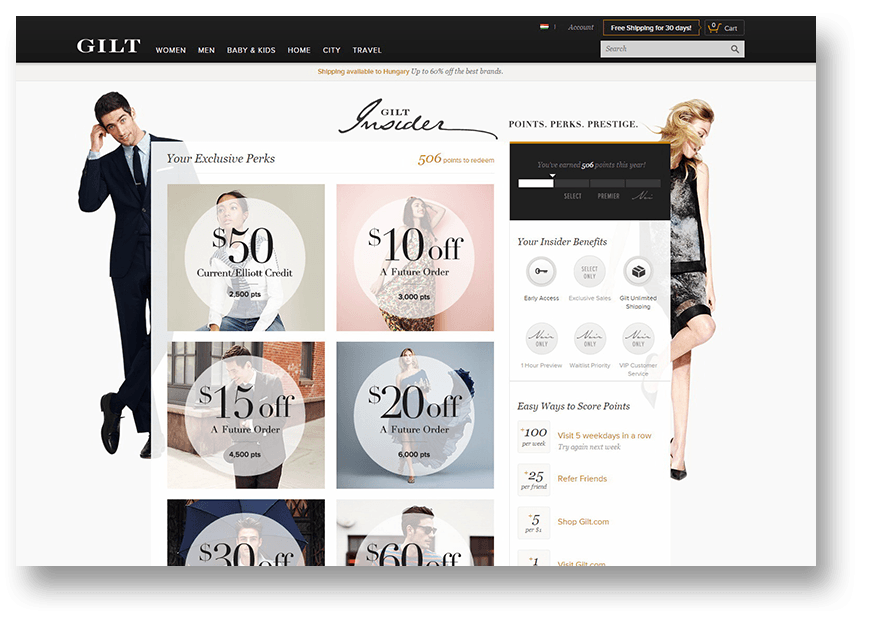 The GILT loyalty program is a perfect fit for newcomers. With a "Prestige" slider new registrants can see their status as customers. The higher their "prestige", the more valuable benefits they can unlock.
3) What customer actions are important for you?
Okay, you have your goals and a customer segment you wish to focus on. Now, you should list those customer actions that help achieve these goals.
Let's get back to the previous example, when you planned a program for your current customers to increase repeat purchases. What customer actions do you want to incentivize in this case? For example:
A new purchase. (It's quite straightforward, don't you think?)
Daily page visits, so they are rewarded for coming back to your shop.
Installing a mobile app, so you are always on their mobile screen.
Technically you have quite a wide range of opportunities – you can even include your social channels, like YouTube or Instagram. Think of every possible way your customer can interact with you, and then choose the actions that best fit your goals.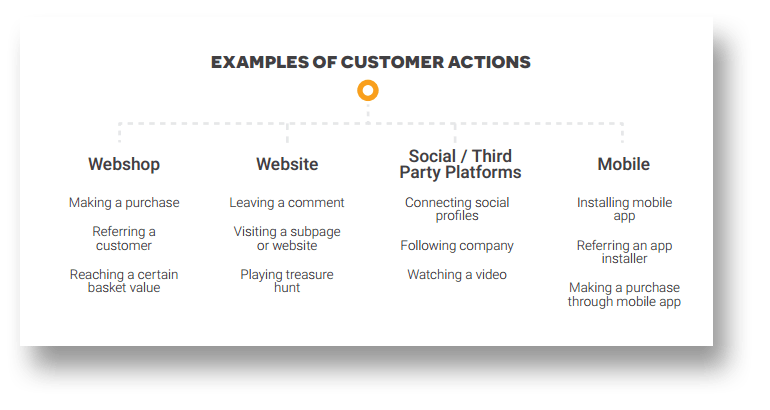 List and identify those customer actions that you need in order to reach your loyalty program's goal.
4) How to incentivize customer actions?
Now comes the fun part! After determining the desired actions, you should come up with rewards which will motivate people to act.
Let's get back to the previous example. If you want to increase repeat purchases with current customers, then you might:
Issue coupon codes with a short redemption period.
Inform customers who purchased twice at your shop about special sales before anyone else.
Offer free shipping if they make purchases for a specific amount.
However, rewards don't need to be monetary. Plus, you don't want to lose money or run out of stock which may result in customers' disappointment, right?
Let's stick to the same scenario, but this time using incentives not involving money.
You can use virtual currencies like:
Feature customer reviews on the front page, so everyone can see.
Choose the customer of the month, and arrange a VIP meeting with a higher-up at your company.
Encourage customers to be product-advocates, and ask for their advice about your newly introduced product before it goes sale.
Why do these kinds of rewards work?
Because they satisfy customers' hunger for recognition!
And if your customers are happy, they will be more likely to interact with your shop, which means the chances are also high that they will make another purchase.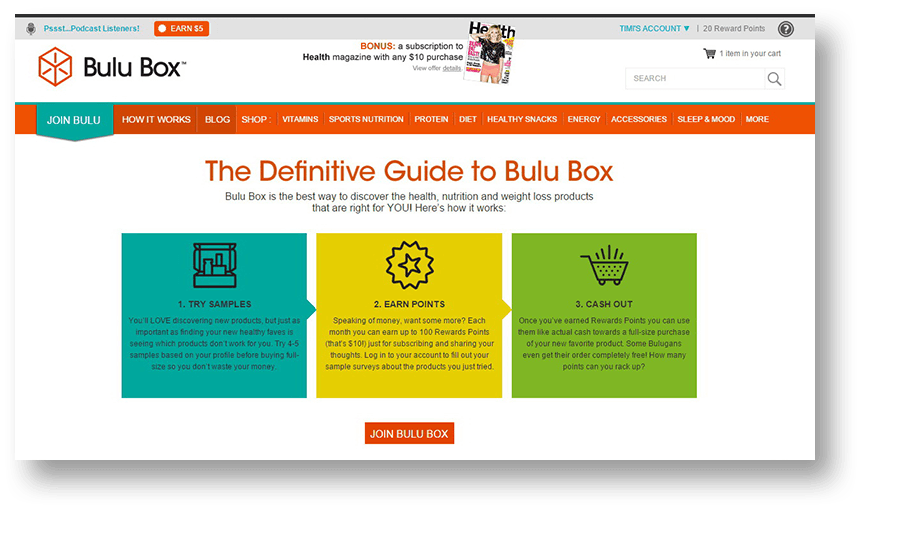 Bulu Box's loyalty program is very straightforward. In exchange for leaving product reviews, customers can earn points which they can use for purchasing products. It would be even better if they could attain higher customer status for leaving a specific number of reviews.
5) How should you spend on a loyalty program?
As we talked about in the previous point, rewards are not necessarily the most expensive part of your loyalty program. And believe me, they won't be!
What may cost you more is the effort and time it takes to build a program with the right incentives, the most effective mechanisms working in the background, and to design everything in a way that best fits in your web shop's theme.
That's why ready-to-use loyalty software like Antavo can be a great way to reach your goals. It's not only has the proven mechanisms- so you don't need to pay consultants and developers a fortune to create – but it also has pre-made scenarios and solutions to reach your goals.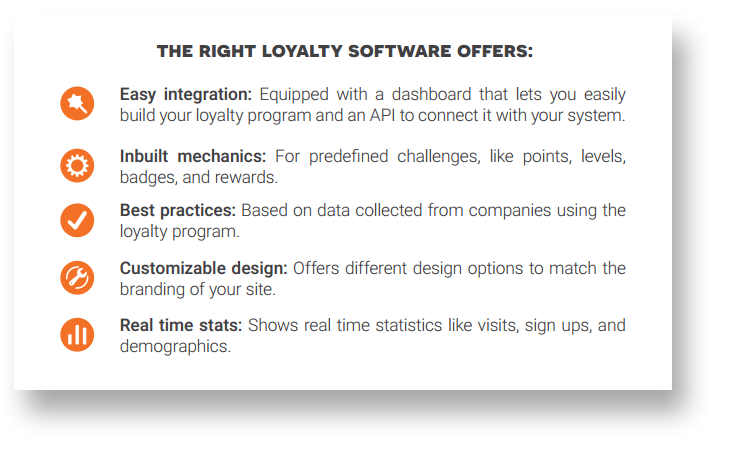 The right loyalty software can be cost-effective and save you from many headaches. Actually, creating a loyalty program technically can cost you more than the actual rewards you offer customers. So choose the technical implementation wisely!
Do it your way
Do you see now?
Planning a good loyalty program that can help you engage and even build a faithful community of customers is not rocket science. You just need to find the ways that it's the best for your company and your goals.
Start planning. Now. At this very moment.
Do you need more details about creating a loyalty program?