World is shifting. Traditional points-based loyalty programs don't cut it anymore, especially in fashion. No one wants to look cheap.
Customers of the luxury sector are no longer looking to refill their wallets quickly via one-time cashbacks or discounts. They wish to enjoy long lasting privileges that make them feel like true VIPs, courtesy of their favorite brands.
How to build a long lasting loyalty framework that supports your brand image? How to create motivation beyond discounts, that also keeps the bottom line healthy?
There is a way. In this article we will share what makes an exclusive experience that encourages customers to engage and buy more, then you will have 4 examples from fashion companies that just do it very well.
Let's dive in!
What is Recognition Loyalty vs Redemption Loyalty?
There are two main challenges currently shaping the world of fashion loyalty.
Challenge #1. Providing a highly personalized and curated customer journey
With the current volatility of the fashion market, personalization and curation are becoming more and more important to the customer. Brands who "are there" for people and prove to understand their needs and wants to a very deep level are the ones to establish long term connection with their existing customers.
Challenge #2: Increase customer retention without sounding cheap
Sometimes the point scheme in traditional loyalty programs can look too cheap or too commercial, which is not in line with the brand's goals. Also, in some cases it's pretty hard to understand and not motivating enough to follow through with. According to a recent study from Internet Retailing, over £150 million worth of points are currently just hanging around unused because customers don't understand how to redeem them and don't see their value.
And this is simply awful.
Solution: Building stronger relationships via entitlement, privileges and well planned loyalty tiers
Your best customers have a keen eye for value. In the loyalty programs they join, they seek exclusive treatment and access to a privileged status, instead of being rushed to spend their points and given easy discounts in exchange. Enter recognition loyalty – the ultimate way to retain your VIP customers and reward them meaningfully in fashion and retail.
What is the distinction between the more "traditional" approach to loyalty schemes (which can be deemed redemption loyalty) and the revolutionary concept of recognition loyalty?
Here are the main differences, in a nutshell:
Redemption loyalty is the "old", established way of designing loyalty programs for a wide array of industries. It sports a loyalty program logic that relies on earning points and spending them on rewards. The typical reward customers can most frequently redeem within this type of loyalty programs is discounting.
This traditionally works wonderfully in retail and brands with a lower price point. Another benefit is that it's very easy to understand: you earn and then you burn.
On the downside, redemption loyalty needs customers to permanently reconfirm their status. It is a rather volatile system – basically, it's a race to keep earning points to spend on rewards. This poses brand value challenges as well as logistic problems. If rewards that are up for grabs are not enticing enough to go a long way or seem too difficult to achieve, customers would just abandon the race before starting it.
Plus, in some areas, like higher-end fashion, points can sound cheap.
Recognition loyalty is an innovative concept, a more luxury-oriented loyalty logic that grants access to various status levels (tiers).
This one is a race too, nonetheless, but one for entitlement rather than immediate, transactional rewards or material goods. Once customers get in a tier they can enjoy benefits forever. Recognition loyalty is the best fit for fashion companies who are looking to achieve their goals through branding and social advocacy.
Or, if you prefer a more visual way of defining the distinction between redemption and recognition loyalty programs: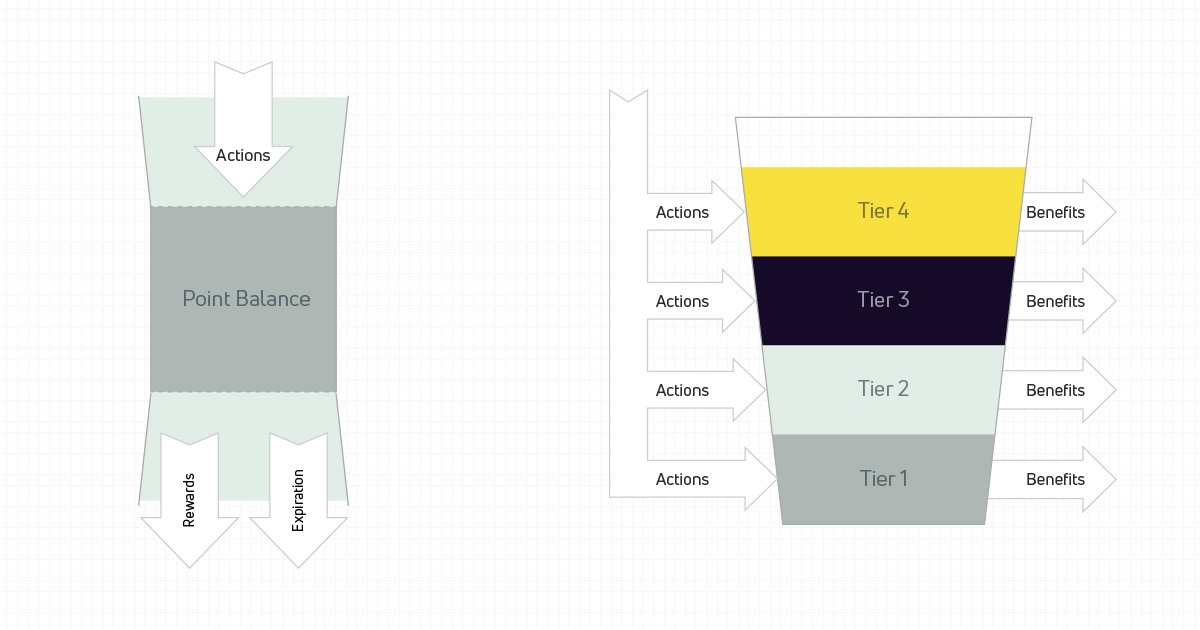 The advantages of a recognition loyalty program are huge. To mention just a few:
Maintains the stream between purchases even where there is a long buying cycle

Doesn't rely on volatile incentives such as one-off discounts or cashbacks

Offers the ability to nurture low-value spenders into high-value spenders, who are more likely to expect a VIP experience.
Think about the recognition loyalty scheme horizontally, with a wide array of creative reward options to offer according to your business objectives.
Examples of recognition loyalty programs in fashion
There are so many brands in the fashion world running imaginative and relevant recognition loyalty programs that we had a hard time selecting just a few!
Brands like Simply Be, Shopbop, Hugo Boss, and NET-A-PORTER have completely eliminated points in their programs. Many other brands have landed on a mixed approach (points+tiers programs).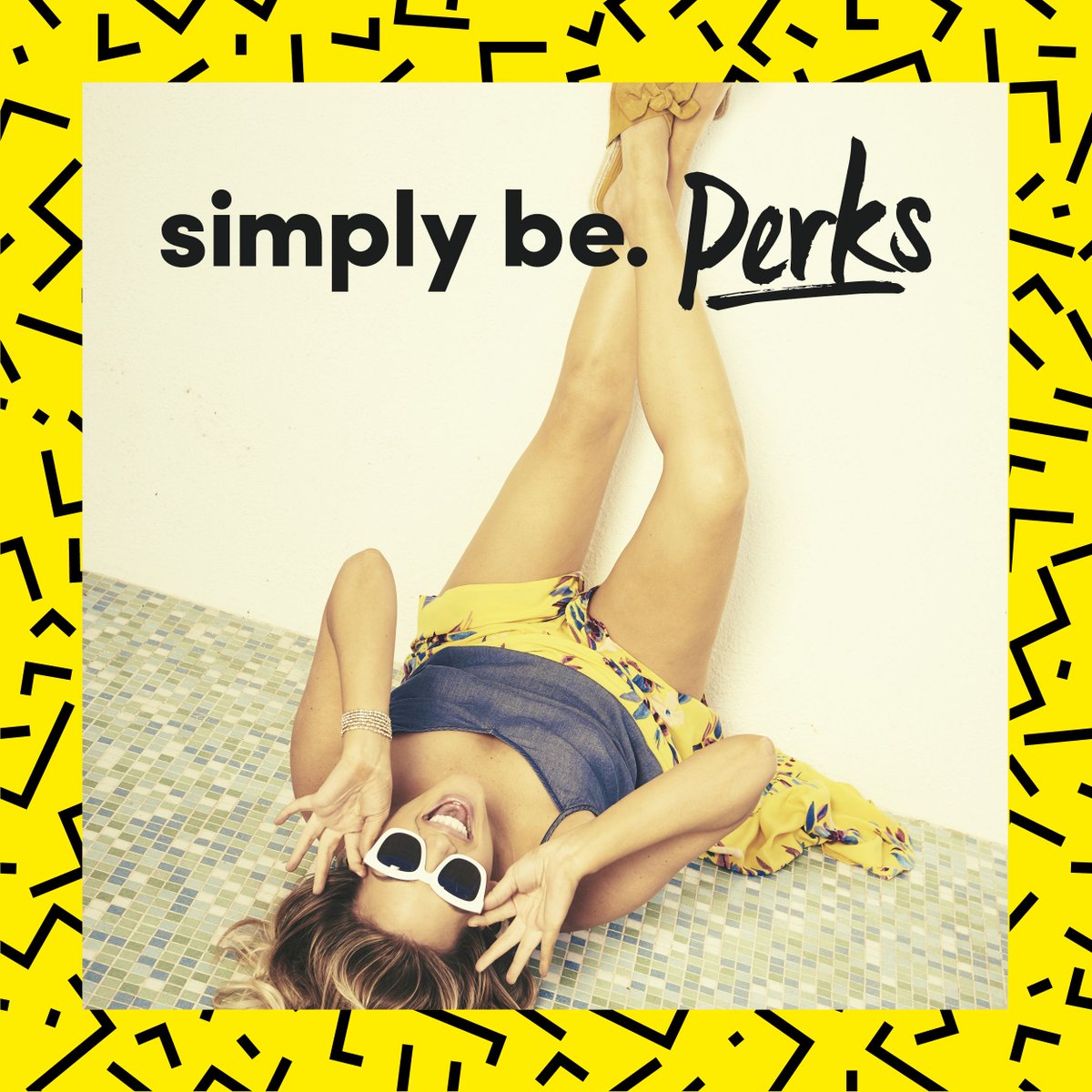 The retail brand committed to bring fashion to all, regardless of size, recently launched their 100% non-point based loyalty program with Antavo. Simply Be Perks features killer surprise-and-delight rewards from their partners.
From beauty swag to special offers for show stopping looks and invites for cool evenings out, Simply Be has proven that they know (and love) their customers by treating them to the most desired goodies. Exciting contests and giveaways are also available for program members to get on the VIP list at special events.
(P. S.: Although we may know, we won't tell you what the Perks surprises are—go get them!)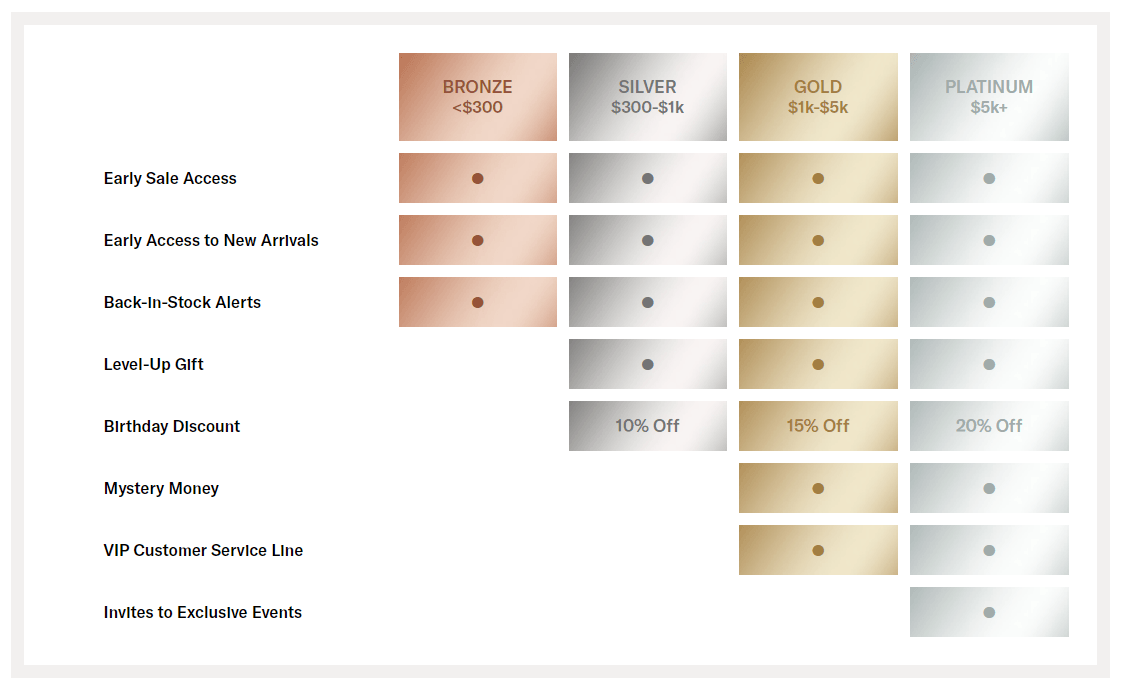 Shopbop's loyalty program has also eliminated the concept of points and replaced it with tiers. It has levels designed for customers to access by their annual spend from the previous year.
With such a generous timeframe to enjoy their membership privileges, customers are also subject to spontaneous rewards and perks such as Mystery Money. Platinum level customers get VIP invites to one of Shopbop's exclusive yearly events. VIPs also receive exclusive monthly weekend access to early arrivals.
Once they've signed up for the loyalty program, members get access to a personalized dashboard with all the details about the program level, the perks that come with it, their progress toward the next level, and all the benefits waiting for them around the corner.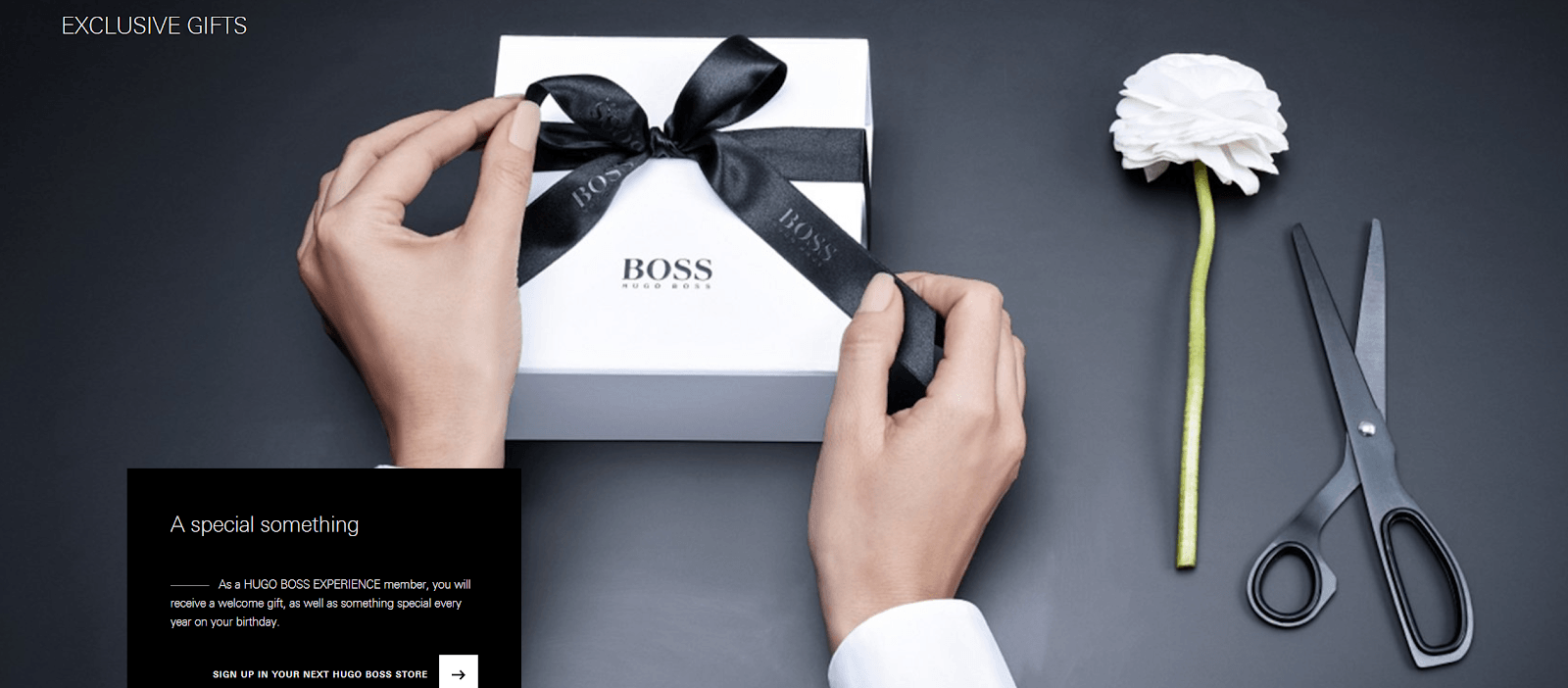 Speaking of giving that VIP feeling through content and design—Hugo Boss does a remarkable job! No points to keep track of, no hassle. Customers just sign up to the Experience program and start enjoying tailored rewards such as a welcome gift, a birthday present, personal style counselling from the Hugo Boss team, and more little helpers that make life easier, such as returns without a receipt.
Recognition loyalty, done right.
Signing up for the recognition loyalty program is possible at one of the Hugo Boss stores, but the brand also offers online access to a personal dashboard (My Hugo Boss) where customers can manage their personal details and review their purchase history.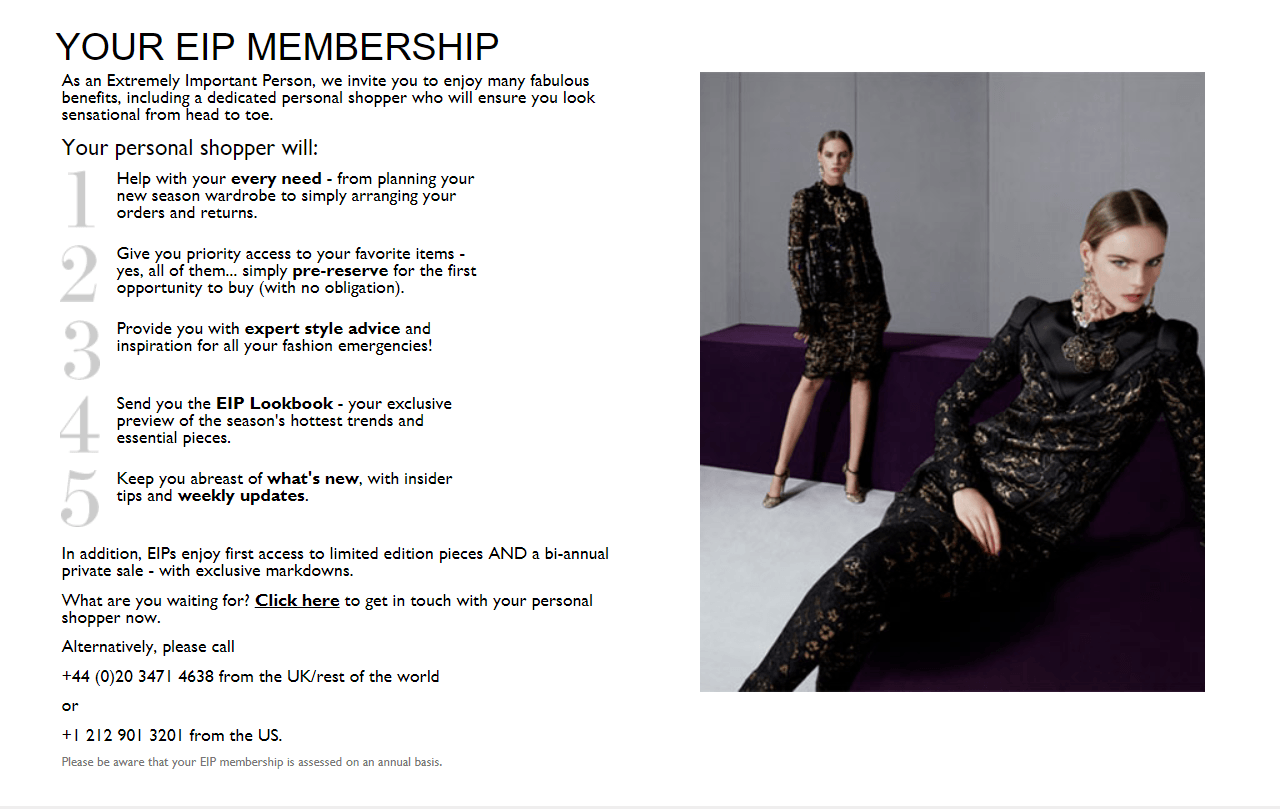 NET-A-PORTER and MR PORTER have created a set of personal shopping services for top customers who have gained the status of EIP: "Extremely Important People". Personal Shoppers are based in London, New York, Hong Kong, and Los Angeles, offering a try-on & wait premium same-day delivery service and at-home shopping consultations to the most engaged and loyal NET-A-PORTER and MR PORTER customers.
High personalization is the keyword here, as customers can opt to receive a series of one-on-one consultations, followed by a curated selection of products to choose from, and pay only for what they keep.
Conclusion
The Drum surveyed 100K millennials in the UK in 2017 about their wants from a fashion loyalty scheme. Main takeaway:
"The future of the fashion loyalty market belongs to brands that can run integrated loyalty schemes combining creativity, technology and world-class rewards for a true exchange in value."
Recognition loyalty programs do just that.
Would you like to run your own recognition loyalty program but don't know exactly how? Antavo has the best ways to help you. Let's get in touch!
Sources cited in this article:
Business of Fashion – State of Fashion 2018 report || The Drum || Massey University || Issu || Econsultancy || Qubit || Gulf News || Ita Group