Do you have a social media strategy?
If you do, fantastic – you're on the right track! But, with all kinds of social media out there on the World Wide Web, do you know where should you focus your efforts?
Odds are, Instagram is the best showcase for your store. But you don't have to just blindly believe me, the numbers don't lie:
A recent study from Forrester defines Instagram as the leading social media platform in terms of users and brand engagement with a 2.3% engagement rate, in comparison with 0.2% for Facebook.
This means that Instagram has 10 times the engagement rate of users with brands than Facebook.
So how do you manage to drive actual sales from Instagram?
Easy, just keep reading to find out.
1. Optimize your content
Without great content, there won't be followers, which means there won't be future customers. Remember, content is king – but it's also the foot soldier. And to take this metaphor even further, these days visual content is the king of kings.
1.8 billion images are shared everyday on social media. The overall growth of visual social media is astonishing. Individual users produce the majority of uploaded images, many of which are of fantastic quality, putting companies into a difficult place. You, as a brand, have to create better content than the average user for people to engage with it.
This blog post will help you up your game on Instagram. Your strategy will differ depending on the industry, country and kind of products you offer. But no matter what you sell, making your audience feel like they are the whole reason why you exist (and they are) is a winning point.
Make use of the great amount of tools out there that will help you improve your content:
Cool filters can help you to create beautiful quotes for the difficult times (Monday, I'm looking at you) or share good news about your brand and the world.
Tools like Giant Square help you to present your content in a different, surprising way.
Tools like Hyperlapse enable you to edit your videos, too.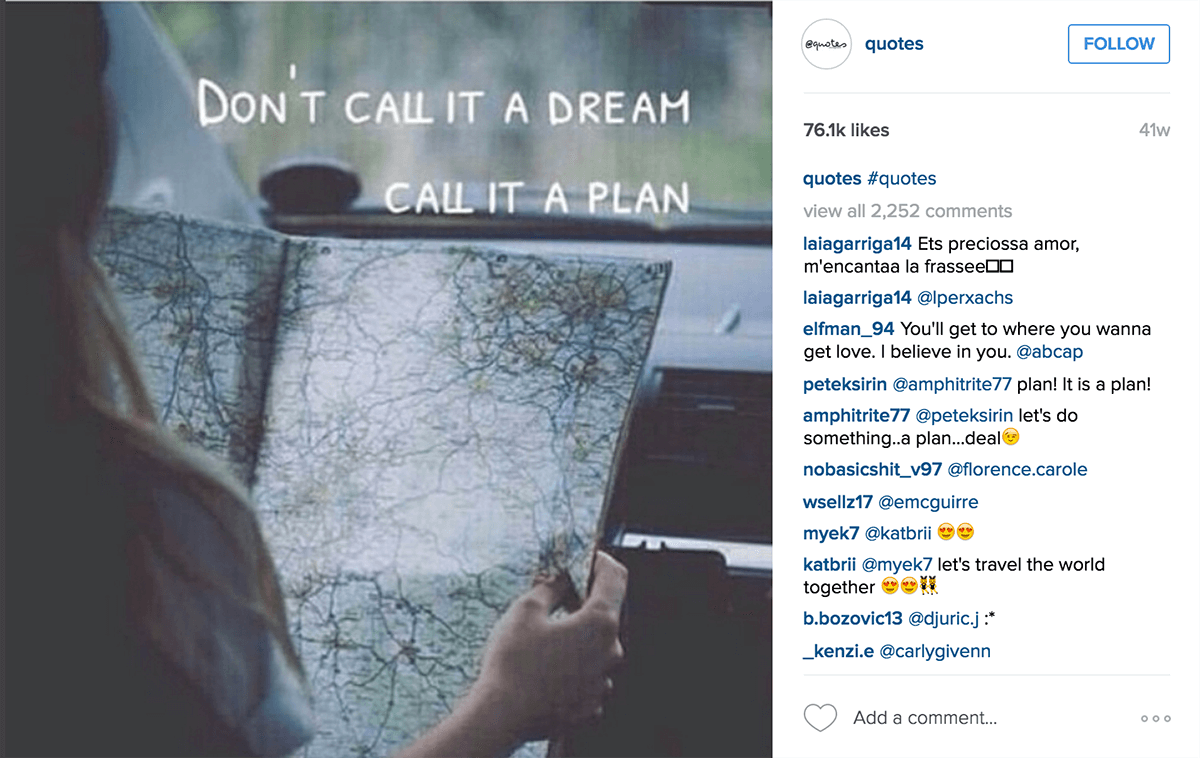 Notice how stylish this picture is? This is the real power of filters.
Hubspot made a list of 16 of the Best Brands on Instagram Right Now. Read, learn, and apply.
2. Engage with users
The first step is to know your audience and what they are looking for. Then you should interact with them, answer their questions in the comments, share their posts and invite them to post pictures for you.
Plus, use your customer's content to improve your brand image and online presence. Don't be afraid of reaching out to your followers and ask to use their content. 69% of customers want to be recognized by brands, and this is a great way to display social proof for your brand with user generated content (UGC). In fact, studies show that millennials trust UGC 50% more than other media.
A great example of a brand that uses their customers' photos to improve their Instagram profile is GoPro. Their strategy is not to just post pictures of their products (cameras are great, but not that appealing) but to use their customers pictures to share the experiences they enjoy, while using a GoPro camera.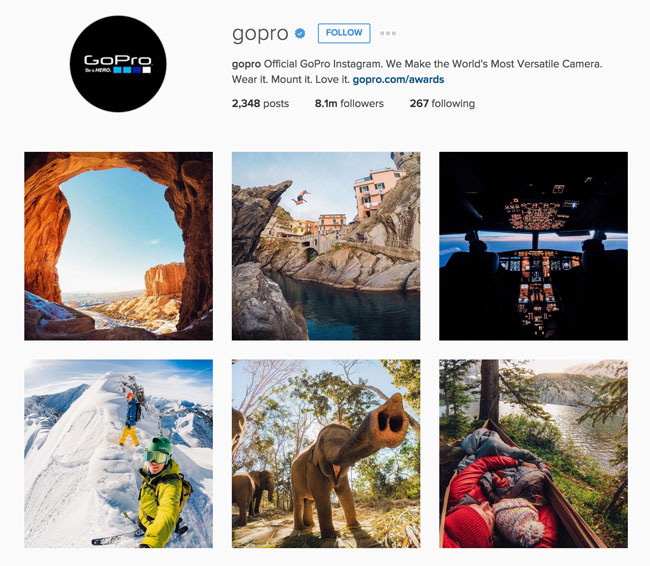 A great example of a brand that uses their customer's photos to improve their Instagram profile is  GoPro. Tools like Photoslurpallow you to find the content that your customers publish about your products. Then you can display these images just like GoPro does.
3. Challenge your audience
Don't be shy when inviting your customers to share and interact with your content.
A great way of doing this is with contests. Challenging and incentivizing your audience will capture their attention and increase content engagement.
It doesn't need to be a difficult challenge. This article will show you how offering them amazing deals and giving them exciting rewards will keep millennials coming back to your profile with their friends. As you scale the size of contests, make sure the prize has real value.
Take National Geographic as an example. Last summer, @natgeotravel launched a travel photography contest open to any adult living in the U.S. The challenge was to enter images that capture "unforgettable people, places, and experiences." The only rule for participation was to include the location of the photo and use the hashtag #WanderlustContest.
Simple, right?
The prize was a 7 day, all-inclusive trip to Yosemite National Park in California with the National Geographic photo expedition.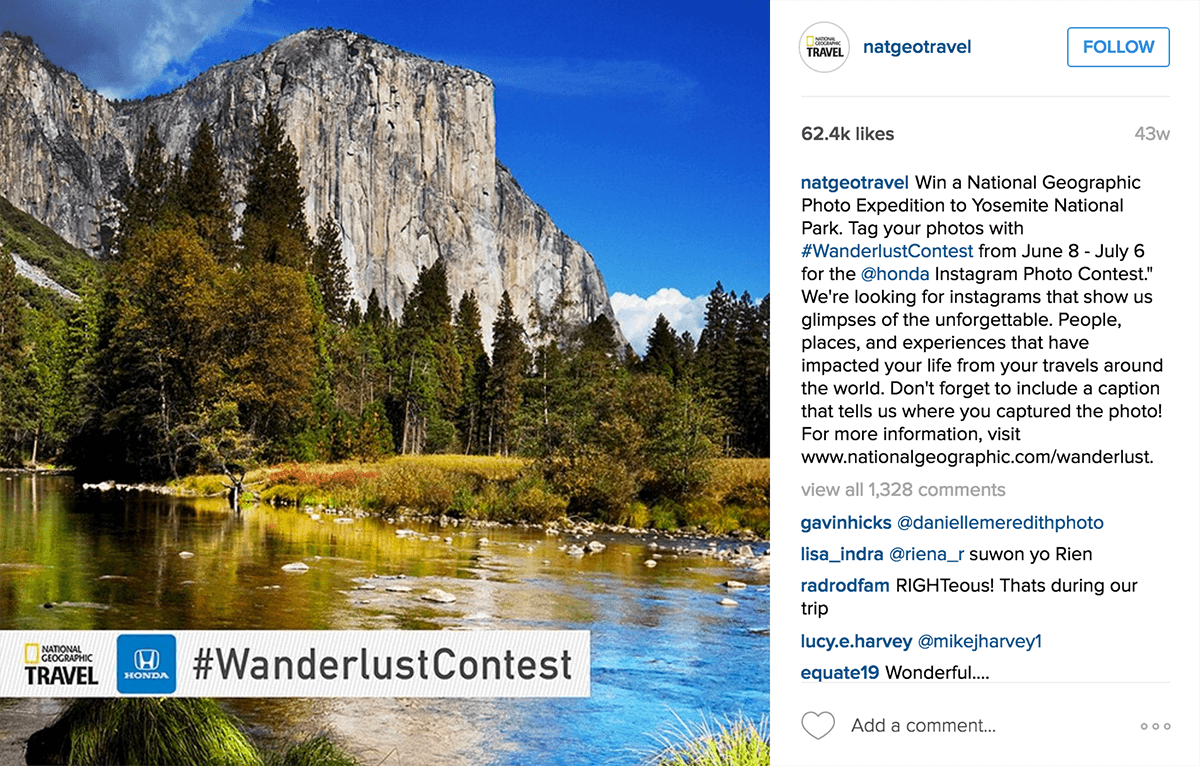 National Geographic launched a travel photography contest, and ask people to enter images that capture "unforgettable people, places, and experiences."
4. Use a clear call-to-action
There is a lot of advice regarding Instagram captions: use hashtags, tell a story, ask questions, add emojis, etc. But the ultimate, most important advice when crafting your captions is the call to action.
Here are some examples:
"Tag three friends"
"Share with a loved one"
"Go to our bio"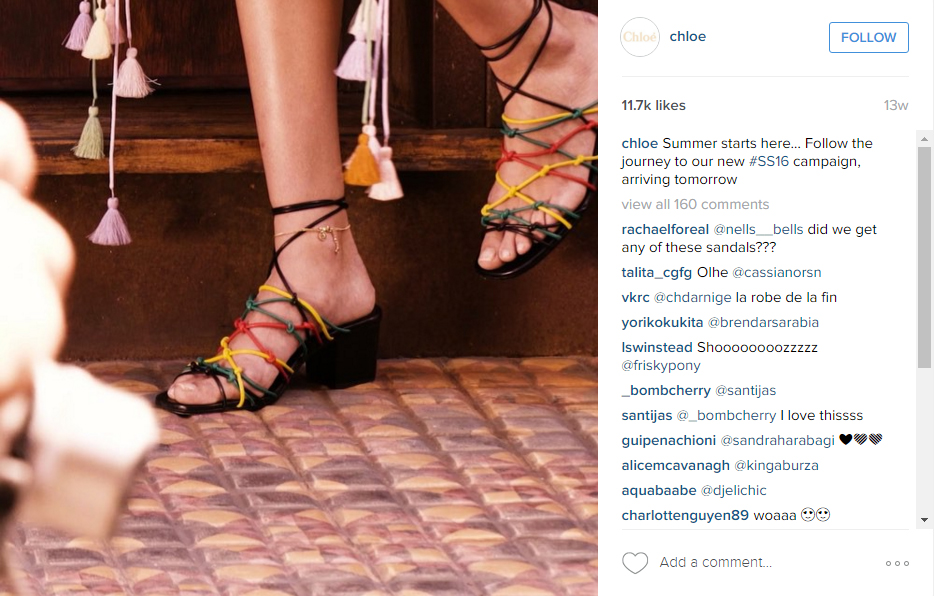 Chloe mixes hashtags and call-to-action communication successfully. They asked their fans to follow their new campaign with the #SS16 hashtag, that begins the next day.
Have you seen these before? Well, there is a reason you keep finding them in your newsfeed, they work.
Which brings me to the next point.
5. Simplify the shopping process
On Instagram, you have only one option for redirecting your audience to your eCommerce website: The Bio Link.
But imagine this: the customer should find your bio link. She clicks on it, gets redirected to your site, where (again) she needs to find the product that captured her attention on your Instagram feed.
It's quite hard to boost conversion that way, isn't it?
But you can still take advantage of your bio link, just follow the next three simple steps:
Keep it short and sweet: The simpler, the better. Use tools like Bitly, that allow you to edit your link so people know where they are going when they click on it.
Keep it up to date: Whenever you have a new product, contest or special offer, use your bio link to promote and redirect customers to the pages you want them to see.
Make your Instagram shoppable: It's easier than you think. The tool Shoppable Instagram from Photoslurp provides you with a custom bio link that launches a shoppable replica of your company's Instagram feed. Each image is linked directly to the featured product and followers can shop for their favorite items directly from your profile.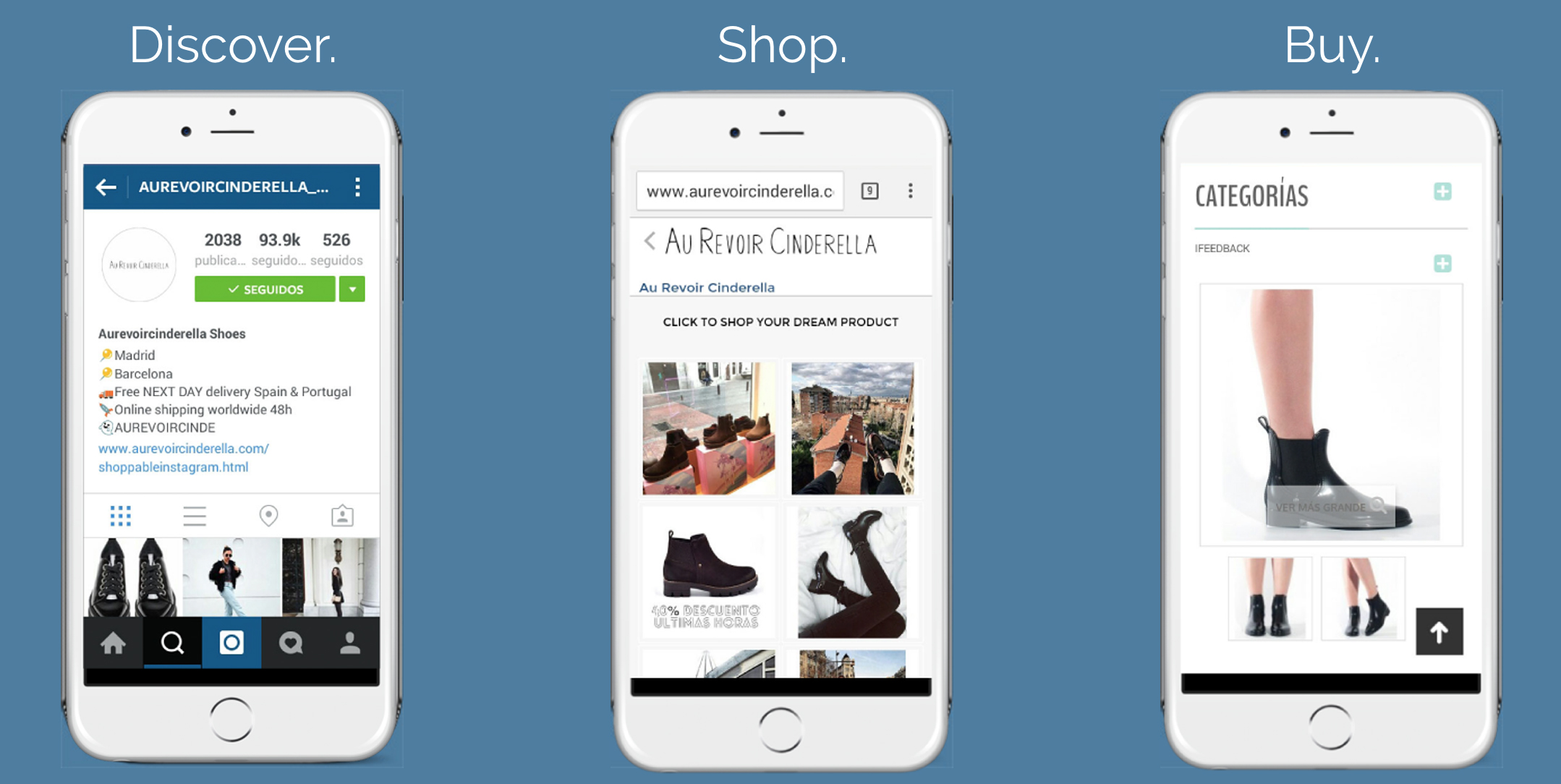 Photoslurp allows you to use a custom bio link that launches a shoppable replica of your company's Instagram feed. Each image is linked directly to the featured product that your followers can buy from you.
So there you have it!
If you want to drive sales from Instagram, then the best is to follow the five steps we discussed in this post. Namely:
 Understand your audience.
 Produce good content.
 Engage with your followers.
 Invite them to take action.
 Make shopping for them as easy as possible.
That's it.
If you have any questions or if you are using a different strategy, we would love to hear all about it in the comments!
---
About the author:
Luisana Cartay is Content Manager at Photoslurp. She is a creative, copywriter, online strategist and writer. She does everything online, but she exists in real life.