In recent years, a phenomenon that has shaken the entire world of fashion retail… the so-called crisis of attention. Although advertisements are becoming more stunning, eye-catching, and incorporate a wider range of technology, people have simply gotten overwhelmed, and many marketers don't know how to attract attention anymore.
But let's take a different approach to customer acquisition. It all starts with helping potential customers become aware of your brand and products in a way that resonates. Advertisements are effective for simple one-purchase acquisition, but ads are ineffective in building a meaningful connection, and don't help build long-term brand loyalty.
So, what can you do to catch would-be customers' attention for the long-term?
Instead of relying on advertisements, rely on people.
I. Reach out to your influencers
The other day I was looking for a good multivitamin. I browsed a lot of online nutritional supplement stores searching for the best product, but I quickly got confused. Each of the websites were claiming that their product was the best choice. It wasn't long until I ended up abandoning the search altogether.
After a few weeks passed I was scrolling through my Instagram feed and I saw that one of the fitness bloggers I follow shared a picture of the nutritional supplements that she takes every day. Among them, I noticed a multivitamin. I hadn't heard of the product, but I trust her so I bought it. Suddenly there was no more confusion and I felt quite satisfied with my decision, knowing that someone I trust also uses the same product.
What was the reasoning behind my decision?
In the moment I wasn't thinking about the Instagram post as an advertisement of another "best product on the market", but rather as a recommendation from a like-minded person.
The psychology behind it was credibility. I'd been following that blogger's posts for a long time because we share the same values. I've taken her advice, cooked many of her recipes and have never regretted it. In my eyes she's a person I can trust.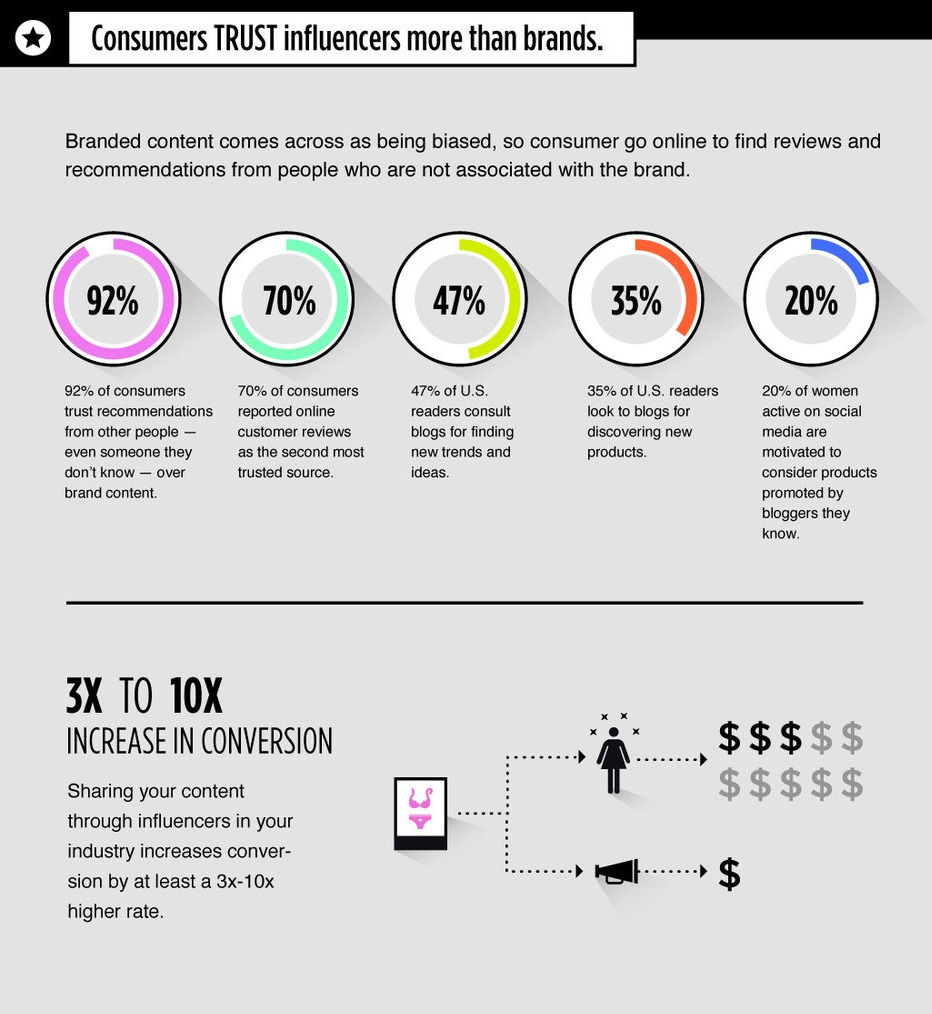 My example is not unique. 20% of women active on social media are motivated to consider products promoted by bloggers they know (Source: The Shelf)
What to consider when searching for the right influencer
By cooperating with an influential blogger, expert or celebrity, you can extend your virtual arms to their audience and take advantage of their credibility in increasing customer acquisition. But how can you make sure that the influencer will really help you?
I collected 8 tips and best practices to help you make the best of influencer marketing:
Find an influencer where your audience is:

Before you choose an influencer, you need to examine where your customers are. If your audience consists of teenagers, the best choice may be someone who is active on Snapchat. In the very visual world of fashion, you shouldn't leave Instagram out of your scope.

Look out for relevancy

: After you have found the right place, you need to find the influencers who have authority in a topic that is relevant to your business. The influencer is credible as an expert in that area and they probably have the audience you want to reach as well.

Share the same values

: People tend to like people who share the same values. The same applies to brands. Having an influencer with common values can complete the circle.

Check content quality

: Everything an influencer produces will be 100% associated with your brand in the eyes of your customers. Consider this person's content quality as if it were your own. If it doesn't meet your standards, you're better off finding someone else.

Sign of constant communication

: To build real engagement, your influencer needs to be in touch with their audience and have frequent conversations with them. It's a good sign if you see that they frequently answer follower questions in the comment section.

Consider price and reach

: Whether we like it or not, money and numbers really matter in the influencer game. The more followers and traffic an influencer has, the more their contribution may cost you. Review your budget and choose wisely.

Keep away from billboard influencers

: Influencers that promote many brands and products on their blog or social media sites may not be trustworthy. Do they truly like these products or are they ready to recommend anything for money?

Use identifier tools

: Choosing the right influencer requires extensive, time-consuming research, but you can make life easier by using tools that identify perfect-fit influencers by examining the candidate's digital footprint. Here are some examples:

Everywhere Agency

,

Cirqle

,

NinjaOutreach

,

Grouphigh

,

Traackr

,

Re:fluence

.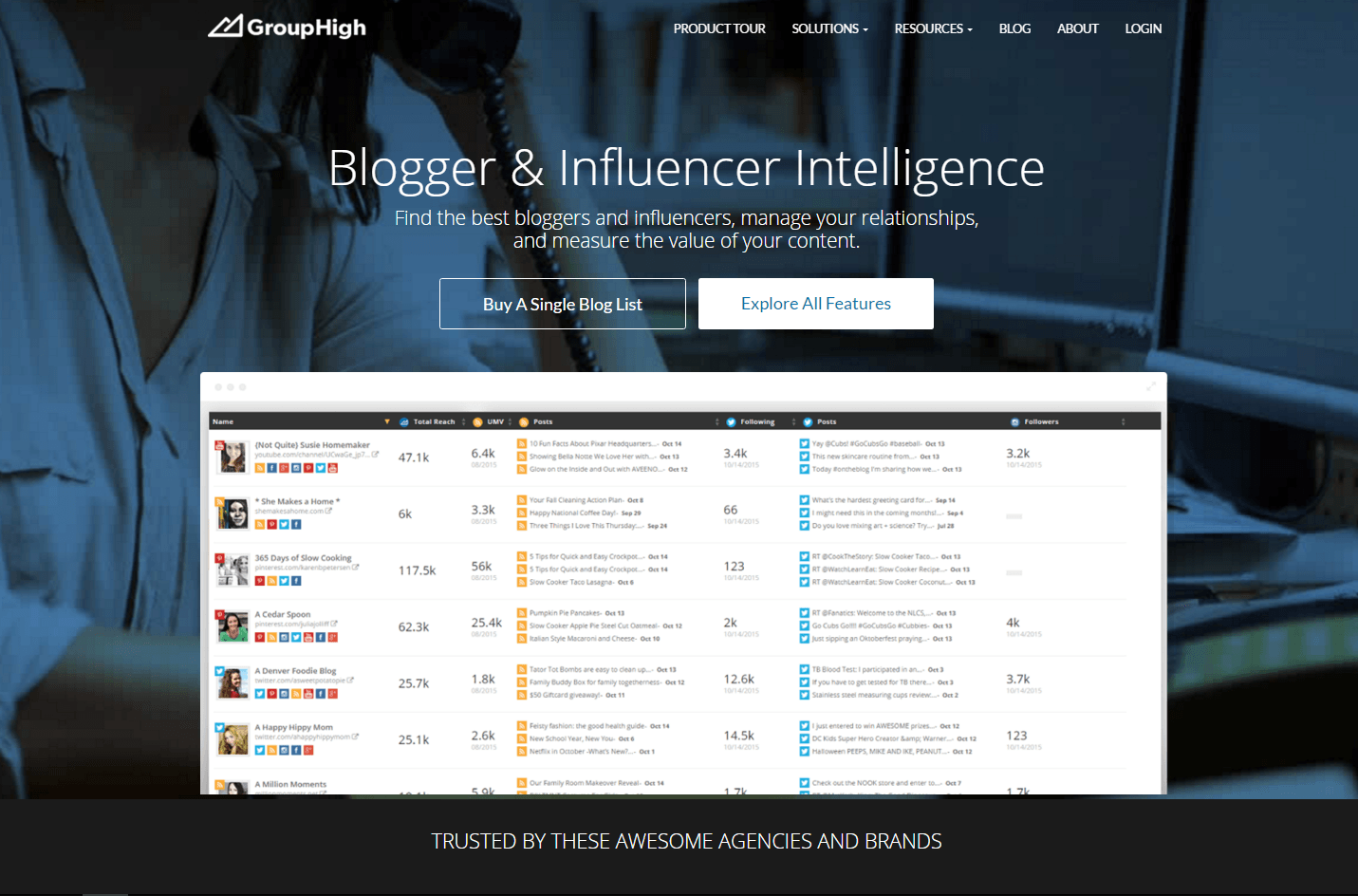 Grouphigh is a tool that can help you find those bloggers and influencers that can help you to get more exposure for your products.
Now, let's see how a real brand took advantage of influencer marketing and what can you learn from their example.
Chloé: Success in fashion influencer marketing
The renowned fashion house, Chloé, succeeded in influencer marketing by partnering with the top fashion bloggers several years ago. Chloé's main goal was to raise the awareness of their newly introduced fragrance, Love Story, inspired by Valentine's Day.
Through well-connected fashion blogger and influencer stories about how they fell in love with Love Story, 1,400,000 people got acquainted with Chloé's new fragrance during each month of the campaign and more than 4,620,000 people encountered the product on social channels (Facebook, Twitter, Instagram, Pinterest).
Besides the increase in reach, Chloé managed to enhance their engagement with their target audience in the form of post comments and consumer feedback.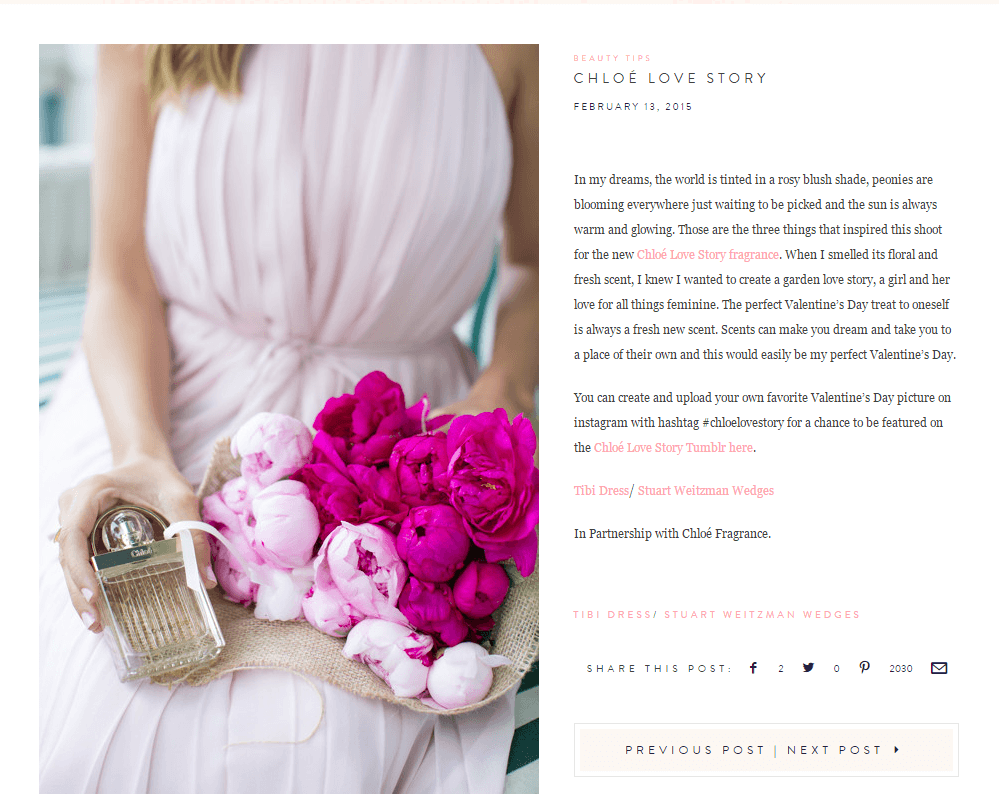 Chloé reached high levels of audience engagement including 100+ comments on Gal Meets Glam's single post (Source: Mediakix)
Okay, now that you are armed with 8 actionable steps and a real-life example on how to use influencers to drive more sales for you, let's switch to brand advocates. How can you work with them when you want to acquire new customers?
Reach out to your Brand Advocates
I love DIY. When Easter was coming, I decided to craft a door decoration of my own, so I visited my favorite craft store to get all the necessary supplies. I started thinking about why that particular store was favorite. Thanks to the high quality products, and professional advice, the result of my efforts is always perfect. And whenever someone asks me where to shop for DIY products, I actually get excited about recommending this store—I'm a true advocate.
People love sharing positive experiences. Let it be a holiday memory, an exciting adventure, or a product they fell in love with. Every single share, comment and product review contributes to word of mouth—a factor that 74% of consumers identify as a key influence in their purchasing decision. (Source: Ambassador).
The suggestion of a friend isn't just noise—it still holds a great customer-pulling power that ads just don't have anymore. A recommendation from a trusted friend conveying a relevant message is up to 50 times more likely to trigger a purchase than is a low-impact recommendation (Source: Branderati).
By connecting your own advocates, you can make use of the positive associations lying behind product recommendations.
How to get the most out of advocacy?
#1. Reward your advocates
Rewarding loyal customers with a high impact on people for continuing to acquire new customers for you is a chance you shouldn't miss.
The best thing is that your advocates don't need to do anything but what they are already doing. Having them share product pages, give one-on-one referrals, and write product reviews, are just the activities you need to develop your word of mouth (not mentioning SEO). 
You don't need to overthink the kinds of rewards to give your advocates. As loyal customers, they're already making regular purchases in your store, so even a simple discount for loyalty would go a long way.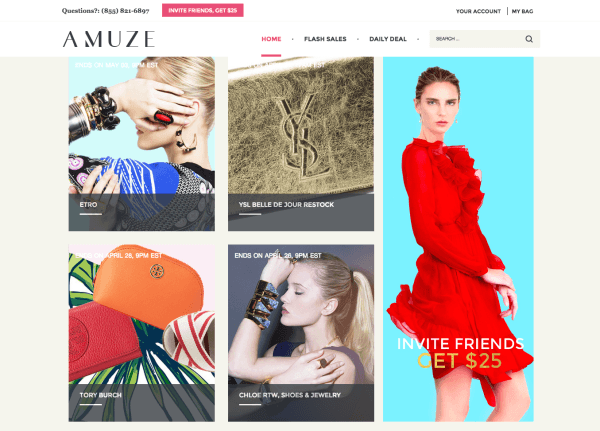 Amuze, an exclusive, members-only shopping site, not only rewards their advocates for inviting a new customer, but referred friends get a $25 discount on their first purchase as well.
#2. Engage your advocates
Breaking the cold buyer-seller relation and creating real engagement with your customers is not rocket science in the age of social media. Here are several steps you can take on your online channels to deepen customer engagement:
Reply to comments: By simply replying to a comment, your customers can feel that they are actually being recognized by the brand as an important individual, not just a money-spending machine.
Start a conversation: Social media provides a great opportunity to start conversations with your brand advocates as well. Understanding the reasons behind their loyalty can help you get positive reinforcement about your strategy or find hidden potential in your brand that you were previously unaware of.
Respond to negative feedback: Whilst getting to know what you're doing right is nice, your advocates will honestly give you negative feedback as well, so you can learn what areas need to be developed.
Involve customers in product development: Inviting your advocates to participate in product development will not only contribute to the quality of your product, but it will also excite them! The experience is something they will want to share on social media, allowing more potential customers to recognize you.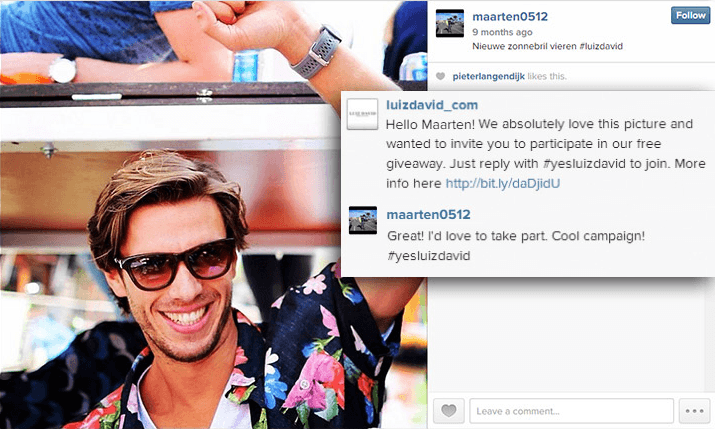 Photoslurp is a great tool to reach advocates while engaging them in special events.
Involve influencers and brand advocates in your customer acquisition strategy
Turning to influencers and advocates is an effective way to promote your products more effectively to a relevant customer base. I'll let the numbers speak for themselves:
Every $1 spent on the right influencer returns $6.50. (Source:

Adweek

)

Referred customers – brought by your advocates – have a 37% higher retention rate than those you acquire through advertisements. (Source:

Forbes

)
Just choose the influencer wisely by following the steps in this post, and bear in mind that the influencers you work with can actually affect your brand's reputation.
As for your customers, rewarding them for bringing new customers is one step in making them fall in love with your brand. If you are interested in other tips to help build a strong, loyal customer base, check out our video about how to create lovable shopping experiences in your webstore.