How do you feel about popups?
Do they annoy you? Or are you pleased with the special offer you are given?
Popups, or more accurately, overlays and lightboxes, are an extremely popular marketing tool. Lately, adding exit-intent technology has allowed websites to target abandoning visitors with a message designed to persuade them to take action. While many case studies boast great results, I would counter that the metrics are shallow and the popups potentially damaging for business.
Let's take a look at some case studies of exit-intent popups used on fashion ecommerce sites. I'll also review exit-intent technology, showing where it falls short and give tips on designing persuasive overlays to captivate and convert abandoning shoppers.
The case studies
Most case studies on the use of popups, in this case overlays combined with basic exit-intent prediction, focus on the increased conversion rate. However, increases in conversion rate are often achieved by offering discounts. These case studies also often fail to explore the long term effect of popups, instead highlighting the immediate results without insight into how it affects lifetime value.
#1 Money off always converts but be careful
Sport Gallery used an exit-intent overlay to display a money-off code to shoppers they observed were about to leave the site. The offer translates as: "Don't Leave Yet! You just won a 5% discount for you to complete your order!"
By offering money off, Sport Gallery converted 20% of people who saw the offer. They class these as abandoning visitors but can they be sure? The trigger for the overlay is basic (it pops up when the visitor's mouse moves to the top of the page), therefore Sport Gallery have probably given 5% off to customers who would have paid the higher price anyway.
What's more, the offer sets a precedent, shoppers may expect similar offers in the future. There's a high risk of devaluing your product.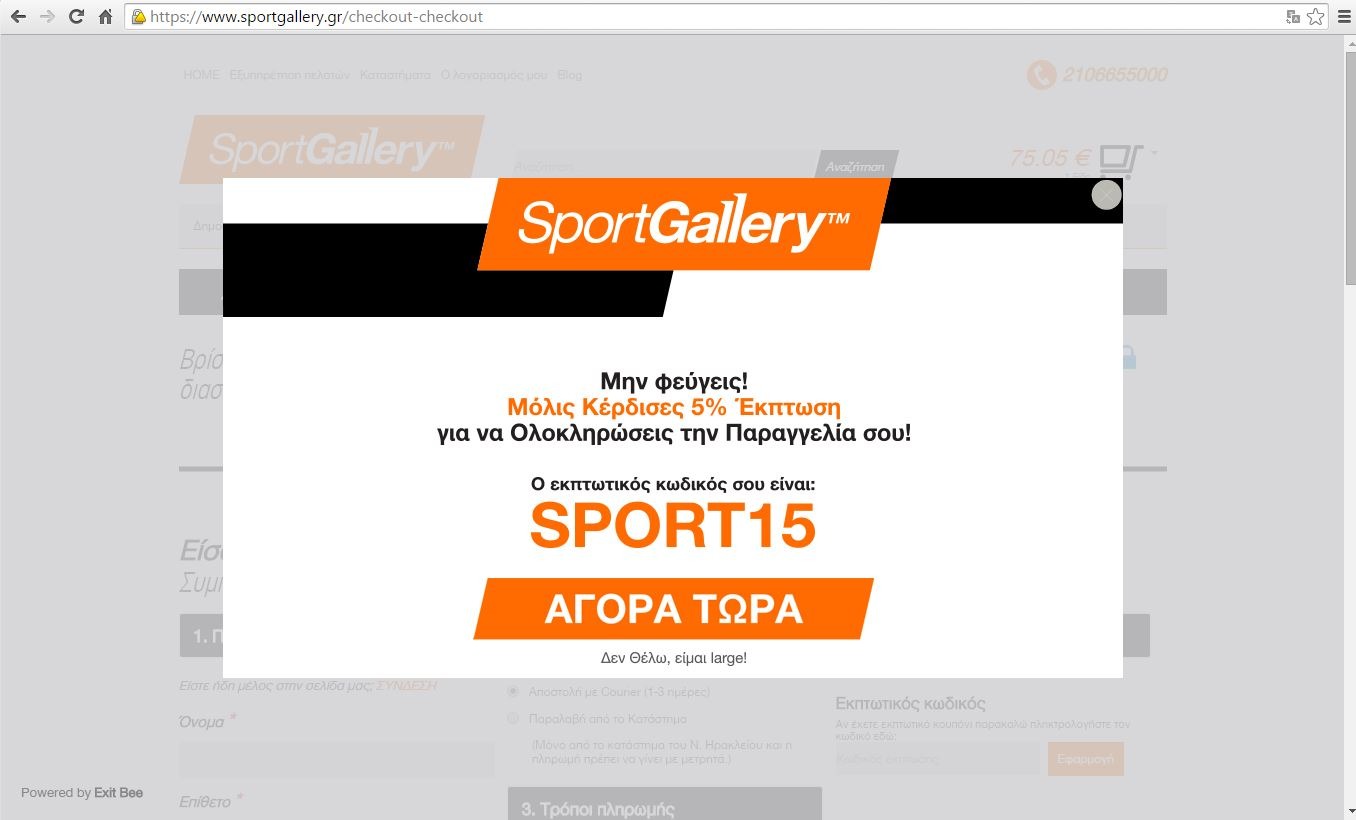 #2 Build a relationship with new customers for lasting loyalty
Xero Shoes experimented with an overlay that enticed site abandoners to learn more about the benefits of the product.
Although there's no strong incentive, such as future bargains, the message is intriguing, 'Barefoot is better!' This works for Xero Shoes' audience who are already likely to be interested in the benefits of this footwear. In exchange, Xero Shoes collect email addresses, and send content that brings those subscribers back to the website.
The result of this creative was twofold, email signups increased 412% and the company's order volume increased by 9.81%.
This approach, of converting new shoppers to content, is a tactic that Csaba Zjado, CEO of OptiMonk, promoted at Conversion World 2016. Zajdo said potential customers at different stages in the buying process need different offers:
"Cold prospects need cold offers such as educational content that doesn't sell a product but encourages the reader to subscribe to more content." – @csabazajdo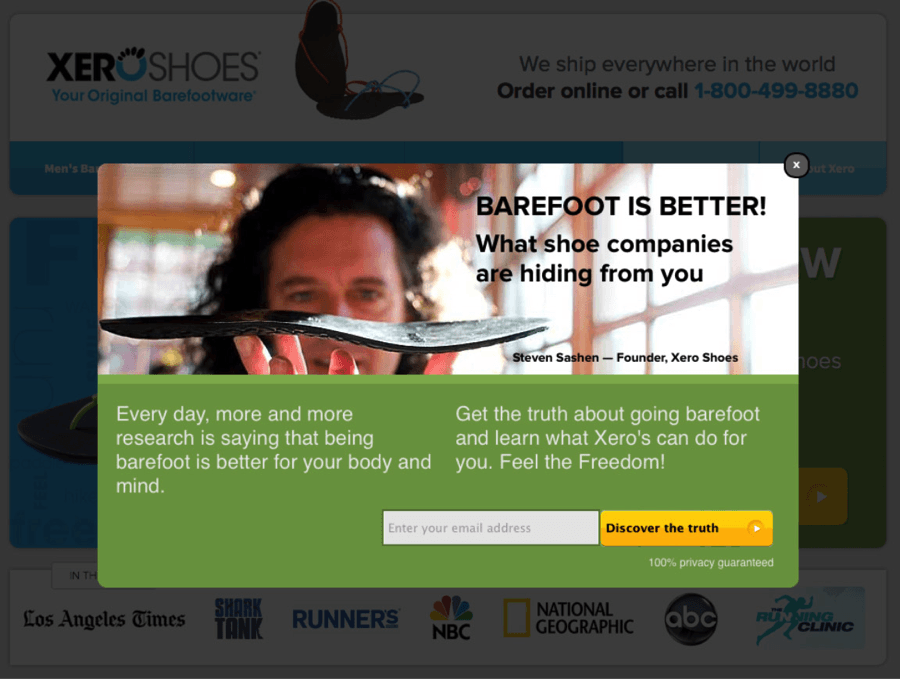 When exit-intent technology falls short
A problem remains though, popups are annoying and the technology doesn't show real understanding of users. Exit-intent technology attempts to be less annoying by triggering a popup when it thinks that a visitor is about to abandon the site. The trouble is that the signals tracked to make that decision are flawed. Why? Because they're too simplistic and don't account for a very common pattern of web browsing, page parking.
Page parking is the practice of opening many browser tabs in order to save the content for future consumption. Think of a shopper searching for the perfect flat pumps. They'll make their search and then open all the results that seem worth looking at, moving from tab to tab, eliminating results and narrowing down their choices.
During that process, any popups that are triggered by mouse movement to the top of the page or outside the browser window will be displayed. See the GIF below and watch the movement of the mouse.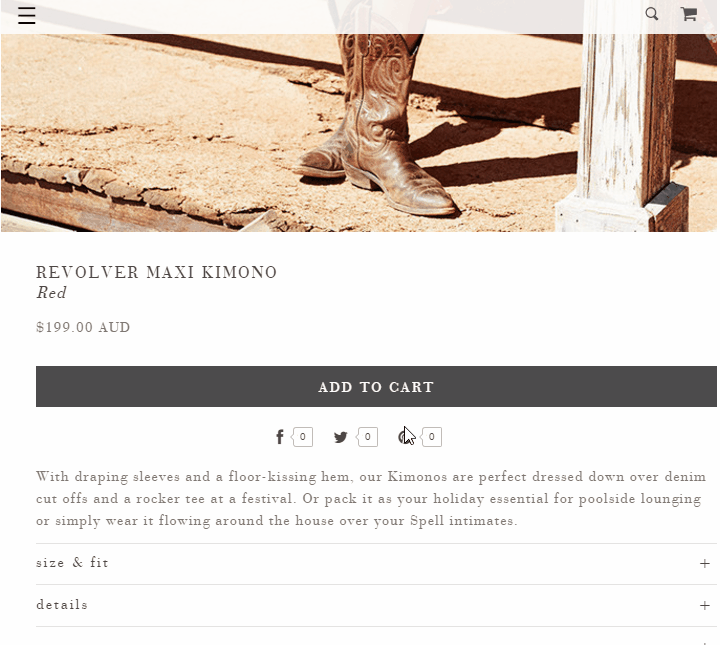 The problem with triggering popups
NNGroup conducted a usability study on a fashion shopping task that revealed the extent of page parking in online shopping. The below chart shows one participant had 9 tabs open at the same time and used 12 tabs in total for the task. NNGroup researchers, Kate Meyer and Kim Flaherty, said in a separate article on popups and tabs:
"The code behind exit popups doesn't know if a user is moving the mouse to:
close the tab,
temporarily move to another tab, or
open a new tab.
The exit popup can't tell the difference"
That's a key point, the trigger used for exit intent popups is too basic.
By choosing a smarter exit-intent tool, you can reduce the risk of annoying your customers, increase the accuracy of your prediction, target visitors before the moment of abandon and reduce the risk of cutting into your profits.
5 tips to use a smarter exit-intent technology
Better understanding comes from analysing as much data as possible. We think machines are better at this than people. Nudgr predicts abandonment using machine learning.
Delegating the task of analysing data to our machine learning algorithm means we're able to process more data more quickly. It also frees the data from human bias. We don't know what behaviours add up to a failed conversion but Nudgr does. By connecting an event handler to Nudgr's prediction, popups will be more targeted to visitors who are really abandoning and triggered at the perfect time. In the next 5 points, I will share with you some tips about how you can create more captivating pop-ups:
1. Build a relationship with content
As we saw with Xero Shoes, converting shoppers to your content benefits your sales further down the line. Coast, a fashion brand for women's occasion wear, use exit-intent overlays to tell shoppers about their newsletter and encourage them to sign up for the latest style updates.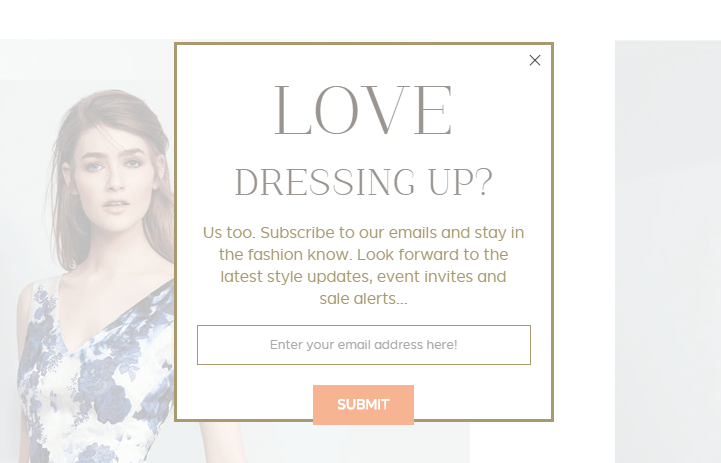 2. Understand and assist shoppers in their task
Another way of building a relationship with shoppers is to recognise when they're not ready to buy but assist them with their decision making. TopMan do this when it looks like shoppers are abandoning their cart. The message reads, "Don't lose it! Sign in and save your shopping bag for later." It goes on to provide a link to further assistance too.
By getting shoppers to sign in, TopMan can collect more data on users. They can use this to email the contents of the shopping bag, reminding shoppers to come back and finish their purchase. Alternatively, TopMan can personalise other recommendations and offers based on the bag.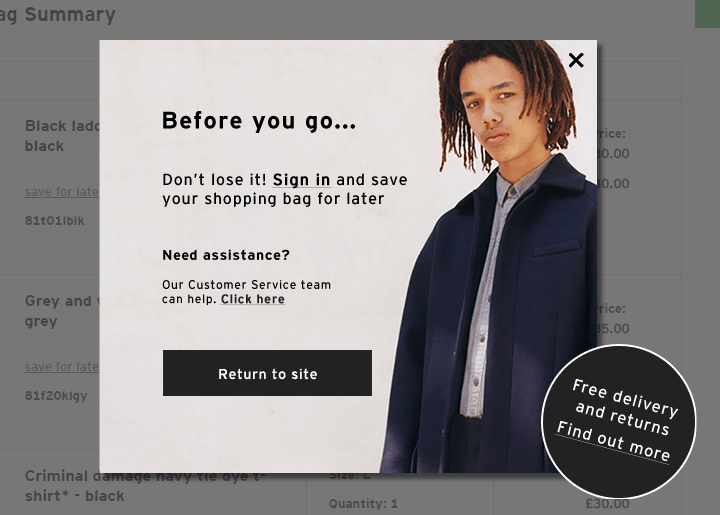 3. Add value without reducing price
G-Star jeans offer free shipping to members, an enticing offer that saves shoppers money and makes ordering online more attractive but doesn't devalue the products themselves.
The creative is smart. It shows men's and women's jeans on models, a couple, presumably representative of G-Star's demographic or at least aspirational. The incentive is the first and largest message so it can't be missed. Then G-Star do a few things that will help to build a relationship with the customer in the long term:
They ensure that everyone who signs up as a member will also get their newsletter, a tactic we know brings shoppers back to the site.
They also get information on each shopper, asking them to select Male or Female. While this is an issue for shoppers who don't identify with either gender, it is a simple way for G-Star to market their gendered products in a targeted way.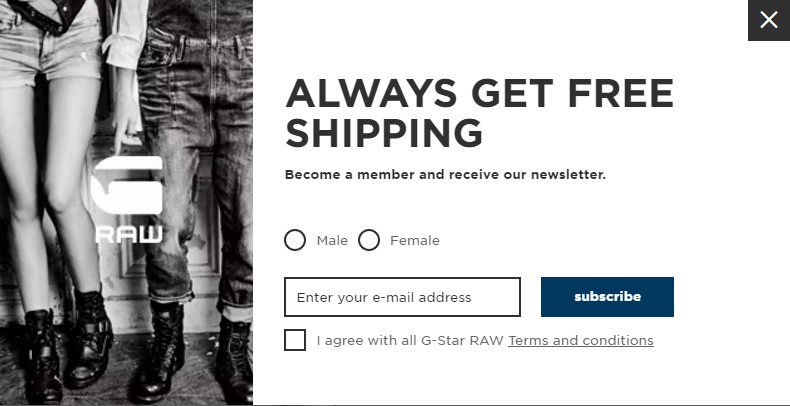 4. Use the Voice of the Customer
As copywriting wizard, Joanna Wiebe, says: "The best messages are not hiding in my head or my client's head. The best messages are out there, best spoken by our prospects." – @copyhackers
Use language on your site that rings true for your customers and follow that through in the persuasive messages of your popups.
Electric Family make use of casual wording and phrases, like "that'd be great" and "thanks anyways", that you can easily imagine their demographic using. I don't know for sure that these words have been taken from real customers but this at least indicates some effort made to step into their customers' shoes.
Look at online reviews, customer service chat transcripts, Facebook groups for representative shoppers and run focus groups to find the language of your customers.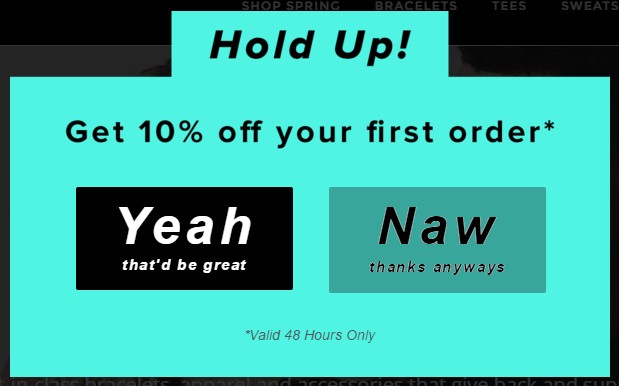 5. Optimise your imagery for maximum persuasive power
We saw in the example from G-Star that the use of imagery in popups can help tie in to the brand and be aspirational. Five Four Club use a photograph in their popup that matches the message. The popup reads, "Want to dress better for even less?" The photograph shows a well dressed man, slightly disheveled, in a semi-urban setting, that shoppers can relate to.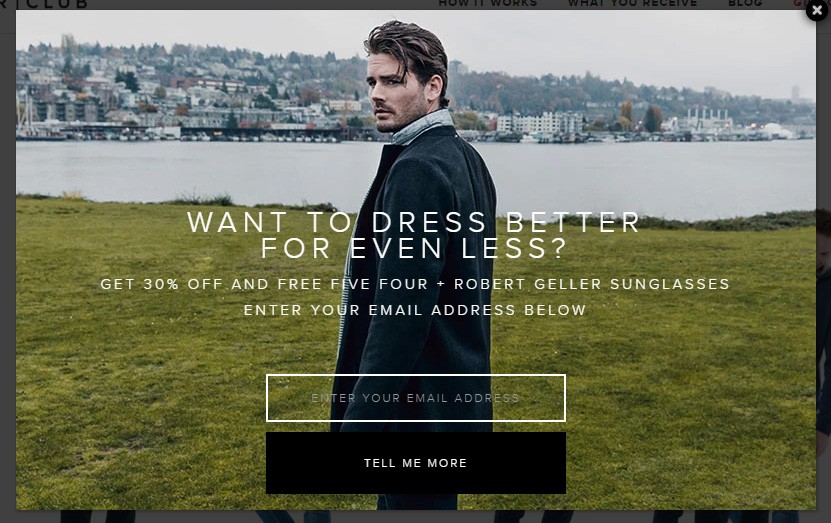 Create Value for Lasting Loyalty
Two things will help you secure loyalty from your customers, a great product that offers them value and a user experience they want to revisit.
By choosing better exit-intent technology that truly understands user behaviour and triggers your messaging at the right time, you'll reduce the risk of annoying visitors and increase your chance of offering value. Follow my tips for designing captivating popups, testing different messaging and imagery to find the most persuasive nudge for your customers.
Did you learn from this post? To get more great articles about e-commerce marketing and customer loyalty delivered straight to your inbox twice a week, sign up for our newsletter. Let's keep in touch!