How can data-driven customer loyalty help you grow your business? What tactics or tools can you use if you would like to build a loyal customer base?
You might know that at Antavo we help our customers to build mercenary loyalty through rewards programs. (Mercenary loyalty is the phase when customers are actively engaged with you, for example, because they want to collect points and redeem them for rewards, like contest entries or discounts. This is what Antavo does.)
But this is just one phase of data-driven customer loyalty that you can think about. Actually, there are 3 other phases that you should consider when you create your loyalty marketing strategy. And each of these phases have their own tactics.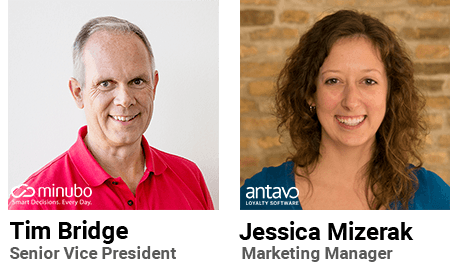 The date of the webinar: May 12th 15 p.m. GMT
The presenters: Tim Bridge, the Senior Vice President of Minubo, an analytical tool, and our lovely Marketing Manager, Jessica Mizerak.
Let's enhance your marketing together!
If you missed the webinar, but interested in advanced loyalty solutions, then book a free mentoring session with our top loyalty expert.